Abstract
Conventional CRISPR–Cas systems maintain genomic integrity by leveraging guide RNAs for the nuclease-dependent degradation of mobile genetic elements, including plasmids and viruses. Here we describe a notable inversion of this paradigm, in which bacterial Tn7-like transposons have co-opted nuclease-deficient CRISPR–Cas systems to catalyse RNA-guided integration of mobile genetic elements into the genome. Programmable transposition of Vibrio cholerae Tn6677 in Escherichia coli requires CRISPR- and transposon-associated molecular machineries, including a co-complex between the DNA-targeting complex Cascade and the transposition protein TniQ. Integration of donor DNA occurs in one of two possible orientations at a fixed distance downstream of target DNA sequences, and can accommodate variable length genetic payloads. Deep-sequencing experiments reveal highly specific, genome-wide DNA insertion across dozens of unique target sites. This discovery of a fully programmable, RNA-guided integrase lays the foundation for genomic manipulations that obviate the requirements for double-strand breaks and homology-directed repair.
Access options
Subscribe to Journal
Get full journal access for 1 year
$199.00
only $3.90 per issue
All prices are NET prices.
VAT will be added later in the checkout.
Tax calculation will be finalised during checkout.
Rent or Buy article
Get time limited or full article access on ReadCube.
from$8.99
All prices are NET prices.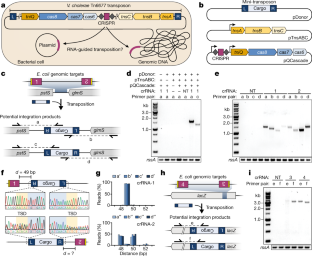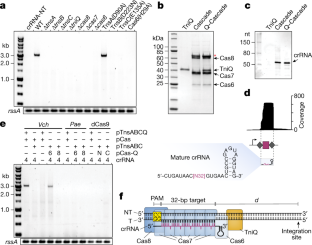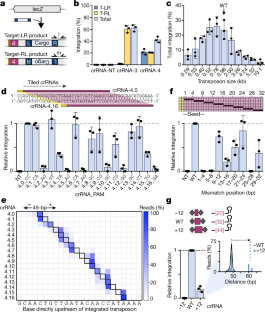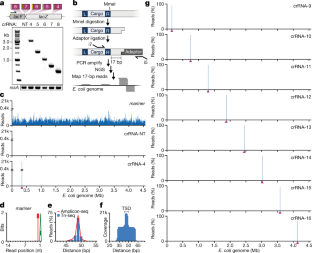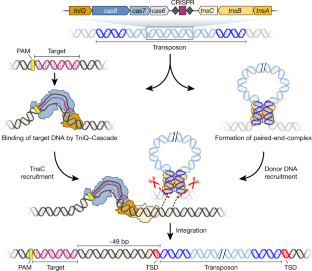 Data availability
Next-generation sequencing data are available in the National Center for Biotechnology Information Sequence Read Archive (BioProject Accession: PRJNA546035). Custom Python scripts used for the described data analyses are available online via GitHub (https://github.com/sternberglab/Klompe_etal_2019).
References
1.

Thomas, C. M. & Nielsen, K. M. Mechanisms of, and barriers to, horizontal gene transfer between bacteria. Nat. Rev. Microbiol. 3, 711–721 (2005).

2.

Soucy, S. M., Huang, J. & Gogarten, J. P. Horizontal gene transfer: building the web of life. Nat. Rev. Genet. 16, 472–482 (2015).

3.

Koonin, E. V. The turbulent network dynamics of microbial evolution and the statistical tree of life. J. Mol. Evol. 80, 244–250 (2015).

4.

Toussaint, A. & Chandler, M. Prokaryote genome fluidity: toward a system approach of the mobilome. Methods Mol. Biol. 804, 57–80 (2012).

5.

Dy, R. L., Richter, C., Salmond, G. P. C. & Fineran, P. C. Remarkable mechanisms in microbes to resist phage infections. Annu. Rev. Virol. 1, 307–331 (2014).

6.

Hille, F. et al. The biology of CRISPR-Cas: backward and forward. Cell 172, 1239–1259 (2018).

7.

Doron, S. et al. Systematic discovery of antiphage defense systems in the microbial pangenome. Science 359, eaar4120 (2018).

8.

Koonin, E. V., Makarova, K. S. & Wolf, Y. I. Evolutionary genomics of defense systems in archaea and bacteria. Annu. Rev. Microbiol. 71, 233–261 (2017).

9.

Koonin, E. V. & Makarova, K. S. Mobile genetic elements and evolution of CRISPR-Cas systems: all the way there and back. Genome Biol. Evol. 9, 2812–2825 (2017).

10.

Broecker, F. & Moelling, K. Evolution of immune systems from viruses and transposable elements. Front. Microbiol. 10, 51 (2019).

11.

Kapitonov, V. V., Makarova, K. S. & Koonin, E. V. ISC, a novel group of bacterial and archaeal DNA transposons that encode Cas9 homologs. J. Bacteriol. 198, 797–807 (2016).

12.

Shmakov, S. et al. Discovery and functional characterization of diverse class 2 CRISPR-Cas systems. Mol. Cell 60, 385–397 (2015).

13.

Krupovic, M., Béguin, P. & Koonin, E. V. Casposons: mobile genetic elements that gave rise to the CRISPR-Cas adaptation machinery. Curr. Opin. Microbiol. 38, 36–43 (2017).

14.

Peters, J. E., Makarova, K. S., Shmakov, S. & Koonin, E. V. Recruitment of CRISPR-Cas systems by Tn7-like transposons. Proc. Natl Acad. Sci. USA 114, E7358–E7366 (2017).

15.

Peters, J. E. Tn7. Microbiol. Spectr. 2, MDNA3-0010-2014 (2014).

16.

Waddell, C. S. & Craig, N. L. Tn7 transposition: two transposition pathways directed by five Tn7-encoded genes. Genes Dev. 2, 137–149 (1988).

17.

Lichtenstein, C. & Brenner, S. Unique insertion site of Tn7 in the E. coli chromosome. Nature 297, 601–603 (1982).

18.

McKown, R. L., Orle, K. A., Chen, T. & Craig, N. L. Sequence requirements of Escherichia coli attTn7, a specific site of transposon Tn7 insertion. J. Bacteriol. 170, 352–358 (1988).

19.

Parks, A. R. et al. Transposition into replicating DNA occurs through interaction with the processivity factor. Cell 138, 685–695 (2009).

20.

McDonald, N. D., Regmi, A., Morreale, D. P., Borowski, J. D. & Boyd, E. F. CRISPR-Cas systems are present predominantly on mobile genetic elements in Vibrio species. BMC Genomics 20, 105 (2019).

21.

Makarova, K. S., Wolf, Y. I. & Koonin, E. V. Classification and nomenclature of CRISPR-Cas systems: where from here? CRISPR J. 1, 325–336 (2018).

22.

Rollins, M. F., Schuman, J. T., Paulus, K., Bukhari, H. S. T. & Wiedenheft, B. Mechanism of foreign DNA recognition by a CRISPR RNA-guided surveillance complex from Pseudomonas aeruginosa. Nucleic Acids Res. 43, 2216–2222 (2015).

23.

Sarnovsky, R. J., May, E. W. & Craig, N. L. The Tn7 transposase is a heteromeric complex in which DNA breakage and joining activities are distributed between different gene products. EMBO J. 15, 6348–6361 (1996).

24.

Stellwagen, A. E. & Craig, N. L. Gain-of-function mutations in TnsC, an ATP-dependent transposition protein that activates the bacterial transposon Tn7. Genetics 145, 573–585 (1997).

25.

Haurwitz, R. E., Jinek, M., Wiedenheft, B., Zhou, K. & Doudna, J. A. Sequence- and structure-specific RNA processing by a CRISPR endonuclease. Science 329, 1355–1358 (2010).

26.

May, E. W. & Craig, N. L. Switching from cut-and-paste to replicative Tn7 transposition. Science 272, 401–404 (1996).

27.

Choi, K. Y., Spencer, J. M. & Craig, N. L. The Tn7 transposition regulator TnsC interacts with the transposase subunit TnsB and target selector TnsD. Proc. Natl Acad. Sci. USA 111, E2858–E2865 (2014).

28.

Wiedenheft, B. et al. RNA-guided complex from a bacterial immune system enhances target recognition through seed sequence interactions. Proc. Natl Acad. Sci. USA 108, 10092–10097 (2011).

29.

Jinek, M. et al. A programmable dual-RNA-guided DNA endonuclease in adaptive bacterial immunity. Science 337, 816–821 (2012).

30.

Wiedenheft, B. et al. Structures of the RNA-guided surveillance complex from a bacterial immune system. Nature 477, 486–489 (2011).

31.

Guo, T. W. et al. Cryo-EM structures reveal mechanism and inhibition of DNA targeting by a CRISPR-Cas surveillance complex. Cell 171, 414–426.e12 (2017).

32.

Xue, C. & Sashital, D. G. Mechanisms of type I-E and I-F CRISPR-Cas systems in Enterobacteriaceae. EcoSal Plus 8, ESP-0008-2018 (2019).

33.

Blosser, T. R. et al. Two distinct DNA binding modes guide dual roles of a CRISPR-Cas protein complex. Mol. Cell 58, 60–70 (2015).

34.

Cooper, L. A., Stringer, A. M. & Wade, J. T. Determining the specificity of cascade binding, interference, and primed adaptation in vivo in the Escherichia coli type I-E CRISPR-Cas system. MBio 9, e02100-17 (2018).

35.

Rutkauskas, M. et al. Directional R-loop formation by the CRISPR-Cas surveillance complex cascade provides efficient off-target site rejection. Cell Reports 10, 1534–1543 (2015).

36.

Luo, M. L. et al. The CRISPR RNA-guided surveillance complex in Escherichia coli accommodates extended RNA spacers. Nucleic Acids Res. 44, 7385–7394 (2016).

37.

Goodman, A. L. et al. Identifying genetic determinants needed to establish a human gut symbiont in its habitat. Cell Host Microbe 6, 279–289 (2009).

38.

van Opijnen, T., Bodi, K. L. & Camilli, A. Tn-seq: high-throughput parallel sequencing for fitness and genetic interaction studies in microorganisms. Nat. Methods 6, 767–772 (2009).

39.

Wiles, T. J. et al. Combining quantitative genetic footprinting and trait enrichment analysis to identify fitness determinants of a bacterial pathogen. PLoS Genet. 9, e1003716 (2013).

40.

Craig, N. L., Craigie, R., Gellert, M. & Lambowitz, A. M. Mobile DNA III (2014).

41.

Stellwagen, A. E. & Craig, N. L. Avoiding self: two Tn7-encoded proteins mediate target immunity in Tn7 transposition. EMBO J. 16, 6823–6834 (1997).

42.

Sobecky, P. A. & Hazen, T. H. Horizontal gene transfer and mobile genetic elements in marine systems. Methods Mol. Biol. 532, 435–453 (2009).

43.

Makarova, K. S. Beyond the adaptive immunity: sub- and neofunctionalization of CRISPR–Cas systems and their components. Paper presented at: CRISPR 2018 Meeting; Jun 20; Vilnius, Lithuania. (2018).

44.

Cheng, D. R., Yan, W. X. & Scott, D. A. Discovery of Type VI-D CRISPR-Cas Systems. Paper presented at: CRISPR 2018 Meeting; Jun 21; Vilnius, Lithuania. (2018).

45.

Shmakov, S. et al. Diversity and evolution of class 2 CRISPR–Cas systems. Nat. Rev. Microbiol. 15, 169–182 (2017).

46.

Dunbar, C. E. et al. Gene therapy comes of age. Science 359, eaan4672 (2018).

47.

Gelvin, S. B. Integration of agrobacterium T-DNA into the plant genome. Annu. Rev. Genet. 51, 195–217 (2017).

48.

Wurm, F. M. Production of recombinant protein therapeutics in cultivated mammalian cells. Nat. Biotechnol. 22, 1393–1398 (2004).

49.

Kvaratskhelia, M., Sharma, A., Larue, R. C., Serrao, E. & Engelman, A. Molecular mechanisms of retroviral integration site selection. Nucleic Acids Res. 42, 10209–10225 (2014).

50.

Di Matteo, M., Belay, E., Chuah, M. K. & Vandendriessche, T. Recent developments in transposon-mediated gene therapy. Expert Opin. Biol. Ther. 12, 841–858 (2012).

51.

Zelensky, A. N., Schimmel, J., Kool, H., Kanaar, R. & Tijsterman, M. Inactivation of Pol θ and C-NHEJ eliminates off-target integration of exogenous DNA. Nat. Commun. 8, 66 (2017).

52.

Cox, D. B. T., Platt, R. J. & Zhang, F. Therapeutic genome editing: prospects and challenges. Nat. Med. 21, 121–131 (2015).

53.

Pawelczak, K. S., Gavande, N. S., VanderVere-Carozza, P. S. & Turchi, J. J. Modulating DNA repair pathways to improve precision genome engineering. ACS Chem. Biol. 13, 389–396 (2018).

54.

Schmidt, F., Cherepkova, M. Y. & Platt, R. J. Transcriptional recording by CRISPR spacer acquisition from RNA. Nature 562, 380–385 (2018).

55.

Myhrvold, C. et al. Field-deployable viral diagnostics using CRISPR-Cas13. Science 360, 444–448 (2018).

56.

Yan, W. X. et al. Functionally diverse type V CRISPR-Cas systems. Science 363, 88–91 (2019).

57.

Harrington, L. B. et al. Programmed DNA destruction by miniature CRISPR-Cas14 enzymes. Science 362, 839–842 (2018).

58.

Robert, X. & Gouet, P. Deciphering key features in protein structures with the new ENDscript server. Nucleic Acids Res. 42, W320–W324 (2014).

59.

Biswas, A., Gagnon, J. N., Brouns, S. J. J., Fineran, P. C. & Brown, C. M. CRISPRTarget: bioinformatic prediction and analysis of crRNA targets. RNA Biol. 10, 817–827 (2013).

60.

Shevchenko, A., Tomas, H., Havlis, J., Olsen, J. V. & Mann, M. In-gel digestion for mass spectrometric characterization of proteins and proteomes. Nat. Protocols 1, 2856–2860 (2006).

61.

Heidrich, N., Dugar, G., Vogel, J. & Sharma, C. M. Investigating CRISPR RNA biogenesis and function using RNA-seq. Methods Mol. Biol. 1311, 1–21 (2015).

62.

Reiter, W. D., Palm, P. & Yeats, S. Transfer RNA genes frequently serve as integration sites for prokaryotic genetic elements. Nucleic Acids Res. 17, 1907–1914 (1989).

63.

Boyd, E. F., Almagro-Moreno, S. & Parent, M. A. Genomic islands are dynamic, ancient integrative elements in bacterial evolution. Trends Microbiol. 17, 47–53 (2009).
Acknowledgements
We thank M. I. Hogan for laboratory support, S. P. Chen and H. H. Wang for discussions, S. J. Resnick and A. Chavez for assistance with NGS experiments, R. Neme for assistance with NGS data analysis, L. F. Landweber for qPCR instrument access, the Department of Microbiology & Immunology for facilities and equipment support, the JP Sulzberger Columbia Genome Center for NGS support, and R. K. Soni and the Herbert Irving Comprehensive Cancer Center for proteomics support. Funding was provided by a generous start-up package from the Columbia University Irving Medical Center Dean's Office and the Vagelos Precision Medicine Fund.
Ethics declarations
Competing interests
Columbia University has filed a patent application related to this work for which S.E.K. and S.H.S. are inventors. S.E.K. and S.H.S. are inventors on other patents and patent applications related to CRISPR–Cas systems and uses thereof. S.H.S. is a co-founder and scientific advisor to Dahlia Biosciences, and an equity holder in Dahlia Biosciences and Caribou Biosciences.
Additional information
Publisher's note: Springer Nature remains neutral with regard to jurisdictional claims in published maps and institutional affiliations.
Extended data figures and tables
Supplementary information
About this article
Cite this article
Klompe, S.E., Vo, P.L.H., Halpin-Healy, T.S. et al. Transposon-encoded CRISPR–Cas systems direct RNA-guided DNA integration. Nature 571, 219–225 (2019). https://doi.org/10.1038/s41586-019-1323-z
Received:

Accepted:

Published:

Issue Date:
Comments
By submitting a comment you agree to abide by our Terms and Community Guidelines. If you find something abusive or that does not comply with our terms or guidelines please flag it as inappropriate.