Abstract
Large-scale genome sequencing is poised to provide a substantial increase in the rate of discovery of disease-associated mutations, but the functional interpretation of such mutations remains challenging. Here we show that deletions of a sequence on human chromosome 16 that we term the intestine-critical region (ICR) cause intractable congenital diarrhoea in infants1,2. Reporter assays in transgenic mice show that the ICR contains a regulatory sequence that activates transcription during the development of the gastrointestinal system. Targeted deletion of the ICR in mice caused symptoms that recapitulated the human condition. Transcriptome analysis revealed that an unannotated open reading frame (Percc1) flanks the regulatory sequence, and the expression of this gene was lost in the developing gut of mice that lacked the ICR. Percc1-knockout mice displayed phenotypes similar to those observed upon ICR deletion in mice and patients, whereas an ICR-driven Percc1 transgene was sufficient to rescue the phenotypes found in mice that lacked the ICR. Together, our results identify a gene that is critical for intestinal function and underscore the need for targeted in vivo studies to interpret the growing number of clinical genetic findings that do not affect known protein-coding genes.
Relevant articles
Open Access articles citing this article.
Stephen J. Babcock

,

David Flores-Marin

&

Jay R. Thiagarajah

Human Genetics Open Access 23 November 2022

Dina Marek-Yagel

,

Emily Stenke

…

Billy Bourke

Human Genetics Open Access 09 September 2022

Jason A. Bubier

,

Elissa J. Chesler

&

George M. Weinstock

Mammalian Genome Open Access 22 June 2021
Access options
Access Nature and 54 other Nature Portfolio journals
Get Nature+, our best-value online-access subscription
$29.99 / 30 days
cancel any time
Subscribe to this journal
Receive 51 print issues and online access
$199.00 per year
only $3.90 per issue
Rent or buy this article
Prices vary by article type
from$1.95
to$39.95
Prices may be subject to local taxes which are calculated during checkout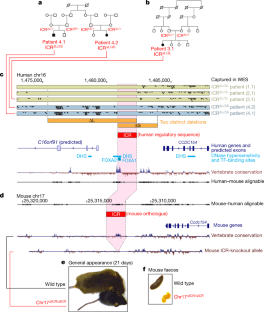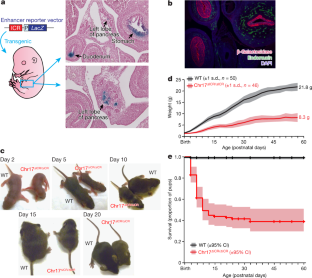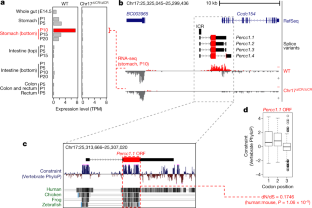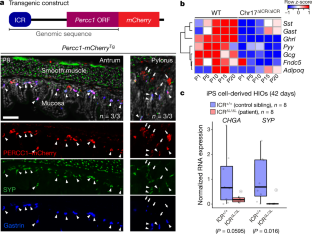 Data availability
All RNA-seq data used in this study have been deposited in the GEO repository (National Center for Biotechnology Information). The files are accessible through the GEO accession number GSE94245. The cDNA and predicted protein sequence for Percc1 are available in GenBank (record KY964488). All other relevant data are available from the corresponding authors on request.
References
Avery, G. B., Villavicencio, O., Lilly, J. R. & Randolph, J. G. Intractable diarrhea in early infancy. Pediatrics 41, 712–722 (1968).

Straussberg, R. et al. Congenital intractable diarrhea of infancy in Iraqi Jews. Clin. Genet. 51, 98–101 (1997).

Bamshad, M. J. et al. Exome sequencing as a tool for Mendelian disease gene discovery. Nat. Rev. Genet. 12, 745–755 (2011).

Canani, R. B. & Terrin, G. Recent progress in congenital diarrheal disorders. Curr. Gastroenterol. Rep. 13, 257–264 (2011).

Qu, H. & Fang, X. A brief review on the Human Encyclopedia of DNA Elements (ENCODE) project. Genomics Proteomics Bioinformatics 11, 135–141 (2013).

Calo, E. & Wysocka, J. Modification of enhancer chromatin: what, how, and why? Mol. Cell 49, 825–837 (2013).

Eeckhoute, J. et al. Cell-type selective chromatin remodeling defines the active subset of FOXA1-bound enhancers. Genome Res. 19, 372–380 (2009).

Pennacchio, L. A. et al. In vivo enhancer analysis of human conserved non-coding sequences. Nature 444, 499–502 (2006).

Dimaline, R. & Varro, A. Novel roles of gastrin. J. Physiol. 592, 2951–2958 (2014).

Barker, N. et al. Lgr5+ve stem cells drive self-renewal in the stomach and build long-lived gastric units in vitro. Cell Stem Cell 6, 25–36 (2010).

Haber, A. L. et al. A single-cell survey of the small intestinal epithelium. Nature 551, 333–339 (2017).

Helander, H. F. & Fändriks, L. The enteroendocrine "letter cells" – time for a new nomenclature? Scand. J. Gastroenterol. 47, 3–12 (2012).

Spence, J. R. et al. Directed differentiation of human pluripotent stem cells into intestinal tissue in vitro. Nature 470, 105–109 (2011).

Mellitzer, G. et al. Loss of enteroendocrine cells in mice alters lipid absorption and glucose homeostasis and impairs postnatal survival. J. Clin. Invest. 120, 1708–1721 (2010).

Thiagarajah, J. R. et al. Advances in evaluation of chronic diarrhea in infants. Gastroenterology 154, 2045–2059 (2018).

Osterwalder, M. et al. Enhancer redundancy provides phenotypic robustness in mammalian development. Nature 554, 239–243 (2018).

Li, H. & Durbin, R. Fast and accurate short read alignment with Burrows–Wheeler transform. Bioinformatics 25, 1754–1760 (2009).

Li, H. et al. The Sequence Alignment/Map format and SAMtools. Bioinformatics 25, 2078–2079 (2009).

Ge, D. et al. SVA: software for annotating and visualizing sequenced human genomes. Bioinformatics 27, 1998–2000 (2011).

Zhu, M. et al. Using ERDS to infer copy-number variants in high-coverage genomes. Am. J. Hum. Genet. 91, 408–421 (2012).

Trapnell, C. et al. Differential gene and transcript expression analysis of RNA-seq experiments with TopHat and Cufflinks. Nat. Protocols 7, 562–578 (2012).

Bockenhauer, D. et al. Epilepsy, ataxia, sensorineural deafness, tubulopathy, and KCNJ10 mutations. N. Engl. J. Med. 360, 1960–1970 (2009).

Purcell, S. et al. PLINK: a tool set for whole-genome association and population-based linkage analyses. Am. J. Hum. Genet. 81, 559–575 (2007).

Huang, W., Sherman, B. T. & Lempicki, R. A. Systematic and integrative analysis of large gene lists using DAVID bioinformatics resources. Nat. Protocols 4, 44–57 (2009).

Lindemann, S. R. et al. The epsomitic phototrophic microbial mat of Hot Lake, Washington: community structural responses to seasonal cycling. Front. Microbiol. 4, 323 (2013).

Wang, H. et al. One-step generation of mice carrying mutations in multiple genes by CRISPR/Cas-mediated genome engineering. Cell 153, 910–918 (2013).

Yang, H. et al. One-step generation of mice carrying reporter and conditional alleles by CRISPR/Cas-mediated genome engineering. Cell 154, 1370–1379 (2013).

Mali, P. et al. RNA-guided human genome engineering via Cas9. Science 339, 823–826 (2013).

Kvon, E. Z. et al. Progressive loss of function in a limb enhancer during snake evolution. Cell 167, 633–642 (2016).

Barrett, T. et al. NCBI GEO: archive for functional genomics data sets—update. Nucleic Acids Res. 41, D991–D995 (2013).

Warlich, E. et al. Lentiviral vector design and imaging approaches to visualize the early stages of cellular reprogramming. Mol. Ther. 19, 782–789 (2011).

McCracken, K. W., Howell, J. C., Wells, J. M. & Spence, J. R. Generating human intestinal tissue from pluripotent stem cells in vitro. Nat. Protocols 6, 1920–1928 (2011).

Glusman, G., Caballero, J., Mauldin, D. E., Hood, L. & Roach, J. C. Kaviar: an accessible system for testing SNV novelty. Bioinformatics 27, 3216–3217 (2011).
Acknowledgements
The authors thank the patients and their families for their cooperation and support. This work was supported by grants to D.L. from the SysKid EU FP7 project (241544), the Wolfson Family Charitable Trust and the Crown Human Genome Center at the Weizmann Institute of Science. A.V. and L.A.P. were supported by NHLBI grant R24HL123879 and NHGRI grants R01HG003988, U54HG006997 and UM1HG009421; J.M.W. and Y.A. were supported by the Cincinnati Children's Hospital and Sheba Medical Center's Joint Research Fund; J.M.W. and M.F.K. were supported by NIH grants 1R01DK092456 and 1U18NS080815 as well as a digestive disease center grant (P30 DK0789392); R.K. was supported by the David and Elaine Potter Charitable Foundation; B.L.B. was supported by NIH grants HL089707, HL064658 and HL136182; and I. Barozzi was funded through an Imperial College Research Fellowship. Research was conducted at the E. O. Lawrence Berkeley National Laboratory and performed under the Department of Energy contract DE-AC02-05CH11231 (University of California). iPS cell lines were generated in collaboration with the Cincinnati Children's Pluripotent Stem Cell Facility. This work was performed in partial fulfilment of the requirements for a PhD degree for D.O.-L. (Weizmann Institute of Science, Rehovot, Israel) and I.B.-J. (The Sackler Faculty of Medicine, Tel Aviv University, Israel).
Ethics declarations
Competing interests
The authors declare no competing interests.
Additional information
Publisher's note: Springer Nature remains neutral with regard to jurisdictional claims in published maps and institutional affiliations.
Extended data figures and tables
Supplementary information
About this article
Cite this article
Oz-Levi, D., Olender, T., Bar-Joseph, I. et al. Noncoding deletions reveal a gene that is critical for intestinal function. Nature 571, 107–111 (2019). https://doi.org/10.1038/s41586-019-1312-2
Received:

Accepted:

Published:

Issue Date:

DOI: https://doi.org/10.1038/s41586-019-1312-2
Comments
By submitting a comment you agree to abide by our Terms and Community Guidelines. If you find something abusive or that does not comply with our terms or guidelines please flag it as inappropriate.