Abstract
Size control is fundamental in tissue development and homeostasis1,2. Although the role of cell proliferation in these processes has been widely studied, the mechanisms that control embryo size—and how these mechanisms affect cell fate—remain unknown. Here we use the mouse blastocyst as a model to unravel a key role of fluid-filled lumen in the control of embryo size and specification of cell fate. We find that there is a twofold increase in lumenal pressure during blastocyst development, which translates into a concomitant increase in cell cortical tension and tissue stiffness of the trophectoderm that lines the lumen. Increased cortical tension leads to vinculin mechanosensing and maturation of functional tight junctions, which establishes a positive feedback loop to accommodate lumen growth. When the cortical tension reaches a critical threshold, cell–cell adhesion cannot be sustained during mitotic entry, which leads to trophectoderm rupture and blastocyst collapse. A simple theory of hydraulically gated oscillations recapitulates the observed dynamics of size oscillations, and predicts the scaling of embryo size with tissue volume. This theory further predicts that disrupted tight junctions or increased tissue stiffness lead to a smaller embryo size, which we verified by biophysical, embryological, pharmacological and genetic perturbations. Changes in lumenal pressure and size can influence the cell division pattern of the trophectoderm, and thereby affect cell allocation and fate. Our study reveals how lumenal pressure and tissue mechanics control embryo size at the tissue scale, which is coupled to cell position and fate at the cellular scale.
Access options
Subscribe to Journal
Get full journal access for 1 year
$199.00
only $3.90 per issue
All prices are NET prices.
VAT will be added later in the checkout.
Tax calculation will be finalised during checkout.
Rent or Buy article
Get time limited or full article access on ReadCube.
from$8.99
All prices are NET prices.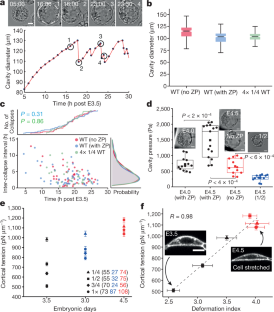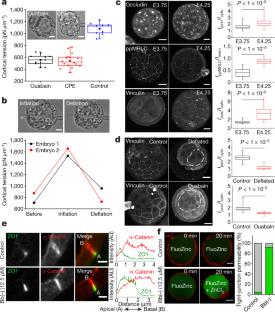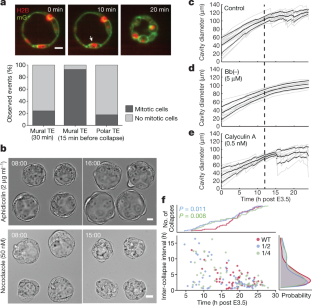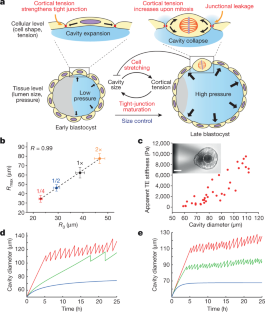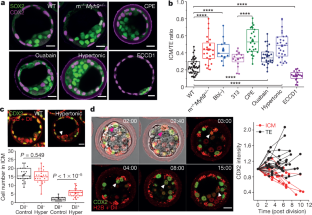 References
1.

Conlon, I. & Raff, M. Size control in animal development. Cell 96, 235–244 (1999).

2.

Day, S. J. & Lawrence, P. A. Measuring dimensions: the regulation of size and shape. Development 127, 2977–2987 (2000).

3.

Navis, A. & Bagnat, M. Developing pressures: fluid forces driving morphogenesis. Curr. Opin. Genet. Dev. 32, 24–30 (2015).

4.

Navis, A. & Nelson, C. M. Pulling together: tissue-generated forces that drive lumen morphogenesis. Semin. Cell Dev. Biol. 55, 139–147 (2016).

5.

Rossant, J. & Tam, P. P. L. New insights into early human development: lessons for stem cell derivation and differentiation. Cell Stem Cell 20, 18–28 (2017).

6.

Rossant, J. & Tam, P. P. L. Blastocyst lineage formation, early embryonic asymmetries and axis patterning in the mouse. Development 136, 701–713 (2009).

7.

Wennekamp, S., Mesecke, S., Nédélec, F. & Hiiragi, T. A self-organization framework for symmetry breaking in the mammalian embryo. Nat. Rev. Mol. Cell Biol. 14, 452–459 (2013).

8.

Niimura, S. Time-lapse videomicrographic analyses of contractions in mouse blastocysts. J. Reprod. Dev. 49, 413–423 (2003).

9.

Petrie, R. J., Koo, H. & Yamada, K. M. Generation of compartmentalized pressure by a nuclear piston governs cell motility in a 3D matrix. Science 345, 1062–1065 (2014).

10.

Leonavicius, K. et al. Mechanics of mouse blastocyst hatching revealed by a hydrogel-based microdeformation assay. Proc. Natl Acad. Sci. USA 115, 10375–10380 (2018).

11.

Maître, J. L., Niwayama, R., Turlier, H., Nédélec, F. & Hiiragi, T. Pulsatile cell-autonomous contractility drives compaction in the mouse embryo. Nat. Cell Biol. 17, 849–855 (2015).

12.

Violette, M. I., Madan, P. & Watson, A. J. Na+/K+-ATPase regulates tight junction formation and function during mouse preimplantation development. Dev. Biol. 289, 406–419 (2006).

13.

Moriwaki, K., Tsukita, S. & Furuse, M. Tight junctions containing claudin 4 and 6 are essential for blastocyst formation in preimplantation mouse embryos. Dev. Biol. 312, 509–522 (2007).

14.

Grashoff, C. et al. Measuring mechanical tension across vinculin reveals regulation of focal adhesion dynamics. Nature 466, 263–266 (2010).

15.

Yonemura, S., Wada, Y., Watanabe, T., Nagafuchi, A. & Shibata, M. α-Catenin as a tension transducer that induces adherens junction development. Nat. Cell Biol. 12, 533–542 (2010).

16.

Hara, Y., Shagirov, M. & Toyama, Y. Cell boundary elongation by non-autonomous contractility in cell oscillation. Curr. Biol. 26, 2388–2396 (2016).

17.

Ruiz-Herrero, T., Alessandri, K., Gurchenkov, B. V., Nassoy, P. & Mahadevan, L. Organ size control via hydraulically gated oscillations. Development 144, 4422–4427 (2017).

18.

Harris, A. R. et al. Characterizing the mechanics of cultured cell monolayers. Proc. Natl Acad. Sci. USA 109, 16449–16454 (2012).

19.

Shen, Y. et al. Mechanical characterization of microengineered epithelial cysts by using atomic force microscopy. Biophys. J. 112, 398–409 (2017).

20.

Harris, A. R., Daeden, A. & Charras, G. T. Formation of adherens junctions leads to the emergence of a tissue-level tension in epithelial monolayers. J. Cell Sci. 127, 2507–2517 (2014).

21.

Duda, M. et al. Polarization of myosin II refines tissue material properties to buffer mechanical stress. Dev. Cell 48, 245–260.e7 (2019).

22.

Maître, J. L. et al. Asymmetric division of contractile domains couples cell positioning and fate specification. Nature 536, 344–348 (2016).

23.

Shirayoshi, Y., Okada, T. S. & Takeichi, M. The calcium-dependent cell–cell adhesion system regulates inner cell mass formation and cell surface polarization in early mouse development. Cell 35, 631–638 (1983).

24.

Ruprecht, V. et al. Cortical contractility triggers a stochastic switch to fast amoeboid cell motility. Cell 160, 673–685 (2015).

25.

Nishioka, N. et al. The Hippo signaling pathway components Lats and Yap pattern Tead4 activity to distinguish mouse trophectoderm from inner cell mass. Dev. Cell 16, 398–410 (2009).

26.

Korotkevich, E. et al. The apical domain is required and sufficient for the first lineage segregation in the mouse embryo. Dev. Cell 40, 235–247.e7 (2017).

27.

Xiong, F. et al. Interplay of cell shape and division orientation promotes robust morphogenesis of developing epithelia. Cell 159, 415–427 (2014).

28.

Gilmour, D., Rembold, M. & Leptin, M. From morphogen to morphogenesis and back. Nature 541, 311–320 (2017).

29.

Chan, C. J., Heisenberg, C. P. & Hiiragi, T. Coordination of morphogenesis and cell-fate specification in development. Curr. Biol. 27, R1024–R1035 (2017).

30.

Tsunoda, Y., Yasui, T., Nakamura, K., Uchida, T. & Sugie, T. Effect of cutting the zona pellucida on the pronuclear transplantation in the mouse. J. Exp. Zool. 240, 119–125 (1986).

31.

Muzumdar, M. D., Tasic, B., Miyamichi, K., Li, L. & Luo, L. A global double-fluorescent Cre reporter mouse. Genesis 45, 593–605 (2007).

32.

Balbach, S. T. et al. Nuclear reprogramming: kinetics of cell cycle and metabolic progression as determinants of success. PLoS ONE 7, e35322 (2012).

33.

Vries, W. N. De et al. Expression of Cre recombinase in mouse oocytes : a means to study maternal effect genes. Genesis 112, 110–112 (2016).

34.

Guilak, F., Tedrow, J. R. & Burgkart, R. Viscoelastic properties of the cell nucleus. Biochem. Biophys. Res. Commun. 269, 781–786 (2000).

35.

Fery, A., Dubreuil, F. & Mohwald, H. Mechanics of artificial microcapsules. New J. Phys. 6, 18 (2004).

36.

Krupa, M. et al. Allocation of inner cells to epiblast vs primitive endoderm in the mouse embryo is biased but not determined by the round of asymmetric divisions (8→16- and 16→32-cells). Dev. Biol. 385, 136–148 (2014).

37.

Silverman, B. W. Density Estimation for Statistics and Data Analysis (CRC, 1996).

38.

Lou, X., Kang, M., Xenopoulos, P., Muñoz-Descalzo, S. & Hadjantonakis, A. K. A rapid and efficient 2D/3D nuclear segmentation method for analysis of early mouse embryo and stem cell image data. Stem Cell Reports 2, 382–397 (2014).
Acknowledgements
We thank all laboratory members and the EMBL animal facility for support; M. Furuse for GST-C-CPE/CPE313 plasmids; A. Aulehla, D. Gilmour, F. Graner, E. Hannezo, S. Hopyan, P. Liberali, R. Prevedel and J. Solon for feedback; T. Higashi, A. Miller and C. Schwayer for the protocol on fluozin leakage assay. C.J.C. and G.M. are supported by EMBL Interdisciplinary Postdocs (EIPOD) fellowship under Marie Sklodowska-Curie Actions COFUND (664726). T.H. is supported by EMBL, Deutsche Forschungsgemeinschaft (DFG) and the European Research Council (742732). T.R.-H. was supported by the Simons Foundation. L.M. thanks the MacArthur Foundation and the Radcliffe Institute for support. A.D.-M. is supported by EMBL and DFG (DI 2205/2-1).
Ethics declarations
Competing interests
The authors declare no competing interests.
Additional information
Publisher's note: Springer Nature remains neutral with regard to jurisdictional claims in published maps and institutional affiliations.
Extended data figures and tables
Supplementary information
About this article
Cite this article
Chan, C.J., Costanzo, M., Ruiz-Herrero, T. et al. Hydraulic control of mammalian embryo size and cell fate. Nature 571, 112–116 (2019). https://doi.org/10.1038/s41586-019-1309-x
Received:

Accepted:

Published:

Issue Date:
Comments
By submitting a comment you agree to abide by our Terms and Community Guidelines. If you find something abusive or that does not comply with our terms or guidelines please flag it as inappropriate.