Abstract
The nucleus of mammalian cells displays a distinct spatial segregation of active euchromatic and inactive heterochromatic regions of the genome1,2. In conventional nuclei, microscopy shows that euchromatin is localized in the nuclear interior and heterochromatin at the nuclear periphery1,2. Genome-wide chromosome conformation capture (Hi-C) analyses show this segregation as a plaid pattern of contact enrichment within euchromatin and heterochromatin compartments3, and depletion between them. Many mechanisms for the formation of compartments have been proposed, such as attraction of heterochromatin to the nuclear lamina2,4, preferential attraction of similar chromatin to each other1,4,5,6,7,8,9,10,11,12, higher levels of chromatin mobility in active chromatin13,14,15 and transcription-related clustering of euchromatin16,17. However, these hypotheses have remained inconclusive, owing to the difficulty of disentangling intra-chromatin and chromatin–lamina interactions in conventional nuclei18. The marked reorganization of interphase chromosomes in the inverted nuclei of rods in nocturnal mammals19,20 provides an opportunity to elucidate the mechanisms that underlie spatial compartmentalization. Here we combine Hi-C analysis of inverted rod nuclei with microscopy and polymer simulations. We find that attractions between heterochromatic regions are crucial for establishing both compartmentalization and the concentric shells of pericentromeric heterochromatin, facultative heterochromatin and euchromatin in the inverted nucleus. When interactions between heterochromatin and the lamina are added, the same model recreates the conventional nuclear organization. In addition, our models allow us to rule out mechanisms of compartmentalization that involve strong euchromatin interactions. Together, our experiments and modelling suggest that attractions between heterochromatic regions are essential for the phase separation of the active and inactive genome in inverted and conventional nuclei, whereas interactions of the chromatin with the lamina are necessary to build the conventional architecture from these segregated phases.
Relevant articles
Open Access articles citing this article.
Sangram Kadam

,

Kiran Kumari

…

Ranjith Padinhateeri

Nature Communications Open Access 11 July 2023

Nan Wang

,

Zhidan Wang

…

Chang Liu

Nature Plants Open Access 03 July 2023

Igor S. Tolokh

,

Nicholas Allen Kinney

…

Alexey V. Onufriev

Epigenetics & Chromatin Open Access 30 May 2023
Access options
Access Nature and 54 other Nature Portfolio journals
Get Nature+, our best-value online-access subscription
$29.99 / 30 days
cancel any time
Subscribe to this journal
Receive 51 print issues and online access
$199.00 per year
only $3.90 per issue
Rent or buy this article
Prices vary by article type
from$1.95
to$39.95
Prices may be subject to local taxes which are calculated during checkout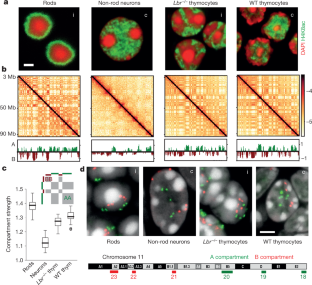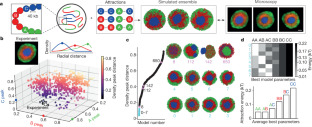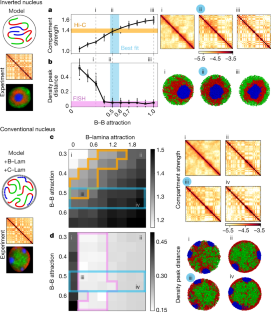 References
Solovei, I., Thanisch, K. & Feodorova, Y. How to rule the nucleus: divide et impera. Curr. Opin. Cell Biol. 40, 47–59 (2016).

van Steensel, B. & Belmont, A. S. Lamina-associated domains: links with chromosome architecture, heterochromatin, and gene repression. Cell 169, 780–791 (2017).

Bonev, B. & Cavalli, G. Organization and function of the 3D genome. Nat. Rev. Genet. 17, 661–678 (2016).

Jerabek, H. & Heermann, D. W. How chromatin looping and nuclear envelope attachment affect genome organization in eukaryotic cell nuclei. Int. Rev. Cell Mol. Biol. 307, 351–381 (2014).

Jost, D., Carrivain, P., Cavalli, G. & Vaillant, C. Modeling epigenome folding: formation and dynamics of topologically associated chromatin domains. Nucleic Acids Res. 42, 9553–9561 (2014).

Lee, S. S., Tashiro, S., Awazu, A. & Kobayashi, R. A new application of the phase-field method for understanding the mechanisms of nuclear architecture reorganization. J. Math. Biol. 74, 333–354 (2017).

Di Pierro, M., Zhang, B., Aiden, E. L., Wolynes, P. G. & Onuchic, J. N. Transferable model for chromosome architecture. Proc. Natl Acad. Sci. USA 113, 12168–12173 (2016).

Nuebler, J., Fudenberg, G., Imakaev, M., Abdennur, N. & Mirny, L. A. Chromatin organization by an interplay of loop extrusion and compartmental segregation. Proc. Natl Acad. Sci. USA 115, E6697–E6706 (2018).

van de Werken, H. J. G. et al. Small chromosomal regions position themselves autonomously according to their chromatin class. Genome Res. 27, 922–933 (2017).

Larson, A. G. et al. Liquid droplet formation by HP1α suggests a role for phase separation in heterochromatin. Nature 547, 236–240 (2017).

Strom, A. R. et al. Phase separation drives heterochromatin domain formation. Nature 547, 241–245 (2017).

Machida, S. et al. Structural basis of heterochromatin formation by human HP1. Mol. Cell 69, 385–397 (2018).

Ganai, N., Sengupta, S. & Menon, G. I. Chromosome positioning from activity-based segregation. Nucleic Acids Res. 42, 4145–4159 (2014).

Grosberg, A. Y. & Joanny, J.-F. Nonequilibrium statistical mechanics of mixtures of particles in contact with different thermostats. Phys. Rev. E 92, 032118 (2015).

Smrek, J. & Kremer, K. Small activity differences drive phase separation in active–passive polymer mixtures. Phys. Rev. Lett. 118, 098002 (2017).

Stevens, T. J. et al. 3D structures of individual mammalian genomes studied by single-cell Hi-C. Nature 544, 59–64 (2017).

Hilbert, L. et al. Transcription organizes euchromatin similar to an active microemulsion. Preprint at https://www.biorxiv.org/content/10.1101/234112v2 (2018).

Zheng, X. et al. Lamins organize the global three-dimensional genome from the nuclear periphery. Mol. Cell 71, 802–815 (2018).

Solovei, I. et al. Nuclear architecture of rod photoreceptor cells adapts to vision in mammalian evolution. Cell 137, 356–368 (2009).

Solovei, I. et al. LBR and lamin A/C sequentially tether peripheral heterochromatin and inversely regulate differentiation. Cell 152, 584–598 (2013).

Eberhart, A. et al. Epigenetics of eu- and heterochromatin in inverted and conventional nuclei from mouse retina. Chromosome Res. 21, 535–554 (2013).

Tan, L., Xing, D., Chang, C.-H., Li, H. & Xie, X. S. Three-dimensional genome structures of single sensory neurons in mouse visual and olfactory systems. Nat. Struct. Mol. Biol. 26, 297–307 (2019).

Imakaev, M. et al. Iterative correction of Hi-C data reveals hallmarks of chromosome organization. Nat. Methods 9, 999–1003 (2012).

Ou, H. D. et al. ChromEMT: visualizing 3D chromatin structure and compaction in interphase and mitotic cells. Science 357, eaag0025 (2017).

Choo, K. H. A. The Centromere (Oxford Univ. Press, 1997).

Rubinstein, M. & Colby, R. H. Polymer Physics (Oxford Univ. Press, 2003).

Biggs, R., Liu, P. Z., Stephens, A. D. & Marko, J. F. Effects of altering histone posttranslational modifications on mitotic chromosome structure and mechanics. Mol. Biol. Cell 30, 820–827 (2019).

Helmlinger, D. et al. Glutamine-expanded ataxin-7 alters TFTC/STAGA recruitment and chromatin structure leading to photoreceptor dysfunction. PLoS Biol. 4, e67 (2006).

Tang, S.-J. Chromatin organization by repetitive elements (CORE): a genomic principle for the higher-order structure of chromosomes. Genes 2, 502–515 (2011).

Rosa, A. & Everaers, R. Structure and dynamics of interphase chromosomes. PLOS Comput. Biol. 4, e1000153 (2008).

Solovei, I. Fluorescence in situ hybridization (FISH) on tissue cryosections. in Methods Mol. Biol. 659, 71–82 (2010).

Eberhart, A., Kimura, H., Leonhardt, H., Joffe, B. & Solovei, I. Reliable detection of epigenetic histone marks and nuclear proteins in tissue cryosections. Chromosome Res. 20, 849–858 (2012).

Cremer, M. et al. Multicolor 3D fluorescence in situ hybridization for imaging interphase chromosomes. Methods Mol. Biol. 463, 205–239 (2018).

Walter, J. et al. Towards many colors in FISH on 3D-preserved interphase nuclei. Cytogenet. Genome Res. 114, 367–378 (2006).

Feodorova, Y., Koch, M., Bultman, S., Michalakis, S. & Solovei, I. Quick and reliable method for retina dissociation and separation of rod photoreceptor perikarya from adult mice. MethodsX 2, 39–46 (2015).

Cohen, T. V. et al. The lamin B receptor under transcriptional control of C/EBPε is required for morphological but not functional maturation of neutrophils. Hum. Mol. Genet. 17, 2921–2933 (2008).

Naumova, N. et al. Organization of the mitotic chromosome. Science 342, 948–953 (2013).

Heinz, S. et al. Simple combinations of lineage-determining transcription factors prime cis-regulatory elements required for macrophage and B cell identities. Mol. Cell 38, 576–589 (2010).

Nora, E. P. et al. Targeted degradation of CTCF decouples local insulation of chromosome domains from genomic compartmentalization. Cell 169, 930–944 (2017).

Flyamer, I. M. et al. Single-nucleus Hi-C reveals unique chromatin reorganization at oocyte-to-zygote transition. Nature 544, 110–114 (2017).

Crane, E. et al. Condensin-driven remodelling of X chromosome topology during dosage compensation. Nature 523, 240–244 (2015).

Eastman, P. et al. OpenMM 4: a reusable, extensible, hardware independent library for high performance molecular simulation. J. Chem. Theory Comput. 9, 461–469 (2013).

Eastman, P. et al. OpenMM 7: rapid development of high performance algorithms for molecular dynamics. PLOS Comput. Biol. 13, e1005659 (2017).

Abdennur, N. & Mirny, L. Cooler: scalable storage for Hi-C data and other genomically-labeled arrays. Preprint at https://www.biorxiv.org/content/10.1101/557660v1 (2019).

Shultz, L. D. et al. Mutations at the mouse ichthyosis locus are within the lamin B receptor gene: a single gene model for human Pelger–Huët anomaly. Hum. Mol. Genet. 12, 61–69 (2003).

Dixon, J. R. et al. Topological domains in mammalian genomes identified by analysis of chromatin interactions. Nature 485, 376–380 (2012).

Rao, S. S. P. et al. A 3D map of the human genome at kilobase resolution reveals principles of chromatin looping. Cell 159, 1665–1680 (2014).

Schwarzer, W. et al. Two independent modes of chromatin organization revealed by cohesin removal. Nature 551, 51–56 (2017).

Grant, C. E., Bailey, T. L. & Noble, W. S. FIMO: scanning for occurrences of a given motif. Bioinformatics 27, 1017–1018 (2011).

Schmidt, D. et al. Waves of retrotransposon expansion remodel genome organization and CTCF binding in multiple mammalian lineages. Cell 148, 335–348 (2012).

Kerpedjiev, P. et al. HiGlass: web-based visual exploration and analysis of genome interaction maps. Genome Biol. 19, 125 (2018).

Zhang, Y. et al. Spatial organization of the mouse genome and its role in recurrent chromosomal translocations. Cell 148, 908–921 (2012).

Lin, Y. C. et al. Global changes in the nuclear positioning of genes and intra- and interdomain genomic interactions that orchestrate B cell fate. Nat. Immunol. 13, 1196–1204 (2012).

Kizilyaprak, C., Spehner, D., Devys, D. & Schultz, P. In vivo chromatin organization of mouse rod photoreceptors correlates with histone modifications. PLoS ONE 5, e11039 (2010).
Acknowledgements
We thank S. Bultmann for help with rod cell sorting; A. S. Wang for help with sampling of Lbr−/− thymi; D. Devys for samples of retinas from R7E mice; all members of the Mirny laboratory for many discussions; N. Abdennur for help with CTCF motif analysis; and N. Abdennur and P. Kerpedjiev for help with the HiGlass Hi-C browser. This work has been supported by NSF 1504942, NIH GM114190, NIH HG003143, NIH HG007743 and by the Deutsche Forschungsgemeinschaft grants SO1054/3 (I.S.) and SFB1064 (I.S. and H.L.). M.F. was supported by the Department of Defense through the National Defense Science & Engineering Graduate Fellowship (NDSEG) Program. J.D. and L.A.M. acknowledge support from the National Institutes of Health Common Fund 4D Nucleome Program (DK107980). J.D. is an investigator of the Howard Hughes Medical Institute.
Ethics declarations
Competing interests
The authors declare no competing interests.
Additional information
Publisher's note: Springer Nature remains neutral with regard to jurisdictional claims in published maps and institutional affiliations.
Extended data figures and tables
Supplementary information
About this article
Cite this article
Falk, M., Feodorova, Y., Naumova, N. et al. Heterochromatin drives compartmentalization of inverted and conventional nuclei. Nature 570, 395–399 (2019). https://doi.org/10.1038/s41586-019-1275-3
Received:

Accepted:

Published:

Issue Date:

DOI: https://doi.org/10.1038/s41586-019-1275-3
Comments
By submitting a comment you agree to abide by our Terms and Community Guidelines. If you find something abusive or that does not comply with our terms or guidelines please flag it as inappropriate.