Abstract
There is increased appreciation that dopamine neurons in the midbrain respond not only to reward1 and reward-predicting cues1,2, but also to other variables such as the distance to reward3, movements4,5,6,7,8,9 and behavioural choices10,11. An important question is how the responses to these diverse variables are organized across the population of dopamine neurons. Whether individual dopamine neurons multiplex several variables, or whether there are subsets of neurons that are specialized in encoding specific behavioural variables remains unclear. This fundamental question has been difficult to resolve because recordings from large populations of individual dopamine neurons have not been performed in a behavioural task with sufficient complexity to examine these diverse variables simultaneously. Here, to address this gap, we used two-photon calcium imaging through an implanted lens to record the activity of more than 300 dopamine neurons from the ventral tegmental area of the mouse midbrain during a complex decision-making task. As mice navigated in a virtual-reality environment, dopamine neurons encoded an array of sensory, motor and cognitive variables. These responses were functionally clustered, such that subpopulations of neurons transmitted information about a subset of behavioural variables, in addition to encoding reward. These functional clusters were spatially organized, with neighbouring neurons more likely to be part of the same cluster. Together with the topography between dopamine neurons and their projections, this specialization and anatomical organization may aid downstream circuits in correctly interpreting the wide range of signals transmitted by dopamine neurons.
Your institute does not have access to this article
Relevant articles
Open Access articles citing this article.
James C. R. Grove

,

Lindsay A. Gray

…

Zachary A. Knight

Nature Open Access 13 July 2022

Peter J. Schuette

,

Juliane M. Ikebara

…

Avishek Adhikari

Scientific Reports Open Access 20 June 2022

John N. J. Reynolds

,

Riccardo Avvisati

…

Yan-Feng Zhang

Nature Communications Open Access 11 March 2022
Access options
Subscribe to Nature+
Get immediate online access to the entire Nature family of 50+ journals
Subscribe to Journal
Get full journal access for 1 year
$199.00
only $3.90 per issue
All prices are NET prices.
VAT will be added later in the checkout.
Tax calculation will be finalised during checkout.
Buy article
Get time limited or full article access on ReadCube.
$32.00
All prices are NET prices.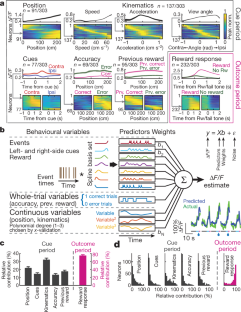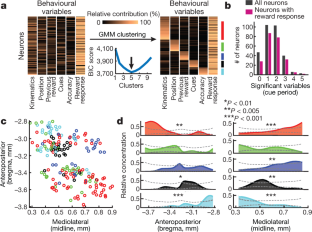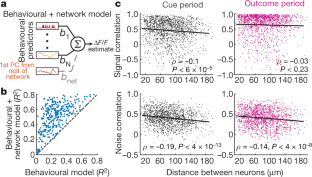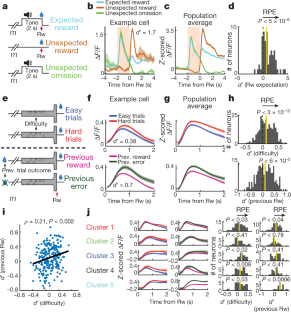 Code availability
The code for the encoding model and the motion correction is available on github (https://github.com/benengx). All other code is available upon reasonable request.
Data availability
All data are available from the corresponding author upon reasonable request.
References
Cohen, J. Y., Haesler, S., Vong, L., Lowell, B. B. & Uchida, N. Neuron-type-specific signals for reward and punishment in the ventral tegmental area. Nature 482, 85–88 (2012).

Schultz, W., Dayan, P. & Montague, P. R. A neural substrate of prediction and reward. Science 275, 1593–1599 (1997).

Howe, M. W., Tierney, P. L., Sandberg, S. G., Phillips, P. E. M. & Graybiel, A. M. Prolonged dopamine signalling in striatum signals proximity and value of distant rewards. Nature 500, 575–579 (2013).

Howe, M. W. & Dombeck, D. A. Rapid signalling in distinct dopaminergic axons during locomotion and reward. Nature 535, 505–510 (2016).

Barter, J. W. et al. Beyond reward prediction errors: the role of dopamine in movement kinematics. Front. Integr. Neurosci. 9, 39 (2015).

Dodson, P. D. et al. Representation of spontaneous movement by dopaminergic neurons is cell-type selective and disrupted in parkinsonism. Proc. Natl Acad. Sci. USA 113, E2180–E2188 (2016).

da Silva, J. A., Tecuapetla, F., Paixão, V. & Costa, R. M. Dopamine neuron activity before action initiation gates and invigorates future movements. Nature 554, 244–248 (2018).

Coddington, L. T. & Dudman, J. T. The timing of action determines reward prediction signals in identified midbrain dopamine neurons. Nat. Neurosci. 21, 1563–1573 (2018).

Kremer, Y., Flakowski, J., Rohner, C. & Lüscher, C. VTA dopamine neurons multiplex external with internal representations of goal-directed action. Preprint at https://www.bioRxiv.org/content/10.1101/408062v1 (2018).

Howard, C. D., Li, H., Geddes, C. E. & Jin, X. Dynamic nigrostriatal dopamine biases action selection. Neuron 93, 1436–1450.e8 (2017).

Parker, N. F. et al. Reward and choice encoding in terminals of midbrain dopamine neurons depends on striatal target. Nat. Neurosci. 19, 845–854 (2016).

Steinberg, E. E. et al. A causal link between prediction errors, dopamine neurons and learning. Nat. Neurosci. 16, 966–973 (2013).

Bayer, H. M. & Glimcher, P. W. Midbrain dopamine neurons encode a quantitative reward prediction error signal. Neuron 47, 129–141 (2005).

Lak, A., Nomoto, K., Keramati, M., Sakagami, M. & Kepecs, A. Midbrain dopamine neurons signal belief in choice accuracy during a perceptual decision. Curr. Biol. 27, 821–832 (2017).

Pinto, L. et al. An accumulation-of-evidence task using visual pulses for mice navigating in virtual reality. Front. Behav. Neurosci. 12, 36 (2018).

Barretto, R. P. J., Messerschmidt, B. & Schnitzer, M. J. In vivo fluorescence imaging with high-resolution microlenses. Nat. Methods 6, 511–512 (2009).

Carelli, R. M. Nucleus accumbens cell firing and rapid dopamine signaling during goal-directed behaviors in rats. Neuropharmacology 47 (Suppl. 1), 180–189 (2004).

Hamid, A. A. et al. Mesolimbic dopamine signals the value of work. Nat. Neurosci. 19, 117–126 (2016).

Kim, H. F., Ghazizadeh, A. & Hikosaka, O. Dopamine neurons encoding long-term memory of object value for habitual behavior. Cell 163, 1165–1175 (2015).

Slonim, N., Atwal, G. S., Tkacik, G. & Bialek, W. Information-based clustering. Proc. Natl Acad. Sci. USA 102, 18297–18302 (2005).

Cox, J., Pinto, L. & Dan, Y. Calcium imaging of sleep-wake related neuronal activity in the dorsal pons. Nat. Commun. 7, 10763 (2016).

Eshel, N., Tian, J., Bukwich, M. & Uchida, N. Dopamine neurons share common response function for reward prediction error. Nat. Neurosci. 19, 479–486 (2016).

Joshua, M. et al. Synchronization of midbrain dopaminergic neurons is enhanced by rewarding events. Neuron 62, 695–704 (2009).

Kim, Y., Wood, J. & Moghaddam, B. Coordinated activity of ventral tegmental neurons adapts to appetitive and aversive learning. PLoS ONE 7, e29766 (2012).

Pillow, J. W. et al. Spatio-temporal correlations and visual signalling in a complete neuronal population. Nature 454, 995–999 (2008).

Beier, K. T. et al. Circuit architecture of VTA dopamine neurons revealed by systematic input-output mapping. Cell 162, 622–634 (2015).

Lammel, S. et al. Unique properties of mesoprefrontal neurons within a dual mesocorticolimbic dopamine system. Neuron 57, 760–773 (2008).

Tsai, H.-C. et al. Phasic firing in dopaminergic neurons is sufficient for behavioral conditioning. Science 324, 1080–1084 (2009).

Surmeier, D. J., Ding, J., Day, M., Wang, Z. & Shen, W. D1 and D2 dopamine-receptor modulation of striatal glutamatergic signaling in striatal medium spiny neurons. Trends Neurosci. 30, 228–235 (2007).

Panigrahi, B. et al. Dopamine is required for the neural representation and control of movement vigor. Cell 162, 1418–1430 (2015).

Lammel, S. et al. Diversity of transgenic mouse models for selective targeting of midbrain dopamine neurons. Neuron 85, 429–438 (2015).

Daigle, T. L. et al. A suite of transgenic driver and reporter mouse lines with enhanced brain-cell-type targeting and functionality. Cell 174, 465–480.e22 (2018).

Dombeck, D. A., Khabbaz, A. N., Collman, F., Adelman, T. L. & Tank, D. W. Imaging large-scale neural activity with cellular resolution in awake, mobile mice. Neuron 56, 43–57 (2007).

Harvey, C. D., Coen, P. & Tank, D. W. Choice-specific sequences in parietal cortex during a virtual-navigation decision task. Nature 484, 62–68 (2012).

Low, R. J., Gu, Y. & Tank, D. W. Cellular resolution optical access to brain regions in fissures: imaging medial prefrontal cortex and grid cells in entorhinal cortex. Proc. Natl Acad. Sci. USA 111, 18739–18744 (2014).

Aronov, D. & Tank, D. W. Engagement of neural circuits underlying 2D spatial navigation in a rodent virtual reality system. Neuron 84, 442–456 (2014).

Pologruto, T. A., Sabatini, B. L. & Svoboda, K. ScanImage: flexible software for operating laser scanning microscopes. Biomed. Eng. Online 2, 13 (2003).

Sage, D. & Unser, M. Teaching image-processing programming in Java. IEEE Signal Process. Mag. 20, 43–52 (2003).

Chen, T.-W. et al. Ultrasensitive fluorescent proteins for imaging neuronal activity. Nature 499, 295–300 (2013).

Kerlin, A. M., Andermann, M. L., Berezovskii, V. K. & Reid, R. C. Broadly tuned response properties of diverse inhibitory neuron subtypes in mouse visual cortex. Neuron 67, 858–871 (2010).

Pinto, L. & Dan, Y. Cell-type-specific activity in prefrontal cortex during goal-directed behavior. Neuron 87, 437–450 (2015).

Fürth, D. et al. An interactive framework for whole-brain maps at cellular resolution. Nat. Neurosci. 21, 139–149 (2018).

Runyan, C. A., Piasini, E., Panzeri, S. & Harvey, C. D. Distinct timescales of population coding across cortex. Nature 548, 92–96 (2017).

Mereu, G. et al. Spontaneous bursting activity of dopaminergic neurons in midbrain slices from immature rats: role of N-methyl-d-aspartate receptors. Neuroscience 77, 1029–1036 (1997).

Lein, E. S. et al. Genome-wide atlas of gene expression in the adult mouse brain. Nature 445, 168–176 (2007).
Acknowledgements
We thank J. Y. Choi, S. S. H. Wang, J. Pillow, D. Witten, L. Pinto, S. Bolkan, D. Lee, N. Engelhard, B. Deverett, A. Song, B. Briones and C. Brody, as well as the BRAINCOGS team, the Bezos Center, the McDonnell Center, and the Witten and Tank laboratories. We also thank E. Engel for reagents. Funding was from ELSC and EMBO (B.E.); NYSCF, Pew, McKnight, NARSAD, and Sloan Foundation (I.B.W.); ARO grants: W911NF-16-1-0474 (N.D.D.), W911NF-17-1-0554 (I.B.W.), and NIH grants U19 NS104648-01, DP2 DA035149-01, 1R01DAA047869-01 and 5R01MH106689-02 (I.B.W.). I.B.W. is a New York Stem Cell Foundation—Robertson Investigator.
Reviewer information
Nature thanks Regina M. Carelli, Patricia Janak and the other anonymous reviewer(s) for their contribution to the peer review of this work.
Ethics declarations
Competing interests
The authors declare no competing interests.
Additional information
Publisher's note: Springer Nature remains neutral with regard to jurisdictional claims in published maps and institutional affiliations.
Extended data figures and tables
Supplementary information
Three sample trials showing the mouse's perspective view of the visual field during the task
Raw (left) and motion-corrected (right) video of DA neurons imaged through a GRIN lens during behaviour. For visualization, the movie was sped up by a factor of 5 by taking a rolling average of 5 frames and down-sampling by a factor of 5
About this article
Cite this article
Engelhard, B., Finkelstein, J., Cox, J. et al. Specialized coding of sensory, motor and cognitive variables in VTA dopamine neurons. Nature 570, 509–513 (2019). https://doi.org/10.1038/s41586-019-1261-9
Received:

Accepted:

Published:

Issue Date:

DOI: https://doi.org/10.1038/s41586-019-1261-9
Comments
By submitting a comment you agree to abide by our Terms and Community Guidelines. If you find something abusive or that does not comply with our terms or guidelines please flag it as inappropriate.