Abstract
Clustered, regularly interspaced, short palindromic repeat (CRISPR) loci in prokaryotes are composed of 30–40-base-pair repeats separated by equally short sequences of plasmid and bacteriophage origin known as spacers1,2,3. These loci are transcribed and processed into short CRISPR RNAs (crRNAs) that are used as guides by CRISPR-associated (Cas) nucleases to recognize and destroy complementary sequences (known as protospacers) in foreign nucleic acids4,5. In contrast to most Cas nucleases, which destroy invader DNA4,5,6,7, the type VI effector nuclease Cas13 uses RNA guides to locate complementary transcripts and catalyse both sequence-specific cis- and non-specific trans-RNA cleavage8. Although it has been hypothesized that Cas13 naturally defends against RNA phages8, type VI spacer sequences have exclusively been found to match the genomes of double-stranded DNA phages9,10, suggesting that Cas13 can provide immunity against these invaders. However, whether and how Cas13 uses its cis- and/or trans-RNA cleavage activities to defend against double-stranded DNA phages is not understood. Here we show that trans-cleavage of transcripts halts the growth of the host cell and is sufficient to abort the infectious cycle. This depletes the phage population and provides herd immunity to uninfected bacteria. Phages that harbour target mutations, which easily evade DNA-targeting CRISPR systems11,12,13, are also neutralized when Cas13 is activated by wild-type phages. Thus, by acting on the host rather than directly targeting the virus, type VI CRISPR systems not only provide robust defence against DNA phages but also prevent outbreaks of CRISPR-resistant phage.
Relevant articles
Open Access articles citing this article.
David Colognori

,

Marena Trinidad

&

Jennifer A. Doudna

Nature Biotechnology Open Access 23 January 2023

Jack P. K. Bravo

,

Thomson Hallmark

…

David W. Taylor

Nature Open Access 04 January 2023

Oleg Dmytrenko

,

Gina C. Neumann

…

Chase L. Beisel

Nature Open Access 04 January 2023
Access options
Subscribe to Nature+
Get immediate online access to Nature and 55 other Nature journal
Subscribe to Journal
Get full journal access for 1 year
$199.00
only $3.90 per issue
All prices are NET prices.
VAT will be added later in the checkout.
Tax calculation will be finalised during checkout.
Buy article
Get time limited or full article access on ReadCube.
$32.00
All prices are NET prices.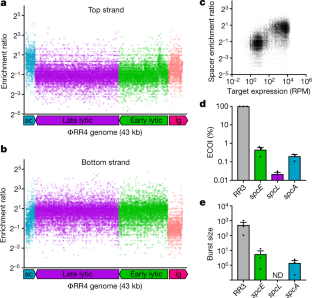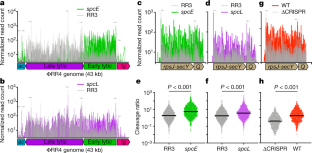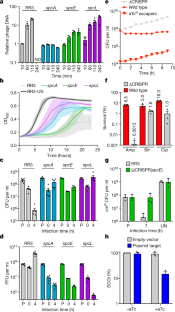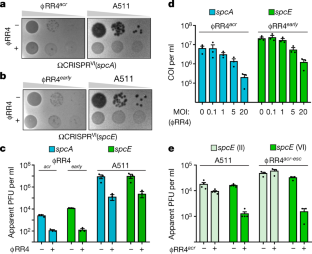 Data availability
The L. seeligeri RR4 and L. ivanovii RR3 genome sequences, along with raw reads from the spacer library deep sequencing, paired-end RNA-seq, and 5′ end mapping have been deposited in the Sequence Read Archive under BioProject accession number PRJNA512236. Lists of strains, plasmids, and oligonucleotides used in this study are available in Supplementary Information 5.
Code availability
Custom scripts used in analysis of spacer library data as well as RNA 5′ end mapping data are available upon request.
References
Mojica, F. J., Díez-Villaseñor, C., García-Martínez, J. & Soria, E. Intervening sequences of regularly spaced prokaryotic repeats derive from foreign genetic elements. J. Mol. Evol. 60, 174–182 (2005).

Bolotin, A., Quinquis, B., Sorokin, A. & Ehrlich, S. D. Clustered regularly interspaced short palindrome repeats (CRISPRs) have spacers of extrachromosomal origin. Microbiology 151, 2551–2561 (2005).

Pourcel, C., Salvignol, G. & Vergnaud, G. CRISPR elements in Yersinia pestis acquire new repeats by preferential uptake of bacteriophage DNA, and provide additional tools for evolutionary studies. Microbiology 151, 653–663 (2005).

Barrangou, R. et al. CRISPR provides acquired resistance against viruses in prokaryotes. Science 315, 1709–1712 (2007).

Brouns, S. J. et al. Small CRISPR RNAs guide antiviral defense in prokaryotes. Science 321, 960–964 (2008).

Marraffini, L. A. & Sontheimer, E. J. CRISPR interference limits horizontal gene transfer in staphylococci by targeting DNA. Science 322, 1843–1845 (2008).

Garneau, J. E. et al. The CRISPR/Cas bacterial immune system cleaves bacteriophage and plasmid DNA. Nature 468, 67–71 (2010).

Abudayyeh, O. O. et al. C2c2 is a single-component programmable RNA-guided RNA-targeting CRISPR effector. Science 353, aaf5573 (2016).

Smargon, A. A. et al. Cas13b is a type VI-B CRISPR-associated RNA-guided RNase differentially regulated by accessory proteins Csx27 and Csx28. Mol. Cell 65, 618–630.e617 (2017).

Yan, W. X. et al. Cas13d is a compact RNA-targeting type VI CRISPR effector positively modulated by a WYL-domain-containing accessory protein. Mol. Cell 70, 327–339.e325 (2018).

Deveau, H. et al. Phage response to CRISPR-encoded resistance in Streptococcus thermophilus. J. Bacteriol. 190, 1390–1400 (2008).

van Houte, S. et al. The diversity-generating benefits of a prokaryotic adaptive immune system. Nature 532, 385–388 (2016).

Pyenson, N. C., Gayvert, K., Varble, A., Elemento, O. & Marraffini, L. A. Broad targeting specificity during bacterial type III CRISPR–Cas immunity constrains viral escape. Cell Host Microbe 22, 343–353.e343 (2017).

Meeske, A. J. & Marraffini, L. A. RNA guide complementarity prevents self-targeting in type VI CRISPR systems. Mol. Cell 71, 791–801.e793 (2018).

Westra, E. R. et al. CRISPR immunity relies on the consecutive binding and degradation of negatively supercoiled invader DNA by Cascade and Cas3. Mol. Cell 46, 595–605 (2012).

Koonin, E. V. & Zhang, F. Coupling immunity and programmed cell suicide in prokaryotes: life-or-death choices. BioEssays 39, 1–9 (2017).

Parreira, R., Ehrlich, S. D. & Chopin, M. C. Dramatic decay of phage transcripts in lactococcal cells carrying the abortive infection determinant AbiB. Mol. Microbiol. 19, 221–230 (1996).

Fineran, P. C. et al. The phage abortive infection system, ToxIN, functions as a protein-RNA toxin-antitoxin pair. Proc. Natl Acad. Sci. USA 106, 894–899 (2009).

Short, F. L. et al. Selectivity and self-assembly in the control of a bacterial toxin by an antitoxic noncoding RNA pseudoknot. Proc. Natl Acad. Sci. USA 110, E241–E249 (2013).

Shiloh, M. U., Ruan, J. & Nathan, C. Evaluation of bacterial survival and phagocyte function with a fluorescence-based microplate assay. Infect. Immun. 65, 3193–3198 (1997).

Watson, B. N. J., Staals, R. H. J. & Fineran, P. C. CRISPR–Cas-mediated phage resistance enhances horizontal gene transfer by transduction. MBio 9, e02406-17 (2018).

Payne, P., Geyrhofer, L., Barton, N. H. & Bollback, J. P. CRISPR-based herd immunity can limit phage epidemics in bacterial populations. eLife 7, e32035 (2018).

Klumpp, J. et al. The terminally redundant, nonpermuted genome of Listeria bacteriophage A511: a model for the SPO1-like myoviruses of gram-positive bacteria. J. Bacteriol. 190, 5753–5765 (2008).

Rostøl, J. T. & Marraffini, L. (Ph)ighting phages: how bacteria resist their parasites. Cell Host Microbe 25, 184–194 (2019).

Yan, W. X. et al. Functionally diverse type V CRISPR–Cas systems. Science 363, 88–91 (2019).

Zetsche, B. et al. Cpf1 is a single RNA-guided endonuclease of a class 2 CRISPR–Cas system. Cell 163, 759–771 (2015).

Hynes, A. P., Villion, M. & Moineau, S. Adaptation in bacterial CRISPR–Cas immunity can be driven by defective phages. Nat. Commun. 5, 4399 (2014).

Lauer, P., Chow, M. Y., Loessner, M. J., Portnoy, D. A. & Calendar, R. Construction, characterization, and use of two Listeria monocytogenes site-specific phage integration vectors. J. Bacteriol. 184, 4177–4186 (2002).

Rocourt, J., Schrettenbrunner, A., Hof, H. & Espaze, E. P. [New species of the genus Listeria: Listeria seeligeri]. Pathol. Biol. (Paris) 35, 1075–1080 (1987).

Lemaître, J. P., Duroux, A., Pimpie, R., Duez, J. M. & Milat, M. L. Listeria phage and phage tail induction triggered by components of bacterial growth media (phosphate, LiCl, nalidixic acid, and acriflavine). Appl. Environ. Microbiol. 81, 2117–2124 (2015).

Loessner, M. J., Inman, R. B., Lauer, P. & Calendar, R. Complete nucleotide sequence, molecular analysis and genome structure of bacteriophage A118 of Listeria monocytogenes: implications for phage evolution. Mol. Microbiol. 35, 324–340 (2000).
Acknowledgements
We thank all members of the Marraffini laboratory for advice and encouragement, A. Varble for discussions, and J. T. Rostøl for critical reading of the manuscript. L. seeligeri RR4 and L. ivanovii RR3 were gifts from J.-P. Lemaître. Support for this work comes from the National Institute of Health Director's Pioneer Award 1DP1GM128184-01 (to L.A.M.). L.A.M. is an investigator of the Howard Hughes Medical Institute. A.J.M. is a Helen Hay Whitney postdoctoral fellow.
Peer review information
Nature thanks Peter Fineran, Edze Westra and the other anonymous reviewer(s) for their contribution to the peer review of this work.
Ethics declarations
Competing interests
L.A.M. is a cofounder and Scientific Advisory Board member of Intellia Therapeutics, and a co-founder of Eligo Biosciences. The other authors declare no competing interests.
Additional information
Publisher's note: Springer Nature remains neutral with regard to jurisdictional claims in published maps and institutional affiliations.
Extended data figures and tables
Supplementary information
About this article
Cite this article
Meeske, A.J., Nakandakari-Higa, S. & Marraffini, L.A. Cas13-induced cellular dormancy prevents the rise of CRISPR-resistant bacteriophage. Nature 570, 241–245 (2019). https://doi.org/10.1038/s41586-019-1257-5
Received:

Accepted:

Published:

Issue Date:

DOI: https://doi.org/10.1038/s41586-019-1257-5
Comments
By submitting a comment you agree to abide by our Terms and Community Guidelines. If you find something abusive or that does not comply with our terms or guidelines please flag it as inappropriate.