Abstract
The dopamine projection from ventral tegmental area (VTA) to nucleus accumbens (NAc) is critical for motivation to work for rewards and reward-driven learning. How dopamine supports both functions is unclear. Dopamine cell spiking can encode prediction errors, which are vital learning signals in computational theories of adaptive behaviour. By contrast, dopamine release ramps up as animals approach rewards, mirroring reward expectation. This mismatch might reflect differences in behavioural tasks, slower changes in dopamine cell spiking or spike-independent modulation of dopamine release. Here we compare spiking of identified VTA dopamine cells with NAc dopamine release in the same decision-making task. Cues that indicate an upcoming reward increased both spiking and release. However, NAc core dopamine release also covaried with dynamically evolving reward expectations, without corresponding changes in VTA dopamine cell spiking. Our results suggest a fundamental difference in how dopamine release is regulated to achieve distinct functions: broadcast burst signals promote learning, whereas local control drives motivation.
Relevant articles
Open Access articles citing this article.
Luke T. Coddington

,

Sarah E. Lindo

&

Joshua T. Dudman

Nature Open Access 18 January 2023

Chiara Toschi

,

Trevor W. Robbins

&

Jeffrey W. Dalley

Experimental Brain Research Open Access 10 January 2023

Miguel Skirzewski

,

Oren Princz-Lebel

…

Timothy J. Bussey

Nature Communications Open Access 24 December 2022
Access options
Subscribe to Nature+
Get immediate online access to Nature and 55 other Nature journal
Subscribe to Journal
Get full journal access for 1 year
$199.00
only $3.90 per issue
All prices are NET prices.
VAT will be added later in the checkout.
Tax calculation will be finalised during checkout.
Buy article
Get time limited or full article access on ReadCube.
$32.00
All prices are NET prices.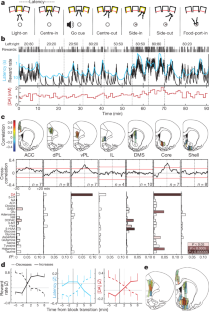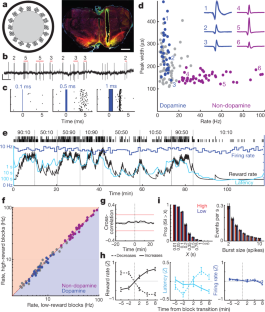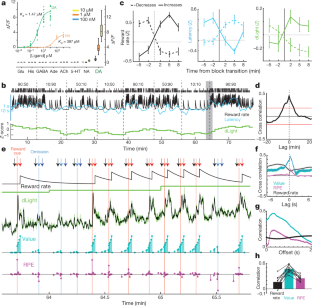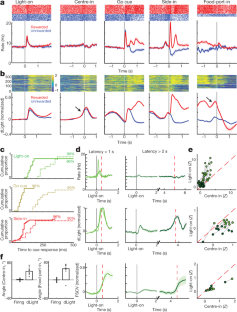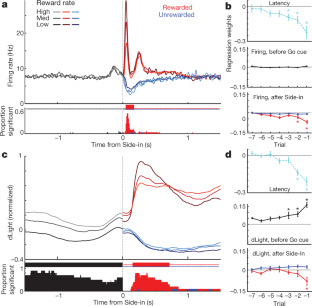 Code availability
Custom MATLAB code is available on request from J.D.B.
References
Schultz, W., Dayan, P. & Montague, P. R. A neural substrate of prediction and reward. Science 275, 1593–1599 (1997).

Pan, W. X., Schmidt, R., Wickens, J. R. & Hyland, B. I. Dopamine cells respond to predicted events during classical conditioning: evidence for eligibility traces in the reward-learning network. J. Neurosci. 25, 6235–6242 (2005).

Cohen, J. Y., Haesler, S., Vong, L., Lowell, B. B. & Uchida, N. Neuron-type-specific signals for reward and punishment in the ventral tegmental area. Nature 482, 85–88 (2012).

Steinberg, E. E. et al. A causal link between prediction errors, dopamine neurons and learning. Nat. Neurosci. 16, 966–973 (2013).

Hamid, A. A. et al. Mesolimbic dopamine signals the value of work. Nat. Neurosci. 19, 117–126 (2016).

Saunders, B. T., Richard, J. M., Margolis, E. B. & Janak, P. H. Dopamine neurons create Pavlovian conditioned stimuli with circuit-defined motivational properties. Nat. Neurosci. 21, 1072–1083 (2018).

Phillips, P. E., Stuber, G. D., Heien, M. L., Wightman, R. M. & Carelli, R. M. Subsecond dopamine release promotes cocaine seeking. Nature 422, 614–618 (2003).

Roitman, M. F., Stuber, G. D., Phillips, P. E., Wightman, R. M. & Carelli, R. M. Dopamine operates as a subsecond modulator of food seeking. J. Neurosci. 24, 1265–1271 (2004).

Wassum, K. M., Ostlund, S. B. & Maidment, N. T. Phasic mesolimbic dopamine signaling precedes and predicts performance of a self-initiated action sequence task. Biol. Psychiatry 71, 846–854 (2012).

Howe, M. W., Tierney, P. L., Sandberg, S. G., Phillips, P. E. & Graybiel, A. M. Prolonged dopamine signalling in striatum signals proximity and value of distant rewards. Nature 500, 575–579 (2013).

Syed, E. C. et al. Action initiation shapes mesolimbic dopamine encoding of future rewards. Nat. Neurosci. 19, 34–36 (2016).

Morris, G., Nevet, A., Arkadir, D., Vaadia, E. & Bergman, H. Midbrain dopamine neurons encode decisions for future action. Nat. Neurosci. 9, 1057–1063 (2006).

da Silva, J. A., Tecuapetla, F., Paixão, V. & Costa, R. M. Dopamine neuron activity before action initiation gates and invigorates future movements. Nature 554, 244–248 (2018).

Fiorillo, C. D., Tobler, P. N. & Schultz, W. Discrete coding of reward probability and uncertainty by dopamine neurons. Science 299, 1898–1902 (2003).

Patriarchi, T., Cho, J. R., Merten, K., Howe, M. W., et al. Ultrafast neuronal imaging of dopamine dynamics with designed genetically encoded sensors. Science 360, eaat4422 (2018).

Salamone, J. D. & Correa, M. The mysterious motivational functions of mesolimbic dopamine. Neuron 76, 470–485 (2012).

Schultz, W. Predictive reward signal of dopamine neurons. J. Neurophysiol. 80, 1–27 (1998).

Garris, P. A. & Wightman, R. M. Different kinetics govern dopaminergic transmission in the amygdala, prefrontal cortex, and striatum: an in vivo voltammetric study. J. Neurosci. 14, 442–450 (1994).

Frank, M. J., Doll, B. B., Oas-Terpstra, J. & Moreno, F. Prefrontal and striatal dopaminergic genes predict individual differences in exploration and exploitation. Nat. Neurosci. 12, 1062–1068 (2009).

St Onge, J. R., Ahn, S., Phillips, A. G. & Floresco, S. B. Dynamic fluctuations in dopamine efflux in the prefrontal cortex and nucleus accumbens during risk-based decision making. J. Neurosci. 32, 16880–16891 (2012).

Bartra, O., McGuire, J. T. & Kable, J. W. The valuation system: a coordinate-based meta-analysis of BOLD fMRI experiments examining neural correlates of subjective value. Neuroimage 76, 412–427 (2013).

Ikemoto, S. Dopamine reward circuitry: two projection systems from the ventral midbrain to the nucleus accumbens-olfactory tubercle complex. Brain Res. Brain Res. Rev. 56, 27–78 (2007).

Breton, J. M. et al. Relative contributions and mapping of ventral tegmental area dopamine and GABA neurons by projection target in the rat. J. Comp. Neurol. (2018).

Ungless, M. A., Magill, P. J. & Bolam, J. P. Uniform inhibition of dopamine neurons in the ventral tegmental area by aversive stimuli. Science 303, 2040–2042 (2004).

Morales, M. & Margolis, E. B. Ventral tegmental area: cellular heterogeneity, connectivity and behaviour. Nat. Rev. Neurosci. 18, 73–85 (2017).

Morris, G., Arkadir, D., Nevet, A., Vaadia, E. & Bergman, H. Coincident but distinct messages of midbrain dopamine and striatal tonically active neurons. Neuron 43, 133–143 (2004).

Floresco, S. B., West, A. R., Ash, B., Moore, H. & Grace, A. A. Afferent modulation of dopamine neuron firing differentially regulates tonic and phasic dopamine transmission. Nat. Neurosci. 6, 968–973 (2003).

Grace, A. A. Dysregulation of the dopamine system in the pathophysiology of schizophrenia and depression. Nat. Rev. Neurosci. 17, 524–532 (2016).

Cohen, J. Y., Amoroso, M. W. & Uchida, N. Serotonergic neurons signal reward and punishment on multiple timescales. eLife 4, e06346 (2015).

Niv, Y., Daw, N. & Dayan, P. How fast to work: response vigor, motivation and tonic dopamine. Adv. Neural Inf. Process. Syst. 18, 1019 (2006).

Bayer, H. M., Lau, B. & Glimcher, P. W. Statistics of midbrain dopamine neuron spike trains in the awake primate. J. Neurophysiol. 98, 1428–1439 (2007).

Chergui, K., Suaud-Chagny, M. F. & Gonon, F. Nonlinear relationship between impulse flow, dopamine release and dopamine elimination in the rat brain in vivo. Neuroscience 62, 641–645 (1994).

Parker, N. F. et al. Reward and choice encoding in terminals of midbrain dopamine neurons depends on striatal target. Nat. Neurosci. 19, 845–854 (2016).

Menegas, W., Babayan, B. M., Uchida, N. & Watabe-Uchida, M. Opposite initialization to novel cues in dopamine signaling in ventral and posterior striatum in mice. eLife 6, e21886 (2017).

Trulson, M. E. Simultaneous recording of substantia nigra neurons and voltammetric release of dopamine in the caudate of behaving cats. Brain Res. Bull. 15, 221–223 (1985).

Glowinski, J., Chéramy, A., Romo, R. & Barbeito, L. Presynaptic regulation of dopaminergic transmission in the striatum. Cell. Mol. Neurobiol. 8, 7–17 (1988).

Zhou, F. M., Liang, Y. & Dani, J. A. Endogenous nicotinic cholinergic activity regulates dopamine release in the striatum. Nat. Neurosci. 4, 1224–1229 (2001).

Threlfell, S. et al. Striatal dopamine release is triggered by synchronized activity in cholinergic interneurons. Neuron 75, 58–64 (2012).

Cachope, R. et al. Selective activation of cholinergic interneurons enhances accumbal phasic dopamine release: setting the tone for reward processing. Cell Reports 2, 33–41 (2012).

Sulzer, D., Cragg, S. J. & Rice, M. E. Striatal dopamine neurotransmission: regulation of release and uptake. Basal Ganglia 6, 123–148 (2016).

Floresco, S. B., Yang, C. R., Phillips, A. G. & Blaha, C. D. Basolateral amygdala stimulation evokes glutamate receptor-dependent dopamine efflux in the nucleus accumbens of the anaesthetized rat. Eur. J. Neurosci. 10, 1241–1251 (1998).

Jones, J. L. et al. Basolateral amygdala modulates terminal dopamine release in the nucleus accumbens and conditioned responding. Biol. Psychiatry 67, 737–744 (2010).

Schultz, W. Responses of midbrain dopamine neurons to behavioral trigger stimuli in the monkey. J. Neurophysiol. 56, 1439–1461 (1986).

Berke, J. D. What does dopamine mean? Nat. Neurosci. 21, 787–793 (2018).

Bromberg-Martin, E. S., Matsumoto, M. & Hikosaka, O. Distinct tonic and phasic anticipatory activity in lateral habenula and dopamine neurons. Neuron 67, 144–155 (2010).

Pasquereau, B. & Turner, R. S. Dopamine neurons encode errors in predicting movement trigger occurrence. J. Neurophysiol. 113, 1110–1123 (2015).

Fiorillo, C. D., Newsome, W. T. & Schultz, W. The temporal precision of reward prediction in dopamine neurons. Nat. Neurosci. 11, 966–973 (2008).

Morita, K. & Kato, A. Striatal dopamine ramping may indicate flexible reinforcement learning with forgetting in the cortico-basal ganglia circuits. Front. Neural Circuits 8, 36 (2014).

Gershman, S. J. Dopamine ramps are a consequence of reward prediction errors. Neural Comput. 26, 467–471 (2014).

Nicola, S. M. The flexible approach hypothesis: unification of effort and cue-responding hypotheses for the role of nucleus accumbens dopamine in the activation of reward-seeking behavior. J. Neurosci. 30, 16585–16600 (2010).

Paxinos, G. & Watson, C. The Rat Brain in Stereotaxic Coordinates 5th edn (Elsevier Academic, 2005).

Witten, I. B. et al. Recombinase-driver rat lines: tools, techniques, and optogenetic application to dopamine-mediated reinforcement. Neuron 72, 721–733 (2011).

Sugrue, L. P., Corrado, G. S. & Newsome, W. T. Matching behavior and the representation of value in the parietal cortex. Science 304, 1782–1787 (2004).

Wong, J. M. et al. Benzoyl chloride derivatization with liquid chromatography-mass spectrometry for targeted metabolomics of neurochemicals in biological samples. J. Chromatogr. A 1446, 78–90 (2016).

Chung, J. E. et al. A fully automated approach to spike sorting. Neuron 95, 1381–1394 (2017).

Kvitsiani, D. et al. Distinct behavioural and network correlates of two interneuron types in prefrontal cortex. Nature 498, 363–366 (2013).

Grace, A. A. & Bunney, B. S. The control of firing pattern in nigral dopamine neurons: burst firing. J. Neurosci. 4, 2877–2890 (1984).

Lerner, T. N. et al. Intact-brain analyses reveal distinct information carried by SNc dopamine subcircuits. Cell 162, 635–647 (2015).
Acknowledgements
We thank P. Dayan, H. Fields, L. Frank, C. Donaghue and T. Faust for their comments on an early version of the manuscript, and V. Hetrick, R. Hashim and T. Davidson for technical assistance and advice. This work was supported by the National Institute on Drug Abuse, the National Institute of Mental Health, the National Institute on Neurological Disorders and Stroke, the University of Michigan, Ann Arbor, and the University of California, San Francisco.
Reviewer information
Nature thanks Margaret Rice and the other anonymous reviewer(s) for their contribution to the peer review of this work.
Ethics declarations
Competing interests
The authors declare no competing interests.
Additional information
Publisher's note: Springer Nature remains neutral with regard to jurisdictional claims in published maps and institutional affiliations.
Extended data figures and tables
Supplementary information
Supplementary Figure 1 Properties of each individual identified dopamine cell (one per page; last two pages are retro-tagged cells). a, Average light-evoked spike waveform (blue) and session-wide average waveform (black). b, Interspike interval histogram (during bandit task). c, Raster plot showing response to 5ms laser pulses (delivered at 2Hz). d, Raster plot with 10ms laser pulses (for cells that were tested under this condition). e, Scatter plot (as Fig. 2b), with this neuron highlighted in yellow. f, Behavior, and g, activity during the Pavlovian approach task. h, Firing rate, latency and reward rate during the bandit task. i, Average response of this cell to the bandit task Side-In event, broken down by reward rate terciles (as Fig. 5a). j. Spike rasters and firing rate histograms aligned to various bandit task events
About this article
Cite this article
Mohebi, A., Pettibone, J.R., Hamid, A.A. et al. Dissociable dopamine dynamics for learning and motivation. Nature 570, 65–70 (2019). https://doi.org/10.1038/s41586-019-1235-y
Received:

Accepted:

Published:

Issue Date:

DOI: https://doi.org/10.1038/s41586-019-1235-y
Comments
By submitting a comment you agree to abide by our Terms and Community Guidelines. If you find something abusive or that does not comply with our terms or guidelines please flag it as inappropriate.