Abstract
The development of two-dimensional (2D) materials has opened up possibilities for their application in electronics, optoelectronics and photovoltaics, because they can provide devices with smaller size, higher speed and additional functionalities compared with conventional silicon-based devices1. The ability to grow large, high-quality single crystals for 2D components—that is, conductors, semiconductors and insulators—is essential for the industrial application of 2D devices2,3,4. Atom-layered hexagonal boron nitride (hBN), with its excellent stability, flat surface and large bandgap, has been reported to be the best 2D insulator5,6,7,8,9,10,11,12. However, the size of 2D hBN single crystals is typically limited to less than one millimetre13,14,15,16,17,18, mainly because of difficulties in the growth of such crystals; these include excessive nucleation, which precludes growth from a single nucleus to large single crystals, and the threefold symmetry of the hBN lattice, which leads to antiparallel domains and twin boundaries on most substrates19. Here we report the epitaxial growth of a 100-square-centimetre single-crystal hBN monolayer on a low-symmetry Cu (110) vicinal surface, obtained by annealing an industrial copper foil. Structural characterizations and theoretical calculations indicate that epitaxial growth was achieved by the coupling of Cu <211> step edges with hBN zigzag edges, which breaks the equivalence of antiparallel hBN domains, enabling unidirectional domain alignment better than 99 per cent. The growth kinetics, unidirectional alignment and seamless stitching of the hBN domains are unambiguously demonstrated using centimetre- to atomic-scale characterization techniques. Our findings are expected to facilitate the wide application of 2D devices and lead to the epitaxial growth of broad non-centrosymmetric 2D materials, such as various transition-metal dichalcogenides20,21,22,23, to produce large single crystals.
Access options
Subscribe to Journal
Get full journal access for 1 year
$199.00
only $3.90 per issue
All prices are NET prices.
VAT will be added later in the checkout.
Rent or Buy article
Get time limited or full article access on ReadCube.
from$8.99
All prices are NET prices.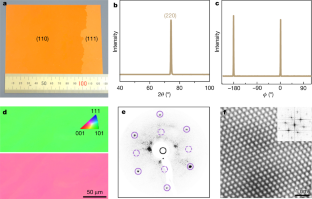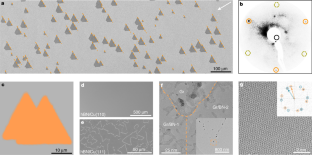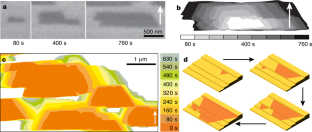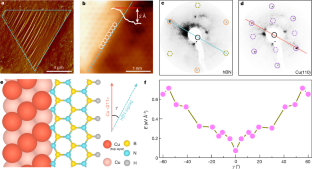 Data availability
All related data generated or analysed during the current study are available from the corresponding authors on reasonable request.
References
1.

Novoselov, K. S., Mishchenko, A., Carvalho, A. & Neto, A. H. C. 2D materials and van der Waals heterostructures. Science 353, aac9439 (2016).

2.

Nguyen, V. L. et al. Seamless stitching of graphene domains on polished copper (111) foil. Adv. Mater. 27, 1376–1382 (2015).

3.

Xu, X. Z. et al. Ultrafast epitaxial growth of metre-sized single-crystal graphene on industrial Cu foil. Sci. Bull. 62, 1074–1080 (2017).

4.

Vlassiouk, I. V. et al. Evolutionary selection growth of two-dimensional materials on polycrystalline substrates. Nat. Mater. 17, 318–322 (2018).

5.

Yang, W. et al. Epitaxial growth of single-domain graphene on hexagonal boron nitride. Nat. Mater. 12, 792–797 (2013).

6.

Dean, C. R. et al. Hofstadter's butterfly and the fractal quantum Hall effect in moiré superlattices. Nature 497, 598–602 (2013).

7.

Hunt, B. et al. Massive Dirac fermions and Hofstadter butterfly in a van der Waals heterostructure. Science 340, 1427–1430 (2013).

8.

Wang, E. Y. et al. Gaps induced by inversion symmetry breaking and second-generation Dirac cones in graphene/hexagonal boron nitride. Nat. Phys. 12, 1111–1115 (2016).

9.

Watanabe, K., Taniguchi, T. & Kanda, H. Direct-bandgap properties and evidence for ultraviolet lasing of hexagonal boron nitride single crystal. Nat. Mater. 3, 404–409 (2004).

10.

Tran, T. T. et al. Quantum emission from hexagonal boron nitride monolayers. Nat. Nanotechnol. 11, 37–41 (2016).

11.

Hu, S. et al. Proton transport through one-atom-thick crystals. Nature 516, 227–230 (2014).

12.

Wang, L. et al. One-dimensional electrical contact to a two-dimensional material. Science 342, 614–617 (2013).

13.

Liu, Z. et al. In-plane heterostructures of graphene and hexagonal boron nitride with controlled domain sizes. Nat. Nanotechnol. 8, 119–124 (2013).

14.

Liu, L. et al. Heteroepitaxial growth of two-dimensional hexagonal boron nitride templated by graphene edges. Science 343, 163–167 (2014).

15.

Kim, S. M. et al. Synthesis of large-area multilayer hexagonal boron nitride for high material performance. Nat. Commun. 6, 8662 (2015).

16.

Li, J. D. et al. Growth of polar hexagonal boron nitride monolayer on nonpolar copper with unique orientation. Small 12, 3645–3650 (2016).

17.

Lu, G. Y. et al. Synthesis of large single-crystal hexagonal boron nitride grains on Cu–Ni alloy. Nat. Commun. 6, 6160 (2015).

18.

Wang, L. F. et al. Water-assisted growth of large-sized single crystal hexagonal boron nitride grains. Mater. Chem. Front. 1, 1836–1840 (2017).

19.

Song, X. J. et al. Chemical vapor deposition growth of large-scale hexagonal boron nitride with controllable orientation. Nano Res. 8, 3164–3176 (2015).

20.

Kang, K. et al. High-mobility three-atom-thick semiconducting films with wafer-scale homogeneity. Nature 520, 656–660 (2015).

21.

Fu, D. Y. et al. Molecular beam epitaxy of highly crystalline monolayer molybdenum disulfide on hexagonal boron nitride. J. Am. Chem. Soc. 139, 9392–9400 (2017).

22.

Zhou, J. D. et al. A library of atomically thin metal chalcogenides. Nature 556, 355–359 (2018).

23.

Sahoo, P. K. et al. One-pot growth of two-dimensional lateral heterostructures via sequential edge-epitaxy. Nature 553, 63–67 (2018).

24.

Zhang, Z. et al. Identification of copper surface index by optical contrast. Adv. Mater. Interfaces 5, 1800377 (2018).

25.

Cheng, J. X. et al. Kinetic nature of grain boundary formation in as-grown MoS2 monolayers. Adv. Mater. 27, 4069–4074 (2015).

26.

Sutter, P., Cortes, R., Lahiri, J. & Sutter, E. Interface formation in monolayer graphene–boron nitride heterostructures. Nano Lett. 12, 4869–4874 (2012).

27.

Yi, D. et al. What drives metal-surface step bunching in graphene chemical vapor deposition? Phys. Rev. Lett. 120, 246101 (2018).

28.

Bets, K. V., Gupta, N. & Yakobson, B. I. How the complementarity at vicinal steps enables growth of 2D monocrystals. Nano Lett. 19, 2027–2031 (2019).

29.

Lee, J. S. et al. Wafer-scale single-crystal hexagonal boron nitride film via self-collimated grain formation. Science 362, 817–821 (2018).
Acknowledgements
This work was supported by the National Key R&D Program of China (2016YFA0300903, 2016YFA0300804 and 2018YFA0306800), the Natural Science Foundation of China (11888101, 51522201, 11474006, 11714154, 11634001 and 21725302), the National Equipment Program of China (ZDYZ2015-1), the Beijing Municipal Science & Technology Commission (Z181100004218006), the Beijing Graphene Innovation Program (Z181100004818003), the Science, Technology and Innovation Commission of Shenzhen Municipality (ZDSYS20170303165926217 and JCYJ20170412152620376), the Guangdong Innovative and Entrepreneurial Research Team Program (2016ZT06D348), the Bureau of Industry and Information Technology of Shenzhen (graphene platform contract number 201901161512), the National Postdoctoral Program for Innovative Talents (BX201700014), the Strategic Priority Research Program of CAS (XDB28000000), the National Program for Thousand Young Talents of China and the Institute for Basic Science of South Korea (IBS-R019-D1).
Reviewer information
Nature thanks Kian Ping Loh and Boris I. Yakobson and the other anonymous reviewer(s) for their contribution to the peer review of this work.
Ethics declarations
Competing interests
The authors declare no competing interests.
Additional information
Publisher's note: Springer Nature remains neutral with regard to jurisdictional claims in published maps and institutional affiliations.
Extended data figures and tables
About this article
Cite this article
Wang, L., Xu, X., Zhang, L. et al. Epitaxial growth of a 100-square-centimetre single-crystal hexagonal boron nitride monolayer on copper. Nature 570, 91–95 (2019). https://doi.org/10.1038/s41586-019-1226-z
Received:

Accepted:

Published:

Issue Date:
Comments
By submitting a comment you agree to abide by our Terms and Community Guidelines. If you find something abusive or that does not comply with our terms or guidelines please flag it as inappropriate.