Access options
Access options
Subscribe to Journal
Get full journal access for 1 year
$199.00
only $3.90 per issue
All prices are NET prices.
VAT will be added later in the checkout.
Rent or Buy article
Get time limited or full article access on ReadCube.
from$8.99
All prices are NET prices.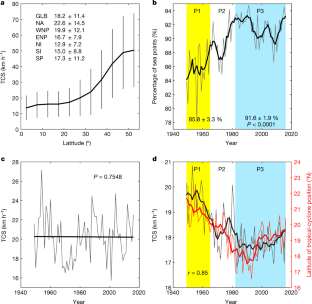 Code availability
All codes used to analyse and plot the data are available from the corresponding author on request.
References
1.

Kossin, J. P. A global slowdown of tropical-cyclone translation speed. Nature 558, 104–107 (2018); Author Correction Nature 564, E11–E16 (2018).

2.

Landsea, C. W., Harper, B. A., Hoarau, K. & Knaff, J. A. Can we detect trends in extreme tropical cyclones? Science 313, 452–454 (2006).

3.

Chu, J. H., Sampson, C. R., Levine, A. S. & Fukada, E. The Joint Typhoon Warning Center Tropical Cyclone Best-tracks, 1945–2000. Report NRL/MR/7540-02-16 (Joint Typhoon Warning Center, Hawaii, 2002).

4.

Kossin, J. P., Olander, T. L. & Knapp, K. R. Trend analysis with a new global record of tropical cyclone intensity. J. Clim. 26, 9960–9976 (2013).

5.

Landsea, C. W., Vecchi, G. A., Bengtsson, L. & Knutson, T. R. Impact of duration thresholds on Atlantic tropical cyclone counts. J. Clim. 23, 2508–2519 (2010).

6.

Kang, N.-Y. & Elsner, J. B. Consensus on climate trends in Western North Pacific tropical cyclones. J. Clim. 25, 7564–7573 (2012).

7.

Landsea, C. W. Counting Atlantic tropical cyclones back to 1900. Eos 88, 197–208 (2007).

8.

Truchelut, R., Hart, R. E. & Luthman, B. Global identification of previously undetected pre-satellite era tropical cyclone candidates in NOAA/CIRES twentieth-century reanalysis data. J. Appl. Meteorol. Climatol. 52, 2243–2259 (2013).

9.

Torn, R. D. & Snyder, C. Uncertainty of tropical cyclone best-track information. Weather Forecast. 27, 715–729 (2012).

10.

Hodges, K., Vobb, A. & Vidale, P. L. How well are tropical cyclones represented in reanalysis datasets? J. Clim. 30, 5243–5264 (2017).

11.

Kossin, J. P., Emanuel, K. A. & Vecchi, G. A. Past and projected change sin western North Pacific tropical cyclone exposure. J. Clim. 29, 5725–5739 (2016).

12.

Neumann, C. J., Jarvinen, B. R., McAdie, C. J. & Hammer, G. R. Tropical Cyclones of the North Atlantic Ocean, 1871–1998. (Historical Climatology Series 6-2, National Climatic Data Center, 1999).
Acknowledgements
This research was supported by the Basic Science Research Program through the National Research Foundation of Korea (NRF) funded by the Ministry of Education (2017R1A2B2005019) and the Korea Meteorological Administration Research and Development Program under grant KMI2018-07610.
Ethics declarations
Competing interests
The authors declare no competing interests.
Additional information
Publisher's note: Springer Nature remains neutral with regard to jurisdictional claims in published maps and institutional affiliations.
Further reading
Muhammad Al-Amin Hoque

,

Biswajeet Pradhan

,

Naser Ahmed

&

Sanjoy Roy

Science of The Total Environment (2019)

Jia Sun

,

Dingqi Wang

,

Xiaomin Hu

,

Zheng Ling

&

Lu Wang

Geophysical Research Letters (2019)

Nature (2019)
Comments
By submitting a comment you agree to abide by our Terms and Community Guidelines. If you find something abusive or that does not comply with our terms or guidelines please flag it as inappropriate.