Abstract
Genetic and epigenetic intra-tumoral heterogeneity cooperate to shape the evolutionary course of cancer1. Chronic lymphocytic leukaemia (CLL) is a highly informative model for cancer evolution as it undergoes substantial genetic diversification and evolution after therapy2,3. The CLL epigenome is also an important disease-defining feature4,5, and growing populations of cells in CLL diversify by stochastic changes in DNA methylation known as epimutations6. However, previous studies using bulk sequencing methods to analyse the patterns of DNA methylation were unable to determine whether epimutations affect CLL populations homogeneously. Here, to measure the epimutation rate at single-cell resolution, we applied multiplexed single-cell reduced-representation bisulfite sequencing to B cells from healthy donors and patients with CLL. We observed that the common clonal origin of CLL results in a consistently increased epimutation rate, with low variability in the cell-to-cell epimutation rate. By contrast, variable epimutation rates across healthy B cells reflect diverse evolutionary ages across the trajectory of B cell differentiation, consistent with epimutations serving as a molecular clock. Heritable epimutation information allowed us to reconstruct lineages at high-resolution with single-cell data, and to apply this directly to patient samples. The CLL lineage tree shape revealed earlier branching and longer branch lengths than in normal B cells, reflecting rapid drift after the initial malignant transformation and a greater proliferative history. Integration of single-cell bisulfite sequencing analysis with single-cell transcriptomes and genotyping confirmed that genetic subclones mapped to distinct clades, as inferred solely on the basis of epimutation information. Finally, to examine potential lineage biases during therapy, we profiled serial samples during ibrutinib-associated lymphocytosis, and identified clades of cells that were preferentially expelled from the lymph node after treatment, marked by distinct transcriptional profiles. The single-cell integration of genetic, epigenetic and transcriptional information thus charts the lineage history of CLL and its evolution with therapy.
Access options
Access Nature and 54 other Nature Portfolio journals
Get Nature+, our best-value online-access subscription
$29.99 / 30 days
cancel any time
Subscribe to this journal
Receive 51 print issues and online access
$199.00 per year
only $3.90 per issue
Rent or buy this article
Prices vary by article type
from$1.95
to$39.95
Prices may be subject to local taxes which are calculated during checkout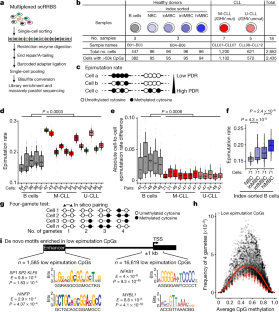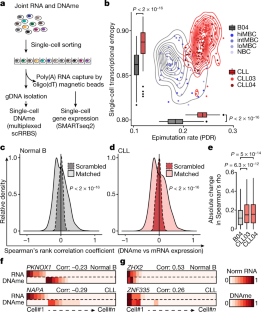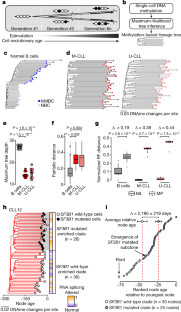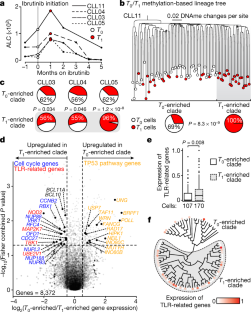 Similar content being viewed by others
Data availability
Multiplexed scRRBS and single-cell Smart-seq2 datasets have been deposited to the NCBI Gene Expression Omnibus (GEO) under accession number GSE109085. ChIP–seq datasets have been deposited to the NCBI GEO under accession number GSE119103. Other data are available from the corresponding author upon reasonable request.
References
Flavahan, W. A., Gaskell, E. & Bernstein, B. E. Epigenetic plasticity and the hallmarks of cancer. Science 357, eaal2380 (2017).

Burger, J. A. et al. Clonal evolution in patients with chronic lymphocytic leukaemia developing resistance to BTK inhibition. Nat. Commun. 7, 11589 (2016).

Landau, D. A. et al. Mutations driving CLL and their evolution in progression and relapse. Nature 526, 525–530 (2015).

Beekman, R. et al. The reference epigenome and regulatory chromatin landscape of chronic lymphocytic leukemia. Nat. Med. 24, 868–880 (2018).

Oakes, C. C. et al. DNA methylation dynamics during B cell maturation underlie a continuum of disease phenotypes in chronic lymphocytic leukemia. Nat. Genet. 48, 253–264 (2016).

Landau, D. A. et al. Locally disordered methylation forms the basis of intratumor methylome variation in chronic lymphocytic leukemia. Cancer Cell 26, 813–825 (2014).

Landan, G. et al. Epigenetic polymorphism and the stochastic formation of differentially methylated regions in normal and cancerous tissues. Nat. Genet. 44, 1207–1214 (2012).

Shipony, Z. et al. Dynamic and static maintenance of epigenetic memory in pluripotent and somatic cells. Nature 513, 115–119 (2014).

Shibata, D. Mutation and epigenetic molecular clocks in cancer. Carcinogenesis 32, 123–128 (2011).

Hansen, K. D. et al. Increased methylation variation in epigenetic domains across cancer types. Nat. Genet. 43, 768–775 (2011).

Hudson, R. R. & Kaplan, N. L. Statistical properties of the number of recombination events in the history of a sample of DNA sequences. Genetics 111, 147–164 (1985).

Chen, T. L. et al. NF-κB p50 (nfkb1) contributes to pathogenesis in the Eμ-TCL1 mouse model of chronic lymphocytic leukemia. Blood 130, 376–379 (2017).

Arsura, M., Hofmann, C. S., Golay, J., Introna, M. & Sonenshein, G. E. A. A-myb rescues murine B-cell lymphomas from IgM-receptor-mediated apoptosis through c-myc transcriptional regulation. Blood 96, 1013–1020 (2000).

Qu, Y. et al. Cancer-specific changes in DNA methylation reveal aberrant silencing and activation of enhancers in leukemia. Blood 129, e13–e25 (2017).

Landau, D. A. et al. Evolution and impact of subclonal mutations in chronic lymphocytic leukemia. Cell 152, 714–726 (2013).

Rendeiro, A. F. et al. Chromatin accessibility maps of chronic lymphocytic leukaemia identify subtype-specific epigenome signatures and transcription regulatory networks. Nat. Commun. 7, 11938 (2016).

Sekimata, M. & Homma, Y. Sequence-specific transcriptional repression by an MBD2-interacting zinc finger protein MIZF. Nucleic Acids Res. 32, 590–597 (2004).

Grün, D. et al. De novo prediction of stem cell identity using single-cell transcriptome data. Cell Stem Cell 19, 266–277 (2016).

Caron, G. et al. Cell-cycle-dependent reconfiguration of the DNA methylome during terminal differentiation of human B cells into plasma cells. Cell Reports 13, 1059–1071 (2015).

Sottoriva, A. et al. A Big Bang model of human colorectal tumor growth. Nat. Genet. 47, 209–216 (2015).

Shlush, L. I. et al. Cell lineage analysis of acute leukemia relapse uncovers the role of replication-rate heterogeneity and microsatellite instability. Blood 120, 603–612 (2012).

Wang, L. et al. Transcriptomic characterization of SF3B1 mutation reveals its pleiotropic effects in chronic lymphocytic leukemia. Cancer Cell 30, 750–763 (2016).

Herman, S. E. M. et al. Ibrutinib-induced lymphocytosis in patients with chronic lymphocytic leukemia: correlative analyses from a phase II study. Leukemia 28, 2188–2196 (2014).

Satterwhite, E. et al. The BCL11 gene family: involvement of BCL11A in lymphoid malignancies. Blood 98, 3413–3420 (2001).

Herndon, T. M. et al. Direct in vivo evidence for increased proliferation of CLL cells in lymph nodes compared to bone marrow and peripheral blood. Leukemia 31, 1340–1347 (2017).

Phelan, J. D. et al. A multiprotein supercomplex controlling oncogenic signalling in lymphoma. Nature 560, 387–391 (2018).

Herishanu, Y. et al. The lymph node microenvironment promotes B-cell receptor signaling, NF-κB activation, and tumor proliferation in chronic lymphocytic leukemia. Blood 117, 563–574 (2011).

Dadashian, E. L. et al. TLR signaling is activated in lymph-node resident CLL cells and is only partially inhibited by ibrutinib. Cancer Res. 79, 360–371 (2019).

Siegmund, K. D., Marjoram, P., Woo, Y.-J., Tavaré, S. & Shibata, D. Inferring clonal expansion and cancer stem cell dynamics from DNA methylation patterns in colorectal cancers. Proc. Natl Acad. Sci. USA 106, 4828–4833 (2009).

Messmer, B. T. et al. In vivo measurements document the dynamic cellular kinetics of chronic lymphocytic leukemia B cells. J. Clin. Invest. 115, 755–764 (2005).

Rassenti, L. Z. et al. Relative value of ZAP-70, CD38, and immunoglobulin mutation status in predicting aggressive disease in chronic lymphocytic leukemia. Blood 112, 1923–1930 (2008).

Guo, H. et al. Profiling DNA methylome landscapes of mammalian cells with single-cell reduced-representation bisulfite sequencing. Nat. Protocols 10, 645–659 (2015).

Guo, H. et al. Single-cell methylome landscapes of mouse embryonic stem cells and early embryos analyzed using reduced representation bisulfite sequencing. Genome Res. 23, 2126–2135 (2013).

Krueger, F. & Andrews, S. R. Bismark: a flexible aligner and methylation caller for bisulfite-seq applications. Bioinformatics 27, 1571–1572 (2011).

Langmead, B. & Salzberg, S. L. Fast gapped-read alignment with Bowtie 2. Nat. Methods 9, 357–359 (2012).

Macaulay, I. C. et al. G&T-seq: parallel sequencing of single-cell genomes and transcriptomes. Nat. Methods 12, 519–522 (2015).

Picelli, S. et al. Full-length RNA-seq from single cells using Smart-seq2. Nat. Protocols 9, 171–181 (2014).

Dobin, A. et al. STAR: ultrafast universal RNA-seq aligner. Bioinformatics 29, 15–21 (2013).

Harrow, J. et al. GENCODE: the reference human genome annotation for The ENCODE Project. Genome Res. 22, 1760–1774 (2012).

Van den Berge, K. et al. Observation weights unlock bulk RNA-seq tools for zero inflation and single-cell applications. Genome Biol. 19, 24 (2018).

Risso, D., Perraudeau, F., Gribkova, S., Dudoit, S. & Vert, J. P. A general and flexible method for signal extraction from single-cell RNA-seq data. Nat. Commun. 9, 284 (2018).

Van den Berge, K., Soneson, C., Robinson, M. D. & Clement, L. stageR: a general stage-wise method for controlling the gene-level false discovery rate in differential expression and differential transcript usage. Genome Biol. 18, 151 (2017).

Illingworth, R. S. et al. Orphan CpG islands identify numerous conserved promoters in the mammalian genome. PLoS Genet. 6, e1001134 (2010).

Andersson, R. et al. An atlas of active enhancers across human cell types and tissues. Nature 507, 455–461 (2014).

The ENCODE Project Consortium. An integrated encyclopedia of DNA elements in the human genome. Nature 489, 57–74 (2012).

Jurka, J. Repbase update: a database and an electronic journal of repetitive elements. Trends Genet. 16, 418–420 (2000).

O'Geen, H., Echipare, L. & Farnham, P. J. in Epigenetics Protocols (ed. Tollefsbol, T. O.) 265–286 (Humana Press, 2011).

Li, H. & Durbin, R. Fast and accurate short read alignment with Burrows–Wheeler transform. Bioinformatics 25, 1754–1760 (2009).

Zhang, Y. et al. Model-based analysis of ChIP–seq (MACS). Genome Biol. 9, R137 (2008).

Subramanian, A. et al. Gene set enrichment analysis: a knowledge-based approach for interpreting genome-wide expression profiles. Proc. Natl Acad. Sci. USA 102, 15545–15550 (2005).

Tajima, F. Infinite-allele model and infinite-site model in population genetics. J. Genet. 75, 27 (1996).

Quinlan, A. R. & Hall, I. M. BEDTools: a flexible suite of utilities for comparing genomic features. Bioinformatics 26, 841–842 (2010).

Machanick, P. & Bailey, T. L. MEME-ChIP: motif analysis of large DNA datasets. Bioinformatics 27, 1696–1697 (2011).

Gupta, S., Stamatoyannopoulos, J. A., Bailey, T. L. & Noble, W. S. Quantifying similarity between motifs. Genome Biol. 8, R24 (2007).

Ushijima, T. et al. Fidelity of the methylation pattern and its variation in the genome. Genome Res. 13, 868–874 (2003).

Biezuner, T. et al. A generic, cost-effective, and scalable cell lineage analysis platform. Genome Res. 26, 1588–1599 (2016).

Navin, N. et al. Tumour evolution inferred by single-cell sequencing. Nature 472, 90–94 (2011).

Bian, S. et al. Single-cell multiomics sequencing and analyses of human colorectal cancer. Science 362, 1060–1063 (2018).

de Bourcy, C. F. A. et al. Phylogenetic analysis of the human antibody repertoire reveals quantitative signatures of immune senescence and aging. Proc. Natl Acad. Sci. USA 114, 1105–1110 (2017).

Xu, J. et al. Single-cell lineage tracing by endogenous mutations enriched in transposase accessible mitochondrial DNA. eLife 8, e45105 (2019).

Ludwig, L. S. et al. Lineage tracing in humans enabled by mitochondrial mutations and single-cell genomics. Cell 176, 1325–1339 (2019).

Nguyen, L.-T., Schmidt, H. A., von Haeseler, A. & Minh, B. Q. IQ-TREE: a fast and effective stochastic algorithm for estimating maximum-likelihood phylogenies. Mol. Biol. Evol. 32, 268–274 (2015).

Zhou, X., Shen, X.-X., Hittinger, C. T. & Rokas, A. Evaluating fast maximum likelihood-based phylogenetic programs using empirical phylogenomic data sets. Mol. Biol. Evol. 35, 486–503 (2018).

Kalyaanamoorthy, S., Minh, B. Q., Wong, T. K. F., von Haeseler, A. & Jermiin, L. S. ModelFinder: fast model selection for accurate phylogenetic estimates. Nat. Methods 14, 587–589 (2017).

Soubrier, J. et al. The influence of rate heterogeneity among sites on the time dependence of molecular rates. Mol. Biol. Evol. 29, 3345–3358 (2012).

Hoang, D. T., Chernomor, O., von Haeseler, A., Minh, B. Q. & Vinh, L. S. UFBoot2: Improving the ultrafast bootstrap approximation. Mol. Biol. Evol. 35, 518–522 (2017).

Robinson, D. F. & Foulds, L. R. Comparison of phylogenetic trees. Math. Biosci. 53, 131–147 (1981).

Raval, A. et al. TWIST2 demonstrates differential methylation in immunoglobulin variable heavy chain mutated and unmutated chronic lymphocytic leukemia. J. Clin. Oncol. 23, 3877–3885 (2005).

Perez, C. A., Ott, J., Mays, D. J. & Pietenpol, J. A. p63 consensus DNA-binding site: identification, analysis and application into a p63MH algorithm. Oncogene 26, 7363–7370 (2007).

Hsiao, L.-L. et al. A compendium of gene expression in normal human tissues. Physiol. Genomics 7, 97–104 (2001).

Wilhelm, M. et al. Mass-spectrometry-based draft of the human proteome. Nature 509, 582–587 (2014).
Acknowledgements
We thank the Epigenomics Core Facility at Weill Cornell Medicine for technical help. R.C. is supported by Leukemia Research Foundation (LRF) and Marie Skłodowska-Curie fellowships. A.G. is supported by Broad Institute SPARC funding. D.A.L. is supported by the Burroughs Wellcome Fund Career Award for Medical Scientists, American Society of Hematology (ASH) Scholar Award, Pershing Square Sohn Prize for Young Investigators in Cancer Research, and the National Institutes of Health (NIH) Director's New Innovator Award (DP2-CA239065). This work was also supported by the Starr Foundation, the Max Planck Society, Leukemia & Lymphoma Society (LLS) Translational Research Program, National Cancer Institute (R01-CA229902), and Stand Up To Cancer Innovative Research Grant (SU2C-AACR-IRG-0616).
Reviewer information
Nature thanks Ken Duffy and the other anonymous reviewer(s) for their contribution to the peer review of this work.
Ethics declarations
Competing interests
The authors declare no competing interests.
Additional information
Publisher's note: Springer Nature remains neutral with regard to jurisdictional claims in published maps and institutional affiliations.
Extended data figures and tables
Supplementary information
About this article
Cite this article
Gaiti, F., Chaligne, R., Gu, H. et al. Epigenetic evolution and lineage histories of chronic lymphocytic leukaemia. Nature 569, 576–580 (2019). https://doi.org/10.1038/s41586-019-1198-z
Received:

Accepted:

Published:

Issue Date:

DOI: https://doi.org/10.1038/s41586-019-1198-z
Comments
By submitting a comment you agree to abide by our Terms and Community Guidelines. If you find something abusive or that does not comply with our terms or guidelines please flag it as inappropriate.