Abstract
Neuronal-activity-dependent transcription couples sensory experience to adaptive responses of the brain including learning and memory. Mechanisms of activity-dependent gene expression including alterations of the epigenome have been characterized1,2,3,4,5,6,7,8. However, the fundamental question of whether sensory experience remodels chromatin architecture in the adult brain in vivo to induce neural code transformations and learning and memory remains to be addressed. Here we use in vivo calcium imaging, optogenetics and pharmacological approaches to show that granule neuron activation in the anterior dorsal cerebellar vermis has a crucial role in a delay tactile startle learning paradigm in mice. Of note, using large-scale transcriptome and chromatin profiling, we show that activation of the motor-learning-linked granule neuron circuit reorganizes neuronal chromatin including through long-distance enhancer–promoter and transcriptionally active compartment interactions to orchestrate distinct granule neuron gene expression modules. Conditional CRISPR knockout of the chromatin architecture regulator cohesin in anterior dorsal cerebellar vermis granule neurons in adult mice disrupts enhancer–promoter interactions, activity-dependent transcription and motor learning. These findings define how sensory experience patterns chromatin architecture and neural circuit coding in the brain to drive motor learning.
Relevant articles
Open Access articles citing this article.
Devin Rocks

,

Mamta Shukla

…

Marija Kundakovic

Nature Communications Open Access 15 June 2022

Felix D. Weiss

,

Lesly Calderon

…

Matthias Merkenschlager

Nature Communications Open Access 18 May 2021

Xiaolu Wang

,

Si-yang Yu

…

Zhenyu Gao

Nature Communications Open Access 27 November 2020
Access options
Subscribe to Nature+
Get immediate online access to the entire Nature family of 50+ journals
Subscribe to Journal
Get full journal access for 1 year
$199.00
only $3.90 per issue
All prices are NET prices.
VAT will be added later in the checkout.
Tax calculation will be finalised during checkout.
Buy article
Get time limited or full article access on ReadCube.
$32.00
All prices are NET prices.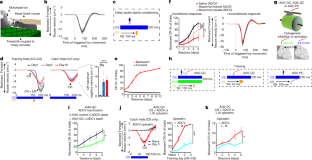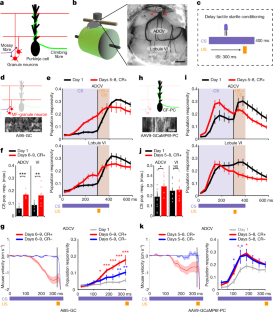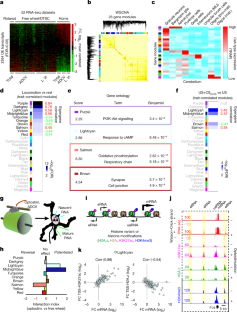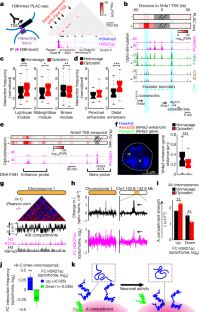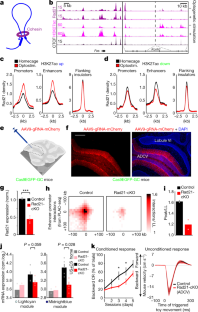 Data availability
ChIP-seq, RNA-seq, DHS, Hi-C and PLAC-seq data are available in the Gene Expression Omnibus (GEO) database under the reference number GSE127995.
References
West, A. E. & Greenberg, M. E. Neuronal activity-regulated gene transcription in synapse development and cognitive function. Cold Spring Harb. Perspect. Biol. 3, a005744 (2011).

Watson, L. A. & Tsai, L. H. In the loop: how chromatin topology links genome structure to function in mechanisms underlying learning and memory. Curr. Opin. Neurobiol. 43, 48–55 (2017).

Rajarajan, P., Gil, S. E., Brennand, K. J. & Akbarian, S. Spatial genome organization and cognition. Nat. Rev. Neurosci. 17, 681–691 (2016).

Kandel, E. R., Dudai, Y. & Mayford, M. R. The molecular and systems biology of memory. Cell 157, 163–186 (2014).

Yang, Y. et al. Chromatin remodeling inactivates activity genes and regulates neural coding. Science 353, 300–305 (2016).

Maze, I. et al. Critical role of histone turnover in neuronal transcription and plasticity. Neuron 87, 77–94 (2015).

Kim, T. K. et al. Widespread transcription at neuronal activity-regulated enhancers. Nature 465, 182–187 (2010).

Zovkic, I. B., Paulukaitis, B. S., Day, J. J., Etikala, D. M. & Sweatt, J. D. Histone H2A.Z subunit exchange controls consolidation of recent and remote memory. Nature 515, 582–586 (2014).

Yeomans, J. S., Li, L., Scott, B. W. & Frankland, P. W. Tactile, acoustic and vestibular systems sum to elicit the startle reflex. Neurosci. Biobehav. Rev. 26, 1–11 (2002).

Fünfschilling, U. & Reichardt, L. F. Cre-mediated recombination in rhombic lip derivatives. Genesis 33, 160–169 (2002).

Madisen, L. et al. Transgenic mice for intersectional targeting of neural sensors and effectors with high specificity and performance. Neuron 85, 942–958 (2015).

Pan, N., Jahan, I., Lee, J. E. & Fritzsch, B. Defects in the cerebella of conditional Neurod1 null mice correlate with effective Tg(Atoh1-cre) recombination and granule cell requirements for Neurod1 for differentiation. Cell Tissue Res. 337, 407–428 (2009).

Madisen, L. et al. A toolbox of Cre-dependent optogenetic transgenic mice for light-induced activation and silencing. Nature Neurosci. 15, 793–802 (2012).

Langfelder, P. & Horvath, S. WGCNA: an R package for weighted correlation network analysis. BMC Bioinformatics 9, 559 (2008).

Doyle, J. P. et al. Application of a translational profiling approach for the comparative analysis of CNS cell types. Cell 135, 749–762 (2008).

Mellén, M., Ayata, P., Dewell, S., Kriaucionis, S. & Heintz, N. MeCP2 binds to 5hmC enriched within active genes and accessible chromatin in the nervous system. Cell 151, 1417–1430 (2012).

Rao, S. S. et al. A 3D map of the human genome at kilobase resolution reveals principles of chromatin looping. Cell 159, 1665–1680 (2014).

Fang, R. et al. Mapping of long-range chromatin interactions by proximity ligation-assisted ChIP-seq. Cell Res. 26, 1345–1348 (2016).

Juric, I. et al. MAPS: model-based analysis of long-range chromatin interactions from PLAC-seq and HiChIP experiments. PLoS Comput Biol. 15 (2019).

Kagey, M. H. et al. Mediator and cohesin connect gene expression and chromatin architecture. Nature 467, 430–435 (2010).

Singh, V. P. & Gerton, J. L. Cohesin and human disease: lessons from mouse models. Curr. Opin. Cell Biol. 37, 9–17 (2015).

Barski, J. J., Dethleffsen, K. & Meyer, M. Cre recombinase expression in cerebellar Purkinje cells. Genesis 28, 93–98 (2000).

Andermann, M. L., Kerlin, A. M., Roumis, D. K., Glickfeld, L. L. & Reid, R. C. Functional specialization of mouse higher visual cortical areas. Neuron 72, 1025–1039 (2011).

Heiney, S. A., Wohl, M. P., Chettih, S. N., Ruffolo, L. I. & Medina, J. F. Cerebellar-dependent expression of motor learning during eyeblink conditioning in head-fixed mice. J. Neurosci. 34, 14845–14853 (2014).

Yang, Y. & Lisberger, S. G. Purkinje-cell plasticity and cerebellar motor learning are graded by complex-spike duration. Nature 510, 529–532 (2014).

Yamada, T. et al. Promoter decommissioning by the NuRD chromatin remodeling complex triggers synaptic connectivity in the mammalian brain. Neuron 83, 122–134 (2014).

Chen, T. W. et al. Ultrasensitive fluorescent proteins for imaging neuronal activity. Nature 499, 295–300 (2013).

Miri, A., Daie, K., Burdine, R. D., Aksay, E. & Tank, D. W. Regression-based identification of behavior-encoding neurons during large-scale optical imaging of neural activity at cellular resolution. J. Neurophysiol. 105, 964–980 (2011).

Mukamel, E. A., Nimmerjahn, A. & Schnitzer, M. J. Automated analysis of cellular signals from large-scale calcium imaging data. Neuron 63, 747–760 (2009).

Lein, E. S. et al. Genome-wide atlas of gene expression in the adult mouse brain. Nature 445, 168–176 (2007).

Ling, G. & Waxman, D. J. DNase I digestion of isolated nulcei for genome-wide mapping of DNase hypersensitivity sites in chromatin. Methods Mol. Biol. 977, 21–33 (2013).

Robinson, M. D., McCarthy, D. J. & Smyth, G. K. edgeR: a Bioconductor package for differential expression analysis of digital gene expression data. Bioinformatics 26, 139–140 (2010).

Dennis, G., Jr et al. DAVID: Database for annotation, visualization, and integrated discovery. Genome Biol. 4, 3 (2003).

Zhang, Y. et al. Model-based analysis of ChIP-Seq (MACS). Genome Biol. 9, R137 (2008).

Heinz, S. et al. Simple combinations of lineage-determining transcription factors prime cis-regulatory elements required for macrophage and B cell identities. Mol. Cell 38, 576–589 (2010).

Li, H. Aligning sequence reads, clone sequences and assembly contigs with BWA-MEM. Preprint at: https://arxiv.org/abs/1303.3997 (2013).

Servant, N. et al. HiC-Pro: an optimized and flexible pipeline for Hi-C data processing. Genome Biol. 16, 259 (2015).

Durand, N. C. et al. Juicer provides a one-click system for analyzing loop-resolution Hi-C experiments. Cell Syst. 3, 95–98 (2016).

Mellén, M., Ayata, P. & Heintz, N. 5-hydroxymethylcytosine accumulation in postmitotic neurons results in functional demethylation of expressed genes. Proc. Natl Acad. Sci. USA 114, E7812–E7821 (2017).

Mumbach, M. R. et al. HiChIP: efficient and sensitive analysis of protein-directed genome architecture. Nat. Methods 13, 919–922 (2016).

Schmitt, A. D. et al. A compendium of chromatin contact maps reveals spatially active regions in the human genome. Cell Reports 17, 2042–2059 (2016).

Kim, T. H. et al. Analysis of the vertebrate insulator protein CTCF-binding sites in the human genome. Cell 128, 1231–1245 (2007).

Bolland, D. J., King, M. R., Reik, W., Corcoran, A. E. & Krueger, C. Robust 3D DNA FISH using directly labeled probes. J. Vis. Exp. 78 (2013).
Acknowledgements
We thank members of the Bonni laboratory for helpful discussions and critical reading of the manuscript, Y. Tanabe for genotyping, and M. Muratani and Tsukuba i-Laboratory for sequencing. Supported by NIH grants NS041021 (A.B.) and U54DK107977 (M.H.), the Mathers Foundation (A.B.), Program to Disseminate Tenure Tracking System by MEXT (T.Y.) and JSPS KAKENHI Grant-in-Aid for Young Scientists 17H04981 (T.Y.).
Reviewer information
Nature thanks Timothy Ebner and the other anonymous reviewer(s) for their contribution to the peer review of this work.
Ethics declarations
Competing interests
The authors declare no competing interests.
Additional information
Publisher's note: Springer Nature remains neutral with regard to jurisdictional claims in published maps and institutional affiliations.
Extended data figures and tables
Supplementary information
About this article
Cite this article
Yamada, T., Yang, Y., Valnegri, P. et al. Sensory experience remodels genome architecture in neural circuit to drive motor learning. Nature 569, 708–713 (2019). https://doi.org/10.1038/s41586-019-1190-7
Received:

Accepted:

Published:

Issue Date:

DOI: https://doi.org/10.1038/s41586-019-1190-7
Comments
By submitting a comment you agree to abide by our Terms and Community Guidelines. If you find something abusive or that does not comply with our terms or guidelines please flag it as inappropriate.