Abstract
A technology that simultaneously records membrane potential from multiple neurons in behaving animals will have a transformative effect on neuroscience research1,2. Genetically encoded voltage indicators are a promising tool for these purposes; however, these have so far been limited to single-cell recordings with a marginal signal-to-noise ratio in vivo3,4,5. Here we developed improved near-infrared voltage indicators, high-speed microscopes and targeted gene expression schemes that enabled simultaneous in vivo recordings of supra- and subthreshold voltage dynamics in multiple neurons in the hippocampus of behaving mice. The reporters revealed subcellular details of back-propagating action potentials and correlations in subthreshold voltage between multiple cells. In combination with stimulation using optogenetics, the reporters revealed changes in neuronal excitability that were dependent on the behavioural state, reflecting the interplay of excitatory and inhibitory synaptic inputs. These tools open the possibility for detailed explorations of network dynamics in the context of behaviour.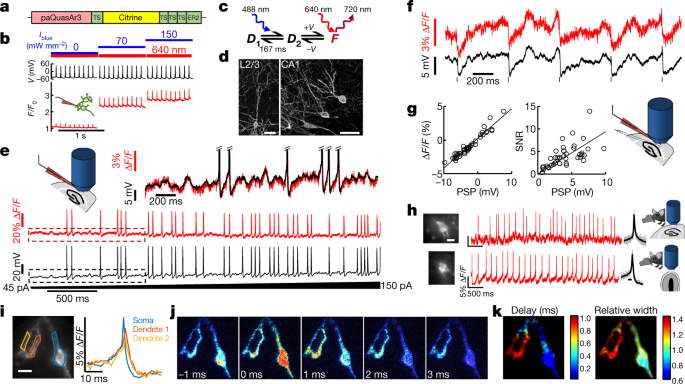 Relevant articles
Open Access articles citing this article.
Arita Silapetere

,

Songhwan Hwang

…

Peter Hegemann

Nature Communications Open Access 20 September 2022

Yide Zhang

,

Binglin Shen

…

Lihong V. Wang

Nature Communications Open Access 06 September 2022

Silvia Rodriguez-Rozada

,

Jonas Wietek

…

J. Simon Wiegert

Communications Biology Open Access 09 July 2022
Access options
Subscribe to Nature+
Get immediate online access to the entire Nature family of 50+ journals
Subscribe to Journal
Get full journal access for 1 year
$199.00
only $3.90 per issue
All prices are NET prices.
VAT will be added later in the checkout.
Tax calculation will be finalised during checkout.
Buy article
Get time limited or full article access on ReadCube.
$32.00
All prices are NET prices.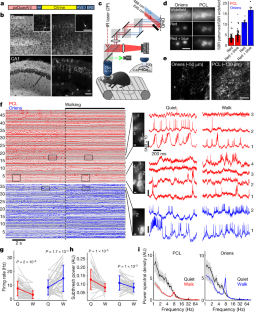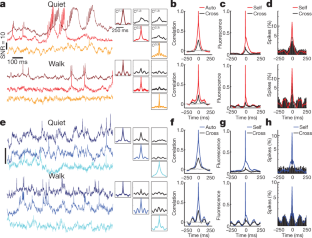 Data availability
The datasets generated during the current study are available from the corresponding author upon reasonable request.
Code availability
Custom data analysis codes are available from the corresponding author upon reasonable request.
References
Petersen, C. C. H. Whole-cell recording of neuronal membrane potential during behavior. Neuron 95, 1266–1281 (2017).

Lee, A. K. & Brecht, M. Elucidating neuronal mechanisms using intracellular recordings during behavior. Trends Neurosci. 41, 385–403 (2018).

Lou, S. et al. Genetically targeted all-optical electrophysiology with a transgenic Cre-dependent Optopatch mouse. J. Neurosci. 36, 11059–11073 (2016).

Gong, Y. et al. High-speed recording of neural spikes in awake mice and flies with a fluorescent voltage sensor. Science 350, 1361–1366 (2015).

Yang, H. H. et al. Subcellular imaging of voltage and calcium signals reveals neural processing in vivo. Cell 166, 245–257 (2016).

Hochbaum, D. R. et al. All-optical electrophysiology in mammalian neurons using engineered microbial rhodopsins. Nat. Methods 11, 825–833 (2014).

Madisen, L. et al. Transgenic mice for intersectional targeting of neural sensors and effectors with high specificity and performance. Neuron 85, 942–958 (2015).

Millerd, J. E. et al. Improved sensitivity in blue-membrane bacteriorhodopsin films. Opt. Lett. 24, 1355–1357 (1999).

Wagner, N. L., Greco, J. A., Ranaghan, M. J. & Birge, R. R. Directed evolution of bacteriorhodopsin for applications in bioelectronics. J. R. Soc. Interface 10, 20130197 (2013).

Häusser, M., Spruston, N. & Stuart, G. J. Diversity and dynamics of dendritic signaling. Science 290, 739–744 (2000).

Wu, C., Ivanova, E., Zhang, Y. & Pan, Z. H. rAAV-mediated subcellular targeting of optogenetic tools in retinal ganglion cells in vivo. PLoS ONE 8, e66332 (2013).

Baker, C. A., Elyada, Y. M., Parra, A. & Bolton, M. M. Cellular resolution circuit mapping with temporal-focused excitation of soma-targeted channelrhodopsin. eLife 5, e14193 (2016).

Buchanan, E. K. et al. Penalized matrix decomposition for denoising, compression, and improved demixing of functional imaging data. Preprint at https://www.biorxiv.org/content/10.1101/334706v4 (2018).

Klausberger, T. et al. Brain-state- and cell-type-specific firing of hippocampal interneurons in vivo. Nature 421, 844–848 (2003).

Harvey, C. D., Collman, F., Dombeck, D. A. & Tank, D. W. Intracellular dynamics of hippocampal place cells during virtual navigation. Nature 461, 941–946 (2009).

Bittner, K. C. et al. Conjunctive input processing drives feature selectivity in hippocampal CA1 neurons. Nat. Neurosci. 18, 1133–1142 (2015).

Epsztein, J., Brecht, M. & Lee, A. K. Intracellular determinants of hippocampal CA1 place and silent cell activity in a novel environment. Neuron 70, 109–120 (2011).

Varga, C., Golshani, P. & Soltesz, I. Frequency-invariant temporal ordering of interneuronal discharges during hippocampal oscillations in awake mice. Proc. Natl Acad. Sci. USA 109, E2726–E2734 (2012).

Buzsáki, G. Theta oscillations in the hippocampus. Neuron 33, 325–340 (2002).

Poulet, J. F. & Petersen, C. C. Internal brain state regulates membrane potential synchrony in barrel cortex of behaving mice. Nature 454, 881–885 (2008).

Gentet, L. J., Avermann, M., Matyas, F., Staiger, J. F. & Petersen, C. C. Membrane potential dynamics of GABAergic neurons in the barrel cortex of behaving mice. Neuron 65, 422–435 (2010).

Lampl, I., Reichova, I. & Ferster, D. Synchronous membrane potential fluctuations in neurons of the cat visual cortex. Neuron 22, 361–374 (1999).

Okun, M. & Lampl, I. Instantaneous correlation of excitation and inhibition during ongoing and sensory-evoked activities. Nat. Neurosci. 11, 535–537 (2008).

Briggman, K. L., Abarbanel, H. D. & Kristan, W. B. Jr. From crawling to cognition: analyzing the dynamical interactions among populations of neurons. Curr. Opin. Neurobiol. 16, 135–144 (2006).

Cunningham, J. P. & Yu, B. M. Dimensionality reduction for large-scale neural recordings. Nat. Neurosci. 17, 1500–1509 (2014).

Harris, K. D., Hirase, H., Leinekugel, X., Henze, D. A. & Buzsáki, G. Temporal interaction between single spikes and complex spike bursts in hippocampal pyramidal cells. Neuron 32, 141–149 (2001).

Bezaire, M. J. & Soltesz, I. Quantitative assessment of CA1 local circuits: knowledge base for interneuron–pyramidal cell connectivity. Hippocampus 23, 751–785 (2013).

Unal, G., Joshi, A., Viney, T. J., Kis, V. & Somogyi, P. Synaptic targets of medial septal projections in the hippocampus and extrahippocampal cortices of the mouse. J. Neurosci. 35, 15812–15826 (2015).

Shaner, N. C. et al. Improving the photostability of bright monomeric orange and red fluorescent proteins. Nat. Methods 5, 545–551 (2008).

Gradinaru, V. et al. Molecular and cellular approaches for diversifying and extending optogenetics. Cell 141, 154–165 (2010).

Klapoetke, N. C. et al. Independent optical excitation of distinct neural populations. Nat. Methods 11, 338–346 (2014).

Shepard, B. D., Natarajan, N., Protzko, R. J., Acres, O. W. & Pluznick, J. L. A cleavable N-terminal signal peptide promotes widespread olfactory receptor surface expression in HEK293T cells. PLoS ONE 8, e68758 (2013).

Chow, B. Y. et al. High-performance genetically targetable optical neural silencing by light-driven proton pumps. Nature 463, 98–102 (2010).

McIsaac, R. S. et al. Directed evolution of a far-red fluorescent rhodopsin. Proc. Natl Acad. Sci. USA 111, 13034–13039 (2014).

Maclaurin, D., Venkatachalam, V., Lee, H. & Cohen, A. E. Mechanism of voltage-sensitive fluorescence in a microbial rhodopsin. Proc. Natl Acad. Sci. USA 110, 5939–5944 (2013).

Daigle, T. L. et al. A suite of transgenic driver and reporter mouse lines with enhanced brain-cell-type targeting and functionality. Cell 174, 465–480 (2018).

Molyneaux, B. J., Arlotta, P., Hirata, T., Hibi, M. & Macklis, J. D. Fezl is required for the birth and specification of corticospinal motor neurons. Neuron 47, 817–831 (2005).

Krashes, M. J. et al. Rapid, reversible activation of AgRP neurons drives feeding behavior in mice. J. Clin. Invest. 121, 1424–1428 (2011).

Adam, Y. & Mizrahi, A. Long-term imaging reveals dynamic changes in the neuronal composition of the glomerular layer. J. Neurosci. 31, 7967–7973 (2011).

Dombeck, D. A., Harvey, C. D., Tian, L., Looger, L. L. & Tank, D. W. Functional imaging of hippocampal place cells at cellular resolution during virtual navigation. Nat. Neurosci. 13, 1433–1440 (2010).

Goldey, G. J. et al. Removable cranial windows for long-term imaging in awake mice. Nat. Protoc. 9, 2515–2538 (2014).

Kralj, J. M., Douglass, A. D., Hochbaum, D. R., Maclaurin, D. & Cohen, A. E. Optical recording of action potentials in mammalian neurons using a microbial rhodopsin. Nat. Methods 9, 90–95 (2012).

Pnevmatikakis, E. A. & Giovannucci, A. NoRMCorre: an online algorithm for piecewise rigid motion correction of calcium imaging data. J. Neurosci. Methods 291, 83–94 (2017).

Mukamel, E. A., Nimmerjahn, A. & Schnitzer, M. J. Automated analysis of cellular signals from large-scale calcium imaging data. Neuron 63, 747–760 (2009).

Ricciardi, L. M. & Sacerdote, L. The Ornstein–Uhlenbeck process as a model for neuronal activity. I. Mean and variance of the firing time. Biol. Cybern. 35, 1–9 (1979).

Stujenske, J. M., Spellman, T. & Gordon, J. A. Modeling the spatiotemporal dynamics of light and heat propagation for in vivo optogenetics. Cell Rep. 12, 525–534 (2015).

Podgorski, K. & Ranganathan, G. Brain heating induced by near-infrared lasers during multiphoton microscopy. J. Neurophysiol. 116, 1012–1023 (2016).
Acknowledgements
We thank M. S. Lee and V. Joshi for help with tissue culture, A. H. Gheorghe for help with spectroscopy experiments, N. Rollins and S. Brownsberger for technical help, L. Yapp for advice on hippocampal surgeries, A. Ruangkittisakul and K. Ballanyi for neuronal cultures, K. Podgorski for heating simulation code, G. Buzsaki and members of the Cohen laboratory for helpful discussions and D. Hochbaum, C. Straub, J. L. Saulnier, B. L. Sabatini, V. Kapoor and V. Murthy for help at early stages of the project. Y.A. was supported by fellowships from the Human Frontiers Science Program and the Edmund and Lili Safra Center for Brain Sciences. This work was supported by the Howard Hughes Medical Institute.
Reviewer information
Nature thanks Kenneth Harris, Michael Hausser, Samuel Andrew Hires and the other anonymous reviewer(s) for their contribution to the peer review of this work.
Ethics declarations
Competing interests
A.E.C. is a founder of Q-State Biosciences. The other authors declare no competing interests.
Additional information
Publisher's note: Springer Nature remains neutral with regard to jurisdictional claims in published maps and institutional affiliations.
Extended data figures and tables
Supplementary information
About this article
Cite this article
Adam, Y., Kim, J.J., Lou, S. et al. Voltage imaging and optogenetics reveal behaviour-dependent changes in hippocampal dynamics. Nature 569, 413–417 (2019). https://doi.org/10.1038/s41586-019-1166-7
Received:

Accepted:

Published:

Issue Date:

DOI: https://doi.org/10.1038/s41586-019-1166-7
Comments
By submitting a comment you agree to abide by our Terms and Community Guidelines. If you find something abusive or that does not comply with our terms or guidelines please flag it as inappropriate.