Abstract
The sympathetic nervous system drives brown and beige adipocyte thermogenesis through the release of noradrenaline from local axons. However, the molecular basis of higher levels of sympathetic innervation of thermogenic fat, compared to white fat, has remained unknown. Here we show that thermogenic adipocytes express a previously unknown, mammal-specific protein of the endoplasmic reticulum that we term calsyntenin 3β. Genetic loss or gain of expression of calsyntenin 3β in adipocytes reduces or enhances functional sympathetic innervation, respectively, in adipose tissue. Ablation of calsyntenin 3β predisposes mice on a high-fat diet to obesity. Mechanistically, calsyntenin 3β promotes endoplasmic-reticulum localization and secretion of S100b—a protein that lacks a signal peptide—from brown adipocytes. S100b stimulates neurite outgrowth from sympathetic neurons in vitro. A deficiency of S100b phenocopies deficiency of calsyntenin 3β, and forced expression of S100b in brown adipocytes rescues the defective sympathetic innervation that is caused by ablation of calsyntenin 3β. Our data reveal a mammal-specific mechanism of communication between thermogenic adipocytes and sympathetic neurons.
Relevant articles
Open Access articles citing this article.
Elisa Duregotti

,

Christina M. Reumiller

…

Manuel Mayr

Nature Communications Open Access 25 November 2022

Keita Mori

,

Michinori Koebis

…

Atsu Aiba

Molecular Brain Open Access 12 March 2022
Access options
Subscribe to Nature+
Get immediate online access to Nature and 55 other Nature journal
Subscribe to Journal
Get full journal access for 1 year
$199.00
only $3.90 per issue
All prices are NET prices.
VAT will be added later in the checkout.
Tax calculation will be finalised during checkout.
Buy article
Get time limited or full article access on ReadCube.
$32.00
All prices are NET prices.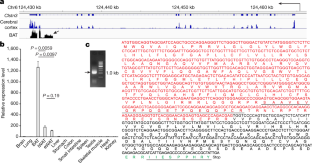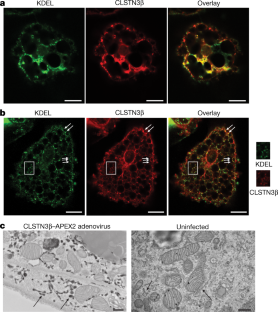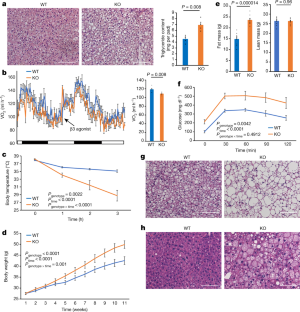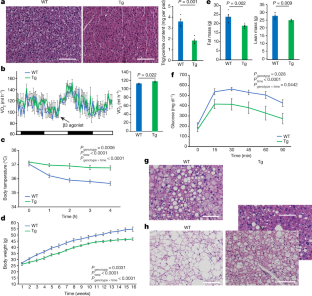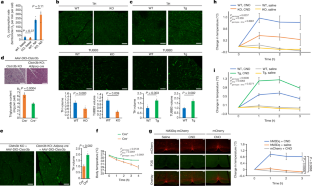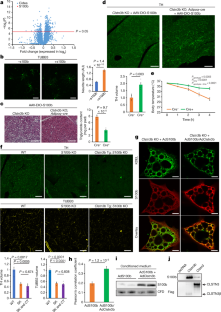 Data availability
Histone modification marker and transcription factor ChIP–seq datasets generated in this study are available at NIH Sequence Read Archive under the accession code PRJNA526243. Any other relevant data are available from the corresponding author upon reasonable request.
References
Cannon, B. & Nedergaard, J. Brown adipose tissue: function and physiological significance. Physiol. Rev. 84, 277–359 (2004).

Seale, P. & Lazar, M. A. Brown fat in humans: turning up the heat on obesity. Diabetes 58, 1482–1484 (2009).

Morrison, S. F. Central neural control of thermoregulation and brown adipose tissue. Auton. Neurosci. 196, 14–24 (2016).

Zeng, W. et al. Sympathetic neuro-adipose connections mediate leptin-driven lipolysis. Cell 163, 84–94 (2015).

Fedorenko, A., Lishko, P. V. & Kirichok, Y. Mechanism of fatty-acid-dependent UCP1 uncoupling in brown fat mitochondria. Cell 151, 400–413 (2012).

Kazak, L. et al. A creatine-driven substrate cycle enhances energy expenditure and thermogenesis in beige fat. Cell 163, 643–655 (2015).

Daniel, H. & Derry, D. M. Criteria for differentiation of brown and white fat in the rat. Can. J. Physiol. Pharmacol. 47, 941–945 (1969).

Seale, P. et al. Transcriptional control of brown fat determination by PRDM16. Cell Metab. 6, 38–54 (2007).

Cohen, P. et al. Ablation of PRDM16 and beige fat causes metabolic dysfunction and subcutaneous to visceral adipose switch. Cell 156, 304–316 (2013).

Wang, W. & Seale, P. Control of brown and beige fat development. Nat. Rev. Mol. Cell Biol. 17, 691–702 (2016).

Seale, P. et al. Prdm16 determines the thermogenic program of subcutaneous white adipose tissue in mice. J. Clin. Invest. 121, 96–105 (2011).

Chi, J. et al. Three-dimensional adipose tissue imaging reveals regional variation in beige fat biogenesis and PRDM16-dependent sympathetic neurite density. Cell Metab. 27, 226–236 (2018).

Zeng, X. et al. Lysine-specific demethylase 1 promotes brown adipose tissue thermogenesis via repressing glucocorticoid activation. Genes Dev. 30, 1822–1836 (2016).

Pettem, K. L. et al. The specific α-neurexin interactor calsyntenin-3 promotes excitatory and inhibitory synapse development. Neuron 80, 113–128 (2013).

Saunders, A., Johnson, C. A. & Sabatini, B. L. Novel recombinant adeno-associated viruses for Cre activated and inactivated transgene expression in neurons. Front. Neural Circuits 6, 47 (2012).

Nakamura, K. et al. Identification of sympathetic premotor neurons in medullary raphe regions mediating fever and other thermoregulatory functions. J. Neurosci. 24, 5370–5380 (2004).

Cheng, L. et al. Identification of spinal circuits involved in touch-evoked dynamic mechanical pain. Nat. Neurosci. 20, 804–814 (2017).

Reeves, R. H. et al. Astrocytosis and axonal proliferation in the hippocampus of S100b transgenic mice. Proc. Natl Acad. Sci. USA 91, 5359–5363 (1994).

Winningham-Major, F., Staecker, J. L., Barger, S. W., Coats, S. & Van Eldik, L. J. Neurite extension and neuronal survival activities of recombinant S100β proteins that differ in the content and position of cysteine residues. J. Cell Biol. 109, 3063–3071 (1989).

Nishiyama, H., Knöpfel, T., Endo, S. & Itohara, S. Glial protein S100B modulates long-term neuronal synaptic plasticity. Proc. Natl Acad. Sci. USA 99, 4037–4042 (2002).

Steiner, G., Loveland, M. & Schonbaum, E. Effect of denervation on brown adipose tissue metabolism. Am. J. Physiol. 218, 566–570 (1970).

Bachman, E. S. et al. βAR signaling required for diet-induced thermogenesis and obesity resistance. Science 297, 843–845 (2002).

Dulloo, A. G. & Miller, D. S. Energy balance following sympathetic denervation of brown adipose tissue. Can. J. Physiol. Pharmacol. 62, 235–240 (1984).

Cao, Y., Wang, H. & Zeng, W. Whole-tissue 3D imaging reveals intra-adipose sympathetic plasticity regulated by NGF-TrkA signal in cold-induced beiging. Protein Cell 9, 527–539 (2018).

Donato, R. et al. S100B's double life: intracellular regulator and extracellular signal. Biochim. Biophys. Acta 1793, 1008–1022 (2009).

Nisoli, E., Tonello, C., Benarese, M., Liberini, P. & Carruba, M. O. Expression of nerve growth factor in brown adipose tissue: implications for thermogenesis and obesity. Endocrinology 137, 495–503 (1996).

Sornelli, F., Fiore, M., Chaldakov, G. N. & Aloe, L. Adipose tissue-derived nerve growth factor and brain-derived neurotrophic factor: results from experimental stress and diabetes. Gen. Physiol. Biophys. 28, 179–183 (2009).

Chen, Y. et al. Crosstalk between KCNK3-mediated ion current and adrenergic signaling regulates adipose thermogenesis and obesity. Cell 171, 836–848.e13 (2017).

Long, J. Z. et al. A smooth muscle-like origin for beige adipocytes. Cell Metab. 19, 810–820 (2014).

Lam, S. S. et al. Directed evolution of APEX2 for electron microscopy and proximity labeling. Nat. Methods 12, 51–54 (2015).

Simpson, I. A. et al. Insulin-stimulated translocation of glucose transporters in the isolated rat adipose cells: characterization of subcellular fractions. Biochim. Biophys. Acta 763, 393–407 (1983).
Acknowledgements
We thank Nikon Imaging Center at Harvard Medical School for all imaging studies; RIKEN Institute for sharing the S100b knockout strain; Z. Herbert and the Molecular Biology Core Facilities at Dana Farber Cancer Institute for sequencing studies; the Rodent Histology Core at Harvard Medical School for histology studies; the EM Core at Harvard Medical School for APEX2 imaging studies; the viral core at Children's Hospital Boston for AAV production; the transgenic core at Beth Israel Deaconess Medical Center for generation of mouse models; Y. Zhu for advice on sequencing data analysis. X.Z. was supported by the American Heart Association postdoctoral fellowship. B.H. is a Cancer Research Institute/Leonard Kahn Foundation Fellow. D.D.G. is an investigator of the Howard Hughes Medical Institute. This study was supported by NIH grant DK31405 to B.M.S.
Ethics declarations
Competing interests
The authors declare no competing interests.
Additional information
Publisher's note: Springer Nature remains neutral with regard to jurisdictional claims in published maps and institutional affiliations.
Extended data figures and tables
Supplementary information
Supplementary Table 1 Proteomics analysis of WT and Clstn3β KO BAT from mice housed at RT (n=4 mice). Statistical significance was calculated by unpaired Student's two-sided t-test.
About this article
Cite this article
Zeng, X., Ye, M., Resch, J.M. et al. Innervation of thermogenic adipose tissue via a calsyntenin 3β–S100b axis. Nature 569, 229–235 (2019). https://doi.org/10.1038/s41586-019-1156-9
Received:

Accepted:

Published:

Issue Date:

DOI: https://doi.org/10.1038/s41586-019-1156-9
Comments
By submitting a comment you agree to abide by our Terms and Community Guidelines. If you find something abusive or that does not comply with our terms or guidelines please flag it as inappropriate.