Abstract
The turnover of the intestinal epithelium is driven by multipotent LGR5+ crypt-base columnar cells (CBCs) located at the bottom of crypt zones1. However, CBCs are lost following injury, such as irradiation2, but the intestinal epithelium is nevertheless able to recover3. Thus, a second population of quiescent '+4' cells, or reserve stem cells (RSCs), has previously been proposed to regenerate the damaged intestine4,5,6,7. Although CBCs and RSCs were thought to be mutually exclusive4,8, subsequent studies have found that LGR5+ CBCs express RSC markers9 and that RSCs were dispensable—whereas LGR5+ cells were essential—for repair of the damaged intestine3. In addition, progenitors of absorptive enterocytes10, secretory cells11,12,13,14,15 and slow cycling LGR5+ cells16 have been shown to contribute to regeneration whereas the transcriptional regulator YAP1, which is important for intestinal regeneration, was suggested to induce a pro-survival phenotype in LGR5+ cells17. Thus, whether cellular plasticity or distinct cell populations are critical for intestinal regeneration remains unknown. Here we applied single-cell RNA sequencing to profile the regenerating mouse intestine and identified a distinct, damage-induced quiescent cell type that we term the revival stem cell (revSC). revSCs are marked by high clusterin expression and are extremely rare under homoeostatic conditions, yet give rise—in a temporal hierarchy—to all the major cell types of the intestine, including LGR5+ CBCs. After intestinal damage by irradiation, targeted ablation of LGR5+ CBCs, or treatment with dextran sodium sulfate, revSCs undergo a YAP1-dependent transient expansion, reconstitute the LGR5+ CBC compartment and are required to regenerate a functional intestine. These studies thus define a unique stem cell that is mobilized by damage to revive the homoeostatic stem cell compartment and regenerate the intestinal epithelium.
Access options
Subscribe to Journal
Get full journal access for 1 year
$199.00
only $3.90 per issue
All prices are NET prices.
VAT will be added later in the checkout.
Rent or Buy article
Get time limited or full article access on ReadCube.
from$8.99
All prices are NET prices.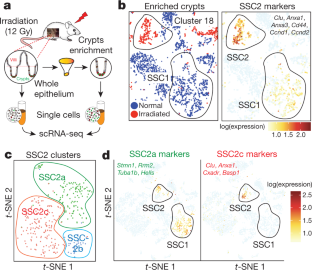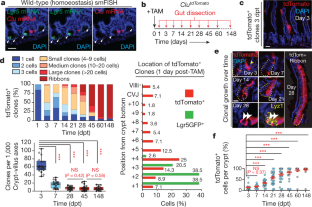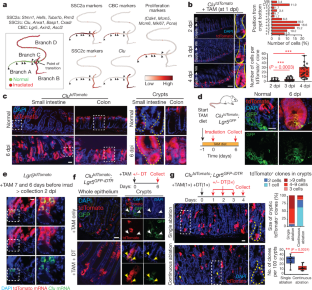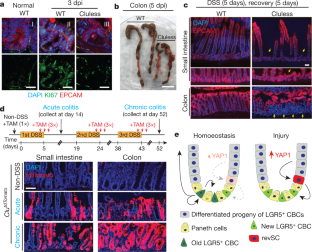 Data availability
The scRNA-seq data reported in this study is available from Gene Expression Omnibus with accession code GSE123516. All other data used in this study are provided within the article as Source Data or are available from the corresponding authors upon reasonable request.
Code availability
Citations for all previously described R packages used in this study are provided above, and the step-by-step scRNA-seq data analysis is described in graphical form in Extended Data Fig. 1a. Custom codes used for gene correlation analysis and pCreode-based pseudotime analysis are available at https://github.com/sandeep13712/wranalab-revscs.
References
1.

Barker, N. et al. Identification of stem cells in small intestine and colon by marker gene Lgr5. Nature 449, 1003–1007 (2007).

2.

Tao, S. et al. Wnt activity and basal niche position sensitize intestinal stem and progenitor cells to DNA damage. EMBO J. 36, 2920–2921 (2017).

3.

Metcalfe, C., Kljavin, N. M., Ybarra, R. & de Sauvage, F. J. Lgr5 + stem cells are indispensable for radiation-induced intestinal regeneration. Cell Stem Cell 14, 149–159 (2014).

4.

Yan, K. S. et al. The intestinal stem cell markers Bmi1 and Lgr5 identify two functionally distinct populations. Proc. Natl Acad. Sci. USA 109, 466–471 (2012).

5.

Powell, A. E. et al. The pan-ErbB negative regulator Lrig1 is an intestinal stem cell marker that functions as a tumor suppressor. Cell 149, 146–158 (2012).

6.

Takeda, N. et al. Interconversion between intestinal stem cell populations in distinct niches. Science 334, 1420–1424 (2011).

7.

Montgomery, R. K. et al. Mouse telomerase reverse transcriptase (mTert) expression marks slowly cycling intestinal stem cells. Proc. Natl Acad. Sci. USA 108, 179–184 (2011).

8.

Li, N. et al. Single-cell analysis of proxy reporter allele-marked epithelial cells establishes intestinal stem cell hierarchy. Stem Cell Reports 3, 876–891 (2014).

9.

Muñoz, J. et al. The Lgr5 intestinal stem cell signature: robust expression of proposed quiescent' +4′ cell markers. EMBO J. 31, 3079–3091 (2012).

10.

Tetteh, P. W. et al. Replacement of lost Lgr5-positive stem cells through plasticity of their enterocyte-lineage daughters. Cell Stem Cell 18, 203–213 (2016).

11.

Buczacki, S. J. A. et al. Intestinal label-retaining cells are secretory precursors expressing Lgr5. Nature 495, 65–69 (2013).

12.

Yan, K. S. et al. Intestinal enteroendocrine lineage cells possess homeostatic and injury-inducible stem cell activity. Cell Stem Cell 21, 78–90.e6 (2017).

13.

Jadhav, U. et al. Dynamic reorganization of chromatin accessibility signatures during dedifferentiation of secretory precursors into Lgr5+ intestinal stem cells. Cell Stem Cell 21, 65–77.e5 (2017).

14.

van Es, J. H. et al. Dll1+ secretory progenitor cells revert to stem cells upon crypt damage. Nat. Cell Biol. 14, 1099–1104 (2012).

15.

Yousefi, M., Li, L. & Lengner, C. J. Hierarchy and plasticity in the intestinal stem cell compartment. Trends Cell Biol. 27, 753–764 (2017).

16.

Barriga, F. M. et al. Mex3a marks a slowly dividing subpopulation of Lgr5+ intestinal stem cells. Cell Stem Cell 20, 801–816.e7 (2017).

17.

Gregorieff, A., Liu, Y., Inanlou, M. R., Khomchuk, Y. & Wrana, J. L. Yap-dependent reprogramming of Lgr5+ stem cells drives intestinal regeneration and cancer. Nature 526, 715–718 (2015).

18.

Moor, A. E. et al. Spatial reconstruction of single enterocytes uncovers broad zonation along the intestinal villus axis. Cell 175, 1156–1167.e15 (2018).

19.

Yui, S. et al. YAP/TAZ-dependent reprogramming of colonic epithelium links ECM remodeling to tissue regeneration. Cell Stem Cell 22, 35–49.e7 (2018).

20.

Nusse, Y. M. et al. Parasitic helminths induce fetal-like reversion in the intestinal stem cell niche. Nature 559, 109–113 (2018).

21.

Zhang, F. et al. Clusterin facilitates stress-induced lipidation of LC3 and autophagosome biogenesis to enhance cancer cell survival. Nat. Commun. 5, 5775 (2014).

22.

Park, J.-J., Lim, K.-H. & Baek, K.-H. Annexin-1 regulated by HAUSP is essential for UV-induced damage response. Cell Death Dis. 6, e1654 (2015).

23.

Wang, Y. et al. A nuclease that mediates cell death induced by DNA damage and poly(ADP-ribose) polymerase-1. Science 354, aad6872 (2016).

24.

Poletto, M., Lirussi, L., Wilson, D. M. III & Tell, G. Nucleophosmin modulates stability, activity, and nucleolar accumulation of base excision repair proteins. Mol. Biol. Cell 25, 1641–1652 (2014).

25.

Jirawatnotai, S. et al. A function for cyclin D1 in DNA repair uncovered by protein interactome analyses in human cancers. Nature 474, 230–234 (2011).

26.

Picelli, S. et al. Full-length RNA-seq from single cells using Smart-seq2. Nat. Protoc. 9, 171–181 (2014).

27.

Herring, C. A. et al. Unsupervised trajectory analysis of single-cell RNA-seq and imaging data reveals alternative tuft cell origins in the gut. Cell Syst. 6, 37–51.e9 (2018).

28.

Oh, S. Y., Cho, K. A., Kang, J. L., Kim, K. H. & Woo, S. Y. Comparison of experimental mouse models of inflammatory bowel disease. Int. J. Mol. Med. 33, 333–340 (2014).

29.

Gong, S. et al. A gene expression atlas of the central nervous system based on bacterial artificial chromosomes. Nature 425, 917–925 (2003).

30.

Wu, S., Wu, Y. & Capecchi, M. R. Motoneurons and oligodendrocytes are sequentially generated from neural stem cells but do not appear to share common lineage-restricted progenitors in vivo. Development 133, 581–590 (2006).

31.

Reginensi, A. et al. Yap- and Cdc42-dependent nephrogenesis and morphogenesis during mouse kidney development. PLoS Genet. 9, e1003380 (2013).

32.

Yi, J. et al. Large tumor suppressor homologs 1 and 2 regulate mouse liver progenitor cell proliferation and maturation through antagonism of the coactivators YAP and TAZ. Hepatology 64, 1757–1772 (2016).

33.

Gregorieff, A. et al. Expression pattern of Wnt signaling components in the adult intestine. Gastroenterology 129, 626–638 (2005).

34.

Butler, A., Hoffman, P., Smibert, P., Papalexi, E. & Satija, R. Integrating single-cell transcriptomic data across different conditions, technologies, and species. Nat. Biotechnol. 36, 411–420 (2018).

35.

McCarthy, D. J., Campbell, K. R., Lun, A. T. L. & Wills, Q. F. Scater: pre-processing, quality control, normalization and visualization of single-cell RNA-seq data in R. Bioinformatics 33, 1179–1186 (2017).

36.

Waltman, L. & Van Eck, N. J. A smart local moving algorithm for large-scale modularity-based community detection. Eur. Phys. J. B 86, 471 (2013).

37.

Zappia, L. & Oshlack, A. Clustering trees: a visualization for evaluating clusterings at multiple resolutions. Gigascience 7, 274035 (2018).

38.

Van Der Maaten, L. & Hinton, G. Visualizing Data using t-SNE. J. Mach. Learn. Res. 9, 2579–2605 (2008).

39.

McGinnis, C. S., Murrow, L. M. & Gartner, Z. J. DoubletFinder: Doublet detection in single-cell RNA sequencing data using artificial nearest neighbors. Preprint at https://doi.org/10.1101/352484 (2018).

40.

Tringe, S. G. & Hugenholtz, P. A renaissance for the pioneering 16S rRNA gene. Curr. Opin. Microbiol. 11, 442–446 (2008).

41.

Takara Bio USA. SMART-Seq® v4 Ultra® Low Input RNA Kit for Sequencing User Manual (Takara Bio USA, 2017).

42.

Dobin, A. et al. STAR: ultrafast universal RNA-seq aligner. Bioinformatics 29, 15–21 (2013).

43.

Liao, Y., Smyth, G. K. & Shi, W. featureCounts: an efficient general purpose program for assigning sequence reads to genomic features. Bioinformatics 30, 923–930 (2014).

44.

Xue, Z. et al. Genetic programs in human and mouse early embryos revealed by single-cell RNA sequencing. Nature 500, 593–597 (2013).

45.

Horvath, S. & Dong, J. Geometric interpretation of gene coexpression network analysis. PLoS Comput. Biol. 4, e1000117 (2008).

46.

Langfelder, P. & Horvath, S. WGCNA: an R package for weighted correlation network analysis. BMC Bioinformatics 9, 559 (2008).
Acknowledgements
We thank L. Attisano (University of Toronto) for critical comments. This work is supported by the Canadian Institutes of Health Research (CIHR) Foundation grant number FDN143252 (J.L.W.), the Terry Fox Research Institute (TFRI) New Frontiers program (J.L.W.), the University of Toronto's Medicine by Design (MbD) initiative, which receives funding from the Canada First Research Excellence Fund (CFREF) (J.L.W., and a postdoctoral fellowship to A.A.), and a CIHR Research Project grant and a Cancer Research Society Operating Grant awarded to A.G. This research was enabled in part by support provided by the Niagara Cluster in Scinet (www.scinethpc.ca) and Compute Canada (www.computecanada.ca).
Reviewer information
Nature thanks Toshiro Sato, Fuchou Tang and the other anonymous reviewer(s) for their contribution to the peer review of this work.
Ethics declarations
Competing interests
The authors declare no competing interests.
Additional information
Publisher's note: Springer Nature remains neutral with regard to jurisdictional claims in published maps and institutional affiliations.
Extended data figures and tables
Supplementary information
About this article
Cite this article
Ayyaz, A., Kumar, S., Sangiorgi, B. et al. Single-cell transcriptomes of the regenerating intestine reveal a revival stem cell. Nature 569, 121–125 (2019). https://doi.org/10.1038/s41586-019-1154-y
Received:

Accepted:

Published:

Issue Date:
Comments
By submitting a comment you agree to abide by our Terms and Community Guidelines. If you find something abusive or that does not comply with our terms or guidelines please flag it as inappropriate.