Abstract
Precision oncology hinges on linking tumour genotype with molecularly targeted drugs1; however, targeting the frequently dysregulated metabolic landscape of cancer has proven to be a major challenge2. Here we show that tissue context is the major determinant of dependence on the nicotinamide adenine dinucleotide (NAD) metabolic pathway in cancer. By analysing more than 7,000 tumours and 2,600 matched normal samples of 19 tissue types, coupled with mathematical modelling and extensive in vitro and in vivo analyses, we identify a simple and actionable set of 'rules'. If the rate-limiting enzyme of de novo NAD synthesis, NAPRT, is highly expressed in a normal tissue type, cancers that arise from that tissue will have a high frequency of NAPRT amplification and be completely and irreversibly dependent on NAPRT for survival. By contrast, tumours that arise from normal tissues that do not express NAPRT highly are entirely dependent on the NAD salvage pathway for survival. We identify the previously unknown enhancer that underlies this dependence. Amplification of NAPRT is shown to generate a pharmacologically actionable tumour cell dependence for survival. Dependence on another rate-limiting enzyme of the NAD synthesis pathway, NAMPT, as a result of enhancer remodelling is subject to resistance by NMRK1-dependent synthesis of NAD. These results identify a central role for tissue context in determining the choice of NAD biosynthetic pathway, explain the failure of NAMPT inhibitors, and pave the way for more effective treatments.
Relevant articles
Open Access articles citing this article.
Fujie Xie

,

Yajun Zhang

…

Rongjun Wang

Parasites & Vectors Open Access 16 August 2022

QinChen Xu

,

Xiaoyan Liu

…

Yunshan Wang

Cancer Cell International Open Access 30 July 2022

Han-Yuan Liu

,

Fu-Hui Wang

…

Chang-Hua Zhang

Journal of Cancer Research and Clinical Oncology Open Access 01 July 2022
Access options
Subscribe to Nature+
Get immediate online access to the entire Nature family of 50+ journals
Subscribe to Journal
Get full journal access for 1 year
$199.00
only $3.90 per issue
All prices are NET prices.
VAT will be added later in the checkout.
Tax calculation will be finalised during checkout.
Buy article
Get time limited or full article access on ReadCube.
$32.00
All prices are NET prices.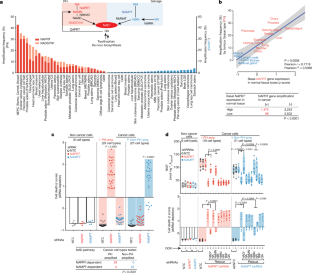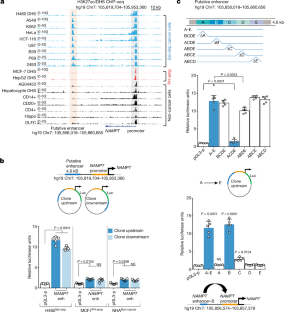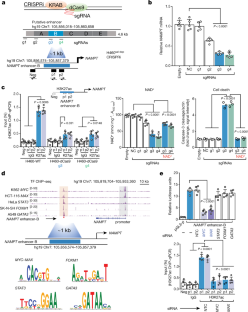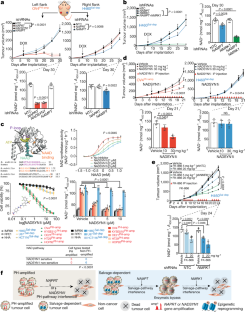 Data availability
The data supporting the findings of this study are available within the paper and its Supplementary Information. Source Data for all figures are available online. Data are available from the corresponding author upon reasonable request.
References
Roychowdhury, S. & Chinnaiyan, A. M. Translating genomics for precision cancer medicine. Annu. Rev. Genomics Hum. Genet. 15, 395–415 (2014).

Mayers, J. R. & Vander Heiden, M. G. Nature and nurture: what determines tumor metabolic phenotypes? Cancer Res. 77, 3131–3134 (2017).

Cantó, C., Menzies, K. J. & Auwerx, J. NAD+ metabolism and the control of energy homeostasis: a balancing act between mitochondria and the nucleus. Cell Metab. 22, 31–53 (2015).

Verdin, E. NAD+ in aging, metabolism, and neurodegeneration. Science 350, 1208–1213 (2015).

Vander Heiden, M. G. & DeBerardinis, R. J. Understanding the intersections between metabolism and cancer biology. Cell 168, 657–669 (2017).

Pavlova, N. N. & Thompson, C. B. The Emerging hallmarks of cancer metabolism. Cell Metab. 23, 27–47 (2016).

Liu, L. et al. Quantitative analysis of NAD synthesis-breakdown fluxes. Cell Metab. 27, 1067–1080 (2018).

Chiarugi, A., Dölle, C., Felici, R. & Ziegler, M. The NAD metabolome—a key determinant of cancer cell biology. Nat. Rev. Cancer 12, 741–752 (2012).

Ryu, K. W. et al. Metabolic regulation of transcription through compartmentalized NAD+ biosynthesis. Science 360, eaan5780 (2018).

Kaelin, W. G. Jr & McKnight, S. L. Influence of metabolism on epigenetics and disease. Cell 153, 56–69 (2013).

Bogan, K. L. & Brenner, C. Nicotinic acid, nicotinamide, and nicotinamide riboside: a molecular evaluation of NAD+ precursor vitamins in human nutrition. Annu. Rev. Nutr. 28, 115–130 (2008).

Katsyuba E. et al. De novo NAD+ synthesis enhances mitochondrial function and improves health. Nature 563, 354–359 (2018).

Tateishi, K. et al. Extreme vulnerability of IDH1 mutant cancers to NAD+ depletion. Cancer Cell 28, 773–784 (2015).

Piacente, F. et al. Nicotinic acid phosphoribosyltransferase regulates cancer cell metabolism, susceptibility to NAMPT inhibitors, and DNA repair. Cancer Res. 77, 3857–3869 (2017).

Hnisz, D. et al. Super-enhancers in the control of cell identity and disease. Cell 155, 934–947 (2013).

Leung, D. et al. Integrative analysis of haplotype-resolved epigenomes across human tissues. Nature 518, 350–354 (2015).

Gilbert, L. A. et al. CRISPR-mediated modular RNA-guided regulation of transcription in eukaryotes. Cell 154, 442–451 (2013).

Frederick, D. W. et al. Loss of NAD homeostasis leads to progressive and reversible degeneration of skeletal muscle. Cell Metab. 24, 269–282 (2016).

Moro, W. B., Yang, Z., Kane, T. A., Brouillette, C. G. & Brouillette, W. J. Virtual screening to identify lead inhibitors for bacterial NAD synthetase (NADs). Bioorg. Med. Chem. Lett. 19, 2001–2005 (2009).

Devedjiev, Y. et al. Stabilization of active-site loops in NH3-dependent NAD+ synthetase from Bacillus subtilis. Acta Crystallogr. D 57, 806–812 (2001).

Hara, N. et al. Molecular identification of human glutamine- and ammonia-dependent NAD synthetases. Carbon-nitrogen hydrolase domain confers glutamine dependency. J. Biol. Chem. 278, 10914–10921 (2003).

Velu, S. E., Luan, C. H., Delucas, L. J., Brouillette, C. G. & Brouillette, W. J. Tethered dimer inhibitors of NAD synthetase: parallel synthesis of an aryl-substituted SAR library. J. Comb. Chem. 7, 898–904 (2005).

Wang, X. et al. Design, synthesis, and evaluation of substituted nicotinamide adenine dinucleotide (NAD+) synthetase inhibitors as potential antitubercular agents. Bioorg. Med. Chem. Lett. 27, 4426–4430 (2017).

Heintzman, N. D. et al. Distinct and predictive chromatin signatures of transcriptional promoters and enhancers in the human genome. Nat. Genet. 39, 311–318 (2007).

Cerami, E. et al. The cBio cancer genomics portal: an open platform for exploring multidimensional cancer genomics data. Cancer Discov. 2, 401–404 (2012).

Lonsdale, J. et al. The Genotype-Tissue Expression (GTEx) project. Nat. Genetics 45, 580–585 (2013).

Grossman, R. L. et al. Toward a shared vision for cancer genomic data. N. Engl. J. Med. 375, 1109–1112 (2016).

Hartigan, J. A. & Hartigan, P. M. The dip test of unimodality. Ann. Stat. 13, 70–84 (1985).

Hasmann, M. & Schemainda, I. FK866, a highly specific noncompetitive inhibitor of nicotinamide phosphoribosyltransferase, represents a novel mechanism for induction of tumor cell apoptosis. Cancer Res. 63, 7436–7442 (2003).

Turner, K. M. et al. Extrachromosomal oncogene amplification drives tumour evolution and genetic heterogeneity. Nature 543, 122–125 (2017).

Wojcik, M., Seidle, H. F., Bieganowski, P. & Brenner, C. Glutamine-dependent NAD+ synthetase. How a two-domain, three-substrate enzyme avoids waste. J. Biol. Chem. 281, 33395–33402 (2006).

Zalkin, H. NAD synthetase. Methods Enzymol. 113, 297–302 (1985).

Zhang, X. et al. Identification of focally amplified lineage-specific super-enhancers in human epithelial cancers. Nat. Genet. 48, 176–182 (2016).
Acknowledgements
We thank M. Meyerson for CRISPR interference plasmids; Mischel laboratory members and A. Shiau for suggestions; and A. Hwang for generating Extended Data Fig. 3a. This work was supported by Ludwig Institute for Cancer Research (P.S.M., B.R., F.F.), Defeat GBM program of the National Brain Tumor Society (P.S.M., F.F.), a Sharpe-National Brain Tumor Society Research Award (P.S.M.), NVIDIA Foundation, (P.S.M.), the Ben and Catherine Ivy foundation (P.S.M.), the Ziering Family Foundation in memory of Sigi Ziering (P.S.M.) and NIH grants T32 CA009253 (R.R.), CA121938 (E.B.), NS73831 (P.S.M.), GM114362 (V.B.), NS80939 (F.F.), and NSF grants NSF-IIS-1318386 and NSF-DB1-1458557 (V.B.).
Ethics declarations
Competing interests
P.S.M. and V.B. are co-founders of Pretzel Therapeutics, Inc., have equity in the company and serve as consultants. B.R. is a co-founder of Arima Genomics, Inc., and has equity in the company.
Additional information
Publisher's note: Springer Nature remains neutral with regard to jurisdictional claims in published maps and institutional affiliations.
Extended data figures and tables
Supplementary information
This file contains Supplementary Tables 1-4
This file contains Supplementary Figure 1, the uncropped western blot images
About this article
Cite this article
Chowdhry, S., Zanca, C., Rajkumar, U. et al. NAD metabolic dependency in cancer is shaped by gene amplification and enhancer remodelling. Nature 569, 570–575 (2019). https://doi.org/10.1038/s41586-019-1150-2
Received:

Accepted:

Published:

Issue Date:

DOI: https://doi.org/10.1038/s41586-019-1150-2
Comments
By submitting a comment you agree to abide by our Terms and Community Guidelines. If you find something abusive or that does not comply with our terms or guidelines please flag it as inappropriate.