Abstract
Van der Waals heterostructures with small misalignment between adjacent layers ('interlayer twist') are of interest because of electronic structure and correlation phenomena (such as superconductivity) that are determined by both the atomic lattice and long-range superlattice potentials arising in interlayer moiré patterns1,2,3,4,5,6,7. Previously, such twisted heterostructures have involved a single planar interface between layers isolated by exfoliation and micromechanically stacked in the desired relative orientation1,8,9,10,11,12. Here we demonstrate a class of materials—van der Waals nanowires of layered crystals—in which a tunable interlayer twist evolves naturally during synthesis. In vapour–liquid–solid growth, nanowires of germanium(ii) sulfide, an anisotropic layered semiconductor, crystallize with layering along the wire axis13 and have a strong propensity for forming axial screw dislocations. Nanometre-resolved electron diffraction shows that Eshelby twist, induced by a torque on the ends of a cylindrical solid due to the stress field of an axial dislocation14,15, causes a chiral structure in the van der Waals nanowires. The in-plane germanium sulfide crystal axes progressively rotate along the wire, and germanium sulfide layers in adjacent turns of the helix naturally form a moiré pattern because of their interlayer twist. The axial rotation and the twist are tunable by varying the nanowire thickness. Combined electron diffraction and cathodoluminescence spectroscopy show the correlation between the interlayer twist and locally excited light emission that is due to progressive changes in the lattice orientation and in the interlayer moiré registry along the nanowires. The findings demonstrate a step towards scalable fabrication of van der Waals structures with defined twist angles, in which interlayer moiré patterns are realized along a helical path on a nanowire instead of a planar interface.
Relevant articles
Open Access articles citing this article.
Yang Sun

,

Kun Zhou

…

Wanlin Guo

Acta Mechanica Solida Sinica Open Access 14 October 2022

Jing Ai

,

Xueliang Zhang

…

Lu Han

Nature Communications Open Access 29 September 2022

Lingbin Xie

,

Longlu Wang

…

Qiang Zhao

Nature Communications Open Access 20 August 2021
Access options
Subscribe to Nature+
Get immediate online access to Nature and 55 other Nature journal
Subscribe to Journal
Get full journal access for 1 year
$199.00
only $3.90 per issue
All prices are NET prices.
VAT will be added later in the checkout.
Tax calculation will be finalised during checkout.
Buy article
Get time limited or full article access on ReadCube.
$32.00
All prices are NET prices.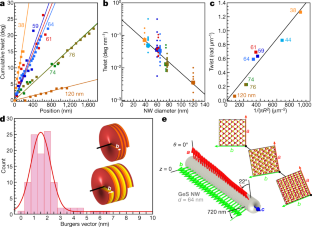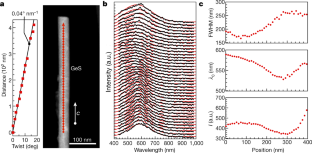 References
Dean, C. R. et al. Hofstadter's butterfly and the fractal quantum Hall effect in moiré superlattices. Nature 497, 598–602 (2013).

Liu, K. et al. Evolution of interlayer coupling in twisted molybdenum disulfide bilayers. Nat. Commun. 5, 4966 (2014).

Yeh, P.-C. et al. Direct measurement of the tunable electronic structure of bilayer MoS2 by interlayer twist. Nano Lett. 16, 953–959 (2016).

Carr, S. et al. Twistronics: manipulating the electronic properties of two-dimensional layered structures through their twist angle. Phys. Rev. B 95, 075420 (2017).

Cao, Y. et al. Unconventional superconductivity in magic-angle graphene superlattices. Nature 556, 43–50 (2018).

Cao, Y. et al. Correlated insulator behaviour at half-filling in magic-angle graphene superlattices. Nature 556, 80–84 (2018).

Ribeiro-Palau, R. et al. Twistable electronics with dynamically rotatable heterostructures. Science 361, 690–693 (2018).

Yankowitz, M. et al. Emergence of superlattice Dirac points in graphene on hexagonal boron nitride. Nat. Phys. 8, 382–386 (2012).

Ponomarenko, L. A. et al. Cloning of Dirac fermions in graphene superlattices. Nature 497, 594–597 (2013).

Kim, K. et al. van der Waals heterostructures with high accuracy rotational alignment. Nano Lett. 16, 1989–1995 (2016).

Kang, K. et al. Layer-by-layer assembly of two-dimensional materials into wafer-scale heterostructures. Nature 550, 229–233 (2017).

Frisenda, R. et al. Recent progress in the assembly of nanodevices and van der Waals heterostructures by deterministic placement of 2D materials. Chem. Soc. Rev. 47, 53–68 (2018).

Sutter, E. & Sutter, P. 1D wires of 2D layered materials: germanium sulfide nanowires as efficient light emitters. ACS Appl. Nano Mater. 1, 1042–1049 (2018).

Eshelby, J. D. Screw dislocations in thin rods. J. Appl. Phys. 24, 176–179 (1953).

Bierman, M. J., Lau, Y. K. A., Kvit, A. V., Schmitt, A. L. & Jin, S. Dislocation-driven nanowire growth and Eshelby twist. Science 320, 1060–1063 (2008).

Wagner, R. S. & Ellis, W. C. Vapor–liquid–solid mechanism of single crystal growth. Appl. Phys. Lett. 4, 89–90 (1964).

Morales, A. M. & Lieber, C. M. A laser ablation method for the synthesis of crystalline semiconductor nanowires. Science 279, 208–211 (1998).

Suryawanshi, S. R., Warule, S. S., Patil, S. S., Patil, K. R. & More, M. A. Vapor–liquid–solid growth of one-dimensional tin sulfide (SnS) nanostructures with promising field emission behavior. ACS Appl. Mater. Interfaces 6, 2018–2025 (2014).

Liu, S. et al. Solution-phase synthesis and characterization of single-crystalline SnSe nanowires. Angew. Chem. Int. Ed. 50, 12050–12053 (2011).

Peng, H., Meister, S., Chan, C. K., Zhang, X. F. & Cui, Y. Morphology control of layer-structured gallium selenide nanowires. Nano Lett. 7, 199–203 (2007).

Zhai, T. et al. Fabrication of high-quality In2Se3 nanowire arrays toward high-performance visible-light photodetectors. ACS Nano 4, 1596–1602 (2010).

Yang, R. B. et al. Pulsed vapor–liquid–solid growth of antimony selenide and antimony sulfide nanowires. Adv. Mater. 21, 3170–3174 (2009).

Alegria, L. D., Yao, N. & Petta, J. R. MOCVD synthesis of compositionally tuned topological insulator nanowires. Phys. Status Solidi 8, 991–996 (2014).

Burton, W. K., Cabrera, N. & Frank, F. C. The growth of crystals and the equilibrium structure of their surfaces. Phil. Trans. R. Soc. Lond. A 243, 299–358 (1951).

Bletskan, D. Production of GeS single crystals, investigation of their morphology and of latter influence on hologram recording. Kristallografiya 20, 1008–1012 (1975).

Sutter, P. & Sutter, E. Growth mechanisms of anisotropic layered group IV chalcogenides on van der Waals substrates for energy conversion applications. ACS Appl. Nano Mater. 1, 3026–3034 (2018).

Jain, A. et al. Commentary. The Materials Project: a materials genome approach to accelerating materials innovation. APL Mater. 1, 011002 (2013).

Bissert, G. & Hesse, K. F. Verfeinerung der struktur von germanium(II)-sulfid, GeS. Acta Crystallogr. B 34, 1322–1323 (1978).

Sutter, P., Argyropoulos, C. & Sutter, E. Germanium sulfide nano-optics probed by STEM-cathodoluminescence spectroscopy. Nano Lett. 18, 4576–4583 (2018).

Kociak, M. & Zagonel, L. F. Cathodoluminescence in the scanning transmission electron microscope. Ultramicroscopy 176, 112–131 (2017).

Hentschel, M., Schäferling, M., Duan, X., Giessen, H. & Liu, N. Chiral plasmonics. Sci. Adv. 3, e1602735 (2017).

Sutter, E. A. & Sutter, P. W. Size-dependent phase diagram of nanoscale alloy drops used in vapor−liquid−solid growth of semiconductor nanowires. ACS Nano 4, 4943–4947 (2010).

Wei, P.-C. et al. Room-temperature negative photoconductivity in degenerate InN thin films with a supergap excitation. Phys. Rev. B 81, 045306 (2010).

Tan, D. et al. Anisotropic optical and electronic properties of two-dimensional layered germanium sulfide. Nano Res. 10, 546–555 (2017).
Acknowledgements
The synthesis of twisted GeS nanowires, analysis of nanobeam diffraction and transport measurements were supported by the National Science Foundation, Division of Materials Research, Solid State and Materials Chemistry Program under grant no. DMR-1607795. The development of nanobeam electron diffraction correlated with locally excited CL spectroscopy measurements and of associated data analysis methods was supported by the US Department of Energy, Office of Science, Basic Energy Sciences, under award no. DE-SC0016343.
Reviewer information
Nature thanks Hua Zhang and the other anonymous reviewer(s) for their contribution to the peer review of this work.
Ethics declarations
Competing interests
The authors declare no competing interests.
Additional information
Publisher's note: Springer Nature remains neutral with regard to jurisdictional claims in published maps and institutional affiliations.
Extended data figures and tables
About this article
Cite this article
Sutter, P., Wimer, S. & Sutter, E. Chiral twisted van der Waals nanowires. Nature 570, 354–357 (2019). https://doi.org/10.1038/s41586-019-1147-x
Received:

Accepted:

Published:

Issue Date:

DOI: https://doi.org/10.1038/s41586-019-1147-x
Comments
By submitting a comment you agree to abide by our Terms and Community Guidelines. If you find something abusive or that does not comply with our terms or guidelines please flag it as inappropriate.