Abstract
Here we delineate the ontogeny of the mammalian endoderm by generating 112,217 single-cell transcriptomes, which represent all endoderm populations within the mouse embryo until midgestation. We use graph-based approaches to model differentiating cells, which provides a spatio-temporal characterization of developmental trajectories and defines the transcriptional architecture that accompanies the emergence of the first (primitive or extra-embryonic) endodermal population and its sister pluripotent (embryonic) epiblast lineage. We uncover a relationship between descendants of these two lineages, in which epiblast cells differentiate into endoderm at two distinct time points—before and during gastrulation. Trajectories of endoderm cells were mapped as they acquired embryonic versus extra-embryonic fates and as they spatially converged within the nascent gut endoderm, which revealed these cells to be globally similar but retain aspects of their lineage history. We observed the regionalized identity of cells along the anterior–posterior axis of the emergent gut tube, which reflects their embryonic or extra-embryonic origin, and the coordinated patterning of these cells into organ-specific territories.
Access options
Subscribe to Journal
Get full journal access for 1 year
$199.00
only $3.90 per issue
All prices are NET prices.
VAT will be added later in the checkout.
Tax calculation will be finalised during checkout.
Rent or Buy article
Get time limited or full article access on ReadCube.
from$8.99
All prices are NET prices.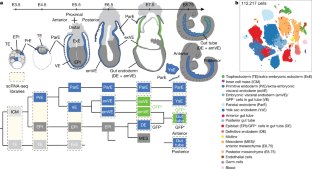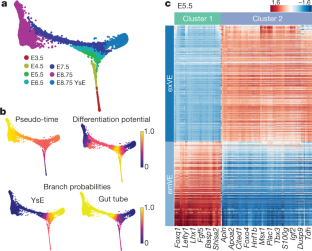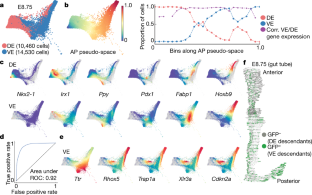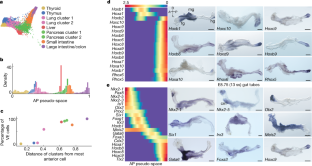 Data availability
All the generated data including bulk and scRNA-seq data are available through the Gene Expression Omnibus, under accession numbers GSE123046 (scRNA-seq) and GSE123124 (bulk RNA-seq). The data can be explored at https://endoderm-explorer.com, and any other relevant data are available from the corresponding authors upon reasonable request.
References
1.

Zorn, A. M. & Wells, J. M. Vertebrate endoderm development and organ formation. Annu. Rev. Cell Dev. Biol. 25, 221–251 (2009).

2.

Tremblay, K. D. Formation of the murine endoderm: lessons from the mouse, frog, fish, and chick. Prog. Mol. Biol. Transl. Sci. 96, 1–34 (2010).

3.

Chazaud, C. & Yamanaka, Y. Lineage specification in the mouse preimplantation embryo. Development 143, 1063–1074 (2016).

4.

Nowotschin, S. & Hadjantonakis, A. K. Cellular dynamics in the early mouse embryo: from axis formation to gastrulation. Curr. Opin. Genet. Dev. 20, 420–427 (2010).

5.

Viotti, M., Nowotschin, S. & Hadjantonakis, A. K. SOX17 links gut endoderm morphogenesis and germ layer segregation. Nat. Cell Biol. 16, 1146–1156 (2014).

6.

Viotti, M., Nowotschin, S. & Hadjantonakis, A. K. Afp:mCherry, a red fluorescent transgenic reporter of the mouse visceral endoderm. Genesis 49, 124–133 (2011).

7.

Kwon, G. S., Viotti, M. & Hadjantonakis, A. K. The endoderm of the mouse embryo arises by dynamic widespread intercalation of embryonic and extraembryonic lineages. Dev. Cell 15, 509–520 (2008).

8.

Sherwood, R. I., Chen, T. Y. & Melton, D. A. Transcriptional dynamics of endodermal organ formation. Dev. Dyn. 238, 29–42 (2009).

9.

Hou, J. et al. A systematic screen for genes expressed in definitive endoderm by Serial Analysis of Gene Expression (SAGE). BMC Dev. Biol. 7, 92 (2007).

10.

Setty, M. et al. Palantir characterizes cell fate continuities in human hematopoiesis. Preprint at https://www.biorxiv.org/content/early/2018/08/05/385328 (2018).

11.

Setty, M. et al. Characterization of cell fate probabilities in single-cell data with Palantir. Nat. Biotechnol. 37, 451–460 (2019).

12.

Kwon, G. S. et al. Tg(Afp-GFP) expression marks primitive and definitive endoderm lineages during mouse development. Dev. Dyn. 235, 2549–2558 (2006).

13.

Azizi, E. et al. Single-cell map of diverse immune phenotypes in the breast tumor microenvironment. Cell 174, 1293–1308 (2018).

14.

Levine, J. H. et al. Data-driven phenotypic dissection of AML reveals progenitor-like cells that correlate with prognosis. Cell 162, 184–197 (2015).

15.

Amir, E.-a. D. et al. viSNE enables visualization of high dimensional single-cell data and reveals phenotypic heterogeneity of leukemia. Nat. Biotechnol. 31, 545–552 (2013).

16.

Setty, M. et al. Wishbone identifies bifurcating developmental trajectories from single-cell data. Nat. Biotechnol. 34, 637–645 (2016).

17.

Ibarra-Soria, X. et al. Defining murine organogenesis at single-cell resolution reveals a role for the leukotriene pathway in regulating blood progenitor formation. Nat. Cell Biol. 20, 127–134 (2018).

18.

Haghverdi, L., Büttner, M., Wolf, F. A., Buettner, F. & Theis, F. J. Diffusion pseudotime robustly reconstructs lineage branching. Nat. Methods 13, 845–848 (2016).

19.

Farrell, J. A. et al. Single-cell reconstruction of developmental trajectories during zebrafish embryogenesis. Science 360, eaar3131 (2018).

20.

Plusa, B., Piliszek, A., Frankenberg, S., Artus, J. & Hadjantonakis, A. K. Distinct sequential cell behaviours direct primitive endoderm formation in the mouse blastocyst. Development 135, 3081–3091 (2008).

21.

Chazaud, C., Yamanaka, Y., Pawson, T. & Rossant, J. Early lineage segregation between epiblast and primitive endoderm in mouse blastocysts through the Grb2-MAPK pathway. Dev. Cell 10, 615–624 (2006).

22.

Artus, J., Piliszek, A. & Hadjantonakis, A. K. The primitive endoderm lineage of the mouse blastocyst: sequential transcription factor activation and regulation of differentiation by Sox17. Dev. Biol. 350, 393–404 (2011).

23.

Silva, J. et al. Nanog is the gateway to the pluripotent ground state. Cell 138, 722–737 (2009).

24.

Schrode, N., Saiz, N., Di Talia, S. & Hadjantonakis, A. K. GATA6 levels modulate primitive endoderm cell fate choice and timing in the mouse blastocyst. Dev. Cell 29, 454–467 (2014).

25.

Morgani, S. M. et al. A Sprouty4 reporter to monitor FGF/ERK signaling activity in ESCs and mice. Dev. Biol. 441, 104–126 (2018).

26.

Molotkov, A., Mazot, P., Brewer, J. R., Cinalli, R. M. & Soriano, P. Distinct requirements for FGFR1 and FGFR2 in primitive endoderm development and exit from pluripotency. Dev. Cell 41, 511–526 (2017).

27.

Kang, M., Garg, V. & Hadjantonakis, A. K. Lineage establishment and progression within the inner cell mass of the mouse blastocyst requires FGFR1 and FGFR2. Dev. Cell 41, 496–510 (2017).

28.

Ohnishi, Y. et al. Cell-to-cell expression variability followed by signal reinforcement progressively segregates early mouse lineages. Nat. Cell Biol. 16, 27–37 (2014).

29.

Kang, M., Piliszek, A., Artus, J. & Hadjantonakis, A. K. FGF4 is required for lineage restriction and salt-and-pepper distribution of primitive endoderm factors but not their initial expression in the mouse. Development 140, 267–279 (2013).

30.

Thomas, P. Q., Brown, A. & Beddington, R. S. Hex: a homeobox gene revealing peri-implantation asymmetry in the mouse embryo and an early transient marker of endothelial cell precursors. Development 125, 85–94 (1998).

31.

Meno, C. et al. Mouse Lefty2 and zebrafish Antivin are feedback inhibitors of nodal signaling during vertebrate gastrulation. Mol. Cell 4, 287–298 (1999).

32.

Belo, J. A. et al. Cerberus-like is a secreted factor with neutralizing activity expressed in the anterior primitive endoderm of the mouse gastrula. Mech. Dev. 68, 45–57 (1997).

33.

Arnold, S. J. & Robertson, E. J. Making a commitment: cell lineage allocation and axis patterning in the early mouse embryo. Nat. Rev. Mol. Cell Biol. 10, 91–103 (2009).

34.

Hayashi, S., Lewis, P., Pevny, L. & McMahon, A. P. Efficient gene modulation in mouse epiblast using a Sox2Cre transgenic mouse strain. Mech. Dev. 119, S97–S101 (2002).

35.

Kwon, G. S. & Hadjantonakis, A. K. Transthyretin mouse transgenes direct RFP expression or Cre-mediated recombination throughout the visceral endoderm. Genesis 47, 447–455 (2009).

36.

Muzumdar, M. D., Tasic, B., Miyamichi, K., Li, L. & Luo, L. A global double-fluorescent Cre reporter mouse. Genesis 45, 593–605 (2007).

37.

Takaoka, K., Yamamoto, M. & Hamada, H. Origin and role of distal visceral endoderm, a group of cells that determines anterior–posterior polarity of the mouse embryo. Nat. Cell Biol. 13, 743–752 (2011).

38.

Paca, A. et al. BMP signaling induces visceral endoderm differentiation of XEN cells and parietal endoderm. Dev. Biol. 361, 90–102 (2012).

39.

Kruithof-de Julio, M. et al. Regulation of extra-embryonic endoderm stem cell differentiation by Nodal and Cripto signaling. Development 138, 3885–3895 (2011).

40.

Artus, J. et al. BMP4 signaling directs primitive endoderm-derived XEN cells to an extraembryonic visceral endoderm identity. Dev. Biol. 361, 245–262 (2012).

41.

Serra, M. et al. Pluripotent stem cell differentiation reveals distinct developmental pathways regulating lung- versus thyroid-lineage specification. Development 144, 3879–3893 (2017).

42.

Becker, M. B., Zülch, A., Bosse, A. & Gruss, P. Irx1 and Irx2 expression in early lung development. Mech. Dev. 106, 155–158 (2001).

43.

Yang, Y., Akinci, E., Dutton, J. R., Banga, A. & Slack, J. M. Stage specific reprogramming of mouse embryo liver cells to a beta cell-like phenotype. Mech. Dev. 130, 602–612 (2013).

44.

Offield, M. F. et al. PDX-1 is required for pancreatic outgrowth and differentiation of the rostral duodenum. Development 122, 983–995 (1996).

45.

Tsai, Y. H. et al. In vitro patterning of pluripotent stem cell-derived intestine recapitulates in vivo human development. Development 144, 1045–1055 (2017).

46.

Deschamps, J. & van Nes, J. Developmental regulation of the Hox genes during axial morphogenesis in the mouse. Development 132, 2931–2942 (2005).

47.

Di Gregorio, A., Bowling, S. & Rodriguez, T. A. Cell competition and its role in the regulation of cell fitness from development to cancer. Dev. Cell 38, 621–634 (2016).

48.

Hiramatsu, R. et al. External mechanical cues trigger the establishment of the anterior-posterior axis in early mouse embryos. Dev. Cell 27, 131–144 (2013).

49.

McCauley, H. A. & Wells, J. M. Pluripotent stem cell-derived organoids: using principles of developmental biology to grow human tissues in a dish. Development 144, 958–962 (2017).

50.

van Dijk, D. et al. Recovering gene interactions from single-cell data using data diffusion. Cell 174, 716–729 (2018).

51.

Behringer, R. G. M., Nagy, K. V. and Nagy, A. Manipulating the Mouse Embryo: A Laboratory Manual, 4th edn (Cold Spring Harbor Laboratory, Cold Spring Harbor, 2014).

52.

Downs, K. M. & Davies, T. Staging of gastrulating mouse embryos by morphological landmarks in the dissecting microscope. Development 118, 1255–1266 (1993).

53.

Morgani, S. M. et al. Totipotent embryonic stem cells arise in ground-state culture conditions. Cell Reports 3, 1945–1957 (2013).

54.

Zheng, G. H. et al. Massively parallel digital transcriptional profiling of single cells. Nat. Commun. 8, 14049 (2017).

55.

Dobin, A. et al. STAR: ultrafast universal RNA-seq aligner. Bioinformatics 29, 15–21 (2013).

56.

Lawrence, M. et al. Software for computing and annotating genomic ranges. PLoS Comput. Biol. 9, e1003118 (2013).

57.

Love, M. I., Huber, W. & Anders, S. Moderated estimation of fold change and dispersion for RNA-seq data with DESeq2. Genome Biol. 15, 550 (2014).
Acknowledgements
We thank K. Anderson, A. Joyner, A. Martinez-Arias and L. Mazutis for discussions; L. Beccari, D. Duboule, L. Sussel, M. Torres, D. Wellik and M. Wilkinson for plasmids; B. Merill for antibodies; and J. Brickman for embryonic stem cells. This work was supported by grants from the NIH (R01-DK084391 and R01-HD094868 to A.-K.H.; DP1-HD084071 and R01-CA164729 to D.P.; P30-CA008748 to C. Thompson), MSKCC Society for Special Projects and Functional Genomics Initiative (to A.-K.H. and D.P.) and NSERC (RGPIN-2018-05018 to P.A.H.). C.S.S. is supported by a NYSTEM postdoctoral training award from the Center for Stem Cell Biology MSKCC.
Reviewer information
Nature thanks Thorsten Boroviak, Valerie Wilson and the other anonymous reviewer(s) for their contribution to the peer review of this work.
Ethics declarations
Competing interests
S.C.B. and D.M.C. are employees and shareholders at 10x Genomics.
Additional information
Publisher's note: Springer Nature remains neutral with regard to jurisdictional claims in published maps and institutional affiliations.
Extended data figures and tables
Supplementary information
About this article
Cite this article
Nowotschin, S., Setty, M., Kuo, YY. et al. The emergent landscape of the mouse gut endoderm at single-cell resolution. Nature 569, 361–367 (2019). https://doi.org/10.1038/s41586-019-1127-1
Received:

Accepted:

Published:

Issue Date:
Comments
By submitting a comment you agree to abide by our Terms and Community Guidelines. If you find something abusive or that does not comply with our terms or guidelines please flag it as inappropriate.