Abstract
The intestinal immune system has the challenging task of tolerating foreign nutrients and the commensal microbiome, while excluding or eliminating ingested pathogens. Failure of this balance leads to conditions such as inflammatory bowel diseases, food allergies and invasive gastrointestinal infections1. Multiple immune mechanisms are therefore in place to maintain tissue integrity, including balanced generation of effector T (TH) cells and FOXP3+ regulatory T (pTreg) cells, which mediate resistance to pathogens and regulate excessive immune activation, respectively1,2,3,4. The gut-draining lymph nodes (gLNs) are key sites for orchestrating adaptive immunity to luminal perturbations5,6,7. However, it is unclear how they simultaneously support tolerogenic and inflammatory reactions. Here we show that gLNs are immunologically specific to the functional gut segment that they drain. Stromal and dendritic cell gene signatures and polarization of T cells against the same luminal antigen differ between gLNs, with the proximal small intestine-draining gLNs preferentially giving rise to tolerogenic responses and the distal gLNs to pro-inflammatory T cell responses. This segregation permitted the targeting of distal gLNs for vaccination and the maintenance of duodenal pTreg cell induction during colonic infection. Conversely, the compartmentalized dichotomy was perturbed by surgical removal of select distal gLNs and duodenal infection, with effects on both lymphoid organ and tissue immune responses. Our findings reveal that the conflict between tolerogenic and inflammatory intestinal responses is in part resolved by discrete gLN drainage, and encourage antigen targeting to specific gut segments for therapeutic immune modulation.
This is a preview of subscription content
Access options
Subscribe to Journal
Get full journal access for 1 year
$199.00
only $3.90 per issue
All prices are NET prices.
VAT will be added later in the checkout.
Tax calculation will be finalised during checkout.
Rent or Buy article
Get time limited or full article access on ReadCube.
from$8.99
All prices are NET prices.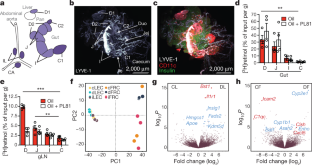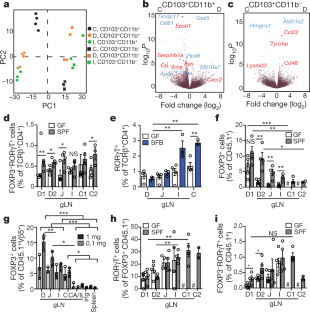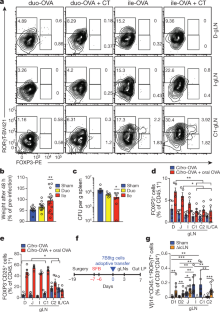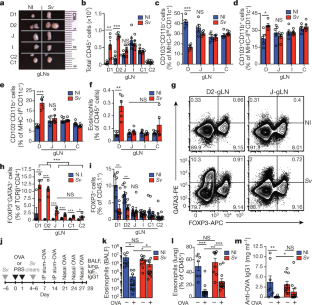 Data availability
Source data for all figures are provided with the paper. For RNA-seq experiments the raw and processed data generated here can be obtained at the Gene Expression Omnibus database under the accession code: GSE121811.
References
1.

Honda, K. & Littman, D. R. The microbiota in adaptive immune homeostasis and disease. Nature 535, 75–84 (2016).

2.

Yang, Y. et al. Focused specificity of intestinal TH17 cells towards commensal bacterial antigens. Nature 510, 152–156 (2014).

3.

Xu, M. et al. c-MAF-dependent regulatory T cells mediate immunological tolerance to a gut pathobiont. Nature 554, 373–377 (2018).

4.

Mucida, D. et al. Oral tolerance in the absence of naturally occurring Tregs. J. Clin. Invest. 115, 1923–1933 (2005).

5.

Randolph, G. J., Ivanov, S., Zinselmeyer, B. H. & Scallan, J. P. The lymphatic system: integral roles in immunity. Annu. Rev. Immunol. 35, 31–52 (2017).

6.

Fonseca, D. M. et al. Microbiota-dependent sequelae of acute infection compromise tissue-specific immunity. Cell 163, 354–366 (2015).

7.

Cording, S. et al. The intestinal micro-environment imprints stromal cells to promote efficient Treg induction in gut-draining lymph nodes. Mucosal Immunol. 7, 359–368 (2014).

8.

Worbs, T. et al. Oral tolerance originates in the intestinal immune system and relies on antigen carriage by dendritic cells. J. Exp. Med. 203, 519–527 (2006).

9.

Van den Broeck, W., Derore, A. & Simoens, P. Anatomy and nomenclature of murine lymph nodes: descriptive study and nomenclatory standardization in BALB/cAnNCrl mice. J. Immunol. Methods 312, 12–19 (2006).

10.

Carter, P. B. & Collins, F. M. The route of enteric infection in normal mice. J. Exp. Med. 139, 1189–1203 (1974).

11.

Houston, S. A. et al. The lymph nodes draining the small intestine and colon are anatomically separate and immunologically distinct. Mucosal Immunol. 9, 468–478 (2016).

12.

Gautreaux, M. D., Deitch, E. A. & Berg, R. D. Bacterial translocation from the gastrointestinal tract to various segments of the mesenteric lymph node complex. Infect. Immun. 62, 2132–2134 (1994).

13.

Veenbergen, S. et al. Colonic tolerance develops in the iliac lymph nodes and can be established independent of CD103+ dendritic cells. Mucosal Immunol. 9, 894–906 (2016).

14.

Pezoldt, J. et al. Neonatally imprinted stromal cell subsets induce tolerogenic dendritic cells in mesenteric lymph nodes. Nat. Commun. 9, 3903 (2018).

15.

Hammerschmidt, S. I. et al. Stromal mesenteric lymph node cells are essential for the generation of gut-homing T cells in vivo. J. Exp. Med. 205, 2483–2490 (2008).

16.

Durai, V. & Murphy, K. M. Functions of murine dendritic cells. Immunity 45, 719–736 (2016).

17.

Esterházy, D. et al. Classical dendritic cells are required for dietary antigen-mediated induction of peripheral Treg cells and tolerance. Nat. Immunol. 17, 545–555 (2016).

18.

Atarashi, K. et al. Induction of colonic regulatory T cells by indigenous Clostridium species. Science 331, 337–341 (2011).

19.

Sano, T. et al. An IL-23R/IL-22 circuit regulates epithelial serum amyloid A to promote local effector Th17 responses. Cell 163, 381–393 (2015).

20.

Atarashi, K. et al. Th17 Cell induction by adhesion of microbes to intestinal epithelial cells. Cell 163, 367–380 (2015).

21.

Hadis, U. et al. Intestinal tolerance requires gut homing and expansion of FoxP3+ regulatory T cells in the lamina propria. Immunity 34, 237–246 (2011).

22.

Balmer, M. L. et al. The liver may act as a firewall mediating mutualism between the host and its gut commensal microbiota. Sci. Transl. Med. 6, 237ra66 (2014).

23.

Bouziat, R. et al. Reovirus infection triggers inflammatory responses to dietary antigens and development of celiac disease. Science 356, 44–50 (2017).

24.

Mukai, K., Karasuyama, H., Kabashima, K., Kubo, M. & Galli, S. J. Differences in the importance of mast cells, basophils, IgE, and IgG versus that of CD4+ T cells and ILC2 cells in primary and secondary immunity to Strongyloides venezuelensis. Infect. Immun. 85, e00053-17 (2017).

25.

Tussiwand, R. et al. Klf4 expression in conventional dendritic cells is required for T helper 2 cell responses. Immunity 42, 916–928 (2015).
Acknowledgements
We thank all members of the Mucida laboratory, past and present, for assistance, discussions and reading of the manuscript; B. Reis for figure preparation; F. Matheis for propagating S. venezuelensis; A. Rogoz and S. Gonzalez for the maintenance of mice; T. Rendon and B. Lopez for genotyping; K. Gordon and K. Chosphel for assistance with cell sorting; the Rockefeller University Bio-imaging Research Center for assistance with microscopy and image analysis; the Rockefeller University Genomics Center for RNA sequencing; Rockefeller University employees for assistance; M. Nussenzweig, G. Victora and J. Lafaille and their respective laboratory members for discussions and suggestions; D. Littman and M. Xu (NYU) for 7B8tg mice and faeces from SFB monocolonized mice; and S. Galli and K. Matsushita (Stanford University) for providing S. venezuelensis and guidance on how to maintain it. This work was supported by a Swiss National Science Foundation postdoctoral fellowship and University of Chicago start-up funds (D.E.); a CAPES fellowship (M.C.C.C.); an NIH F31 Kirchstein Fellowship, Philip M. Levine Fellowship, and Kavli Neural Systems Institute Graduate Fellowship (P.A.M.); the Leona M. and Harry B. Helmsley Charitable Trust, the Crohn's & Colitis Foundation of America Senior Research Award, the Burroughs Wellcome Fund PATH Award, and National Institute of Health grants R21AI31188, R01DK113375 and R01DK093674 (D.M.).
Reviewer information
Nature thanks Rodney Newberry and the other anonymous reviewer(s) for their contribution to the peer review of this work.
Ethics declarations
Competing interests
The authors declare no competing interests.
Additional information
Publisher's note: Springer Nature remains neutral with regard to jurisdictional claims in published maps and institutional affiliations.
Extended data figures and tables
Supplementary information
About this article
Cite this article
Esterházy, D., Canesso, M.C.C., Mesin, L. et al. Compartmentalized gut lymph node drainage dictates adaptive immune responses. Nature 569, 126–130 (2019). https://doi.org/10.1038/s41586-019-1125-3
Received:

Accepted:

Published:

Issue Date:
Comments
By submitting a comment you agree to abide by our Terms and Community Guidelines. If you find something abusive or that does not comply with our terms or guidelines please flag it as inappropriate.