Abstract
The cell cycle is a tightly regulated process that is controlled by the conserved cyclin-dependent kinase (CDK)–cyclin protein complex1. However, control of the G0-to-G1 transition is not completely understood. Here we demonstrate that p38 MAPK gamma (p38γ) acts as a CDK-like kinase and thus cooperates with CDKs, regulating entry into the cell cycle. p38γ shares high sequence homology, inhibition sensitivity and substrate specificity with CDK family members. In mouse hepatocytes, p38γ induces proliferation after partial hepatectomy by promoting the phosphorylation of retinoblastoma tumour suppressor protein at known CDK target residues. Lack of p38γ or treatment with the p38γ inhibitor pirfenidone protects against the chemically induced formation of liver tumours. Furthermore, biopsies of human hepatocellular carcinoma show high expression of p38γ, suggesting that p38γ could be a therapeutic target in the treatment of this disease.
Access options
Subscribe to Journal
Get full journal access for 1 year
$199.00
only $3.90 per issue
All prices are NET prices.
VAT will be added later in the checkout.
Tax calculation will be finalised during checkout.
Rent or Buy article
Get time limited or full article access on ReadCube.
from$8.99
All prices are NET prices.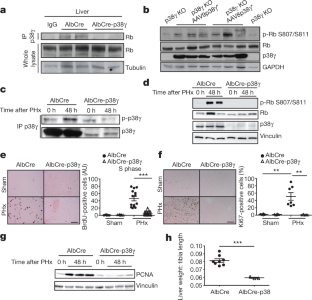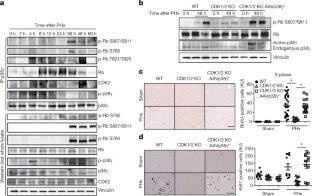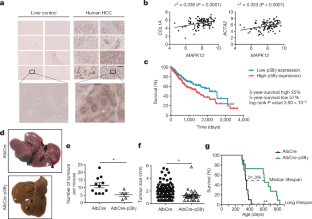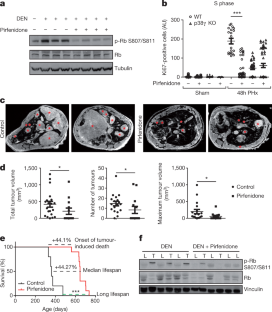 References
1.

Malumbres, M. Cyclin-dependent kinases. Genome Biol. 15, 122 (2014).

2.

Varjosalo, M. et al. The protein interaction landscape of the human CMGC kinase group. Cell Rep. 3, 1306–1320 (2013).

3.

Malumbres, M. & Barbacid, M. Cell cycle, CDKs and cancer: a changing paradigm. Nat. Rev. Cancer 9, 153–166 (2009).

4.

Canhoto, A. J., Chestukhin, A., Litovchick, L. & DeCaprio, J. A. Phosphorylation of the retinoblastoma-related protein p130 in growth-arrested cells. Oncogene 19, 5116–5122 (2000).

5.

Mayhew, C. N. et al. Liver-specific pRB loss results in ectopic cell cycle entry and aberrant ploidy. Cancer Res. 65, 4568–4577 (2005).

6.

Gubern, A. et al. The N-terminal phosphorylation of RB by p38 bypasses its inactivation by CDKs and prevents proliferation in cancer cells. Mol. Cell 64, 25–36 (2016).

7.

Sabio, G. et al. p38γ regulates the localisation of SAP97 in the cytoskeleton by modulating its interaction with GKAP. EMBO J. 24, 1134–1145 (2005).

8.

González-Terán, B. et al. p38γ and δ promote heart hypertrophy by targeting the mTOR-inhibitory protein DEPTOR for degradation. Nat. Commun. 7, 10477 (2016).

9.

González-Terán, B. et al. Eukaryotic elongation factor 2 controls TNF-α translation in LPS-induced hepatitis. J. Clin. Invest. 123, 164–178 (2013).

10.

Lundberg, A. S. & Weinberg, R. A. Functional inactivation of the retinoblastoma protein requires sequential modification by at least two distinct cyclin-cdk complexes. Mol. Cell. Biol. 18, 753–761 (1998).

11.

Hu, W. et al. Concurrent deletion of cyclin E1 and cyclin-dependent kinase 2 in hepatocytes inhibits DNA replication and liver regeneration in mice. Hepatology 59, 651–660 (2014).

12.

Narasimha, A. M. et al. Cyclin D activates the Rb tumor suppressor by mono-phosphorylation. eLife 3, e02872 (2014).

13.

Diril, M. K. et al. Cyclin-dependent kinase 1 (Cdk1) is essential for cell division and suppression of DNA re-replication but not for liver regeneration. Proc. Natl Acad. Sci. USA 109, 3826–3831 (2012).

14.

Diskin, R., Askari, N., Capone, R., Engelberg, D. & Livnah, O. Active mutants of the human p38α mitogen-activated protein kinase. J. Biol. Chem. 279, 47040–47049 (2004).

15.

Giacinti, C. & Giordano, A. RB and cell cycle progression. Oncogene 25, 5220–5227 (2006).

16.

Repetto, M. V. et al. CDK and MAPK synergistically regulate signaling dynamics via a shared multi-site phosphorylation region on the scaffold protein Ste5. Mol. Cell 69, 938–952.e6 (2018).

17.

Manieri, E. & Sabio, G. Stress kinases in the modulation of metabolism and energy balance. J. Mol. Endocrinol. 55, R11–R22 (2015).

18.

Hui, L. et al. p38α suppresses normal and cancer cell proliferation by antagonizing the JNK-c-Jun pathway. Nat. Genet. 39, 741–749 (2007).

19.

Matesanz, N. et al. p38α blocks brown adipose tissue thermogenesis through p38δ inhibition. PLoS Biol. 16, e2004455 (2018).

20.

González-Terán, B. et al. p38γ and p38δ reprogram liver metabolism by modulating neutrophil infiltration. EMBO J. 35, 536–552 (2016).

21.

Postic, C. & Magnuson, M. A. DNA excision in liver by an albumin-Cre transgene occurs progressively with age. Genesis 26, 149–150 (2000).

22.

Trakala, M. et al. Functional reprogramming of polyploidization in megakaryocytes. Dev. Cell 32, 155–167 (2015).

23.

Cubero, F. J. et al. Haematopoietic cell-derived Jnk1 is crucial for chronic inflammation and carcinogenesis in an experimental model of liver injury. J. Hepatol. 62, 140–149 (2015).

24.

Zheng, K., Cubero, F. J. & Nevzorova, Y. A. c-MYC—making liver sick: role of c-MYC in hepatic cell function, homeostasis and disease. Genes (Basel) 8, 123 (2017).

25.

Askari, N. et al. Hyperactive variants of p38α induce, whereas hyperactive variants of p38γ suppress, activating protein 1-mediated transcription. J. Biol. Chem. 282, 91–99 (2007).

26.

Miao, C. H. et al. Inclusion of the hepatic locus control region, an intron, and untranslated region increases and stabilizes hepatic factor IX gene expression in vivo but not in vitro. Mol. Ther. 1, 522–532, (2000).

27.

Case, D. A. et al. AMBER v.16 (University of California, San Francisco, 2017).

28.

Hamelberg, D., Mongan, J. & McCammon, J. A. Accelerated molecular dynamics: a promising and efficient simulation method for biomolecules. J. Chem. Phys. 120, 11919–11929 (2004).

29.

Hamelberg, D., de Oliveira, C. A. & McCammon, J. A. Sampling of slow diffusive conformational transitions with accelerated molecular dynamics. J. Chem. Phys. 127, 155102 (2007).
Acknowledgements
We thank S. Bartlett for English editing, D. Engelberg for the constitutively active mutants, the Division of Signal Transduction Therapy for recombinant proteins, and CNIC Advanced Imaging and Vector Units for technical support. G.S. (RYC-2009-04972), F.J.C. (RYC-2014-15242), and Y.A.N. (RYC-2015-17438) are investigators of the Ramón y Cajal Program. E.M. and M.T. were awarded La Caixa fellowships and R.R.-B. was a fellow of the Fundación Ramón Areces-UAM and FPU. B.G.-T. is a fellow of the FPI Severo Ochoa CNIC program (SVP-2013-067639). F.J.C. is a Gilead Liver Research Scholar. This work was funded by grants supported in part by funds from the European Regional Development Fund: the European Union's Seventh Framework Programme (FP7/2007-2013) ERC 260464, EFSD/Lilly European Diabetes Research Programme Dr Sabio, 2017 Leonardo Grant for Researchers and Cultural Creators, BBVA Foundation (Investigadores-BBVA-2017) IN[17]_BBM_BAS_0066, MINECO-FEDER SAF2016-79126-R, and Comunidad de Madrid IMMUNOTHERCAN-CM S2010/BMD-2326 and B2017/BMD-3733 to G.S.; Juan de la Cierva and MINECO SAF2014-61233-JIN to A.T.-L.; the European Community for MSCA-IF-2014-EF-661160-MetAccembly grant to F.F.; Spanish MINECO CTQ2014-59212-P, European Community for CIG project (PCIG14-GA-2013-630978), and European Research Council (ERC) under the European Union's Horizon 2020 (ERC-2015-StG-679001-NetMoDEzyme) to S.O.; the German Research Foundation (SFB/TRR57/P04 and DFG NE 2128/2-1) and MINECO SAF2017-87919R to Y.A.N.; EXOHEP-CM S2017/BMD-3727 and the COST Action CA17112, MINECO SAF2016-78711, and the AMMF Cholangiocarcinoma Charity 2018/117 to F.J.C.; MINECO (SAF2015-69920-R co-funded by ERDF-EU), the Consolider-Ingenio 2010 Programme (SAF2014-57791-REDC), Excellence Network CellSYS (BFU2014-52125-REDT), and the iLUNG Programme (B2017/BMD-3884) from the Comunidad de Madrid to M. Malumbres; MINECO SAF2015-67077-R and SAF2017-89901-R to J.B.; MINECO (BIO2015-67580-P), Carlos III Institute of Health-Fondo de Investigación Sanitaria (ProteoRed PRB3, IPT17/0019 - ISCIII-SGEFI/ERDF), Fundación La Marató and 'La Caixa' Banking Foundation (HR17-00247) to J.V.; ISCIII and FEDER PI16/01548 and Junta de Castilla y León GRS 1362/A/16 and INT/M/17/17 to M. Marcos; Junta de Castilla y León GRS 1356/A/16 and GRS 1587/A/17 to J.L.-T.; and MCNU (SAF2017-84494-C2-1-R) to J.R.-C. The CNIC is supported by the Ministerio de Ciencia, Innovación y Universidades (MCNU) and the Pro CNIC Foundation, and is a Severo Ochoa Center of Excellence (SEV-2015-0505).
Ethics declarations
Competing interests
The authors declare no competing interests.
Additional information
Publisher's note: Springer Nature remains neutral with regard to jurisdictional claims in published maps and institutional affiliations.
Extended data figures and tables
Supplementary information
About this article
Cite this article
Tomás-Loba, A., Manieri, E., González-Terán, B. et al. p38γ is essential for cell cycle progression and liver tumorigenesis. Nature 568, 557–560 (2019). https://doi.org/10.1038/s41586-019-1112-8
Received:

Accepted:

Published:

Issue Date:
Comments
By submitting a comment you agree to abide by our Terms and Community Guidelines. If you find something abusive or that does not comply with our terms or guidelines please flag it as inappropriate.