Abstract
Osteoclasts are multinucleated giant cells that resorb bone, ensuring development and continuous remodelling of the skeleton and the bone marrow haematopoietic niche. Defective osteoclast activity leads to osteopetrosis and bone marrow failure1,2,3,4,5,6,7,8,9, whereas excess activity can contribute to bone loss and osteoporosis10. Osteopetrosis can be partially treated by bone marrow transplantation in humans and mice11,12,13,14,15,16,17,18, consistent with a haematopoietic origin of osteoclasts13,16,19 and studies that suggest that they develop by fusion of monocytic precursors derived from haematopoietic stem cells in the presence of CSF1 and RANK ligand1,20. However, the developmental origin and lifespan of osteoclasts, and the mechanisms that ensure maintenance of osteoclast function throughout life in vivo remain largely unexplored. Here we report that osteoclasts that colonize fetal ossification centres originate from embryonic erythro-myeloid progenitors21,22. These erythro-myeloid progenitor-derived osteoclasts are required for normal bone development and tooth eruption. Yet, timely transfusion of haematopoietic-stem-cell-derived monocytic cells in newborn mice is sufficient to rescue bone development in early-onset autosomal recessive osteopetrosis. We also found that the postnatal maintenance of osteoclasts, bone mass and the bone marrow cavity involve iterative fusion of circulating blood monocytic cells with long-lived osteoclast syncytia. As a consequence, parabiosis or transfusion of monocytic cells results in long-term gene transfer in osteoclasts in the absence of haematopoietic-stem-cell chimerism, and can rescue an adult-onset osteopetrotic phenotype caused by cathepsin K deficiency23,24. In sum, our results identify the developmental origin of osteoclasts and a mechanism that controls their maintenance in bones after birth. These data suggest strategies to rescue osteoclast deficiency in osteopetrosis and to modulate osteoclast activity in vivo.
Relevant articles
Open Access articles citing this article.
Jarred M. Whitlock

,

Evgenia Leikina

…

Leonid V. Chernomordik

Nature Communications Open Access 04 February 2023

Masayuki Tsukasaki

&

Hiroshi Takayanagi

Inflammation and Regeneration Open Access 02 September 2022

Simona Bolamperti

,

Isabella Villa

&

Alessandro Rubinacci

Bone Research Open Access 18 July 2022
Access options
Access Nature and 54 other Nature Portfolio journals
Get Nature+, our best-value online-access subscription
$29.99 per month
cancel any time
Subscribe to this journal
Receive 51 print issues and online access
$199.00 per year
only $3.90 per issue
Rent or buy this article
Get just this article for as long as you need it
$39.95
Prices may be subject to local taxes which are calculated during checkout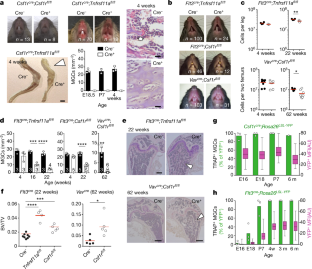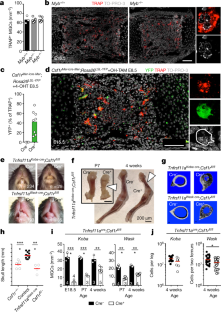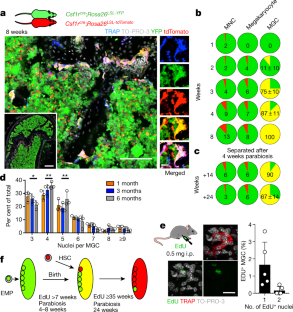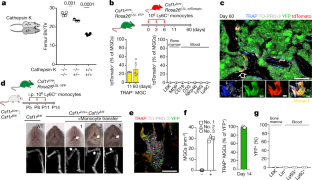 Data availability
Data generated in this study are available from the corresponding author upon reasonable request.
References
Lacey, D. L. et al. Osteoprotegerin ligand is a cytokine that regulates osteoclast differentiation and activation. Cell 93, 165–176 (1998).

Kong, Y. Y. et al. OPGL is a key regulator of osteoclastogenesis, lymphocyte development and lymph-node organogenesis. Nature 397, 315–323 (1999).

Dougall, W. C. et al. RANK is essential for osteoclast and lymph node development. Genes Dev. 13, 2412–2424 (1999).

Hsu, H. et al. Tumor necrosis factor receptor family member RANK mediates osteoclast differentiation and activation induced by osteoprotegerin ligand. Proc. Natl Acad. Sci. USA 96, 3540–3545 (1999).

Yoshida, H. et al. The murine mutation osteopetrosis is in the coding region of the macrophage colony stimulating factor gene. Nature 345, 442–444 (1990).

Dai, X.-M. et al. Targeted disruption of the mouse colony-stimulating factor 1 receptor gene results in osteopetrosis, mononuclear phagocyte deficiency, increased primitive progenitor cell frequencies, and reproductive defects. Blood 99, 111–120 (2002).

Lomaga, M. A. et al. TRAF6 deficiency results in osteopetrosis and defective interleukin-1, CD40, and LPS signaling. Genes Dev. 13, 1015–1024 (1999).

Tondravi, M. M. et al. Osteopetrosis in mice lacking haematopoietic transcription factor PU.1. Nature 386, 81–84 (1997).

Takayanagi, H. et al. Induction and activation of the transcription factor NFATc1 (NFAT2) integrate RANKL signaling in terminal differentiation of osteoclasts. Dev. Cell 3, 889–901 (2002).

Lau, R. Y. & Guo, X. A review on current osteoporosis research: with special focus on disuse bone loss. J. Osteoporos. 2011, 293808 (2011).

Coccia, P. F. et al. Successful bone-marrow transplantation for infantile malignant osteopetrosis. N. Engl. J. Med. 302, 701–708 (1980).

Sorell, M. et al. Marrow transplantation for juvenile osteopetrosis. Am. J. Med. 70, 1280–1287 (1981).

Walker, D. G. Bone resorption restored in osteopetrotic mice by transplants of normal bone marrow and spleen cells. Science 190, 784–785 (1975).

Ballet, J. J., Griscelli, C., Coutris, C., Milhaud, G. & Maroteaux, P. Bone-marrow transplantation in osteopetrosis. Lancet 2, 1137 (1977).

Nisbet, N. W., Menage, J. & Loutit, J. F. Bone-marrow transplantation in osteopetrosis. Lancet 2, 1236 (1977).

Ash, P., Loutit, J. F. & Townsend, K. M. Osteoclasts derived from haematopoietic stem cells. Nature 283, 669–670 (1980).

Orchard, P. J. et al. Hematopoietic stem cell transplantation for infantile osteopetrosis. Blood 126, 270–276 (2015).

Frattini, A. et al. Rescue of ATPa3-deficient murine malignant osteopetrosis by hematopoietic stem cell transplantation in utero. Proc. Natl Acad. Sci. USA 102, 14629–14634 (2005).

Jotereau, F. V. & Le Douarin, N. M. The development relationship between osteocytes and osteoclasts: a study using the quail-chick nuclear marker in endochondral ossification. Dev. Biol. 63, 253–265 (1978).

Shalhoub, V. et al. Characterization of osteoclast precursors in human blood. Br. J. Haematol. 111, 501–512 (2000).

McGrath, K. E. et al. Distinct sources of hematopoietic progenitors emerge before HSCs and provide functional blood cells in the mammalian embryo. Cell Reports 11, 1892–1904 (2015).

Gomez Perdiguero, E. et al. Tissue-resident macrophages originate from yolk-sac-derived erythro-myeloid progenitors. Nature 518, 547–551 (2015).

Maroteaux, P. & Lamy, M. Pyknodysostosis. Presse Med. 70, 999–1002 (1962).

Gelb, B. D., Shi, G. P., Chapman, H. A. & Desnick, R. J. Pycnodysostosis, a lysosomal disease caused by cathepsin K deficiency. Science 273, 1236–1238 (1996).

Taniguchi, N. et al. Stage-specific secretion of HMGB1 in cartilage regulates endochondral ossification. Mol. Cell. Biol. 27, 5650–5663 (2007).

Schulz, C. et al. A lineage of myeloid cells independent of Myb and hematopoietic stem cells. Science 336, 86–90 (2012).

Mass, E. et al. Specification of tissue-resident macrophages during organogenesis. Science 353, aaf4238 (2016).

Percin, G. I. et al. CSF1R regulates the dendritic cell pool size in adult mice via embryo-derived tissue-resident macrophages. Nat. Commun. 9, 5279 (2018).

Walker, D. G. Osteopetrosis cured by temporary parabiosis. Science 180, 875 (1973).

Deng, L. et al. A novel mouse model of inflammatory bowel disease links mammalian target of rapamycin-dependent hyperproliferation of colonic epithelium to inflammation-associated tumorigenesis. Am. J. Pathol. 176, 952–967 (2010).

Qian, B. Z. et al. CCL2 recruits inflammatory monocytes to facilitate breast-tumour metastasis. Nature 475, 222–225 (2011).

Li, J., Chen, K., Zhu, L. & Pollard, J. W. Conditional deletion of the colony stimulating factor-1 receptor (c-fms proto-oncogene) in mice. Genesis 44, 328–335 (2006).

Benz, C., Martins, V. C., Radtke, F. & Bleul, C. C. The stream of precursors that colonizes the thymus proceeds selectively through the early T lineage precursor stage of T cell development. J. Exp. Med. 205, 1187–1199 (2008).

Mucenski, M. L. et al. A functional c-myb gene is required for normal murine fetal hepatic hematopoiesis. Cell 65, 677–689 (1991).

Stadtfeld, M. & Graf, T. Assessing the role of hematopoietic plasticity for endothelial and hepatocyte development by non-invasive lineage tracing. Development 132, 203–213 (2005).

Hanada, R. et al. Central control of fever and female body temperature by RANKL/RANK. Nature 462, 505–509 (2009).

Maeda, K. et al. Wnt5a–Ror2 signaling between osteoblast-lineage cells and osteoclast precursors enhances osteoclastogenesis. Nat. Med. 18, 405–412 (2012).

Nakamura, T. et al. Estrogen prevents bone loss via estrogen receptor α and induction of Fas ligand in osteoclasts. Cell 130, 811–823 (2007).

Hameyer, D. et al. Toxicity of ligand-dependent Cre recombinases and generation of a conditional Cre deleter mouse allowing mosaic recombination in peripheral tissues. Physiol. Genomics 31, 32–41 (2007).

Srinivas, S. et al. Cre reporter strains produced by targeted insertion of EYFP and ECFP into the ROSA26 locus. BMC Dev. Biol. 1, 4 (2001).

Madisen, L. et al. A robust and high-throughput Cre reporting and characterization system for the whole mouse brain. Nat. Neurosci. 13, 133–140 (2010).

Kamran, P. et al. Parabiosis in mice: a detailed protocol. J. Vis. Exp. 80, e50556 (2013).

Jiang, X. et al. Histological analysis of GFP expression in murine bone. J. Histochem. Cytochem. 53, 593–602 (2005).

Filgueira, L. Fluorescence-based staining for tartrate-resistant acidic phosphatase (TRAP) in osteoclasts combined with other fluorescent dyes and protocols. J. Histochem. Cytochem. 52, 411–414 (2004).

Arndt, K. et al. SETD1A protects HSCs from activation-induced functional decline in vivo. Blood 131, 1311–1324 (2018).

Grinenko, T. et al. Clonal expansion capacity defines two consecutive developmental stages of long-term hematopoietic stem cells. J. Exp. Med. 211, 209–215 (2014).
Acknowledgements
This work was supported by a NIH/NCI P30CA008748 MSKCC core grant, NIH/NIAID 1R01AI130345 and NIH/NHLBI R01HL138090 to F.G. and by the German Research Foundation (DFG) through FOR2033-A03, TRR127-A5, WA2837/6-1 and WA2837/7-1 to C.W. The authors thank Y. Kobayashi, J. Pollard, T. Graf, R. Stanley, J. Frampton, T. Boehm and J. Penninger for providing mouse strains, and the MSKCC molecular cytology core for preparation of histological samples. The authors are indebted to R. O'Reilly and F. Boulad for helpful suggestions. F.G. is grateful to G. Ruth for support. This study is dedicated to the memory of Lucile Crozet.
Reviewer information
Nature thanks Roland Baron, Irving L. Weissmann and Mone Zaidi for their contribution to the peer review of this work.
Ethics declarations
Competing interests
F.G. is a consultant and principal investigator on a Sponsored Research Agreement with Third Rock Venture (TRV). The other authors declare no competing interests.
Additional information
Publisher's note: Springer Nature remains neutral with regard to jurisdictional claims in published maps and institutional affiliations.
Extended data figures and tables
Supplementary information
About this article
Cite this article
Jacome-Galarza, C.E., Percin, G.I., Muller, J.T. et al. Developmental origin, functional maintenance and genetic rescue of osteoclasts. Nature 568, 541–545 (2019). https://doi.org/10.1038/s41586-019-1105-7
Received:

Accepted:

Published:

Issue Date:

DOI: https://doi.org/10.1038/s41586-019-1105-7
Comments
By submitting a comment you agree to abide by our Terms and Community Guidelines. If you find something abusive or that does not comply with our terms or guidelines please flag it as inappropriate.