Abstract
Functional genomics approaches can overcome limitations—such as the lack of identification of robust targets and poor clinical efficacy—that hamper cancer drug development. Here we performed genome-scale CRISPR–Cas9 screens in 324 human cancer cell lines from 30 cancer types and developed a data-driven framework to prioritize candidates for cancer therapeutics. We integrated cell fitness effects with genomic biomarkers and target tractability for drug development to systematically prioritize new targets in defined tissues and genotypes. We verified one of our most promising dependencies, the Werner syndrome ATP-dependent helicase, as a synthetic lethal target in tumours from multiple cancer types with microsatellite instability. Our analysis provides a resource of cancer dependencies, generates a framework to prioritize cancer drug targets and suggests specific new targets. The principles described in this study can inform the initial stages of drug development by contributing to a new, diverse and more effective portfolio of cancer drug targets.
Access options
Subscribe to Journal
Get full journal access for 1 year
$199.00
only $3.90 per issue
All prices are NET prices.
VAT will be added later in the checkout.
Tax calculation will be finalised during checkout.
Rent or Buy article
Get time limited or full article access on ReadCube.
from$8.99
All prices are NET prices.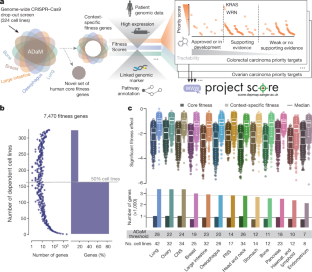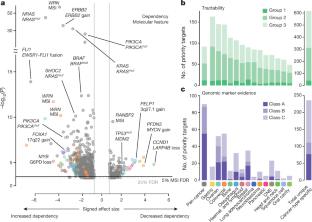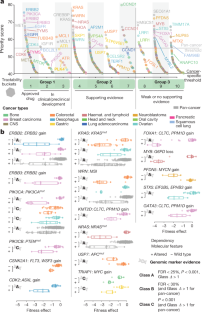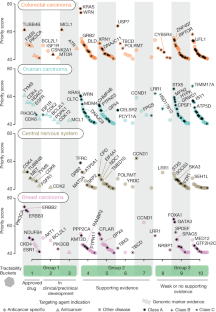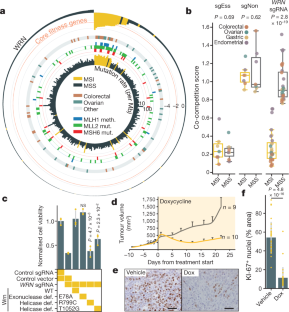 References
1.

Garraway, L. A. Genomics-driven oncology: framework for an emerging paradigm. J. Clin. Oncol. 31, 1806–1814 (2013).

2.

Zehir, A. et al. Mutational landscape of metastatic cancer revealed from prospective clinical sequencing of 10,000 patients. Nat. Med. 23, 703–713 (2017).

3.

Hay, M., Thomas, D. W., Craighead, J. L., Economides, C. & Rosenthal, J. Clinical development success rates for investigational drugs. Nat. Biotechnol. 32, 40–51 (2014).

4.

Koike-Yusa, H., Li, Y., Tan, E.-P., Del Castillo Velasco-Herrera, M. & Yusa, K. Genome-wide recessive genetic screening in mammalian cells with a lentiviral CRISPR–guide RNA library. Nat. Biotechnol. 32, 267–273 (2014).

5.

Meyers, R. M. et al. Computational correction of copy number effect improves specificity of CRISPR–Cas9 essentiality screens in cancer cells. Nat. Genet. 49, 1779–1784 (2017).

6.

van der Meer, D. et al. Cell Model Passports—a hub for clinical, genetic and functional datasets of preclinical cancer models. Nucleic Acids Res. 47, D923–D929 (2019).

7.

Iorio, F. et al. A landscape of pharmacogenomic interactions in cancer. Cell 166, 740–754 (2016).

8.

Hart, T. et al. High-resolution CRISPR screens reveal fitness genes and genotype-specific cancer liabilities. Cell 163, 1515–1526 (2015).

9.

Hart, T. et al. Evaluation and design of genome-wide CRISPR/SpCas9 knockout screens. G3 (Bethesda) 7, 2719–2727 (2017).

10.

Tzelepis, K. et al. A CRISPR dropout screen identifies genetic vulnerabilities and therapeutic targets in acute myeloid leukemia. Cell Rep. 17, 1193–1205 (2016).

11.

Wang, T., Wei, J. J., Sabatini, D. M. & Lander, E. S. Genetic screens in human cells using the CRISPR–Cas9 system. Science 343, 80–84 (2014).

12.

McDonald, E. R. III et al. Project DRIVE: a compendium of cancer dependencies and synthetic lethal relationships uncovered by large-scale, deep RNAi screening. Cell 170, 577–592 (2017).

13.

Massacesi, C. et al. PI3K inhibitors as new cancer therapeutics: implications for clinical trial design. OncoTargets Ther. 9, 203–210 (2016).

14.

Brown, K. K. et al. Approaches to target tractability assessment — a practical perspective. MedChemComm 9, 606–613 (2018).

15.

Viswanathan, V. S. et al. Dependency of a therapy-resistant state of cancer cells on a lipid peroxidase pathway. Nature 547, 453–457 (2017).

16.

Chu, W. K. & Hickson, I. D. RecQ helicases: multifunctional genome caretakers. Nat. Rev. Cancer 9, 644–654 (2009).

17.

Cortes-Ciriano, I., Lee, S., Park, W.-Y., Kim, T.-M. & Park, P. J. A molecular portrait of microsatellite instability across multiple cancers. Nat. Commun. 8, 15180 (2017).

18.

Haugen, A. C. et al. Genetic instability caused by loss of MutS homologue 3 in human colorectal cancer. Cancer Res. 68, 8465–8472 (2008).

19.

Perry, J. J. P. et al. WRN exonuclease structure and molecular mechanism imply an editing role in DNA end processing. Nat. Struct. Mol. Biol. 13, 414–422 (2006).

20.

Kamath-Loeb, A. S., Welcsh, P., Waite, M., Adman, E. T. & Loeb, L. A. The enzymatic activities of the Werner syndrome protein are disabled by the amino acid polymorphism R834C. J. Biol. Chem. 279, 55499–55505 (2004).

21.

Ketkar, A., Voehler, M., Mukiza, T. & Eoff, R. L. Residues in the RecQ C-terminal domain of the human Werner Syndrome helicase are involved in unwinding G-quadruplex DNA. J. Biol. Chem. 292, 3154–3163 (2017).

22.

Chan, E. M. et al. WRN helicase is a synthetic lethal target in microsatellite unstable cancers. Nature https://doi.org/10.1038/s41586-019-1102-x (2019).

23.

Saydam, N. et al. Physical and functional interactions between Werner syndrome helicase and mismatch-repair initiation factors. Nucleic Acids Res. 35, 5706–5716 (2007).

24.

Opresko, P. L., Sowd, G. & Wang, H. The Werner syndrome helicase/exonuclease processes mobile D-loops through branch migration and degradation. PLoS ONE 4, e4825 (2009).

25.

Myung, K., Datta, A., Chen, C. & Kolodner, R. D. SGS1, the Saccharomyces cerevisiae homologue of BLM and WRN, suppresses genome instability and homeologous recombination. Nat. Genet. 27, 113–116 (2001).

26.

Le, D. T. et al. PD-1 blockade in tumors with mismatch-repair deficiency. N. Engl. J. Med. 372, 2509–2520 (2015).

27.

Tsherniak, A. et al. Defining a cancer dependency map. Cell 170, 564–576 (2017).

28.

Wang, T. et al. Gene essentiality profiling reveals gene networks and synthetic lethal interactions with oncogenic Ras. Cell 168, 890–903 (2017).

29.

Ballouz, S. & Gillis, J. AuPairWise: a method to estimate RNA-seq replicability through co-expression. PLOS Comput. Biol. 12, e1004868 (2016). Home (25 Doggett St)

30.

Hart, T. & Moffat, J. BAGEL: a computational framework for identifying essential genes from pooled library screens. BMC Bioinformatics 17, 164 (2016).

31.

Yoshihama, M. et al. The human ribosomal protein genes: sequencing and comparative analysis of 73 genes. Genome Res. 12, 379–390 (2002).

32.

Iorio, F. et al. Unsupervised correction of gene-independent cell responses to CRISPR–Cas9 targeting. BMC Genomics 19, 604 (2018).

33.

Anders, S. & Huber, W. Differential expression analysis for sequence count data. Genome Biol. 11, R106 (2010).

34.

Aguirre, A. J. et al. Genomic copy number dictates a gene-independent cell response to CRISPR/Cas9 targeting. Cancer Discov. 6, 914–929 (2016).

35.

Li, W. et al. MAGeCK enables robust identification of essential genes from genome-scale CRISPR/Cas9 knockout screens. Genome Biol. 15, 554 (2014).

36.

Subramanian, A. et al. Gene set enrichment analysis: a knowledge-based approach for interpreting genome-wide expression profiles. Proc. Natl Acad. Sci. USA 102, 15545–15550 (2005).

37.

Durinck, S. et al. BioMart and Bioconductor: a powerful link between biological databases and microarray data analysis. Bioinformatics 21, 3439–3440 (2005).

38.

Cerami, E. G. et al. Pathway Commons, a web resource for biological pathway data. Nucleic Acids Res. 39, D685–D690 (2011).

39.

Iorio, F. et al. Pathway-based dissection of the genomic heterogeneity of cancer hallmarks' acquisition with SLAPenrich. Sci. Rep. 8, 6713 (2018).

40.

GTEx Consortium. The Genotype-Tissue Expression (GTEx) project. Nat. Genet. 45, 580–585 (2013).

41.

Cokelaer, T. et al. GDSCTools for mining pharmacogenomic interactions in cancer. Bioinformatics 34, 1226–1228 (2018).

42.

Storey, J. D. & Tibshirani, R. Statistical significance for genomewide studies. Proc. Natl Acad. Sci. USA 100, 9440–9445 (2003).

43.

Mi, H., Muruganujan, A. & Thomas, P. D. PANTHER in 2013: modeling the evolution of gene function, and other gene attributes, in the context of phylogenetic trees. Nucleic Acids Res. 41, D377–D386 (2013).

44.

Law, C. W., Chen, Y., Shi, W. & Smyth, G. K. voom: precision weights unlock linear model analysis tools for RNA-seq read counts. Genome Biol. 15, R29 (2014).

45.

Garcia-Alonso, L. et al. Transcription factor activities enhance markers of drug sensitivity in cancer. Cancer Res. 78, 769–780 (2018).

46.

Ritchie, M. E. et al. limma powers differential expression analyses for RNA-sequencing and microarray studies. Nucleic Acids Res. 43, e47 (2015).

47.

Baralis, E., Bertotti, A., Fiori, A. & Grand, A. LAS: a software platform to support oncological data management. J. Med. Syst. 36, 81–90 (2012).
Acknowledgements
We thank D. Adams, G. Vassiliou and L. Parts for comments on the manuscript, members of the M.J.G. laboratory and Sanger Institute facilities (Wellcome Trust grant 206194). Work was funded by Open Targets (OTAR015) to M.J.G., K.Y. and J.S.-R. The K.Y. laboratory is supported by Wellcome Trust (206194). The M.J.G. laboratory is supported by SU2C (SU2C-AACR-DT1213) and Wellcome Trust (102696 and 206194). Support was also received from AIRC 20697 (A.B.) and 18532 (L.T.); 5x1000 grant 21091 (A.B. and L.T.); ERC Consolidator Grant 724748 – BEAT (A.B.); FPRC-ONLUS, 5x1000 Ministero della Salute 2011 and 2014 (L.T.); and Transcan, TACTIC (L.T.).
Ethics declarations
Competing interests
E.A.S., D.D., C.B.-D., R.S. and Y.R. are GlaxoSmithKline employees. Open Targets is a public–private initiative involving academia and industry. K.Y. and M.J.G. receive funding from AstraZeneca. M.J.G. performed consultancy for Sanofi. All other authors declare no competing interests.
Additional information
Publisher's note Springer Nature remains neutral with regard to jurisdictional claims in published maps and institutional affiliations.
Extended data figures and tables
Supplementary information
About this article
Cite this article
Behan, F.M., Iorio, F., Picco, G. et al. Prioritization of cancer therapeutic targets using CRISPR–Cas9 screens. Nature 568, 511–516 (2019). https://doi.org/10.1038/s41586-019-1103-9
Received:

Accepted:

Published:

Issue Date:
Comments
By submitting a comment you agree to abide by our Terms and Community Guidelines. If you find something abusive or that does not comply with our terms or guidelines please flag it as inappropriate.