Abstract
The brains of humans and other mammals are highly vulnerable to interruptions in blood flow and decreases in oxygen levels. Here we describe the restoration and maintenance of microcirculation and molecular and cellular functions of the intact pig brain under ex vivo normothermic conditions up to four hours post-mortem. We have developed an extracorporeal pulsatile-perfusion system and a haemoglobin-based, acellular, non-coagulative, echogenic, and cytoprotective perfusate that promotes recovery from anoxia, reduces reperfusion injury, prevents oedema, and metabolically supports the energy requirements of the brain. With this system, we observed preservation of cytoarchitecture; attenuation of cell death; and restoration of vascular dilatory and glial inflammatory responses, spontaneous synaptic activity, and active cerebral metabolism in the absence of global electrocorticographic activity. These findings demonstrate that under appropriate conditions the isolated, intact large mammalian brain possesses an underappreciated capacity for restoration of microcirculation and molecular and cellular activity after a prolonged post-mortem interval.
Relevant articles
Open Access articles citing this article.
Aksharkumar Dobariya

,

Tarek Y. El Ahmadieh

…

Juan M. Pascual

Scientific Reports Open Access 15 September 2022

Takuya Niikawa

,

Yoshiyuki Hayashi

…

Tsutomu Sawai

Neuroethics Open Access 04 February 2022
Access options
Subscribe to Nature+
Get immediate online access to Nature and 55 other Nature journal
Subscribe to Journal
Get full journal access for 1 year
$199.00
only $3.90 per issue
All prices are NET prices.
VAT will be added later in the checkout.
Tax calculation will be finalised during checkout.
Buy article
Get time limited or full article access on ReadCube.
$32.00
All prices are NET prices.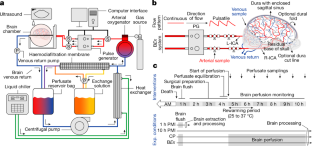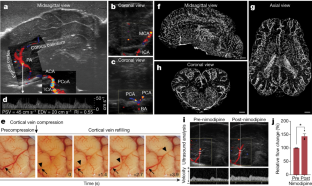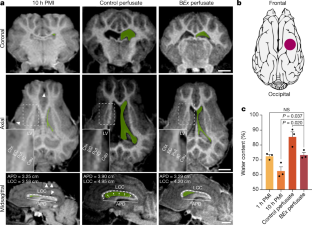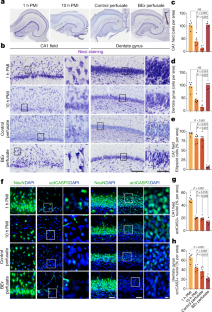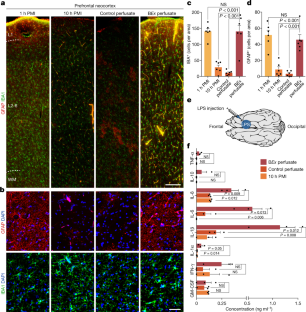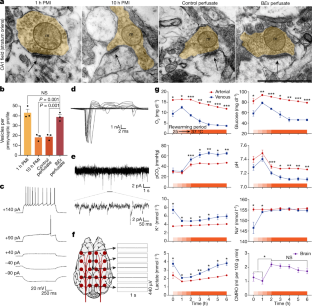 Data availability
All data sets and/or analyses generated in this study are available from the corresponding author upon reasonable request.
References
Kety, S. S. Circulation and metabolism of the human brain. Brain Res. Bull. 50, 415–416 (1999).

Dirnagl, U., Iadecola, C. & Moskowitz, M. A. Pathobiology of ischaemic stroke: an integrated view. Trends Neurosci. 22, 391–397 (1999).

Kisler, K., Nelson, A. R., Montagne, A. & Zlokovic, B. V. Cerebral blood flow regulation and neurovascular dysfunction in Alzheimer disease. Nat. Rev. Neurosci. 18, 419–434 (2017).

Wagner, S. R., IV & Lanier, W. L. Metabolism of glucose, glycogen, and high-energy phosphates during complete cerebral ischemia. A comparison of normoglycemic, chronically hyperglycemic diabetic, and acutely hyperglycemic nondiabetic rats. Anesthesiology 81, 1516–1526 (1994).

Hoxworth, J. M., Xu, K., Zhou, Y., Lust, W. D. & LaManna, J. C. Cerebral metabolic profile, selective neuron loss, and survival of acute and chronic hyperglycemic rats following cardiac arrest and resuscitation. Brain Res. 821, 467–479 (1999).

Borjigin, J. et al. Surge of neurophysiological coherence and connectivity in the dying brain. Proc. Natl Acad. Sci. USA 110, 14432–14437 (2013).

Cole, S. L. & Corday, E. Four-minute limit for cardiac resuscitation. J. Am. Med. Assoc. 161, 1454–1458 (1956).

Grenell, R. G. Central nervous system resistance: the effects of temporary arrest of cerebral circulation for periods of two to ten minutes. J. Neuropathol. Exp. Neurol. 5, 131–154 (1946).

Greer, D. M. Mechanisms of injury in hypoxic-ischemic encephalopathy: implications to therapy. Semin. Neurol. 26, 373–379 (2006).

Stys, P. K., Waxman, S. G. & Ransom, B. R. Na+-Ca2+ exchanger mediates Ca2+ influx during anoxia in mammalian central nervous system white matter. Ann. Neurol. 30, 375–380 (1991).

Viel J. J., McManus, D. Q., Cady, C., Evans, M.S. & Brewer, G. J. Temperature and time interval for culture of postmortem neurons from adult rat cortex. J. Neurosci. Res. 64, 311-211 (2001).

Verwer, R. W. et al. Cells in human post-mortem brain tissue slices remain alive for several weeks in culture. FASEB J. 16, 54–60 (2002).

Onorati, M. et al. Zika virus disrupts phospho-TBK1 localization and mitosis in human neuroepithelial stem cells and radial glia. Cell Rep. 16, 2576-2592 (2016).

Charpak, S. & Audinat, E. Cardiac arrest in rodents: maximal duration compatible with a recovery of neuronal activity. Proc. Natl. Acad. Sci. 95, 4748–4753 (1998).

Barksdale, K. A. et al. Mitochondrial viability in mouse and human post-mortem brain. FASEB J. 24, 3590–3599 (2010).

Hossmann, K. A. & Zimmermann, V. Resuscitation of the monkey brain after 1 h complete ischemia. I. Physiological and morphological observations. Brain Res. 81, 59–74 (1974).

Zimmermann, V. & Hossmann, K. A. Resuscitation of the monkey brain after one hour's complete ischemia. II. Brain water and electrolytes. Brain Res. 85, 1–11 (1975).

Kleihues, P., Hossmann, K. A., Pegg, A. E., Kobayashi, K. & Zimmermann, V. Resuscitation of the monkey brain after one hour complete ischemia. III. Indications of metabolic recovery. Brain Res. 95, 61–73 (1975).

Hossmann, K. A. & Sato, K. Recovery of neuronal function after prolonged cerebral ischemia. Science 168, 375–376 (1970).

Hughes, A., Riou, P. & Day, C. Full neurological recovery from profound (18.0 °C) acute accidental hypothermia: successful resuscitation using active invasive rewarming techniques. Emerg. Med. J. 24, 511–512 (2007).

Albers, G. W. et al. Thrombectomy for stroke at 6 to 16 hours with selection by perfusion imaging. N. Engl. J. Med. 378, 708–718 (2018).

Haws, C. W., Gourley, J. K. & Heistad, D. D. Effects of nimodipine on cerebral blood flow. J. Pharmacol. Exp. Ther. 225, 24–28 (1983).

Schmidt, V. Comparative Anatomy of the Pig Brain: an Integrative Magnetic Resonance Imaging (MRI) Study of the Porcine Brain with Special Emphasis on the External Morphology of the Cerebral Cortex. Thesis, Justus-Liebig-Universität Gießen (2015).

Conrad, M. S., Dilger, R. N. & Johnson, R. W. Brain growth of the domestic pig (Sus scrofa) from 2 to 24 weeks of age: a longitudinal MRI study. Dev. Neurosci. 34, 291–298 (2012).

Watanabe, H. et al. MR-based statistical atlas of the Göttingen minipig brain. Neuroimage 14, 1089–1096 (2001).

Sarwar, M. & McCormick, W. F. Decrease in ventricular and sulcal size after death. Radiology 127, 409–411 (1978).

Offiah, C. E. & Dean, J. Post-mortem CT and MRI: appropriate post-mortem imaging appearances and changes related to cardiopulmonary resuscitation. Br. J. Radiol. 89, 20150851 (2016).

Schmidt-Kastner, R. & Freund, T. F. Selective vulnerability of the hippocampus in brain ischemia. Neuroscience 40, 599–636 (1991).

Crain, B. J., Westerkam, W. D., Harrison, A. H. & Nadler, J. V. Selective neuronal death after transient forebrain ischemia in the Mongolian gerbil: a silver impregnation study. Neuroscience 27, 387–402 (1988).

Horn, M. & Schlote, W. Delayed neuronal death and delayed neuronal recovery in the human brain following global ischemia. Acta Neuropathol. 85, 79–87 (1992).

Holm, I. E. & West, M. J. Hippocampus of the domestic pig: a stereological study of subdivisional volumes and neuron numbers. Hippocampus 4, 115–125 (1994).

Félix, B. et al. Stereotaxic atlas of the pig brain. Brain Res. Bull. 49, 1–137 (1999).

Olmos-Serrano, J. L. et al. Down syndrome developmental brain transcriptome reveals defective oligodendrocyte differentiation and myelination. Neuron 89, 1208–1222 (2016).

Budde, M. D. & Frank, J. A. Neurite beading is sufficient to decrease the apparent diffusion coefficient after ischemic stroke. Proc. Natl Acad. Sci. USA 107, 14472–14477 (2010).

Shin, W. H. et al. Microglia expressing interleukin-13 undergo cell death and contribute to neuronal survival in vivo. Glia 46, 142–152 (2004).

Park, K. W., Lee, H. G., Jin, B. K. & Lee, Y. B. Interleukin-10 endogenously expressed in microglia prevents lipopolysaccharide-induced neurodegeneration in the rat cerebral cortex in vivo. Exp. Mol. Med. 39, 812–819 (2007).

Kowalski, J., Gan, J., Jonas, P. & Pernía-Andrade, A. J. Intrinsic membrane properties determine hippocampal differential firing pattern in vivo in anesthetized rats. Hippocampus 26, 668–682 (2016). https://doi.org/10.1002/hipo.22550.

Simkin, D. et al. Aging-related hyperexcitability in CA3 pyramidal neurons is mediated by enhanced A-type K+ channel function and expression. J. Neurosci. 35, 13206–13218 (2015).

Lam, T. I. et al. Intracellular pH reduction prevents excitotoxic and ischemic neuronal death by inhibiting NADPH oxidase. Proc. Natl Acad. Sci. USA 110, E4362–E4368 (2013).

Hinzen, D. H. et al. Metabolism and function of dog's brain recovering from longtime ischemia. Am. J. Physiol. 223, 1158–1164 (1972).

Hirsch, H., Oberdorster, G., Zimmer, R., Benner, K. U. & Lang, R. The recovery of the electrocorticogram of normothermic canine brains after complete cerebral ischemia. Arch. Psychiatr. Nervenkr. 221, 171–179 (1975).

Hirsch, H., Euler, K. H. & Schneider, M. Recovery and resuscitation of the brain after ischemia in normothermia. Pflugers Arch. Gesamte Physiol. Menschen Tiere 265, 281–313 (1957).

Hossmann, K. A. & Sato, K. Effect of ischaemia on the function of the sensorimotor cortex in cat. Electroencephalogr. Clin. Neurophysiol. 30, 535–545 (1971).

Siesjö, B. K. Cell damage in the brain: a speculative synthesis. J. Cereb. Blood Flow Metab. 1, 155–185 (1981).

Farahany, N. A. et al. The ethics of experimenting with human brain tissue. Nature 556, 429–432 (2018).

Stacy, M. R. et al. Multimodality imaging approach for serial assessment of regional changes in lower extremity arteriogenesis and tissue perfusion in a porcine model of peripheral arterial disease. Circ. Cardiovasc. Imaging 7, 92–99 (2014).

Keep, R. F., Hua, Y. & Xi, G. Brain water content. A misunderstood measurement? Transl. Stroke Res. 3, 263–265 (2012).
Acknowledgements
We thank HbO2 Therapeutics, specifically J. Baqai, G. Dube, and R. Buskar, for providing the Hemopure product and their input in optimizing oxygen delivery methods; C. Aardema, D. Faulkner and R. Robertson for technical assistance and discussions on the perfusion system; T. Constable and M. Qiu for help with MRI imaging; A. Liu and T. Wing for assisting in ECoG discussions and data acquisition; and various members of our laboratory community for their comments on the manuscript. We thank A. Duque for assistance in using the equipment from the Yale Macaque Brain Resource, supported by NIH MH113257. This work was supported by the NIH BRAIN Initiative MH117064, NIH shared instrument grant OD021845, which funded purchase of the microSPECT/CT scanner, and NIH/NIGMS Medical Scientist Training Grant T32GM007205.
Reviewer information
Nature thanks Insoo Hyun, Costantino Iadecola, Jonathan Moreno and the other anonymous reviewer(s) for their contribution to the peer review of this work.
Ethics declarations
Competing interests
Z.V., S.G.D., J.S. and N.S. have disclosed these findings to the Yale Office of Cooperative Research, which has filed a patent to ensure broad use of the technology. All protocols, methods, perfusate formulations, and components of the BrainEx technology remain freely available for academic and non-profit research. While the Hemopure product was provided in accordance to a material transfer agreement between HbO2 Therapeutics and Yale University via N.S., the Company had no influence on the study design or interpretation of the results. No author has a financial stake in, or receives compensation from, HbO2 Therapeutics. All other authors declare no competing interests.
Additional information
Publisher's note: Springer Nature remains neutral with regard to jurisdictional claims in published maps and institutional affiliations.
Extended data figures and tables
Supplementary information
About this article
Cite this article
Vrselja, Z., Daniele, S.G., Silbereis, J. et al. Restoration of brain circulation and cellular functions hours post-mortem. Nature 568, 336–343 (2019). https://doi.org/10.1038/s41586-019-1099-1
Received:

Accepted:

Published:

Issue Date:

DOI: https://doi.org/10.1038/s41586-019-1099-1
Comments
By submitting a comment you agree to abide by our Terms and Community Guidelines. If you find something abusive or that does not comply with our terms or guidelines please flag it as inappropriate.