Abstract
Microglia maintain homeostasis in the central nervous system through phagocytic clearance of protein aggregates and cellular debris. This function deteriorates during ageing and neurodegenerative disease, concomitant with cognitive decline. However, the mechanisms of impaired microglial homeostatic function and the cognitive effects of restoring this function remain unknown. We combined CRISPR–Cas9 knockout screens with RNA sequencing analysis to discover age-related genetic modifiers of microglial phagocytosis. These screens identified CD22, a canonical B cell receptor, as a negative regulator of phagocytosis that is upregulated on aged microglia. CD22 mediates the anti-phagocytic effect of α2,6-linked sialic acid, and inhibition of CD22 promotes the clearance of myelin debris, amyloid-β oligomers and α-synuclein fibrils in vivo. Long-term central nervous system delivery of an antibody that blocks CD22 function reprograms microglia towards a homeostatic transcriptional state and improves cognitive function in aged mice. These findings elucidate a mechanism of age-related microglial impairment and a strategy to restore homeostasis in the ageing brain.
Relevant articles
Open Access articles citing this article.
Ignazio Antignano

,

Yingxiao Liu

…

Melania Capasso

Cellular and Molecular Life Sciences Open Access 21 April 2023

Yu'e Liu

,

Yanjin Wang

…

Ping Wang

Signal Transduction and Targeted Therapy Open Access 07 March 2023

Kiersten Campbell

,

Niamh X. Cawley

…

Forbes D. Porter

Biomarker Research Open Access 31 January 2023
Access options
Access Nature and 54 other Nature Portfolio journals
Get Nature+, our best-value online-access subscription
$29.99 / 30 days
cancel any time
Subscribe to this journal
Receive 51 print issues and online access
$199.00 per year
only $3.90 per issue
Rent or buy this article
Get just this article for as long as you need it
$39.95
Prices may be subject to local taxes which are calculated during checkout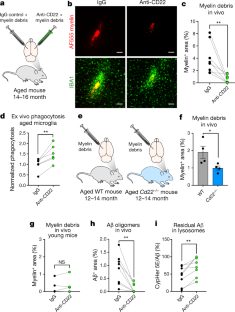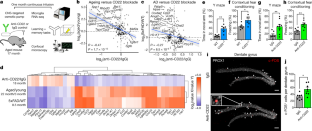 References
Füger, P. et al. Microglia turnover with aging and in an Alzheimer's model via long-term in vivo single-cell imaging. Nat. Neurosci. 20, 1371–1376 (2017).

Réu, P. et al. The lifespan and turnover of microglia in the human brain. Cell Rep. 20, 779–784 (2017).

Nimmerjahn, A., Kirchhoff, F. & Helmchen, F. Resting microglial cells are highly dynamic surveillants of brain parenchyma in vivo. Science 308, 1314–1318 (2005).

Arandjelovic, S. & Ravichandran, K. S. Phagocytosis of apoptotic cells in homeostasis. Nat. Immunol. 16, 907–917 (2015).

Schafer, D. P. et al. Microglia sculpt postnatal neural circuits in an activity and complement-dependent manner. Neuron 74, 691–705 (2012).

Paolicelli, R. C. et al. Synaptic pruning by microglia is necessary for normal brain development. Science 333, 1456–1458 (2011).

Hong, S. et al. Complement and microglia mediate early synapse loss in Alzheimer mouse models. Science 352, 712–716 (2016).

Lui, H. et al. Progranulin deficiency promotes circuit-specific synaptic pruning by microglia via complement activation. Cell 165, 921–935 (2016).

Safaiyan, S. et al. Age-related myelin degradation burdens the clearance function of microglia during aging. Nat. Neurosci. 19, 995–998 (2016).

Deczkowska, A., Amit, I. & Schwartz, M. Microglial immune checkpoint mechanisms. Nat. Neurosci. 21, 779–786 (2018).

Hefendehl, J. K. et al. Homeostatic and injury-induced microglia behavior in the aging brain. Aging Cell 13, 60–69 (2014).

Vaughan, D. W. & Peters, A. Neuroglial cells in the cerebral cortex of rats from young adulthood to old age: an electron microscope study. J. Neurocytol. 3, 405–429 (1974).

Tremblay, M.-È., Zettel, M. L., Ison, J. R., Allen, P. D. & Majewska, A. K. Effects of aging and sensory loss on glial cells in mouse visual and auditory cortices. Glia 60, 541–558 (2012).

Sierra, A., Gottfried-Blackmore, A. C., McEwen, B. S. & Bulloch, K. Microglia derived from aging mice exhibit an altered inflammatory profile. Glia 55, 412–424 (2007).

Hickman, S. E., Allison, E. K. & El Khoury, J. Microglial dysfunction and defective beta-amyloid clearance pathways in aging Alzheimer's disease mice. J. Neurosci. 28, 8354–8360 (2008).

Hickman, S. E. et al. The microglial sensome revealed by direct RNA sequencing. Nat. Neurosci. 16, 1896–1905 (2013).

Grabert, K. et al. Microglial brain region-dependent diversity and selective regional sensitivities to aging. Nat. Neurosci. 19, 504–516 (2016).

Morgens, D. W. et al. Genome-scale measurement of off-target activity using Cas9 toxicity in high-throughput screens. Nat. Commun. 8, 15178 (2017).

Haney, M. S. et al. Identification of phagocytosis regulators using magnetic genome-wide CRISPR screens. Nat. Genet. 50, 1716–1727 (2018).

Bohlen, C. J., Bennett, F. C. & Bennett, M. L. Isolation and culture of microglia. Curr. Protoc. Immunol. https://doi.org/10.1002/cpim.70 (2018).

Bohlen, C. J. et al. Diverse requirements for microglial survival, specification, and function revealed by defined-medium cultures. Neuron 94, 759–773 (2017).

Butovsky, O. et al. Identification of a unique TGF-β-dependent molecular and functional signature in microglia. Nat. Neurosci. 17, 131–143 (2014).

Morgens, D. W., Deans, R. M., Li, A. & Bassik, M. C. Systematic comparison of CRISPR/Cas9 and RNAi screens for essential genes. Nat. Biotechnol. 34, 634–636 (2016).

Macauley, M. S., Crocker, P. R. & Paulson, J. C. Siglec-mediated regulation of immune cell function in disease. Nat. Rev. Immunol. 14, 653–666 (2014).

Nitschke, L., Carsetti, R., Ocker, B., Köhler, G. & Lamers, M. C. CD22 is a negative regulator of B-cell receptor signalling. Curr. Biol. 7, 133–143 (1997).

Li, Y.-Q., Sun, L. & Li, J. Macropinocytosis-dependent endocytosis of Japanese flounder IgM+ B cells and its regulation by CD22. Fish Shellfish Immunol. 84, 138–147 (2019).

Linnartz-Gerlach, B., Kopatz, J. & Neumann, H. Siglec functions of microglia. Glycobiology 24, 794–799 (2014).

Griciuc, A. et al. Alzheimer's disease risk gene CD33 inhibits microglial uptake of amyloid beta. Neuron 78, 631–643 (2013).

Bennett, M. L. et al. New tools for studying microglia in the mouse and human CNS. Proc. Natl Acad. Sci. USA 113, E1738–E1746 (2016).

Zhang, Y. et al. An RNA-sequencing transcriptome and splicing database of glia, neurons, and vascular cells of the cerebral cortex. J. Neurosci. 34, 11929–11947 (2014).

Müller, J. et al. CD22 ligand-binding and signaling domains reciprocally regulate B-cell Ca2+ signaling. Proc. Natl Acad. Sci. USA 110, 12402–12407 (2013).

Hudak, J. E., Canham, S. M. & Bertozzi, C. R. Glycocalyx engineering reveals a Siglec-based mechanism for NK cell immunoevasion. Nat. Chem. Biol. 10, 69–75 (2014).

Ereño-Orbea, J. et al. Molecular basis of human CD22 function and therapeutic targeting. Nat. Commun. 8, 764 (2017).

Dahlgren, K. N. et al. Oligomeric and fibrillar species of amyloid-beta peptides differentially affect neuronal viability. J. Biol. Chem. 277, 32046–32053 (2002).

Deczkowska, A. et al. Disease-associated microglia: a universal immune sensor of neurodegeneration. Cell 173, 1073–1081 (2018).

Deczkowska, A. et al. Mef2C restrains microglial inflammatory response and is lost in brain ageing in an IFN-I-dependent manner. Nat. Commun. 8, 717 (2017).

Wang, Y. et al. TREM2 lipid sensing sustains the microglial response in an Alzheimer's disease model. Cell 160, 1061–1071 (2015).

Marciniak, E. et al. The chemokine MIP-1α/CCL3 impairs mouse hippocampal synaptic transmission, plasticity and memory. Sci. Rep. 5, 15862 (2015).

Cole, A. J., Saffen, D. W., Baraban, J. M. & Worley, P. F. Rapid increase of an immediate early gene messenger RNA in hippocampal neurons by synaptic NMDA receptor activation. Nature 340, 474–476 (1989).

Sheng, M., McFadden, G. & Greenberg, M. E. Membrane depolarization and calcium induce c-fos transcription via phosphorylation of transcription factor CREB. Neuron 4, 571–582 (1990).

Gosselin, D. et al. Environment drives selection and function of enhancers controlling tissue-specific macrophage identities. Cell 159, 1327–1340 (2014).

Lavin, Y. et al. Tissue-resident macrophage enhancer landscapes are shaped by the local microenvironment. Cell 159, 1312–1326 (2014).

Bennett, F. C. et al. A combination of ontogeny and CNS environment establishes microglial identity. Neuron 98, 1170–1183 (2018).

Li, Q. et al. Developmental heterogeneity of microglia and brain myeloid cells revealed by deep single-cell RNA sequencing. Neuron 101, 207–223 (2019).

Kress, B. T. et al. Impairment of paravascular clearance pathways in the aging brain. Ann. Neurol. 76, 845–861 (2014).

Da Mesquita, S. et al. Functional aspects of meningeal lymphatics in ageing and Alzheimer's disease. Nature 560, 185–191 (2018).

Bradshaw, E. M. et al. CD33 Alzheimer's disease locus: altered monocyte function and amyloid biology. Nat. Neurosci. 16, 848–850 (2013).

Siddiqui, S. S. et al. The Alzheimer's disease-protective CD33 splice variant mediates adaptive loss of function via diversion to an intracellular pool. J. Biol. Chem. 292, 15312–15320 (2017).

Kleinberger, G. et al. TREM2 mutations implicated in neurodegeneration impair cell surface transport and phagocytosis. Sci. Transl. Med. 6, 243ra86 (2014).

Huang, K.-L. et al. A common haplotype lowers PU.1 expression in myeloid cells and delays onset of Alzheimer's disease. Nat. Neurosci. 20, 1052–1061 (2017).

Friedman, B. A. et al. Diverse brain myeloid expression profiles reveal distinct microglial activation states and aspects of Alzheimer's disease not evident in mouse models. Cell Reports 22, 832–847 (2018).

Olah, M. et al. A single cell-based atlas of human microglial states reveals associations with neurological disorders and histopathological features of the aging brain. Preprint at https://doi.org/10.1101/343780 (2018).

Zhang, Y. et al. Purification and characterization of progenitor and mature human astrocytes reveals transcriptional and functional differences with mouse. Neuron 89, 37–53 (2016).

Lambert, J.-C. et al. Meta-analysis of 74,046 individuals identifies 11 new susceptibility loci for Alzheimer's disease. Nat. Genet. 45, 1452–1458 (2013).

Funikov, S. Y. et al. FUS(1–359) transgenic mice as a model of ALS: pathophysiological and molecular aspects of the proteinopathy. Neurogenetics 19, 189–204 (2018).

Cougnoux, A. et al. Microglia activation in Niemann-Pick disease, type C1 is amendable to therapeutic intervention. Hum. Mol. Genet. 27, 2076–2089 (2018).

Xiao, H., Woods, E. C., Vukojicic, P. & Bertozzi, C. R. Precision glycocalyx editing as a strategy for cancer immunotherapy. Proc. Natl Acad. Sci. USA 113, 10304–10309 (2016).

Rillahan, C. D. et al. Global metabolic inhibitors of sialyl- and fucosyltransferases remodel the glycome. Nat. Chem. Biol. 8, 661–668 (2012).

Larocca, J. N. & Norton, W. T. Isolation of myelin. Curr. Protoc. Cell Biol. 3, cb0325s33 (2007).

Stine, W. B., Jungbauer, L., Yu, C. & LaDu, M. J. in Biological Microarrays (eds Khademhosseini, A. et al.) 13–32 (Humana Press, 2010).

Polinski, N. K. et al. Best practices for generating and using α-synuclein pre-formed fibrils to model Parkinson's disease in rodents. J. Parkinsons Dis. 8, 303–322 (2018).

Wolf, A., Bauer, B., Abner, E. L., Ashkenazy-Frolinger, T. & Hartz, A. M. S. A comprehensive behavioral test battery to assess learning and memory in 129S6/Tg2576 mice. PLoS ONE 11, e0147733 (2016).

Castellano, J. M. et al. Human umbilical cord plasma proteins revitalize hippocampal function in aged mice. Nature 544, 488–492 (2017).

The Tabula Muris Consortium. Single-cell transcriptomics of 20 mouse organs creates a Tabula Muris. Nature 562, 367–372 (2018).

Keren-Shaul, H. et al. A unique microglia type associated with restricting development of Alzheimer's disease. Cell 169, 1276–1290 (2017).

Krasemann, S. et al. The TREM2-APOE pathway drives the transcriptional phenotype of dysfunctional microglia in neurodegenerative diseases. Immunity 47, 566–581 (2017).
Acknowledgements
We thank the members of the Wyss-Coray, Bassik and Bertozzi laboratories for feedback and support; M. Macauley, Q. Li and S. Nagaraja for helpful discussions, M. Bennett and F.C. Bennett for critical reading of the manuscript, H. Zhang and K. Dickey for laboratory management, R. Ballet, E. Butcher, J. Paulson and L. Nitscke for Cd22−/− mice, B. Lehallier for RNA-seq analysis scripts, L. Zhou for RNAscope advice, J. Hudak for reagents, H. Yousef for histology protocols and C. Cain for flow cytometry technical expertise. This work was funded by the Department of Veterans Affairs (T.W.-C.), the National Institute on Aging (R01-AG045034 and DP1-AG053015 to T.W.-C., F30AG060638 to J.V.P.), the National Institute of General Medical Sciences (R01-GM059907 to C.R.B.), the NOMIS Foundation (T.W.-C.), The Glenn Foundation for Aging Research (T.W.-C.), the Stanford University Medical Scientist Training Program (T32GM007365, J.V.P., B.A.H.S., L.B. and M.S.), the Big Idea Brain Rejuvenation Project from the Wu Tsai Neurosciences Institute (T.W.-C., M.C.B. and C.R.B.) and Cure Alzheimer's Fund (T.W.-C.). This work used the Stanford Center for Genomics and Personalized Medicine (NIH S10OD020141).
Ethics declarations
Competing interests
C.R.B. is a co-founder and Scientific Advisory Board member of Palleon Pharmaceuticals, Enable Bioscience, InterVenn Bio and Redwood Bioscience (a subsidiary of Catalent), and a member of the Board of Directors of Eli Lilly and Company. T.W.-C., C.R.B., M.C.B., J.V.P., B.A.H.S. and M.S.H. are co-inventors on a patent application related to the work published in this paper.
Additional information
Publisher's note: Springer Nature remains neutral with regard to jurisdictional claims in published maps and institutional affiliations.
Extended data figures and tables
Supplementary information
About this article
Cite this article
Pluvinage, J.V., Haney, M.S., Smith, B.A.H. et al. CD22 blockade restores homeostatic microglial phagocytosis in ageing brains. Nature 568, 187–192 (2019). https://doi.org/10.1038/s41586-019-1088-4
Received:

Accepted:

Published:

Issue Date:

DOI: https://doi.org/10.1038/s41586-019-1088-4
Comments
By submitting a comment you agree to abide by our Terms and Community Guidelines. If you find something abusive or that does not comply with our terms or guidelines please flag it as inappropriate.