Abstract
The hippocampus and the medial entorhinal cortex are part of a brain system that maps self-location during navigation in the proximal environment1,2. In this system, correlations between neural firing and an animal's position or orientation are so evident that cell types have been given simple descriptive names, such as place cells3, grid cells4, border cells5,6 and head-direction cells7. While the number of identified functional cell types is growing at a steady rate, insights remain limited by an almost-exclusive reliance on recordings from rodents foraging in empty enclosures that are different from the richly populated, geometrically irregular environments of the natural world. In environments that contain discrete objects, animals are known to store information about distance and direction to those objects and to use this vector information to guide navigation8,9,10. Theoretical studies have proposed that such vector operations are supported by neurons that use distance and direction from discrete objects11,12 or boundaries13,14 to determine the animal's location, but—although some cells with vector-coding properties may be present in the hippocampus15 and subiculum16,17—it remains to be determined whether and how vectorial operations are implemented in the wider neural representation of space. Here we show that a large fraction of medial entorhinal cortex neurons fire specifically when mice are at given distances and directions from spatially confined objects. These 'object-vector cells' are tuned equally to a spectrum of discrete objects, irrespective of their location in the test arena, as well as to a broad range of dimensions and shapes, from point-like objects to extended surfaces. Our findings point to vector coding as a predominant form of position coding in the medial entorhinal cortex.
Relevant articles
Open Access articles citing this article.
Mahir Patel

,

Yiwen Gu

…

Margrit Betke

International Journal of Computer Vision Open Access 23 November 2022

Biosemiotics Open Access 31 October 2022

Veronika Samborska

,

James L. Butler

…

Thomas Akam

Nature Neuroscience Open Access 28 September 2022
Access options
Subscribe to Nature+
Get immediate online access to Nature and 55 other Nature journal
Subscribe to Journal
Get full journal access for 1 year
$199.00
only $3.90 per issue
All prices are NET prices.
VAT will be added later in the checkout.
Tax calculation will be finalised during checkout.
Buy article
Get time limited or full article access on ReadCube.
$32.00
All prices are NET prices.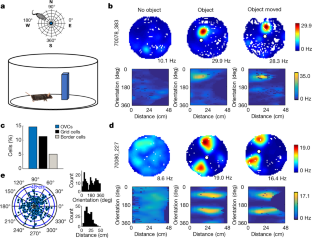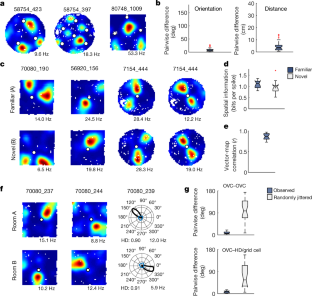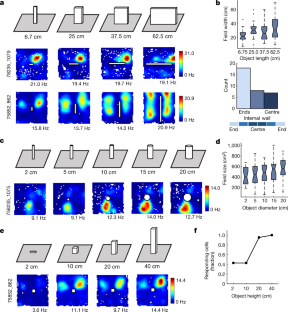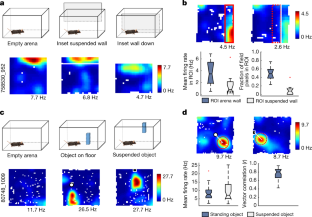 Data availability
Data sets supporting the findings of this paper are available on request from the corresponding authors.
Code availability
Custom code is available from the corresponding authors on request.
References
O'Keefe, J. & Nadel, L. The Hippocampus as a Cognitive Map (Oxford Univ. Press, Oxford, 1978).

Moser, E. I., Kropff, E. & Moser, M. B. Place cells, grid cells, and the brain's spatial representation system. Annu. Rev. Neurosci. 31, 69–89 (2008).

O'Keefe, J. & Dostrovsky, J. The hippocampus as a spatial map. Preliminary evidence from unit activity in the freely-moving rat. Brain Res. 34, 171–175 (1971).

Hafting, T., Fyhn, M., Molden, S., Moser, M. B. & Moser, E. I. Microstructure of a spatial map in the entorhinal cortex. Nature 436, 801–806 (2005).

Savelli, F., Yoganarasimha, D. & Knierim, J. J. Influence of boundary removal on the spatial representations of the medial entorhinal cortex. Hippocampus 18, 1270–1282 (2008).

Solstad, T., Boccara, C. N., Kropff, E., Moser, M. B. & Moser, E. I. Representation of geometric borders in the entorhinal cortex. Science 322, 1865–1868 (2008).

Taube, J. S., Muller, R. U. & Ranck, J. B. Jr. Head-direction cells recorded from the postsubiculum in freely moving rats. I. Description and quantitative analysis. J. Neurosci. 10, 420–435 (1990).

Collett, T. S., Cartwright, B. A. & Smith, B. A. Landmark learning and visuo-spatial memories in gerbils. J. Comp. Physiol. A 158, 835–851 (1986).

Biegler, R. & Morris, R. G. Landmark stability is a prerequisite for spatial but not discrimination learning. Nature 361, 631–633 (1993).

Hurly, T. A., Fox, T. A., Zwueste, D. M. & Healy, S. D. Wild hummingbirds rely on landmarks not geometry when learning an array of flowers. Anim. Cogn. 17, 1157–1165 (2014).

McNaughton, B. L., Knierim, J. J. & Wilson, M. A. in The Cognitive Neurosciences (ed. M.S. Gazzaniga) 585–595 (MIT Press, 1995).

Stemmler, M., Mathis, A. & Herz, A. V. Connecting multiple spatial scales to decode the population activity of grid cells. Sci. Adv. 1, e1500816 (2015).

O'Keefe, J. & Burgess, N. Geometric determinants of the place fields of hippocampal neurons. Nature 381, 425–428 (1996).

Burgess, N., Jackson, A., Hartley, T. & O'Keefe, J. Predictions derived from modelling the hippocampal role in navigation. Biol. Cybern. 83, 301–312 (2000).

Deshmukh, S. S. & Knierim, J. J. Influence of local objects on hippocampal representations: landmark vectors and memory. Hippocampus 23, 253–267 (2013).

Barry, C. et al. The boundary vector cell model of place cell firing and spatial memory. Rev. Neurosci. 17, 71–97 (2006).

Lever, C., Burton, S., Jeewajee, A., O'Keefe, J. & Burgess, N. Boundary vector cells in the subiculum of the hippocampal formation. J. Neurosci. 29, 9771–9777 (2009).

Deshmukh, S. S. & Knierim, J. J. Representation of non-spatial and spatial information in the lateral entorhinal cortex. Front. Behav. Neurosci. 5, 69 (2011).

Tsao, A., Moser, M. B. & Moser, E. I. Traces of experience in the lateral entorhinal cortex. Curr. Biol. 23, 399–405 (2013).

Deshmukh, S. S., Johnson, J. L. & Knierim, J. J. Perirhinal cortex represents nonspatial, but not spatial, information in rats foraging in the presence of objects: comparison with lateral entorhinal cortex. Hippocampus 22, 2045–2058 (2012).

Weible, A. P., Rowland, D. C., Monaghan, C. K., Wolfgang, N. T. & Kentros, C. G. Neural correlates of long-term object memory in the mouse anterior cingulate cortex. J. Neurosci. 32, 5598–5608 (2012).

Sargolini, F. et al. Conjunctive representation of position, direction, and velocity in entorhinal cortex. Science 312, 758–762 (2006).

Kropff, E., Carmichael, J. E., Moser, M. B. & Moser, E. I. Speed cells in the medial entorhinal cortex. Nature 523, 419–424 (2015).

Sarel, A., Finkelstein, A., Las, L. & Ulanovsky, N. Vectorial representation of spatial goals in the hippocampus of bats. Science 355, 176–180 (2017).

Wang, C. et al. Egocentric coding of external items in the lateral entorhinal cortex. Science 362, 945–949 (2018).

Muller, R. U. & Kubie, J. L. The effects of changes in the environment on the spatial firing of hippocampal complex-spike cells. J. Neurosci. 7, 1951–1968 (1987).

Fyhn, M., Hafting, T., Treves, A., Moser, M. B. & Moser, E. I. Hippocampal remapping and grid realignment in entorhinal cortex. Nature 446, 190–194 (2007).

Yoganarasimha, D., Yu, X. & Knierim, J. J. Head direction cell representations maintain internal coherence during conflicting proximal and distal cue rotations: comparison with hippocampal place cells. J. Neurosci. 26, 622–631 (2006).

Gardner, R. J., Lu, L., Wernle, T., Moser, M. B. & Moser, E. I. Correlation structure of grid cells is preserved during sleep. Nat. Neurosci. (in the press) (2019).

Trettel, S. G., Trimper, J. B., Hwaun, E., Fiete, I. R. & Colgin, L. L. Grid cell co-activity patterns during sleep reflect spatial overlap of grid fields during active behaviors. Nat. Neurosci. (in the press) (2019).

Schmitzer-Torbert, N., Jackson, J., Henze, D., Harris, K. & Redish, A. D. Quantitative measures of cluster quality for use in extracellular recordings. Neuroscience 131, 1–11 (2005).

Skaggs, W. E., McNaughton, B. L., Gothard, K. M. & Markus, E. J. in Advances in Neural Information Processing Systems 5 (eds. Hanson, S. J., Cowan, J. D. & Giles, C. L.) 1030–1037 (Morgan Kaufmann, 1993).

Langston, R. F. et al. Development of the spatial representation system in the rat. Science 328, 1576–1580 (2010).
Acknowledgements
We thank A. M. Amundsgård, K. Haugen, K. Jenssen, V. Frolov, I. U. Kruge, N. Dagslott, E. Kråkvik and H. Waade for technical assistance. The work was supported by two Advanced Investigator Grants from the European Research Council (GRIDCODE, Grant Agreement N°338865; ENSEMBLE – Grant Agreement N°268598), a NEVRONOR grant from the Research Council of Norway (grant no. 226003), the Centre of Excellence scheme and the National Infrastructure Scheme of the Research Council of Norway (Centre for Neural Computation, grant number 223262; NORBRAIN1, grant number 197467), the Louis Jeantet Prize, the Körber Prize and the Kavli Foundation.
Reviewer information
Nature thanks Martin Stemmler and the other anonymous reviewer(s) for their contribution to the peer review of this work.
Ethics declarations
Competing interests
The authors declare no competing interests.
Additional information
Publisher's note: Springer Nature remains neutral with regard to jurisdictional claims in published maps and institutional affiliations.
Extended data figures and tables
Supplementary information
This file contains additional results as well as discussion and comparison to previous literature.
About this article
Cite this article
Høydal, Ø.A., Skytøen, E.R., Andersson, S.O. et al. Object-vector coding in the medial entorhinal cortex. Nature 568, 400–404 (2019). https://doi.org/10.1038/s41586-019-1077-7
Received:

Accepted:

Published:

Issue Date:

DOI: https://doi.org/10.1038/s41586-019-1077-7
Comments
By submitting a comment you agree to abide by our Terms and Community Guidelines. If you find something abusive or that does not comply with our terms or guidelines please flag it as inappropriate.