Abstract
Current programmable nuclease-based methods (for example, CRISPR–Cas9) for the precise correction of a disease-causing genetic mutation harness the homology-directed repair pathway. However, this repair process requires the co-delivery of an exogenous DNA donor to recode the sequence and can be inefficient in many cell types. Here we show that disease-causing frameshift mutations that result from microduplications can be efficiently reverted to the wild-type sequence simply by generating a DNA double-stranded break near the centre of the duplication. We demonstrate this in patient-derived cell lines for two diseases: limb-girdle muscular dystrophy type 2G (LGMD2G)1 and Hermansky–Pudlak syndrome type 1 (HPS1)2. Clonal analysis of inducible pluripotent stem (iPS) cells from the LGMD2G cell line, which contains a mutation in TCAP, treated with the Streptococcus pyogenes Cas9 (SpCas9) nuclease revealed that about 80% contained at least one wild-type TCAP allele; this correction also restored TCAP expression in LGMD2G iPS cell-derived myotubes. SpCas9 also efficiently corrected the genotype of an HPS1 patient-derived B-lymphoblastoid cell line. Inhibition of polyADP-ribose polymerase 1 (PARP-1) suppressed the nuclease-mediated collapse of the microduplication to the wild-type sequence, confirming that precise correction is mediated by the microhomology-mediated end joining (MMEJ) pathway. Analysis of editing by SpCas9 and Lachnospiraceae bacterium ND2006 Cas12a (LbCas12a) at non-pathogenic 4–36-base-pair microduplications within the genome indicates that the correction strategy is broadly applicable to a wide range of microduplication lengths and can be initiated by a variety of nucleases. The simplicity, reliability and efficacy of this MMEJ-based therapeutic strategy should permit the development of nuclease-based gene correction therapies for a variety of diseases that are associated with microduplications.
Relevant articles
Open Access articles citing this article.
Takahiro Suezawa

,

Shuhei Kanagaki

…

Shimpei Gotoh

Respiratory Research Open Access 04 November 2021

Raed Ibraheim

,

Phillip W. L. Tai

…

Erik J. Sontheimer

Nature Communications Open Access 01 November 2021

Junhao Fu

,

Qing Li

…

Feng Gu

Nature Communications Open Access 08 October 2021
Access options
Subscribe to Nature+
Get immediate online access to the entire Nature family of 50+ journals
Subscribe to Journal
Get full journal access for 1 year
$199.00
only $3.90 per issue
All prices are NET prices.
VAT will be added later in the checkout.
Tax calculation will be finalised during checkout.
Buy article
Get time limited or full article access on ReadCube.
$32.00
All prices are NET prices.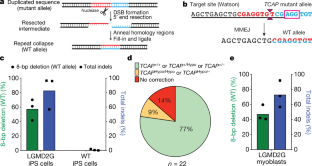 Data availability
Raw data associated with Extended Data Fig. 10 are reported in Supplementary Table 3. Raw script used for retrieving microduplication data listed in Supplementary Table 3 will be available upon request. Raw Illumina sequencing reads and PacBio data for this study have been deposited in the National Center for Biotechnology Information Short Read Archive under bioproject ID PRJNA517630.
Code availability
Data analysis used a combination of publicly available software and custom code, as detailed in the Methods. Custom Python (CRESA-lpp.py) and R (indel_background_filtering.R) scripts used in the Illumina data analysis and the shell script (Tcap_pacbio_analysis.sh) used for the analysis of the PacBio data are hosted on GitHub (https://github.com/locusliu/PCR_Amplicon_target_deep_seq). Scripts for the bioinformatic analysis of pathogenic microduplications are hosted at https://rambutan.umassmed.edu/duplications/.
References
Moreira, E. S. et al. Limb-girdle muscular dystrophy type 2G is caused by mutations in the gene encoding the sarcomeric protein telethonin. Nat. Genet. 24, 163–166 (2000).

El-Chemaly, S. & Young, L. R. Hermansky–Pudlak syndrome. Clin. Chest Med. 37, 505–511 (2016).

Sfeir, A. & Symington, L. S. Microhomology-mediated end joining: a back-up survival mechanism or dedicated pathway? Trends Biochem. Sci. 40, 701–714 (2015).

Bae, S., Kweon, J., Kim, H. S. & Kim, J.-S. Microhomology-based choice of Cas9 nuclease target sites. Nat. Methods 11, 705–706 (2014).

Kim, S.-I. et al. Microhomology-assisted scarless genome editing in human iPSCs. Nat. Commun. 9, 939 (2018).

Hisano, Y. et al. Precise in-frame integration of exogenous DNA mediated by CRISPR/Cas9 system in zebrafish. Sci. Rep. 5, 8841 (2015).

Sakuma, T., Nakade, S., Sakane, Y., Suzuki, K. T. & Yamamoto, T. MMEJ-assisted gene knock-in using TALENs and CRISPR–Cas9 with the PITCh systems. Nat. Protoc. 11, 118–133 (2016).

Bertz, M., Wilmanns, M. & Rief, M. The titin-telethonin complex is a directed, superstable molecular bond in the muscle Z-disk. Proc. Natl Acad. Sci. USA 106, 13307–13310 (2009).

Nigro, V. & Savarese, M. Genetic basis of limb-girdle muscular dystrophies: the 2014 update. Acta Myol. 33, 1–12 (2014).

Kosicki, M., Tomberg, K. & Bradley, A. Repair of double-strand breaks induced by CRISPR–Cas9 leads to large deletions and complex rearrangements. Nat. Biotechnol. 36, 765–771 (2018).

Caron, L. et al. A human pluripotent stem cell model of facioscapulohumeral muscular dystrophy-affected skeletal muscles. Stem Cells Transl. Med. 5, 1145–1161 (2016).

Oh, J. et al. Positional cloning of a gene for Hermansky–Pudlak syndrome, a disorder of cytoplasmic organelles. Nat. Genet. 14, 300–306 (1996).

Richmond, B. et al. Melanocytes derived from patients with Hermansky–Pudlak syndrome types 1, 2, and 3 have distinct defects in cargo trafficking. J. Invest. Dermatol. 124, 420–427 (2005).

Brantly, M. et al. Pulmonary function and high-resolution CT findings in patients with an inherited form of pulmonary fibrosis, Hermansky–Pudlak syndrome, due to mutations in HPS-1. Chest 117, 129–136 (2000).

Bolukbasi, M. F. et al. Orthogonal Cas9–Cas9 chimeras provide a versatile platform for genome editing. Nat. Commun. 9, 4856 (2018).

Sharma, S. et al. Homology and enzymatic requirements of microhomology-dependent alternative end joining. Cell Death Dis. 6, e1697 (2015).

Wang, M. et al. PARP-1 and Ku compete for repair of DNA double strand breaks by distinct NHEJ pathways. Nucleic Acids Res. 34, 6170–6182 (2006).

Dutta, A. et al. Microhomology-mediated end joining is activated in irradiated human cells due to phosphorylation-dependent formation of the XRCC1 repair complex. Nucleic Acids Res. 45, 2585–2599 (2017).

Zetsche, B. et al. Cpf1 is a single RNA-guided endonuclease of a class 2 CRISPR–Cas system. Cell 163, 759–771 (2015).

Landrum, M. J. et al. ClinVar: improving access to variant interpretations and supporting evidence. Nucleic Acids Res. 46, D1062–D1067 (2018).

Lek, M. et al. Analysis of protein-coding genetic variation in 60,706 humans. Nature 536, 285–291 (2016).

Komor, A. C., Badran, A. H. & Liu, D. R. CRISPR-based technologies for the manipulation of eukaryotic genomes. Cell 168, 20–36 (2017).

Kim, E. et al. In vivo genome editing with a small Cas9 orthologue derived from Campylobacter jejuni. Nat. Commun. 8, 14500 (2017).

Edraki, A. et al. A compact, high-accuracy Cas9 with a dinucleotide PAM for in vivo genome editing. Mol. Cell 73, 714–726 (2019).

Kleinstiver, B. P. et al. Engineered CRISPR–Cas9 nucleases with altered PAM specificities. Nature 523, 481–485 (2015).

Bolukbasi, M. F. et al. DNA-binding-domain fusions enhance the targeting range and precision of Cas9. Nat. Methods 12, 1150–1156 (2015).

Hu, J. H. et al. Evolved Cas9 variants with broad PAM compatibility and high DNA specificity. Nature 556, 57–63 (2018).

van Overbeek, M. et al. DNA repair profiling reveals nonrandom outcomes at Cas9-mediated breaks. Mol. Cell 63, 633–646 (2016).

Suzuki, K. et al. In vivo genome editing via CRISPR/Cas9 mediated homology-independent targeted integration. Nature 540, 144–149 (2016).

Shen, M. W. et al. Predictable and precise template-free CRISPR editing of pathogenic variants. Nature 563, 646–651 (2018).

Rittié, L. & Fisher, G. J. Isolation and culture of skin fibroblasts. Methods Mol. Med. 117, 83–98 (2005).

Stadler, G. et al. Establishment of clonal myogenic cell lines from severely affected dystrophic muscles — CDK4 maintains the myogenic population. Skelet. Muscle 1, 12 (2011).

Kearns, N. A. et al. Cas9 effector-mediated regulation of transcription and differentiation in human pluripotent stem cells. Development 141, 219–223 (2014).

Brinkman, E. K., Chen, T., Amendola, M. & van Steensel, B. Easy quantitative assessment of genome editing by sequence trace decomposition. Nucleic Acids Res. 42, e168 (2014).

Zhang, J., Kobert, K., Flouri, T. & Stamatakis, A. PEAR: a fast and accurate Illumina Paired-End reAd mergeR. Bioinformatics 30, 614–620 (2014).

Blankenberg, D. et al. Manipulation of FASTQ data with Galaxy. Bioinformatics 26, 1783–1785 (2010).

Koboldt, D. C. et al. VarScan 2: somatic mutation and copy number alteration discovery in cancer by exome sequencing. Genome Res. 22, 568–576 (2012).

Li, H. Minimap2: pairwise alignment for nucleotide sequences. Bioinformatics 34, 3094–3100 (2018).

Robinson, J. T. et al. Integrative genomics viewer. Nat. Biotechnol. 29, 24–26 (2011).

1000 Genomes Project Consortium. A global reference for human genetic variation. Nature 526, 68–74 (2015).

Li, H. et al. The Sequence Alignment/Map format and SAMtools. Bioinformatics 25, 2078–2079 (2009).

Tan, A., Abecasis, G. R. & Kang, H. M. Unified representation of genetic variants. Bioinformatics 31, 2202–2204 (2015).

Obenchain, V. et al. VariantAnnotation: a Bioconductor package for exploration and annotation of genetic variants. Bioinformatics 30, 2076–2078 (2014).

Benson, G. Tandem repeats finder: a program to analyze DNA sequences. Nucleic Acids Res. 27, 573–580 (1999).

Li, H. Exploring single-sample SNP and INDEL calling with whole-genome de novo assembly. Bioinformatics 28, 1838–1844 (2012).

Wu, Y. et al. Highly efficient therapeutic gene editing of human hematopoietic stem cells. Nat. Med. https://doi.org/10.1038/s41591-019-0401-y (2019).

Liu, P. et al. Enhanced Cas12a editing in mammalian cells and zebrafish. Nucleic Acids Res. https://doi.org/10.1093/nar/gkz184 (2019).
Acknowledgements
We thank E. Kittler and the UMass Medical School Deep Sequencing Core for sequencing; L. Hayward, L. Qin and D. McKenna-Yasek for coordinating patient enrolment and acquiring patient skin biopsies; Z. Matijasevic for generating LGMD2G iPS cell lines; and the Genome Aggregation Database (gnomAD) and the groups that provided exome and genome variant data to this resource. A full list of contributing groups can be found at http://gnomad.broadinstitute.org/about. This work was supported in part by the National Institutes of Health (R01DK098252, R01HL131471 and R01NS088689 (C.M.); R01AI117839, R01GM115911, R01HL093766 and U01HG007910 (S.A.W.); U54HD0060848 (C.P.E.); a SPARK award through UL1-TR001453) and the Worcester Foundation for Biomedical Research. The content is solely the responsibility of the authors and does not necessarily represent the official views of the NIH.
Reviewer information
Nature thanks Randall Platt and the other anonymous reviewer(s) for their contribution to the peer review of this work.
Ethics declarations
Competing interests
The authors have filed patent applications related to genome engineering technologies. S.I., S.S., D.G., J.C.J.C., C.M., O.D.K., C.P.E. and S.A.W. have filed a patent application (62/667201) on this work. C.M. is a paid consultant for and with equity in Apic Bio. Apic Bio was not involved in the funding or any other aspects of this study. The authors have no other competing interests.
Additional information
Publisher's note: Springer Nature remains neutral with regard to jurisdictional claims in published maps and institutional affiliations.
Extended data figures and tables
Supplementary information
This file contains Supplementary Discussion, legends for Supplementary Tables 1-9, and Supplementary Figure 1. Supplementary Discussion: 143 disease alleles associated with microduplications identified in this study does not reflect the upper limit of prevalence of pathogenic microduplications in the human population. Supplementary Figure: Western blot showing validation of anti-telethonin antibody (uncropped gel source data for Extended Data Figure 4).
This file contains Supplementary Tables 1–9.
About this article
Cite this article
Iyer, S., Suresh, S., Guo, D. et al. Precise therapeutic gene correction by a simple nuclease-induced double-stranded break. Nature 568, 561–565 (2019). https://doi.org/10.1038/s41586-019-1076-8
Received:

Accepted:

Published:

Issue Date:

DOI: https://doi.org/10.1038/s41586-019-1076-8
Comments
By submitting a comment you agree to abide by our Terms and Community Guidelines. If you find something abusive or that does not comply with our terms or guidelines please flag it as inappropriate.