Abstract
The plant hormone auxin has crucial roles in almost all aspects of plant growth and development. Concentrations of auxin vary across different tissues, mediating distinct developmental outcomes and contributing to the functional diversity of auxin. However, the mechanisms that underlie these activities are poorly understood. Here we identify an auxin signalling mechanism, which acts in parallel to the canonical auxin pathway based on the transport inhibitor response1 (TIR1) and other auxin receptor F-box (AFB) family proteins (TIR1/AFB receptors)1,2, that translates levels of cellular auxin to mediate differential growth during apical-hook development. This signalling mechanism operates at the concave side of the apical hook, and involves auxin-mediated C-terminal cleavage of transmembrane kinase 1 (TMK1). The cytosolic and nucleus-translocated C terminus of TMK1 specifically interacts with and phosphorylates two non-canonical transcriptional repressors of the auxin or indole-3-acetic acid (Aux/IAA) family (IAA32 and IAA34), thereby regulating ARF transcription factors. In contrast to the degradation of Aux/IAA transcriptional repressors in the canonical pathway, the newly identified mechanism stabilizes the non-canonical IAA32 and IAA34 transcriptional repressors to regulate gene expression and ultimately inhibit growth. The auxin–TMK1 signalling pathway originates at the cell surface, is triggered by high levels of auxin and shares a partially overlapping set of transcription factors with the TIR1/AFB signalling pathway. This allows distinct interpretations of different concentrations of cellular auxin, and thus enables this versatile signalling molecule to mediate complex developmental outcomes.
Relevant articles
Open Access articles citing this article.
Matthieu Pierre Platre

,

Santosh B. Satbhai

…

Wolfgang Busch

Nature Communications Open Access 01 August 2022

Wenwei Lin

,

Xiang Zhou

…

Zhenbiao Yang

Nature Open Access 27 October 2021

Heqin Li

,

Haiwang Yue

…

Xuwen Jiang

Scientific Reports Open Access 29 September 2021
Access options
Access Nature and 54 other Nature Portfolio journals
Get Nature+, our best-value online-access subscription
$29.99 / 30 days
cancel any time
Subscribe to this journal
Receive 51 print issues and online access
$199.00 per year
only $3.90 per issue
Rent or buy this article
Prices vary by article type
from$1.95
to$39.95
Prices may be subject to local taxes which are calculated during checkout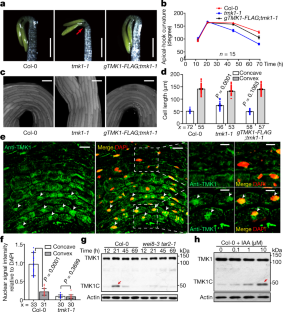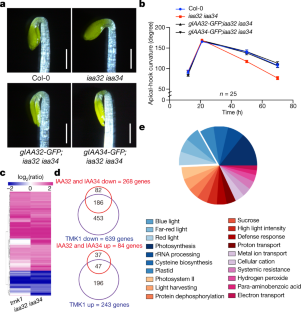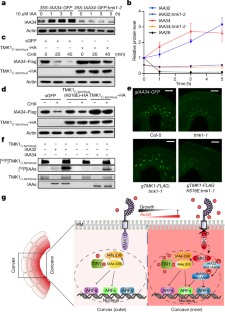 Data availability
Data that support the findings of this study are available within the paper and its Supplementary Information. RNA sequencing raw data associated with Fig. 3c, d are available at the Gene Expression Omnibus under accession number GSE111716. Source Data (gels and graphs) for Figs. 1, 3, 4 and Extended Data Figs. 1–6, 8–10 are provided with the paper.
References
Salehin, M., Bagchi, R. & Estelle, M. SCFTIR1/AFB-based auxin perception: mechanism and role in plant growth and development. Plant Cell 27, 9–19 (2015).

Weijers, D. & Wagner, D. Transcriptional responses to the auxin hormone. Annu. Rev. Plant Biol. 67, 539–574 (2016).

Kicheva, A., Bollenbach, T., Wartlick, O., Jülicher, F. & Gonzalez-Gaitan, M. Investigating the principles of morphogen gradient formation: from tissues to cells. Curr. Opin. Genet. Dev. 22, 527–532 (2012).

Bargmann, B. O. et al. A map of cell type-specific auxin responses. Mol. Syst. Biol. 9, 688 (2013).

Friml, J. et al. AtPIN4 mediates sink-driven auxin gradients and root patterning in Arabidopsis. Cell 108, 661–673 (2002).

Zhao, Y. Essential roles of local auxin biosynthesis in plant development and in adaptation to environmental changes. Annu. Rev. Plant Biol. 69, 417–435 (2018).

Adamowski, M. & Friml, J. PIN-dependent auxin transport: action, regulation, and evolution. Plant Cell 27, 20–32 (2015).

Raz, V. & Ecker, J. R. Regulation of differential growth in the apical hook of Arabidopsis. Development 126, 3661–3668 (1999).

Zádníková, P. et al. Role of PIN-mediated auxin efflux in apical hook development of Arabidopsis thaliana. Development 137, 607–617 (2010).

Liao, C. Y. et al. Reporters for sensitive and quantitative measurement of auxin response. Nat. Methods 12, 207–210, 2, 210 (2015).

Li, H., Johnson, P., Stepanova, A., Alonso, J. M. & Ecker, J. R. Convergence of signaling pathways in the control of differential cell growth in Arabidopsis. Dev. Cell 7, 193–204 (2004).

Žádníková, P. et al. A model of differential growth-guided apical hook formation in plants. Plant Cell 28, 2464–2477 (2016).

Zhao, Y. et al. A role for flavin monooxygenase-like enzymes in auxin biosynthesis. Science 291, 306–309 (2001).

Stepanova, A. N. et al. TAA1-mediated auxin biosynthesis is essential for hormone crosstalk and plant development. Cell 133, 177–191 (2008).

Tao, Y. et al. Rapid synthesis of auxin via a new tryptophan-dependent pathway is required for shade avoidance in plants. Cell 133, 164–176 (2008).

Fendrych, M., Leung, J. & Friml, J. TIR1/AFB-Aux/IAA auxin perception mediates rapid cell wall acidification and growth of Arabidopsis hypocotyls. eLife 5, e19048 (2016).

Xu, T. et al. Cell surface ABP1–TMK auxin-sensing complex activates ROP GTPase signaling. Science 343, 1025–1028 (2014).

Vandenbussche, F. et al. The auxin influx carriers AUX1 and LAX3 are involved in auxin-ethylene interactions during apical hook development in Arabidopsis thaliana seedlings. Development 137, 597–606 (2010).

Nishimura, T. et al. Yucasin is a potent inhibitor of YUCCA, a key enzyme in auxin biosynthesis. Plant J. 77, 352–366 (2014).

Hayashi, K. et al. Small-molecule agonists and antagonists of F-box protein-substrate interactions in auxin perception and signaling. Proc. Natl Acad. Sci. USA 105, 5632–5637 (2008).

Overvoorde, P. J. et al. Functional genomic analysis of the AUXIN/INDOLE-3-ACETIC ACID gene family members in Arabidopsis thaliana. Plant Cell 17, 3282–3300 (2005).

Wu, Y. et al. Genome-wide expression pattern analyses of the Arabidopsis leucine-rich repeat receptor-like kinases. Mol. Plant 9, 289–300 (2016).

Ramos, J. A., Zenser, N., Leyser, O. & Callis, J. Rapid degradation of auxin/indoleacetic acid proteins requires conserved amino acids of domain II and is proteasome dependent. Plant Cell 13, 2349–2360 (2001).

Dharmasiri, N., Dharmasiri, S. & Estelle, M. The F-box protein TIR1 is an auxin receptor. Nature 435, 441–445 (2005).

Kepinski, S. & Leyser, O. The Arabidopsis F-box protein TIR1 is an auxin receptor. Nature 435, 446–451 (2005).

Ulmasov, T., Hagen, G. & Guilfoyle, T. J. ARF1, a transcription factor that binds to auxin response elements. Science 276, 1865–1868 (1997).

Mazzella, M. A., Casal, J. J., Muschietti, J. P. & Fox, A. R. Hormonal networks involved in apical hook development in darkness and their response to light. Front. Plant Sci. 5, 52 (2014).

Bielach, A. et al. Spatiotemporal regulation of lateral root organogenesis in Arabidopsis by cytokinin. Plant Cell 24, 3967–3981 (2012).

Gray, W. M., Kepinski, S., Rouse, D., Leyser, O. & Estelle, M. Auxin regulates SCFTIR1-dependent degradation of AUX/IAA proteins. Nature 414, 271–276 (2001).

Yan, L. et al. High-efficiency genome editing in Arabidopsis using YAO promoter-driven CRISPR/Cas9 system. Mol. Plant 8, 1820–1823 (2015).

Pasternak, T. et al. Protocol: an improved and universal procedure for whole-mount immunolocalization in plants. Plant Methods 11, 50 (2015).

Uhrig, R. G., She, Y. M., Leach, C. A. & Plaxton, W. C. Regulatory monoubiquitination of phosphoenolpyruvate carboxylase in germinating castor oil seeds. J. Biol. Chem. 283, 29650–29657 (2008).

Yoo, S. D., Cho, Y. H. & Sheen, J. Arabidopsis mesophyll protoplasts: a versatile cell system for transient gene expression analysis. Nat. Protoc. 2, 1565–1572 (2007).

Edgar, R. C. MUSCLE: multiple sequence alignment with high accuracy and high throughput. Nucleic Acids Res. 32, 1792–1797 (2004).

Ronquist, F. et al. MrBayes 3.2: efficient Bayesian phylogenetic inference and model choice across a large model space. Syst. Biol. 61, 539–542 (2012).

Martin M. Cutadapt removes adapter sequences from high-throughput sequencing reads. EMBnet J. 17, 10–12 (2011).

Cox, M. P., Peterson, D. A. & Biggs, P. J. SolexaQA: at-a-glance quality assessment of Illumina second-generation sequencing data. BMC Bioinformatics 11, 485 (2010).

Kim, D., Langmead, B. & Salzberg, S. L. HISAT: a fast spliced aligner with low memory requirements. Nat. Methods 12, 357–360 (2015).

Anders, S., Pyl, P. T. & Huber, W. HTSeq—a Python framework to work with high-throughput sequencing data. Bioinformatics 31, 166–169 (2015).

Robinson, M. D., McCarthy, D. J. & Smyth, G. K. edgeR: a Bioconductor package for differential expression analysis of digital gene expression data. Bioinformatics 26, 139–140 (2010).
Acknowledgements
We thank J. Sheen and Z. Yang for critical comments and suggestions; J. Du for providing the pDu vector. This work was supported by National Key R&D Program of China (2016YFA0503200) and National Natural Science Foundation of China (Grant 31422008), CAU State Key Laboratory of Plant Physiology and Biochemistry open funds, start-up funds from PSC and FAFU to T.X. and the European Union's Horizon 2020 program (ERC grant agreement no. 742985) to J.F.
Reviewer information
Nature thanks Dolf Weijers and the other anonymous reviewer(s) for their contribution to the peer review of this work.
Ethics declarations
Competing interests
The authors declare no competing interests.
Additional information
Publisher's note: Springer Nature remains neutral with regard to jurisdictional claims in published maps and institutional affiliations.
Extended data figures and tables
Supplementary information
About this article
Cite this article
Cao, M., Chen, R., Li, P. et al. TMK1-mediated auxin signalling regulates differential growth of the apical hook. Nature 568, 240–243 (2019). https://doi.org/10.1038/s41586-019-1069-7
Received:

Accepted:

Published:

Issue Date:

DOI: https://doi.org/10.1038/s41586-019-1069-7
Comments
By submitting a comment you agree to abide by our Terms and Community Guidelines. If you find something abusive or that does not comply with our terms or guidelines please flag it as inappropriate.