Abstract
Satiation is the process by which eating and drinking reduce appetite. For thirst, oropharyngeal cues have a critical role in driving satiation by reporting to the brain the volume of fluid that has been ingested1,2,3,4,5,6,7,8,9,10,11,12. By contrast, the mechanisms that relay the osmolarity of ingested fluids remain poorly understood. Here we show that the water and salt content of the gastrointestinal tract are precisely measured and then rapidly communicated to the brain to control drinking behaviour in mice. We demonstrate that this osmosensory signal is necessary and sufficient for satiation during normal drinking, involves the vagus nerve and is transmitted to key forebrain neurons that control thirst and vasopressin secretion. Using microendoscopic imaging, we show that individual neurons compute homeostatic need by integrating this gastrointestinal osmosensory information with oropharyngeal and blood-borne signals. These findings reveal how the fluid homeostasis system monitors the osmolarity of ingested fluids to dynamically control drinking behaviour.
Relevant articles
Open Access articles citing this article.
Ahmad Mayeli

,

Obada Al Zoubi

…

Sahib S. Khalsa

Nature Communications Open Access 13 June 2023

Mohamed Hassan Kamel

,

Ashish Upadhyay

&

Steven C. Borkan

Journal of Medical Case Reports Open Access 14 January 2023

James C. R. Grove

,

Lindsay A. Gray

…

Zachary A. Knight

Nature Open Access 13 July 2022
Access options
Access Nature and 54 other Nature Portfolio journals
Get Nature+, our best-value online-access subscription
$29.99 / 30 days
cancel any time
Subscribe to this journal
Receive 51 print issues and online access
$199.00 per year
only $3.90 per issue
Rent or buy this article
Prices vary by article type
from$1.95
to$39.95
Prices may be subject to local taxes which are calculated during checkout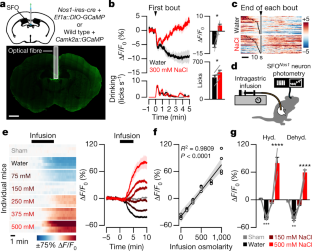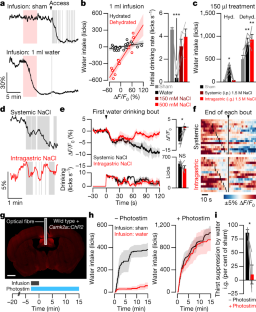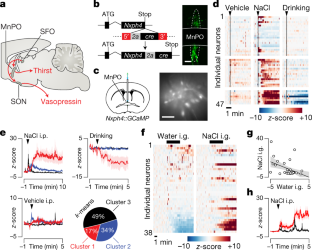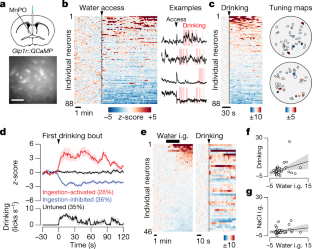 Data availability
Data that support the findings of this study are available upon reasonable request from the corresponding author.
Code availability
Custom MATLAB scripts that support the findings of this study are available upon reasonable request from the corresponding author.
References
Zimmerman, C. A., Leib, D. E. & Knight, Z. A. Neural circuits underlying thirst and fluid homeostasis. Nat. Rev. Neurosci. 18, 459–469 (2017).

Gizowski, C. & Bourque, C. W. The neural basis of homeostatic and anticipatory thirst. Nat. Rev. Nephrol. 14, 11–25 (2018).

Johnson, A. K. & Thunhorst, R. L. The neuroendocrinology of thirst and salt appetite: visceral sensory signals and mechanisms of central integration. Front. Neuroendocrinol. 18, 292–353 (1997).

McKinley, M. J. & Johnson, A. K. The physiological regulation of thirst and fluid intake. News Physiol. Sci. 19, 1–6 (2004).

Bellows, R. T. Time factors in water drinking in dogs. Am. J. Physiol. 125, 87–97 (1938).

Adolph, E. F., Barker, J. P. & Hoy, P. A. Multiple factors in thirst. Am. J. Physiol. 178, 538–562 (1954).

Thrasher, T. N., Nistal-Herrera, J. F., Keil, L. C. & Ramsay, D. J. Satiety and inhibition of vasopressin secretion after drinking in dehydrated dogs. Am. J. Physiol. Endocrinol. Metabol. 240, E394–E401 (1981).

Figaro, M. K. & Mack, G. W. Regulation of fluid intake in dehydrated humans: role of oropharyngeal stimulation. Am. J. Physiol. Regul. Integr. Comp. Physiol. 272, R1740–R1746 (1997).

Zimmerman, C. A. et al. Thirst neurons anticipate the homeostatic consequences of eating and drinking. Nature 537, 680–684 (2016).

Mandelblat-Cerf, Y. et al. Bidirectional anticipation of future osmotic challenges by vasopressin neurons. Neuron 93, 57–65 (2017).

Allen, W. E. et al. Thirst-associated preoptic neurons encode an aversive motivational drive. Science 357, 1149–1155 (2017).

Augustine, V. et al. Hierarchical neural architecture underlying thirst regulation. Nature 555, 204–209 (2018).

Weiner, I. H. & Stellar, E. Salt preference of the rat determined by a single-stimulus method. J. Comp. Physiol. Psychol. 44, 394–401 (1951).

Oka, Y., Butnaru, M., von Buchholtz, L., Ryba, N. J. P. & Zuker, C. S. High salt recruits aversive taste pathways. Nature 494, 472–475 (2013).

Maddison, S., Wood, R. J., Rolls, E. T., Rolls, B. J. & Gibbs, J. Drinking in the rhesus monkey: peripheral factors. J. Comp. Physiol. Psychol. 94, 365–374 (1980).

Baertschi, A. J. & Vallet, P. G. Osmosensitivity of the hepatic portal vein area and vasopressin release in rats. J. Physiol. (Lond.) 315, 217–230 (1981).

Stricker, E. M., Callahan, J. B., Huang, W. & Sved, A. F. Early osmoregulatory stimulation of neurohypophyseal hormone secretion and thirst after gastric NaCl loads. Am. J. Physiol. Regul. Integr. Comp. Physiol. 282, R1710–R1717 (2002).

Gunaydin, L. A. et al. Natural neural projection dynamics underlying social behavior. Cell 157, 1535–1551 (2014).

Oka, Y., Ye, M. & Zuker, C. S. Thirst driving and suppressing signals encoded by distinct neural populations in the brain. Nature 520, 349–352 (2015).

Betley, J. N. et al. Neurons for hunger and thirst transmit a negative-valence teaching signal. Nature 521, 180–185 (2015).

Ueno, A. et al. Mouse intragastric infusion (iG) model. Nat. Protocols 7, 771–781 (2012).

Andermann, M. L. & Lowell, B. B. Toward a wiring diagram understanding of appetite control. Neuron 95, 757–778 (2017).

Zhang, F. et al. Optogenetic interrogation of neural circuits: technology for probing mammalian brain structures. Nat. Protocols 5, 439–456 (2010).

Berthoud, H.-R. & Neuhuber, W. L. Functional and chemical anatomy of the afferent vagal system. Auton. Neurosci. 85, 1–17 (2000).

Vincent, J. D., Arnauld, E. & Bioulac, B. Activity of osmosensitive single cells in the hypothalamus of the behaving monkey during drinking. Brain Res. 44, 371–384 (1972).

Abbott, S. B. G., Machado, N. L. S., Geerling, J. C. & Saper, C. B. Reciprocal control of drinking behavior by median preoptic neurons in mice. J. Neurosci. 36, 8228–8237 (2016).

Leib, D. E. et al. The forebrain thirst circuit drives drinking through negative reinforcement. Neuron 96, 1272–1281 (2017).

McKinley, M. J. et al. The median preoptic nucleus: front and centre for the regulation of body fluid, sodium, temperature, sleep and cardiovascular homeostasis. Acta Physiol. (Oxf.) 214, 8–32 (2015).

Ghosh, K. K. et al. Miniaturized integration of a fluorescence microscope. Nat. Methods 8, 871–878 (2011).

Armbruster, B. N., Li, X., Pausch, M. H., Herlitze, S. & Roth, B. L. Evolving the lock to fit the key to create a family of G protein-coupled receptors potently activated by an inert ligand. Proc. Natl Acad. Sci. USA 104, 5163–5168 (2007).

Bernard, C. Leçons de Physiologie Expérimentale Appliquée à la Médecine (J.-B. Baillière et Fils, Paris, 1856).

Richter, C. P. Total self regulatory functions in animals and human beings. Harvey Lecture Series 38, 63–103 (1943).

Cannon, W. B. Organization for physiological homeostasis. Physiol. Rev. 9, 399–431 (1929).

Berridge, K. C. Motivation concepts in behavioral neuroscience. Physiol. Behav. 81, 179–209 (2004).

Paxinos, G. & Franklin, K. B. J. The Mouse Brain in Stereotaxic Coordinates 4 edn (Academic, London, UK, 2012).

Leshan, R. L., Greenwald-Yarnell, M., Patterson, C. M., Gonzalez, I. E. & Myers, M. G. J. Jr. Leptin action through hypothalamic nitric oxide synthase-1-expressing neurons controls energy balance. Nat. Med. 18, 820–823 (2012).

Harris, J. A. et al. Anatomical characterization of Cre driver mice for neural circuit mapping and manipulation. Front. Neural Circuits 8, 76 (2014).

Williams, E. K. et al. Sensory neurons that detect stretch and nutrients in the digestive system. Cell 166, 209–221 (2016).

Zhou, P. et al. Interrogating translational efficiency and lineage-specific transcriptomes using ribosome affinity purification. Proc. Natl Acad. Sci. USA 110, 15395–15400 (2013).

Daigle, T. L. et al. A suite of transgenic driver and reporter mouse lines with enhanced brain-cell-type targeting and functionality. Cell 174, 465–480 (2018).

Pogorzala, L. A., Mishra, S. K. & Hoon, M. A. The cellular code for mammalian thermosensation. J. Neurosci. 33, 5533–5541 (2013).

Yang, H. et al. One-step generation of mice carrying reporter and conditional alleles by CRISPR/Cas-mediated genome engineering. Cell 154, 1370–1379 (2013).

Yang, H., Wang, H. & Jaenisch, R. Generating genetically modified mice using CRISPR/Cas-mediated genome engineering. Nat. Protocols 9, 1956–1968 (2014).

Boyden, E. S., Zhang, F., Bamberg, E., Nagel, G. & Deisseroth, K. Millisecond-timescale, genetically targeted optical control of neural activity. Nat. Neurosci. 8, 1263–1268 (2005).

Berndt, A. et al. High-efficiency channelrhodopsins for fast neuronal stimulation at low light levels. Proc. Natl Acad. Sci. USA 108, 7595–7600 (2011).

Chen, T.-W. et al. Ultrasensitive fluorescent proteins for imaging neuronal activity. Nature 499, 295–300 (2013).

Beutler, L. R. et al. Dynamics of gut–brain communication underlying hunger. Neuron 96, 461–475 (2017).

Höber, R. & Höber, J. Experiments on the absorption of organic solutes in the small intestine of rats. J. Cell. Comp. Physiol. 10, 401–422 (1937).

Mordes, J. P., el Lozy, M., Herrera, M. G. & Silen, W. Effects of vagotomy with and without pyloroplasty on weight and food intake in rats. Am. J. Physiol. Regul. Integr. Comp. Physiol. 236, R61–R66 (1979).

Powley, T. L., Fox, E. A. & Berthoud, H. R. Retrograde tracer technique for assessment of selective and total subdiaphragmatic vagotomies. Am. J. Physiol. Regul. Integr. Comp. Physiol. 253, R361–R370 (1987).

Powley, T. L., Chi, M. M., Baronowsky, E. A. & Phillips, R. J. Gastrointestinal tract innervation of the mouse: afferent regeneration and meal patterning after vagotomy. Am. J. Physiol. Regul. Integr. Comp. Physiol. 289, R563–R574 (2005).

Resendez, S. L. et al. Visualization of cortical, subcortical and deep brain neural circuit dynamics during naturalistic mammalian behavior with head-mounted microscopes and chronically implanted lenses. Nat. Protocols 11, 566–597 (2016).

Zhou, P. et al. Efficient and accurate extraction of in vivo calcium signals from microendoscopic video data. eLife 7, e28728 (2018).

Sparta, D. R. et al. Construction of implantable optical fibers for long-term optogenetic manipulation of neural circuits. Nat. Protocols 7, 12–23 (2012).

Krashes, M. J. et al. Rapid, reversible activation of AgRP neurons drives feeding behavior in mice. J. Clin. Invest. 121, 1424–1428 (2011).

Roth, B. L. DREADDs for neuroscientists. Neuron 89, 683–694 (2016).

Saito, M. et al. Diphtheria toxin receptor-mediated conditional and targeted cell ablation in transgenic mice. Nat. Biotechnol. 19, 746–750 (2001).

Cavanaugh, D. J. et al. Trpv1 reporter mice reveal highly restricted brain distribution and functional expression in arteriolar smooth muscle cells. J. Neurosci. 31, 5067–5077 (2011).
Acknowledgements
We thank Inscopix and J. Parker for technical assistance, the René Remie Surgical Skills Center for surgical training, and members of the Knight laboratory for comments on the manuscript. C.A.Z. is supported by the NSF Graduate Research Fellowship (DGE-1144247), UCSF Discovery Fellowship, Genentech Foundation Predoctoral Fellowship, and NIH National Research Service Award (F31-HL137383). Z.A.K. is a Howard Hughes Medical Institute Investigator, and this work was supported by the New York Stem Cell Foundation, a Pathway Award from the American Diabetes Association, Rita Allen Foundation, McKnight Foundation, Alfred P. Sloan Foundation, Brain and Behavior Research Foundation, Esther A. and Joseph Klingenstein Foundation, UCSF Program for Breakthrough Biomedical Research, and the UCSF Nutrition Obesity Research Center (DK0908722). This work was also supported by an NIH New Innovator Award (DP2-DK109533), R01-DK106399, and R01-NS094781.
Reviewer information
Nature thanks C. Bourque, M. McKinley and the other anonymous reviewer(s) for their contribution to the peer review of this work.
Ethics declarations
Competing interests
The authors declare no competing interests.
Additional information
Publisher's note: Springer Nature remains neutral with regard to jurisdictional claims in published maps and institutional affiliations.
Extended data figures and tables
Supplementary information
About this article
Cite this article
Zimmerman, C.A., Huey, E.L., Ahn, J.S. et al. A gut-to-brain signal of fluid osmolarity controls thirst satiation. Nature 568, 98–102 (2019). https://doi.org/10.1038/s41586-019-1066-x
Received:

Accepted:

Published:

Issue Date:

DOI: https://doi.org/10.1038/s41586-019-1066-x
Comments
By submitting a comment you agree to abide by our Terms and Community Guidelines. If you find something abusive or that does not comply with our terms or guidelines please flag it as inappropriate.