Abstract
Pancreatic ductal adenocarcinoma (PDAC) remains recalcitrant to all forms of cancer treatment and carries a five-year survival rate of only 8%1. Inhibition of oncogenic KRAS (hereafter KRAS*), the earliest lesion in disease development that is present in more than 90% of PDACs, and its signalling surrogates has yielded encouraging preclinical results with experimental agents2,3,4. However, KRAS*-independent disease recurrence following genetic extinction of Kras* in mouse models anticipates the need for co-extinction strategies5,6. Multiple oncogenic processes are initiated at the cell surface, where KRAS* physically and functionally interacts to direct signalling that is essential for malignant transformation and tumour maintenance. Insights into the complexity of the functional cell-surface-protein repertoire (surfaceome) have been technologically limited until recently and—in the case of PDAC—the genetic control of the function and composition of the PDAC surfaceome in the context of KRAS* signalling remains largely unknown. Here we develop an unbiased, functional target-discovery platform to query KRAS*-dependent changes of the PDAC surfaceome, which reveals syndecan 1 (SDC1, also known as CD138) as a protein that is upregulated at the cell surface by KRAS*. Localization of SDC1 at the cell surface—where it regulates macropinocytosis, an essential metabolic pathway that fuels PDAC cell growth—is essential for disease maintenance and progression. Thus, our study forges a mechanistic link between KRAS* signalling and a targetable molecule driving nutrient salvage pathways in PDAC and validates oncogene-driven surfaceome annotation as a strategy to identify cancer-specific vulnerabilities.
Access options
Subscribe to Journal
Get full journal access for 1 year
$199.00
only $3.90 per issue
All prices are NET prices.
VAT will be added later in the checkout.
Rent or Buy article
Get time limited or full article access on ReadCube.
from$8.99
All prices are NET prices.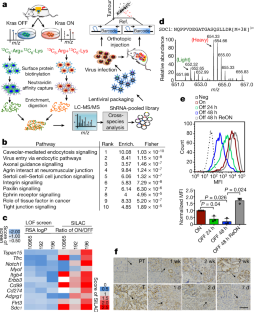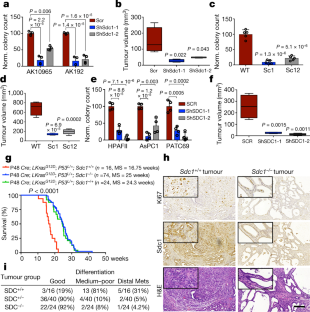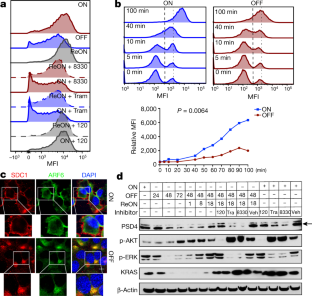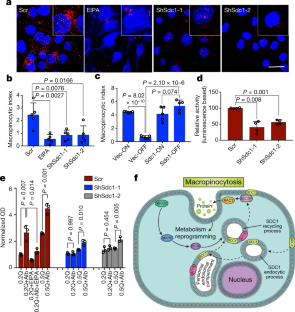 Data availability
All data are available from the corresponding author upon reasonable request.
Code availability
Code for screen hit analysis are available upon request from the authors.
References
1.

Siegel, R. L., Miller, K. D. & Jemal, A. Cancer statistics, 2017. CA Cancer J. Clin. 67, 7–30 (2017).

2.

Mann, K. M., Ying, H., Juan, J., Jenkins, N. A. & Copeland, N. G. KRAS-related proteins in pancreatic cancer. Pharmacol. Ther. 168, 29–42 (2016).

3.

Pettazzoni, P. et al. Genetic events that limit the efficacy of MEK and RTK inhibitor therapies in a mouse model of KRAS-driven pancreatic cancer. Cancer Res. 75, 1091–1101 (2015).

4.

Shimizu, T. et al. The clinical effect of the dual-targeting strategy involving PI3K/AKT/mTOR and RAS/MEK/ERK pathways in patients with advanced cancer. Clin. Cancer Res. 18, 2316–2325 (2012).

5.

Kapoor, A. et al. Yap1 activation enables bypass of oncogenic Kras addiction in pancreatic cancer. Cell 158, 185–197 (2014).

6.

Viale, A. et al. Oncogene ablation-resistant pancreatic cancer cells depend on mitochondrial function. Nature 514, 628–632 (2014).

7.

Ying, H. et al. Oncogenic Kras maintains pancreatic tumors through regulation of anabolic glucose metabolism. Cell 149, 656–670 (2012).

8.

da Cunha, J. P. et al. Bioinformatics construction of the human cell surfaceome. Proc. Natl Acad. Sci. USA 106, 16752–16757 (2009).

9.

Binder, J. X. et al. COMPARTMENTS: unification and visualization of protein subcellular localization evidence. Database 2014, bau012 (2014).

10.

Biankin, A. V. et al. Pancreatic cancer genomes reveal aberrations in axon guidance pathway genes. Nature 491, 399–405 (2012).

11.

Capello, M. et al. Carboxylesterase 2 as a determinant of response to irinotecan and neoadjuvant FOLFIRINOX therapy in pancreatic ductal adenocarcinoma. J. Natl. Cancer Inst. 107, djv132 (2015).

12.

Carugo, A. et al. In vivo functional platform targeting patient-derived xenografts identifies WDR5-Myc association as a critical determinant of pancreatic cancer. Cell Reports 16, 133–147 (2016).

13.

Alexander, C. M. et al. Syndecan-1 is required for Wnt-1-induced mammary tumorigenesis in mice. Nat. Genet. 25, 329–332 (2000).

14.

Subramanian, S. V., Fitzgerald, M. L. & Bernfield, M. Regulated shedding of syndecan-1 and -4 ectodomains by thrombin and growth factor receptor activation. J. Biol. Chem. 272, 14713–14720 (1997).

15.

Chen, K. & Williams, K. J. Molecular mediators for raft-dependent endocytosis of syndecan-1, a highly conserved, multifunctional receptor. J. Biol. Chem. 288, 13988–13999 (2013).

16.

Zimmermann, P. et al. Syndecan recycling is controlled by syntenin–PIP2 interaction and Arf6. Dev. Cell 9, 377–388 (2005).

17.

Robertson, S. E. et al. Extracellular signal-regulated kinase regulates clathrin-independent endosomal trafficking. Mol. Biol. Cell 17, 645–657 (2006).

18.

Honda, A. et al. Phosphatidylinositol 4-phosphate 5-kinase α is a downstream effector of the small G protein ARF6 in membrane ruffle formation. Cell 99, 521–532 (1999).

19.

Bar-Sagi, D. & Feramisco, J. R. Induction of membrane ruffling and fluid-phase pinocytosis in quiescent fibroblasts by ras proteins. Science 233, 1061–1068 (1986).

20.

Commisso, C. et al. Macropinocytosis of protein is an amino acid supply route in Ras-transformed cells. Nature 497, 633–637 (2013).

21.

Brown, F. D., Rozelle, A. L., Yin, H. L., Balla, T. & Donaldson, J. G. Phosphatidylinositol 4,5-bisphosphate and Arf6-regulated membrane traffic. J. Cell Biol. 154, 1007–1017 (2001).

22.

Radhakrishna, H., Klausner, R. D. & Donaldson, J. G. Aluminum fluoride stimulates surface protrusions in cells overexpressing the ARF6 GTPase. J. Cell Biol. 134, 935–947 (1996).

23.

Fujii, M., Kawai, K., Egami, Y. & Araki, N. Dissecting the roles of Rac1 activation and deactivation in macropinocytosis using microscopic photo-manipulation. Sci. Rep. 3, 2385 (2013).

24.

Su, G., Blaine, S. A., Qiao, D. & Friedl, A. Shedding of syndecan-1 by stromal fibroblasts stimulates human breast cancer cell proliferation via FGF2 activation. J. Biol. Chem. 282, 14906–14915 (2007).

25.

Langford, J. K., Yang, Y., Kieber-Emmons, T. & Sanderson, R. D. Identification of an invasion regulatory domain within the core protein of syndecan-1. J. Biol. Chem. 280, 3467–3473 (2005).

26.

Beekman, J. M. & Coffer, P. J. The ins and outs of syntenin, a multifunctional intracellular adaptor protein. J. Cell Sci. 121, 1349–1355 (2008).

27.

Taguchi, A. et al. Lung cancer signatures in plasma based on proteome profiling of mouse tumor models. Cancer Cell 20, 289–299 (2011).

28.

Aguirre, A. J. et al. Activated Kras and Ink4a/Arf deficiency cooperate to produce metastatic pancreatic ductal adenocarcinoma. Genes Dev. 17, 3112–3126 (2003).

29.

Burbach, B. J., Friedl, A., Mundhenke, C. & Rapraeger, A. C. Syndecan-1 accumulates in lysosomes of poorly differentiated breast carcinoma cells. Matrix Biol. 22, 163–177 (2003).

30.

Commisso, C., Flinn, R. J. & Bar-Sagi, D. Determining the macropinocytic index of cells through a quantitative image-based assay. Nat. Protoc. 9, 182–192 (2014).
Acknowledgements
We thank D. Bar-Sagi and C. Ramirez (New York University) for their suggestions and constructive feedback; R. Sanderson at University of Alabama for sharing SDC1 constructs; T. Tieu, M. Peoples, J. Ren and Q. Chang for technical assistance; D. Aten for help with the graphical abstract; and our colleagues at the Institute for Applied Cancer Science (IACS), the Flow Cytometry and Cellular Imaging Core, the Sequencing and Microarray Facility, the Department of Veterinary Medicine, Medical Graphics and Photography at The MD Anderson Cancer Center (MDACC) (Cancer Center Support Grant, CA016672). We thank all members of the laboratories of G.F.D., R.A.D., H.Y. and S.H. for discussions and reagents. The research was supported by the Odyssey Postdoctoral Fellowship at MDACC, the PanCAN-AACR Pathway to Leadership Grant (16-70-25-YAO) and 2017 Hirshberg foundation for pancreatic cancer research to W.Y.; Pancreatic Cancer Moon Shot Program at MDACC, CPRIT (RP160471), DOD (W81XWH-11-1-0418), and Harrington Discovery Institute Grant to G.F.D.; P01 Grant (P01CA117969 12, NIH) to H.W., A.M., R.A.D., G.F.D. and H.Y.
Reviewer information
Nature thanks Channing Der, Harald Alfred Stenmark and the other anonymous reviewer(s) for their contribution to the peer review of this work.
Ethics declarations
Competing interests
R.A.D. is a co-founder, advisor and director of Tvardi Therapeutics. G.F.D. reports personal fees from and stock ownership in Karyopharm Therapeutics, Forma Therapeutics, Metabomed, BiovelocITA, Nurix and Orionis Biosciences; and personal fees from Blueprint Medicines, Taiho Pharmaceutical, Symphogen and Helsinn Ventures.
Additional information
Publisher's note: Springer Nature remains neutral with regard to jurisdictional claims in published maps and institutional affiliations.
Extended data figures and tables
Supplementary information
This file contains Supplementary Tables 2-4 and Supplementary Figures 1-2.
This file contains Supplementary Tables 1-4.
About this article
Cite this article
Yao, W., Rose, J.L., Wang, W. et al. Syndecan 1 is a critical mediator of macropinocytosis in pancreatic cancer. Nature 568, 410–414 (2019). https://doi.org/10.1038/s41586-019-1062-1
Received:

Accepted:

Published:

Issue Date:
Comments
By submitting a comment you agree to abide by our Terms and Community Guidelines. If you find something abusive or that does not comply with our terms or guidelines please flag it as inappropriate.