Abstract
The internal vibrations of molecules drive the structural transformations that underpin chemistry and cellular function. While vibrational frequencies are measured by spectroscopy, the normal modes of motion are inferred through theory because their visualization would require microscopy with ångström-scale spatial resolution—nearly three orders of magnitude smaller than the diffraction limit in optics1. Using a metallic tip to focus light and taking advantage of the surface-enhanced Raman effect2 to amplify the signal from individual molecules, tip-enhanced Raman spectromicroscopy (TER-SM)3,4 reaches the requisite sub-molecular spatial resolution5, confirming that light can be confined in picocavities6,7,8,9,10 and anticipating the direct visualization of molecular vibrations11,12,13. Here, by using TER-SM at the precisely controllable junction of a cryogenic ultrahigh-vacuum scanning tunnelling microscope14,15,16, we show that ångström-scale resolution is attained at subatomic separation between the tip atom and a molecule in the quantum tunnelling regime of plasmons6,8,9,17. We record vibrational spectra within a single molecule, obtain images of normal modes and atomically parse the intramolecular charges and currents driven by vibrations. Our analysis provides a paradigm for optics in the atomistic near-field.
Access options
Subscribe to Journal
Get full journal access for 1 year
$199.00
only $3.90 per issue
All prices are NET prices.
VAT will be added later in the checkout.
Rent or Buy article
Get time limited or full article access on ReadCube.
from$8.99
All prices are NET prices.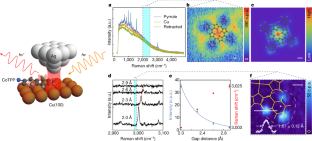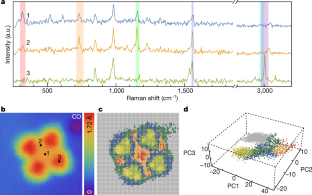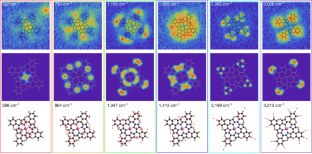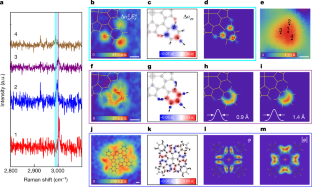 References
1.

Betzig, E. Nobel lecture: single molecules, cells, and super-resolution optics. Rev. Mod. Phys. 87, 1153–1168 (2015).

2.

Jeanmaire, D. L. & Van Duyne, R. P. Surface Raman spectroelectrochemistry: part I. Heterocyclic, aromatic, and aliphatic amines adsorbed on the anodized silver electrode. J. Electroanal. Chem. 84, 1–20 (1977).

3.

Jiang, N. et al. Tip-enhanced Raman spectroscopy: from concepts to practical applications. Chem. Phys. Lett. 659, 16–24 (2016).

4.

Stöckle, R. M., Suh, Y. D., Deckert, V. & Zenobi, R. Nanoscale chemical analysis by tip-enhanced Raman spectroscopy. Chem. Phys. Lett. 318, 131–136 (2000).

5.

Zhang, R. et al. Chemical mapping of a single molecule by plasmon-enhanced Raman scattering. Nature 498, 82–86 (2013).

6.

Zhang, P., Feist, J., Rubio, A., García-González, P. & García-Vidal, F. J. Ab initio nanoplasmonics: the impact of atomic structure. Phys. Rev. B 90, 161407 (2014).

7.

Trautmann, S. et al. A classical description of subnanometer resolution by atomic features in metallic structures. Nanoscale 9, 391–401 (2017).

8.

Urbieta, M. et al. Atomic-scale lightning rod effect in plasmonic picocavities: a classical view to a quantum effect. ACS Nano 12, 585–595 (2018).

9.

Chen, X. & Jensen, L. Morphology dependent near-field response in atomistic plasmonic nanocavities. Nanoscale 10, 11410–11417 (2018).

10.

Benz, F. et al. Single-molecule optomechanics in 'picocavities'. Science 354, 726–729 (2016).

11.

Duan, S. et al. Theoretical modeling of plasmon-enhanced Raman images of a single molecule with subnanometer resolution. J. Am. Chem. Soc. 137, 9515–9518 (2015).

12.

Duan, S., Tian, G. & Luo, Y. Visualization of vibrational modes in real space by tip-enhanced non-resonant Raman spectroscopy. Angew. Chem. Int. Ed. 55, 1041–1045 (2016).

13.

Liu, P., Chulhai, D. V. & Jensen, L. Single-molecule imaging using atomistic near-field tip-enhanced Raman spectroscopy. ACS Nano 11, 5094–5102 (2017).

14.

Pozzi, E. A. et al. Ultrahigh-vacuum tip-enhanced Raman spectroscopy. Chem. Rev. 117, 4961–4982 (2017).

15.

Steidtner, J. & Pettinger, B. Tip-enhanced Raman spectroscopy and microscopy on single dye molecules with 15 nm resolution. Phys. Rev. Lett. 100, 236101 (2008).

16.

Chiang, N. et al. Molecular-resolution interrogation of a porphyrin monolayer by ultrahigh vacuum tip-enhanced Raman and fluorescence spectroscopy. Nano Lett. 15, 4114–4120 (2015).

17.

Savage, K. J. et al. Revealing the quantum regime in tunnelling plasmonics. Nature 491, 574–577 (2012).

18.

Moskovits, M. Criterion for determining resolving power in the optical near field. J. Nanophotonics 11, 046018 (2017).

19.

Lee, J. et al. Tip-enhanced Raman spectromicroscopy of Co(ii)-tetraphenylporphyrin on Au(111): toward the chemists' microscope. ACS Nano 11, 11466–11474 (2017).

20.

Tallarida, N., Rios, L., Apkarian, V. A. & Lee, J. Isomerization of one molecule observed through tip-enhanced Raman spectroscopy. Nano Lett. 15, 6386–6394 (2015).

21.

Tallarida, N., Lee, J. & Apkarian, V. A. Tip-enhanced Raman spectromicroscopy on the angstrom scale: bare and CO-terminated Ag tips. ACS Nano 11, 11393–11401 (2017).

22.

Hugall, J. T. & Baumberg, J. J. Demonstrating photoluminescence from au is electronic inelastic light scattering of a plasmonic metal: the origin of SERS backgrounds. Nano Lett. 15, 2600–2604 (2015).

23.

Dey, S. et al. Observation and analysis of Fano-like lineshapes in the Raman spectra of molecules adsorbed at metal interfaces. Phys. Rev. B 93, 035411 (2016).

24.

Lee, J., Tallarida, N., Chen, X., Jensen, L. & Apkarian, V. A. Microscopy with a single-molecule scanning electrometer. Sci. Adv. 4, eaat5472 (2018).

25.

Le Ru, E. C. & Etchegoin, P. G. Rigorous justification of the |E|4 enhancement factor in surface enhanced Raman spectroscopy. Chem. Phys. Lett. 423, 63–66 (2006).

26.

Lee, J. et al. Orbiting orbitals: visualization of vibronic motion at a conical intersection. J. Phys. Chem. A 117, 11655–11664 (2013).

27.

Banik, M. et al. Surface-enhanced Raman trajectories on a nano-dumbbell: transition from field to charge transfer plasmons as the spheres fuse. ACS Nano 6, 10343–10354 (2012).

28.

Di Santo, G. et al. Conformational adaptation and electronic structure of 2H-tetraphenylporphyrin on Ag(111) during Fe metalation. J. Phys. Chem. C 115, 4155–4162 (2011).

29.

Smoluchowski, R. Anisotropy of the electronic work function of metals. Phys. Rev. 60, 661–674 (1941).

30.

Hirshfeld, F. L. Bonded-atom fragments for describing molecular charge densities. Theor. Chim. Acta 44, 129–138 (1977).

31.

Marenich, A. V., Cramer, C. J. & Truhlar, D. G. Reduced and quenched polarizabilities of interior atoms in molecules. Chem. Sci. 4, 2349–2356 (2013).

32.

Gough, K. M., Srivastava, H. K. & Belohorcová, K. Analysis of Raman trace scattering intensities in alkanes with the theory of atoms in molecules. J. Chem. Phys. 98, 9669–9677 (1993).

33.

Frisch, M. J. et al. Gaussian 09, Revision C.01 (Gaussian, Inc., Wallingford, 2010).
Acknowledgements
This research was supported by the NSF Center for Chemical Innovation dedicated to Chemistry at the Space-Time Limit (CHE-1414466). Theoretical calculations were performed on the UCI Greenplanet cluster system (CHE-0840513). We thank P. El-Khoury for advice on DFT calculations. We have benefited from discussions with L. Jensen, X. Chen and P. Liu.
Reviewer information
Nature thanks Eric Le Ru and the other anonymous reviewer(s) for their contribution to the peer review of this work.
Ethics declarations
Competing interests
The authors declare no competing interests.
Additional information
Publisher's note: Springer Nature remains neutral with regard to jurisdictional claims in published maps and institutional affiliations.
Extended data figures and tables
About this article
Cite this article
Lee, J., Crampton, K.T., Tallarida, N. et al. Visualizing vibrational normal modes of a single molecule with atomically confined light. Nature 568, 78–82 (2019). https://doi.org/10.1038/s41586-019-1059-9
Received:

Accepted:

Published:

Issue Date:
Comments
By submitting a comment you agree to abide by our Terms and Community Guidelines. If you find something abusive or that does not comply with our terms or guidelines please flag it as inappropriate.