Abstract
The genetic compensation response (GCR) has recently been proposed as a possible explanation for the phenotypic discrepancies between gene-knockout and gene-knockdown1,2; however, the underlying molecular mechanism of the GCR remains uncharacterized. Here, using zebrafish knockdown and knockout models of the capn3a and nid1a genes, we show that mRNA bearing a premature termination codon (PTC) promptly triggers a GCR that involves Upf3a and components of the COMPASS complex. Unlike capn3a-knockdown embryos, which have small livers, and nid1a-knockdown embryos, which have short body lengths2, capn3a-null and nid1a-null mutants appear normal. These phenotypic differences have been attributed to the upregulation of other genes in the same families. By analysing six uniquely designed transgenes, we demonstrate that the GCR is dependent on both the presence of a PTC and the nucleotide sequence of the transgene mRNA, which is homologous to the compensatory endogenous genes. We show that upf3a (a member of the nonsense-mediated mRNA decay pathway) and components of the COMPASS complex including wdr5 function in GCR. Furthermore, we demonstrate that the GCR is accompanied by an enhancement of histone H3 Lys4 trimethylation (H3K4me3) at the transcription start site regions of the compensatory genes. These findings provide a potential mechanistic basis for the GCR, and may help lead to the development of therapeutic strategies that treat missense mutations associated with genetic disorders by either creating a PTC in the mutated gene or introducing a transgene containing a PTC to trigger a GCR.
Access options
Subscribe to Journal
Get full journal access for 1 year
$199.00
only $3.90 per issue
All prices are NET prices.
VAT will be added later in the checkout.
Rent or Buy article
Get time limited or full article access on ReadCube.
from$8.99
All prices are NET prices.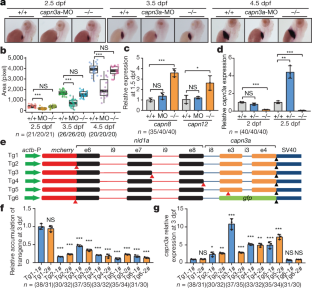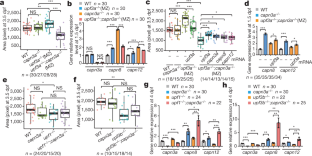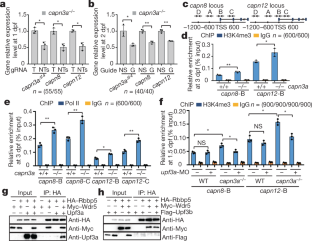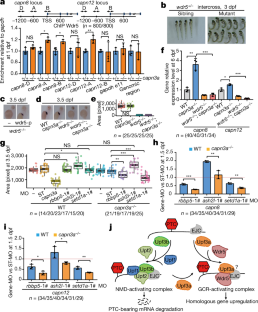 Data availability
The authors declare that all data supporting the findings of this study are available within the article, its Extended Data or from the corresponding author upon reasonable request. All zebrafish mutants, transgenic lines and plasmid constructs generated in this study are readily available from the authors.
References
1.

Rossi, A. et al. Genetic compensation induced by deleterious mutations but not gene knockdowns. Nature 524, 230–233 (2015).

2.

Zhu, P. et al. Short body length phenotype is compensated by the upregulation of nidogen family members in a deleterious nid1a mutation of zebrafish. J. Genet. Genomics 44, 553–556 (2017).

3.

Barabási, A. L. & Oltvai, Z. N. Network biology: understanding the cell's functional organization. Nat. Rev. Genet. 5, 101–113 (2004).

4.

De Souza, A. T. et al. Transcriptional and phenotypic comparisons of Ppara knockout and siRNA knockdown mice. Nucleic Acids Res. 34, 4486–4494 (2006).

5.

Gao, Y. et al. Auxin binding protein 1 (ABP1) is not required for either auxin signaling or Arabidopsis development. Proc. Natl Acad. Sci. USA 112, 2275–2280 (2015).

6.

Stalder, L. & Mühlemann, O. Transcriptional silencing of nonsense codon-containing immunoglobulin micro genes requires translation of its mRNA. J. Biol. Chem. 282, 16079–16085 (2007).

7.

Bühler, M., Mohn, F., Stalder, L. & Mühlemann, O. Transcriptional silencing of nonsense codon-containing immunoglobulin minigenes. Mol. Cell 18, 307–317 (2005).

8.

Schuermann, A., Helker, C. S. & Herzog, W. Metallothionein 2 regulates endothelial cell migration through transcriptional regulation of vegfc expression. Angiogenesis 18, 463–475 (2015).

9.

Chang, Y. F., Imam, J. S. & Wilkinson, M. F. The nonsense-mediated decay RNA surveillance pathway. Annu. Rev. Biochem. 76, 51–74 (2007).

10.

Lykke-Andersen, J., Shu, M. D. & Steitz, J. A. Human Upf proteins target an mRNA for nonsense-mediated decay when bound downstream of a termination codon. Cell 103, 1121–1131 (2000).

11.

Kunz, J. B., Neu-Yilik, G., Hentze, M. W., Kulozik, A. E. & Gehring, N. H. Functions of hUpf3a and hUpf3b in nonsense-mediated mRNA decay and translation. RNA 12, 1015–1022 (2006).

12.

Kim, V. N., Kataoka, N. & Dreyfuss, G. Role of the nonsense-mediated decay factor hUpf3 in the splicing-dependent exon-exon junction complex. Science 293, 1832–1836 (2001).

13.

Chan, W. K. et al. A UPF3-mediated regulatory switch that maintains RNA surveillance. Nat. Struct. Mol. Biol. 16, 747–753 (2009).

14.

Shum, E. Y. et al. The antagonistic gene paralogs Upf3a and Upf3b govern nonsense-mediated RNA decay. Cell 165, 382–395 (2016).

15.

Abudayyeh, O. O. et al. RNA targeting with CRISPR–Cas13. Nature 550, 280–284 (2017).

16.

Wang, K. C. et al. A long noncoding RNA maintains active chromatin to coordinate homeotic gene expression. Nature 472, 120–124 (2011).

17.

Gomez, J. A. et al. The NeST long ncRNA controls microbial susceptibility and epigenetic activation of the interferon-γ locus. Cell 152, 743–754 (2013).

18.

Vastenhouw, N. L. et al. Chromatin signature of embryonic pluripotency is established during genome activation. Nature 464, 922–926 (2010).

19.

Haberle, V. et al. Two independent transcription initiation codes overlap on vertebrate core promoters. Nature 507, 381–385 (2014).

20.

Shilatifard, A. The COMPASS family of histone H3K4 methylases: mechanisms of regulation in development and disease pathogenesis. Annu. Rev. Biochem. 81, 65–95 (2012).

21.

Wu, M. et al. Molecular regulation of H3K4 trimethylation by Wdr82, a component of human Set1/COMPASS. Mol. Cell. Biol. 28, 7337–7344 (2008).

22.

Wang, P. et al. Global analysis of H3K4 methylation defines MLL family member targets and points to a role for MLL1-mediated H3K4 methylation in the regulation of transcriptional initiation by RNA polymerase II. Mol. Cell. Biol. 29, 6074–6085 (2009).

23.

Hu, D. et al. The Mll2 branch of the COMPASS family regulates bivalent promoters in mouse embryonic stem cells. Nat. Struct. Mol. Biol. 20, 1093–1097 (2013).

24.

Hu, D. et al. Not all H3K4 methylations are created equal: Mll2/COMPASS dependency in primordial germ cell specification. Mol. Cell 65, 460–475.e466 (2017).

25.

Tao, T. et al. Def defines a conserved nucleolar pathway that leads p53 to proteasome-independent degradation. Cell Res. 23, 620–634 (2013).

26.

Wittkopp, N. et al. Nonsense-mediated mRNA decay effectors are essential for zebrafish embryonic development and survival. Mol. Cell. Biol. 29, 3517–3528 (2009).

27.

Huang, H. T. et al. A network of epigenetic regulators guides developmental haematopoiesis in vivo. Nat. Cell Biol. 15, 1516–1525 (2013).

28.

Chen, J. et al. Loss of function of def selectively up-regulates Δ113p53 expression to arrest expansion growth of digestive organs in zebrafish. Genes Dev. 19, 2900–2911 (2005).

29.

Chang, C. et al. liver-enriched gene 1a and 1b encode novel secretory proteins essential for normal liver development in zebrafish. PLoS One 6, e22910 (2011).

30.

Bogdanović, O., Fernández-Miñán, A., Tena, J. J., de la Calle-Mustienes, E. & Gómez-Skarmeta, J. L. The developmental epigenomics toolbox: ChIP-seq and MethylCap-seq profiling of early zebrafish embryos. Methods 62, 207–215 (2013).
Acknowledgements
We thank X. Feng and W. Shou for reading the manuscript; and C. Wood for language editing. This work was supported by the National Key R&D Program of China (2017YFA0504501, 2015CB942802), the National Natural Science Foundation of China (31571511 and 31871500) and the Fundamental Research Funds for the Central Universities.
Reviewer information
Nature thanks Ferenc Müller, Ulf Ørom and Miles Wilkinson for their contribution to the peer review of this work.
Ethics declarations
Competing interests
The authors declare no competing interests.
Additional information
Publisher's note: Springer Nature remains neutral with regard to jurisdictional claims in published maps and institutional affiliations.
Extended data figures and tables
Supplementary information
This file contains Supplementary Figures which show source gel data scans and a Supplementary Table. A detailed guide of the figures and table is provided in a separate supplementary file.
This file contains a detailed guide for Supplementary Figures 1 and 2, and Supplementary Table 1.
About this article
Cite this article
Ma, Z., Zhu, P., Shi, H. et al. PTC-bearing mRNA elicits a genetic compensation response via Upf3a and COMPASS components. Nature 568, 259–263 (2019). https://doi.org/10.1038/s41586-019-1057-y
Received:

Accepted:

Published:

Issue Date:
Comments
By submitting a comment you agree to abide by our Terms and Community Guidelines. If you find something abusive or that does not comply with our terms or guidelines please flag it as inappropriate.