Abstract
Chimeric antigen receptors (CARs) are synthetic antigen receptors that reprogram T cell specificity, function and persistence1. Patient-derived CAR T cells have demonstrated remarkable efficacy against a range of B-cell malignancies1,2,3, and the results of early clinical trials suggest activity in multiple myeloma4. Despite high complete response rates, relapses occur in a large fraction of patients; some of these are antigen-negative and others are antigen-low1,2,4,5,6,7,8,9. Unlike the mechanisms that result in complete and permanent antigen loss6,8,9, those that lead to escape of antigen-low tumours remain unclear. Here, using mouse models of leukaemia, we show that CARs provoke reversible antigen loss through trogocytosis, an active process in which the target antigen is transferred to T cells, thereby decreasing target density on tumour cells and abating T cell activity by promoting fratricide T cell killing and T cell exhaustion. These mechanisms affect both CD28- and 4-1BB-based CARs, albeit differentially, depending on antigen density. These dynamic features can be offset by cooperative killing and combinatorial targeting to augment tumour responses to immunotherapy.
Access options
Subscribe to Journal
Get full journal access for 1 year
$199.00
only $3.90 per issue
All prices are NET prices.
VAT will be added later in the checkout.
Rent or Buy article
Get time limited or full article access on ReadCube.
from$8.99
All prices are NET prices.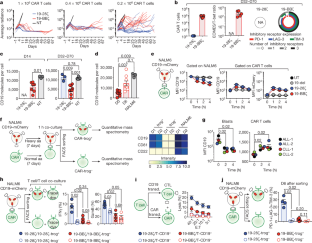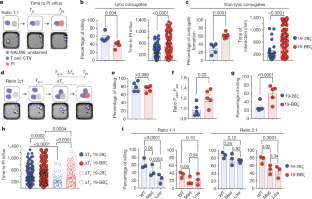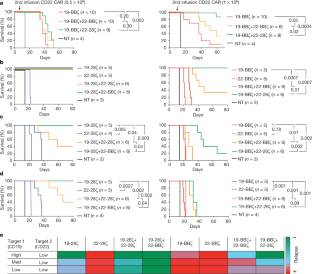 Data availability
All in vivo data can be found in the Source Data. The RNA-sequencing data are available from Gene Expression Omnibus (GEO) under accession number GSE126753. The proteomics data are available from PRIDE database under accession number PXD012833. Other data generated for this manuscript are available from the corresponding author upon reasonable request.
References
1.

Sadelain, M., Rivière, I. & Riddell, S. Therapeutic T cell engineering. Nature 545, 423–431 (2017).

2.

June, C. H. & Sadelain, M. Chimeric antigen receptor therapy. N. Engl. J. Med. 379, 64–73 (2018).

3.

Brudno, J. N. & Kochenderfer, J. N. Chimeric antigen receptor T-cell therapies for lymphoma. Nat. Rev. Clin. Oncol. 15, 31–46 (2018).

4.

Brudno, J. N. et al. T cells genetically modified to express an anti-B-cell maturation antigen chimeric antigen receptor cause remissions of poor-prognosis relapsed multiple myeloma. J. Clin. Oncol. 36, 2267–2280 (2018).

5.

Majzner, R. G. & Mackall, C. L. Tumor antigen escape from CAR T-cell therapy. Cancer Discov. 8, 1219–1226 (2018).

6.

Sotillo, E. et al. Convergence of acquired mutations and alternative splicing of CD19 enables resistance to CART-19 immunotherapy. Cancer Discov. 5, 1282–1295 (2015).

7.

Fry, T. J. et al. CD22-targeted CAR T cells induce remission in B-ALL that is naive or resistant to CD19-targeted CAR immunotherapy. Nat. Med. 24, 20–28 (2018).

8.

Gardner, R. et al. Acquisition of a CD19-negative myeloid phenotype allows immune escape of MLL-rearranged B-ALL from CD19 CAR-T-cell therapy. Blood 127, 2406–2410 (2016).

9.

Orlando, E. J. et al. Genetic mechanisms of target antigen loss in CAR19 therapy of acute lymphoblastic leukemia. Nat. Med. 24, 1504–1506 (2018).

10.

Brentjens, R. J. et al. Eradication of systemic B-cell tumors by genetically targeted human T lymphocytes co-stimulated by CD80 and interleukin-15. Nat. Med. 9, 279–286 (2003).

11.

Barrett, D. M. et al. Noninvasive bioluminescent imaging of primary patient acute lymphoblastic leukemia: a strategy for preclinical modeling. Blood 118, e112–e117 (2011).

12.

Zhao, Z. et al. Structural design of engineered costimulation determines tumor rejection kinetics and persistence of CAR T cells. Cancer Cell 28, 415–428 (2015).

13.

Lee, D. W. et al. T cells expressing CD19 chimeric antigen receptors for acute lymphoblastic leukaemia in children and young adults: a phase 1 dose-escalation trial. Lancet 385, 517–528 (2015).

14.

Maude, S. L. et al. Tisagenlecleucel in children and young adults with B-cell lymphoblastic leukemia. N. Engl. J. Med. 378, 439–448 (2018).

15.

Turtle, C. J. et al. CD19 CAR-T cells of defined CD4+:CD8+ composition in adult B cell ALL patients. J. Clin. Invest. 126, 2123–2138 (2016).

16.

Park, J. H. et al. Long-term follow-up of CD19 CAR therapy in acute lymphoblastic leukemia. N. Engl. J. Med. 378, 449–459 (2018).

17.

Martínez-Martín, N. et al. T cell receptor internalization from the immunological synapse is mediated by TC21 and RhoG GTPase-dependent phagocytosis. Immunity 35, 208–222 (2011).

18.

Priceman, S. J. et al. Co-stimulatory signaling determines tumor antigen sensitivity and persistence of CAR T cells targeting PSCA+ metastatic prostate cancer. OncoImmunology 7, e1380764 (2017).

19.

Halle, S. et al. In vivo killing capacity of cytotoxic T cells is limited and involves dynamic interactions and t cell cooperativity. Immunity 44, 233–245 (2016).

20.

Adusumilli, P. S. et al. Regional delivery of mesothelin-targeted CAR T cell therapy generates potent and long-lasting CD4-dependent tumor immunity. Sci. Transl. Med. 6, 261ra151 (2014).

21.

Eyquem, J. et al. Targeting a CAR to the TRAC locus with CRISPR/Cas9 enhances tumour rejection. Nature 543, 113–117 (2017).

22.

Brentjens, R. J. et al. Safety and persistence of adoptively transferred autologous CD19-targeted T cells in patients with relapsed or chemotherapy refractory B-cell leukemias. Blood 118, 4817–4828 (2011).

23.

Le Floc'h, A. et al. Annular PIP3 accumulation controls actin architecture and modulates cytotoxicity at the immunological synapse. J. Exp. Med. 210, 2721–2737 (2013).
Acknowledgements
We thank R. Soni, B. Sénéchal, B. J. Safford, P. Vedantam, F. Tamzalit and G. Gunset for logistical and technical assistance. We also thank the SKI Cell Therapy and Cell Engineering, Molecular Cytology, Flow Cytometry, Integrated Genomics Operation, Microchemistry and Proteomics, Antitumor Assessment and Animal Core Facilities for their expert assistance. This work was supported by the Lake Road Foundation, the Lymphoma and Leukaemia Society, the Pasteur-Weizmann/Servier award and the NCI Cancer Center Support Grant P30 CA008748. SKI cores were in part supported by the Tow Foundation, Cycle for Survival, the Marie-Josée and Henry R. Kravis Center for Molecular Oncology and NCI grant P30 CA08748. A.D. and T.G. were supported by fellowships from The Canadian Institutes of Health Research and the Alexander S. Onassis Public Benefit Foundation, respectively.
Reviewer information
Nature thanks Wolfgang Schamel and the other anonymous reviewer(s) for their contribution to the peer review of this work.
Ethics declarations
Competing interests
Memorial Sloan Kettering has submitted patent applications based in part on results presented in this manuscript (PCT/US18/68134, which has been licensed to several companies; M. Hamieh, J.M.-S. and M.S. are listed among the inventors; US provisional application no. 62/807,181; M. Hamieh and M.S. are listed among the inventors). R.C.H. reports stock ownership in Merck. I.R. and M.S. report research funding from Juno Therapeutics, Fate Therapeutics, Takeda Pharmaceuticals and Atara Biotherapeutics. I.R. serves on the scientific advisory board of Flow Design and M.S. on those of Berkeley Lights and St Jude Children Research Hospital.
Additional information
Publisher's note: Springer Nature remains neutral with regard to jurisdictional claims in published maps and institutional affiliations.
Extended data figures and tables
Supplementary information
About this article
Cite this article
Hamieh, M., Dobrin, A., Cabriolu, A. et al. CAR T cell trogocytosis and cooperative killing regulate tumour antigen escape. Nature 568, 112–116 (2019). https://doi.org/10.1038/s41586-019-1054-1
Received:

Accepted:

Published:

Issue Date:
Comments
By submitting a comment you agree to abide by our Terms and Community Guidelines. If you find something abusive or that does not comply with our terms or guidelines please flag it as inappropriate.