Abstract
The non-canonical NF-κB signalling cascade is essential for lymphoid organogenesis, B cell maturation, osteoclast differentiation, and inflammation in mammals1,2; dysfunction of this system is associated with human diseases, including immunological disorders and cancer3,4,5,6. Although expression of NF-κB-inducing kinase (NIK, also known as MAP3K14) is the rate-limiting step in non-canonical NF-κB pathway activation2,7, the mechanisms by which transcriptional responses are regulated remain largely unknown. Here we show that the sine oculis homeobox (SIX) homologue family transcription factors SIX1 and SIX2 are integral components of the non-canonical NF-κB signalling cascade. The developmentally silenced SIX proteins are reactivated in differentiated macrophages by NIK-mediated suppression of the ubiquitin proteasome pathway. Consequently, SIX1 and SIX2 target a subset of inflammatory gene promoters and directly inhibit the trans-activation function of the transcription factors RELA and RELB in a negative feedback circuit. In support of a physiologically pivotal role for SIX proteins in host immunity, a human SIX1 transgene suppressed inflammation and promoted the recovery of mice from endotoxic shock. In addition, SIX1 and SIX2 protected RAS/P53-driven non-small-cell lung carcinomas from inflammatory cell death induced by SMAC-mimetic chemotherapeutic agents (small-molecule activators of the non-canonical NF-κB pathway). Our findings identify a NIK–SIX signalling axis that fine-tunes inflammatory gene expression programs under both physiological and pathological conditions.
Access options
Subscribe to Journal
Get full journal access for 1 year
$199.00
only $3.90 per issue
All prices are NET prices.
VAT will be added later in the checkout.
Rent or Buy article
Get time limited or full article access on ReadCube.
from$8.99
All prices are NET prices.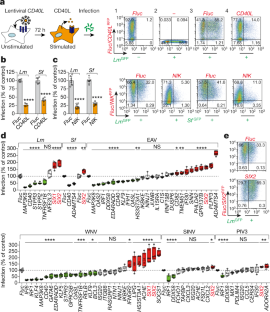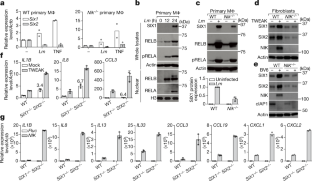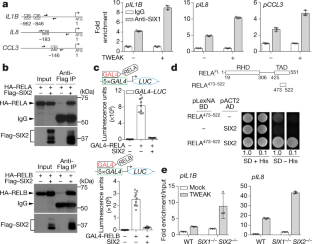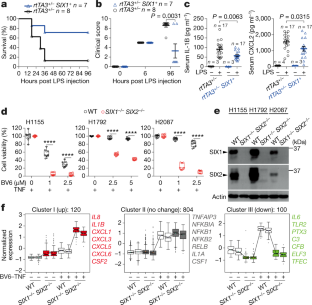 Data availability
All data generated during this study that support the findings are included in the manuscript or in its Source Data and Supplementary Information. All materials are available from authors upon reasonable request. The RNA-seq data associated with Fig. 4f and Extended Data Figs. 2b, 4g have been deposited in Gene Expression Omnibus (GEO) at NCBI (accession code: GSE126535)
References
1.

Cildir, G., Low, K. C. & Tergaonkar, V. Noncanonical NF-κB signaling in health and disease. Trends Mol. Med. 22, 414–429 (2016).

2.

Sun, S. C. The non-canonical NF-κB pathway in immunity and inflammation. Nat. Rev. Immunol. 17, 545–558 (2017).

3.

Shinkura, R. et al. Alymphoplasia is caused by a point mutation in the mouse gene encoding Nf-κb-inducing kinase. Nat. Genet. 22, 74–77 (1999).

4.

Annunziata, C. M. et al. Frequent engagement of the classical and alternative NF-κB pathways by diverse genetic abnormalities in multiple myeloma. Cancer Cell 12, 115–130 (2007).

5.

Keats, J. J. et al. Promiscuous mutations activate the noncanonical NF-κB pathway in multiple myeloma. Cancer Cell 12, 131–144 (2007).

6.

Rosebeck, S. et al. Cleavage of NIK by the API2–MALT1 fusion oncoprotein leads to noncanonical NF-κB activation. Science 331, 468–472 (2011).

7.

Xiao, G., Harhaj, E. W. & Sun, S. C. NF-κB-inducing kinase regulates the processing of NF-κB2 p100. Mol. Cell 7, 401–409 (2001).

8.

Coope, H. J. et al. CD40 regulates the processing of NF-κB2 p100 to p52. EMBO J. 21, 5375–5385 (2002).

9.

Schoggins, J. W. et al. Pan-viral specificity of IFN-induced genes reveals new roles for cGAS in innate immunity. Nature 505, 691–695 (2014).

10.

Silver, S. J. & Rebay, I. Signaling circuitries in development: insights from the retinal determination gene network. Development 132, 3–13 (2005).

11.

Ford, H. L., Kabingu, E. N., Bump, E. A., Mutter, G. L. & Pardee, A. B. Abrogation of the G2 cell cycle checkpoint associated with overexpression of HSIX1: a possible mechanism of breast carcinogenesis. Proc. Natl Acad. Sci. USA 95, 12608–12613 (1998).

12.

Vince, J. E. et al. TWEAK-FN14 signaling induces lysosomal degradation of a cIAP1–TRAF2 complex to sensitize tumor cells to TNFα. J. Cell Biol. 182, 171–184 (2008).

13.

Varfolomeev, E. et al. IAP antagonists induce autoubiquitination of c-IAPs, NF-κB activation, and TNFα-dependent apoptosis. Cell 131, 669–681 (2007).

14.

Vince, J. E. et al. IAP antagonists target cIAP1 to induce TNFα-dependent apoptosis. Cell 131, 682–693 (2007).

15.

Kim, J. Y. et al. TNFα induced noncanonical NF-κB activation is attenuated by RIP1 through stabilization of TRAF2. J. Cell Sci. 124, 647–656 (2011).

16.

Christensen, K. L., Brennan, J. D., Aldridge, C. S. & Ford, H. L. Cell cycle regulation of the human Six1 homeoprotein is mediated by APCCdh1. Oncogene 26, 3406–3414 (2007).

17.

Li, X. et al. Eya protein phosphatase activity regulates Six1–Dach–Eya transcriptional effects in mammalian organogenesis. Nature 426, 247–254 (2003).

18.

Patrick, A. N. et al. Structure-function analyses of the human SIX1–EYA2 complex reveal insights into metastasis and BOR syndrome. Nat. Struct. Mol. Biol. 20, 447–453 (2013).

19.

Brown, K., Gerstberger, S., Carlson, L., Franzoso, G. & Siebenlist, U. Control of I kappa B-alpha proteolysis by site-specific, signal-induced phosphorylation. Science 267, 1485–1488 (1995).

20.

Wertz, I. E. et al. De-ubiquitination and ubiquitin ligase domains of A20 downregulate NF-κB signalling. Nature 430, 694–699 (2004).

21.

Chew, J. et al. WIP1 phosphatase is a negative regulator of NF-κB signalling. Nat. Cell Biol. 11, 659–666 (2009).

22.

Liu, B. et al. Negative regulation of NF-κB signaling by PIAS1. Mol. Cell. Biol. 25, 1113–1123 (2005).

23.

Šošić, D., Richardson, J. A., Yu, K., Ornitz, D. M. & Olson, E. N. Twist regulates cytokine gene expression through a negative feedback loop that represses NF-κB activity. Cell 112, 169–180 (2003).

24.

Barboric, M., Nissen, R. M., Kanazawa, S., Jabrane-Ferrat, N. & Peterlin, B. M. NF-κB binds P-TEFb to stimulate transcriptional elongation by RNA polymerase II. Mol. Cell 8, 327–337 (2001).

25.

McCoy, E. L. et al. Six1 expands the mouse mammary epithelial stem/progenitor cell pool and induces mammary tumors that undergo epithelial-mesenchymal transition. J. Clin. Invest. 119, 2663–2677 (2009).

26.

Li, L. et al. A small molecule Smac mimic potentiates TRAIL- and TNFα-mediated cell death. Science 305, 1471–1474 (2004).

27.

Petersen, S. L. et al. Autocrine TNFα signaling renders human cancer cells susceptible to Smac-mimetic-induced apoptosis. Cancer Cell 12, 445–456 (2007).

28.

Cheung, H. H. et al. SMG1 and NIK regulate apoptosis induced by Smac mimetic compounds. Cell Death Dis. 2, e146 (2011).

29.

Cheung, H. H., Mahoney, D. J., Lacasse, E. C. & Korneluk, R. G. Down-regulation of c-FLIP enhances death of cancer cells by Smac mimetic compound. Cancer Res. 69, 7729–7738 (2009).

30.

Fulda, S. & Vucic, D. Targeting IAP proteins for therapeutic intervention in cancer. Nat. Rev. Drug Discov. 11, 109–124 (2012).

31.

Schoggins, J. W. et al. A diverse range of gene products are effectors of the type I interferon antiviral response. Nature 472, 481–485 (2011).

32.

Malinin, N. L., Boldin, M. P., Kovalenko, A. V. & Wallach, D. MAP3K-related kinase involved in NF-κB induction by TNF, CD95 and IL-1. Nature 385, 540–544 (1997).

33.

Yin, L. et al. Defective lymphotoxin-β receptor-induced NF-κB transcriptional activity in NIK-deficient mice. Science 291, 2162–2165 (2001).

34.

Zhang, X., Goncalves, R. & Mosser, D. M. The isolation and characterization of murine macrophages. Curr. Protoc. Immunol. 83, 14.1.1–14.1.14 (2008).

35.

Sanjana, N. E., Shalem, O. & Zhang, F. Improved vectors and genome-wide libraries for CRISPR screening. Nat. Methods 11, 783–784 (2014).

36.

Tetsuka, T. et al. Inhibition of nuclear factor-κB-mediated transcription by association with the amino-terminal enhancer of split, a Groucho-related protein lacking WD40 repeats. J. Biol. Chem. 275, 4383–4390 (2000).

37.

Perelman, S. S. et al. Cell-based screen identifies human interferon-stimulated regulators of Listeria monocytogenes infection. PLoS Pathog. 12, e1006102 (2016).

38.

Trapnell, C. et al. Differential gene and transcript expression analysis of RNA-seq experiments with TopHat and Cufflinks. Nat. Protoc. 7, 562–578 (2012).

39.

Aronesty, E. Comparison of sequencing utility programs. Open Bioinform. J. 7, 1–8 (2013).

40.

Kim, D. et al. TopHat2: accurate alignment of transcriptomes in the presence of insertions, deletions and gene fusions. Genome Biol. 14, R36 (2013).

41.

Liao, Y., Smyth, G. K. & Shi, W. featureCounts: an efficient general purpose program for assigning sequence reads to genomic features. Bioinformatics 30, 923–930 (2014).

42.

Robinson, M. D., McCarthy, D. J. & Smyth, G. K. edgeR: a Bioconductor package for differential expression analysis of digital gene expression data. Bioinformatics 26, 139–140 (2010).

43.

Cormier, C. Y. et al. Protein Structure Initiative Material Repository: an open shared public resource of structural genomics plasmids for the biological community. Nucleic Acids Res. 38, D743–D749 (2010).

44.

Dittmann, M. et al. A serpin shapes the extracellular environment to prevent influenza A virus maturation. Cell 160, 631–643 (2015).

45.

Bhattacharyya, S., Borthakur, A., Dudeja, P. K. & Tobacman, J. K. Lipopolysaccharide-induced activation of NF-κB non-canonical pathway requires BCL10 serine 138 and NIK phosphorylations. Exp. Cell Res. 316, 3317–3327 (2010).

46.

Kumar, J. P. The sine oculis homeobox (SIX) family of transcription factors as regulators of development and disease. Cell. Mol. Life Sci. 66, 565–583 (2009).
Acknowledgements
We thank H. Ford (University of Colorado) for the Tet-on HA-SIX1 transgenic embryos and for discussion in preparation of the manuscript; the UT Southwestern Medical Center transgenic core for reviving the frozen embryos; J. Minna (UTSW) for NSCLCs; and V. Tagliabracci, J. Mendell, D. Pan, I. D'Orso, N. Conrad, R. Brekken and members of the Alto Laboratory for discussions. This research was supported by grants from the National Institutes of Health (AI083359 to N.M.A., AI117922 to J.W.S., and 5K12 HD068369-09 to N.W.H.) and the Children's Medical Center Foundation (N.W.H.), and grants to N.M.A. from the Welch Foundation (I-1731), The Burroughs Welcome Fund, and the Howard Hughes Medical Institute and Simons Foundation Faculty Scholars Program.
Reviewer information
Nature thanks Claus Scheidereit and the other anonymous reviewer(s) for their contribution to the peer review of this work.
Ethics declarations
Competing interests
The authors declare no competing interests.
Additional information
Publisher's note: Springer Nature remains neutral with regard to jurisdictional claims in published maps and institutional affiliations.
Extended data figures and tables
Supplementary information
About this article
Cite this article
Liu, Z., Mar, K.B., Hanners, N.W. et al. A NIK–SIX signalling axis controls inflammation by targeted silencing of non-canonical NF-κB. Nature 568, 249–253 (2019). https://doi.org/10.1038/s41586-019-1041-6
Received:

Accepted:

Published:

Issue Date:
Comments
By submitting a comment you agree to abide by our Terms and Community Guidelines. If you find something abusive or that does not comply with our terms or guidelines please flag it as inappropriate.