Abstract
The establishment of cell types during development requires precise interactions between genes and distal regulatory sequences. We have a limited understanding of how these interactions look in three dimensions, vary across cell types in complex tissue, and relate to transcription. Here we describe optical reconstruction of chromatin architecture (ORCA), a method that can trace the DNA path in single cells with nanoscale accuracy and genomic resolution reaching two kilobases. We used ORCA to study a Hox gene cluster in cryosectioned Drosophila embryos and labelled around 30 RNA species in parallel. We identified cell-type-specific physical borders between active and Polycomb-repressed DNA, and unexpected Polycomb-independent borders. Deletion of Polycomb-independent borders led to ectopic enhancer–promoter contacts, aberrant gene expression, and developmental defects. Together, these results illustrate an approach for high-resolution, single-cell DNA domain analysis in vivo, identify domain structures that change with cell identity, and show that border elements contribute to the formation of physical domains in Drosophila.
Relevant articles
Open Access articles citing this article.
Mengjie Chen

,

Xingyu Liu

…

Hui Li

Cellular & Molecular Biology Letters Open Access 06 March 2023

Guang Shi

&

D. Thirumalai

Nature Communications Open Access 01 March 2023

Bojing Blair Jia

,

Adam Jussila

…

Bing Ren

Nature Biotechnology Open Access 02 January 2023
Access options
Access Nature and 54 other Nature Portfolio journals
Get Nature+, our best-value online-access subscription
$29.99 per month
cancel any time
Subscribe to this journal
Receive 51 print issues and online access
$199.00 per year
only $3.90 per issue
Rent or buy this article
Get just this article for as long as you need it
$39.95
Prices may be subject to local taxes which are calculated during checkout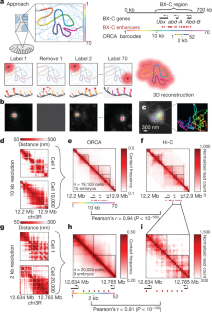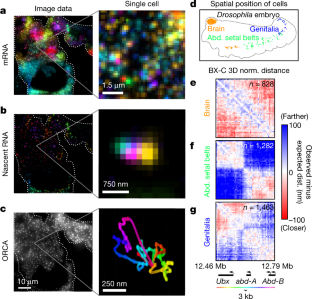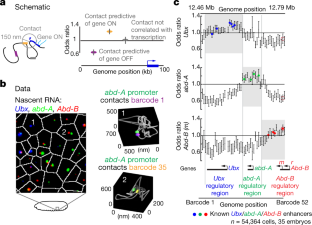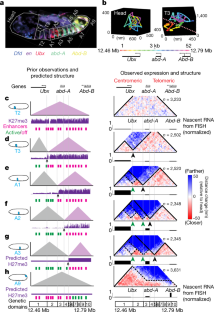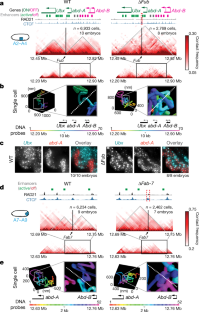 Data availability
Data tables containing the 3D positions of the barcodes localized by ORCA are available from the online repository: https://github.com/BoettigerLab/BXC-ORCA-data. An annotated map of the domains studied in this work is available as a BED file in the Supplementary Data and can also be viewed through the UCSC genome browser at https://tinyurl.com/y7wf8t6x. Additional microscopy data are not hosted online owing to their size (12.33 Tb), but are available upon reasonable request.
References
Long, H. K., Prescott, S. L. & Wysocka, J. Ever-changing landscapes: transcriptional enhancers in development and evolution. Cell 167, 1170–1187 (2016).

Spielmann, M., Lupiáñez, D. G. & Mundlos, S. Structural variation in the 3D genome. Nat. Rev. Genet. 19, 453–467 (2018).

Furlong, E. E. M. & Levine, M. Developmental enhancers and chromosome topology. Science 361, 1341–1345 (2018).

Schwartz, Y. B. & Cavalli, G. Three-dimensional genome organization and function in Drosophila. Genetics 205, 5–24 (2017).

Rowley, M. J. & Corces, V. G. Organizational principles of 3D genome architecture. Nat. Rev. Genet. 19, 789–800 (2018).

Chambeyron, S. & Bickmore, W. A. Chromatin decondensation and nuclear reorganization of the HoxB locus upon induction of transcription. Genes Dev. 18, 1119–1130 (2004).

Eskeland, R. et al. Ring1B compacts chromatin structure and represses gene expression independent of histone ubiquitination. Mol. Cell 38, 452–464 (2010).

Bantignies, F. et al. Polycomb-dependent regulatory contacts between distant Hox loci in Drosophila. Cell 144, 214–226 (2011).

Beliveau, B. J. et al. in Super-Resolution Microscopy: Methods and Protocols (ed. Erfle, H.) 231–252 (Springer, New York, 2017).

Williamson, I., Lettice, L. A., Hill, R. E. & Bickmore, W. A. Shh and ZRS enhancer colocalisation is specific to the zone of polarising activity. Development 143, 2994–3001 (2016).

Cheutin, T. & Cavalli, G. Loss of PRC1 induces higher-order opening of Hox loci independently of transcription during Drosophila embryogenesis. Nat. Commun. 9, 3898 (2018).

Cattoni, D. I. et al. Single-cell absolute contact probability detection reveals chromosomes are organized by multiple low-frequency yet specific interactions. Nat. Commun. 8, 1753 (2017).

Boettiger, A. N. et al. Super-resolution imaging reveals distinct chromatin folding for different epigenetic states. Nature 529, 418–422 (2016).

Kundu, S. et al. Polycomb repressive complex 1 generates discrete compacted domains that change during differentiation. Mol. Cell 65, 432–446 (2017).

Fabre, P. J. et al. Nanoscale spatial organization of the HoxD gene cluster in distinct transcriptional states. Proc. Natl Acad. Sci. USA 112, 13964–13969 (2015).

Szabo, Q. et al. TADs are 3D structural units of higher-order chromosome organization in Drosophila. Sci. Adv. 4, eaar8082 (2018).

Bintu, B. et al. Super-resolution chromatin tracing reveals domains and cooperative interactions in single cells. Science 362, eaau1783 (2018).

Nir, G. et al. Walking along chromosomes with super-resolution imaging, contact maps, and integrative modeling. PLoS Genet. 14, e1007872 (2018).

Wang, S. et al. Spatial organization of chromatin domains and compartments in single chromosomes. Science 353, 598–602 (2016).

Cardozo Gizzi, A. M. et al. Microscopy-based chromosome conformation capture enables simultaneous visualization of genome organization and transcription in intact organisms. Mol. Cell https://doi.org/10.1016/j.molcel.2019.01.011 (2019).

Chen, K. H., Boettiger, A. N., Moffitt, J. R., Wang, S. & Zhuang, X. RNA imaging. Spatially resolved, highly multiplexed RNA profiling in single cells. Science 348, aaa6090 (2015).

Beliveau, B. J. et al. Versatile design and synthesis platform for visualizing genomes with Oligopaint FISH probes. Proc. Natl Acad. Sci. USA 109, 21301–21306 (2012).

Schuettengruber, B. et al. Cooperativity, specificity, and evolutionary stability of Polycomb targeting in Drosophila. Cell Rep. 9, 219–233 (2014).

Bonev, B. et al. Multiscale 3D genome rewiring during mouse neural development. Cell 171, 557–572 (2017).

Kyrchanova, O. et al. The boundary paradox in the Bithorax complex. Mech. Dev. 138, 122–132 (2015).

Maeda, R. K. & Karch, F. The bithorax complex of Drosophila. An exceptional Hox cluster. Curr. Top. Dev. Biol. 88, 1–33 (2009).

Maeda, R. K. & Karch, F. The open for business model of the bithorax complex in Drosophila. Chromosoma 124, 293–307 (2015).

Rivera, J., Keränen, S. V. E., Gallo, S. M. & Halfon, M. S. REDfly: the transcriptional regulatory element database for Drosophila. Nucleic Acids Res. 47 (D1), D828–D834 (2019).

Symmons, O. et al. Functional and topological characteristics of mammalian regulatory domains. Genome Res. 24, 390–400 (2014).

Symmons, O. et al. The Shh topological domain facilitates the action of remote enhancers by reducing the effects of genomic distances. Dev. Cell 39, 529–543 (2016).

Levine, M., Cattoglio, C. & Tjian, R. Looping back to leap forward: transcription enters a new era. Cell 157, 13–25 (2014).

Chen, H. et al. Dynamic interplay between enhancer-promoter topology and gene activity. Nat. Genet. 50, 1296–1303 (2018).

Bender, W. & Hudson, A. P element homing to the Drosophila bithorax complex. Development 127, 3981–3992 (2000).

Bowman, S. K. et al. H3K27 modifications define segmental regulatory domains in the Drosophila bithorax complex. eLife 3, e02833 (2014).

Sexton, T. et al. Three-dimensional folding and functional organization principles of the Drosophila genome. Cell 148, 458–472 (2012).

Dixon, J. R. et al. Topological domains in mammalian genomes identified by analysis of chromatin interactions. Nature 485, 376–380 (2012).

Nora, E. P. et al. Spatial partitioning of the regulatory landscape of the X-inactivation centre. Nature 485, 381–385 (2012).

Lewis, E. B. A gene complex controlling segmentation in Drosophila. Nature 276, 565–570 (1978).

Rowley, M. J. et al. Evolutionarily conserved principles predict 3D chromatin organization. Mol. Cell 67, 837–852 (2017).

Bender, W. & Lucas, M. The border between the ultrabithorax and abdominal-A regulatory domains in the Drosophila bithorax complex. Genetics 193, 1135–1147 (2013).

Gyurkovics, H., Gausz, J., Kummer, J. & Karch, F. A new homeotic mutation in the Drosophila bithorax complex removes a boundary separating two domains of regulation. EMBO J. 9, 2579–2585 (1990).

Gambetta, M. C. & Furlong, E. E. M. The insulator protein CTCF is required for correct Hox gene expression, but not for embryonic development in Drosophila. Genetics 210, 129–136 (2018).

The modENCODE Consortium et al. Identification of functional elements and regulatory circuits by Drosophila modENCODE. Science 330, 1787–1797 (2010).

Ghavi-Helm, Y. et al. Enhancer loops appear stable during development and are associated with paused polymerase. Nature 512, 96–100 (2014).

Rao, S. S. P. et al. A 3D map of the human genome at kilobase resolution reveals principles of chromatin looping. Cell 159, 1665–1680 (2014).

Kragesteen, B. K. et al. Dynamic 3D chromatin architecture contributes to enhancer specificity and limb morphogenesis. Nat. Genet. 50, 1463–1473 (2018).

Andrey, G. et al. A switch between topological domains underlies HoxD genes collinearity in mouse limbs. Science 340, 1234167 (2013).

Phanstiel, D. H. et al. Static and dynamic DNA loops form AP-1-bound activation hubs during macrophage development. Mol. Cell 67, 1037–1048 (2017).

Narendra, V. et al. CTCF establishes discrete functional chromatin domains at the Hox clusters during differentiation. Science 347, 1017–1021 (2015).

Narendra, V., Bulajić, M., Dekker, J., Mazzoni, E. O. & Reinberg, D. CTCF-mediated topological boundaries during development foster appropriate gene regulation. Genes Dev. 30, 2657–2662 (2016).

Van Bortle, K. et al. Insulator function and topological domain border strength scale with architectural protein occupancy. Genome Biol. 15, R82 (2014).

Tokunaga, M., Imamoto, N. & Sakata-Sogawa, K. Highly inclined thin illumination enables clear single-molecule imaging in cells. Nat. Methods 5, 159–161 (2008).

Moffitt, J. R. et al. High-throughput single-cell gene-expression profiling with multiplexed error-robust fluorescence in situ hybridization. Proc. Natl Acad. Sci. USA 113, 11046–11051 (2016).

Gu, B. et al. Transcription-coupled changes in nuclear mobility of mammalian cis-regulatory elements. Science 359, 1050–1055 (2018).

Moffitt, J. R. et al. High-performance multiplexed fluorescence in situ hybridization in culture and tissue with matrix imprinting and clearing. Proc. Natl Acad. Sci. USA 113, 14456–14461 (2016).

Babcock, H., Sigal, Y. M. & Zhuang, X. A high-density 3D localization algorithm for stochastic optical reconstruction microscopy. Opt. Nanoscopy 1, 6 (2012).

Perry, M. W., Boettiger, A. N., Bothma, J. P. & Levine, M. Shadow enhancers foster robustness of Drosophila gastrulation. Curr. Biol. 20, 1562–1567 (2010).

Briggs, J. A. et al. The dynamics of gene expression in vertebrate embryogenesis at single-cell resolution. Science 360, eaar5780 (2018).

Van Der Maaten, L. J. P. & Hinton, G. E. Visualizing high-dimensional data using t-sne. J. Mach. Learn. Res. 9, 2579–2605 (2008).

Ester, M., Kriegel, H.-P., Sander, J. & Xu, X. A density-based algorithm for discovering clusters. KDD-96 Proc. 226–231 (1996).

Heris, S. DBSCAN Clustering Algorithm https://www.mathworks.com/matlabcentral/fileexchange/52905-dbscan-clustering-algorithm (2015).

Maeda, R. K. & Karch, F. The ABC of the BX-C: the bithorax complex explained. Development 133, 1413–1422 (2006).

Bartholomew, N. R., Burdett, J. M., VandenBrooks, J. M., Quinlan, M. C. & Call, G. B. Impaired climbing and flight behaviour in Drosophila melanogaster following carbon dioxide anaesthesia. Sci. Rep. 5, 15298 (2015).
Acknowledgements
We thank W. Bender for providing the Fub and Fab-7 mutants, and for discussions; N. Sinnott-Armstrong for help with assembly and programming of the fluid handling robot; D. Kingsley, P. Beachy, M. Fuller, A. Villeneuve, A. Rajpurkar, and T.C. Hung for critical reading of the manuscript; J. Wysocka for the mESCs; and B. Gu for assistance with cell culture. This work was supported by the Searle Scholars Program, Burroughs Wellcome Careers at the Scientific Interface Award, Dale Frey Award, Beckman Young Investigator Program, NIH New Innovator Award DP2 (DGM132935A), and the Packard Fellows Program (A.N.B.). L.J.M. is supported by the Stanford School of Medicine Dean's Fund, S.E.M. is supported by the Stanford Genome Training Program, A.H. is supported by a Walter V. and Idun Berry Postdoctoral Fellowship, and I.S.C. was supported by a summer training grant from Stanford Bio-X.
Ethics declarations
Competing interests
The authors declare no competing interests.
Additional information
Publisher's note: Springer Nature remains neutral with regard to jurisdictional claims in published maps and institutional affiliations.
Extended data figures and tables
Supplementary information
About this article
Cite this article
Mateo, L.J., Murphy, S.E., Hafner, A. et al. Visualizing DNA folding and RNA in embryos at single-cell resolution. Nature 568, 49–54 (2019). https://doi.org/10.1038/s41586-019-1035-4
Received:

Accepted:

Published:

Issue Date:

DOI: https://doi.org/10.1038/s41586-019-1035-4
Comments
By submitting a comment you agree to abide by our Terms and Community Guidelines. If you find something abusive or that does not comply with our terms or guidelines please flag it as inappropriate.