Abstract
Living systems can generate an enormous range of cellular functions, from mechanical infrastructure and signalling networks to enzymatic catalysis and information storage, using a notably limited set of chemical functional groups. This observation is especially notable when compared to the breadth of functional groups used as the basis for similar functions in synthetically derived small molecules and materials. The relatively small cross-section between biological and synthetic reactivity space forms the foundation for the development of bioorthogonal chemistry, in which the absence of a pair of reactive functional groups within the cell allows for a selective in situ reaction1,2,3,4. However, biologically 'rare' functional groups, such as the fluoro5, chloro6,7, bromo7,8, phosphonate9, enediyne10,11, cyano12, diazo13, alkene14 and alkyne15,16,17 groups, continue to be discovered in natural products made by plants, fungi and microorganisms, which offers a potential route to genetically encode the endogenous biosynthesis of bioorthogonal reagents within living organisms. In particular, the terminal alkyne has found broad utility via the Cu(i)-catalysed azide-alkyne cycloaddition 'click' reaction18. Here we report the discovery and characterization of a unique pathway to produce a terminal alkyne-containing amino acid in the bacterium Streptomyces cattleya. We found that l-lysine undergoes an unexpected reaction sequence that includes halogenation, oxidative C–C bond cleavage and triple bond formation through a putative allene intermediate. This pathway offers the potential for de novo cellular production of halo-, alkene- and alkyne-labelled proteins and natural products from glucose for a variety of downstream applications.
Relevant articles
Open Access articles citing this article.
Bob J. Ignacio

,

Jelmer Dijkstra

…

Kimberly M. Bonger

Nature Communications Open Access 08 June 2023

Roman M. Dickey

,

Amanda M. Forti

&

Aditya M. Kunjapur

Bioresources and Bioprocessing Open Access 27 September 2021

Yutaro Mori

,

Shuhei Noda

…

Akihiko Kondo

Nature Communications Open Access 13 April 2021
Access options
Access Nature and 54 other Nature Portfolio journals
Get Nature+, our best-value online-access subscription
$29.99 / 30 days
cancel any time
Subscribe to this journal
Receive 51 print issues and online access
$199.00 per year
only $3.90 per issue
Rent or buy this article
Prices vary by article type
from$1.95
to$39.95
Prices may be subject to local taxes which are calculated during checkout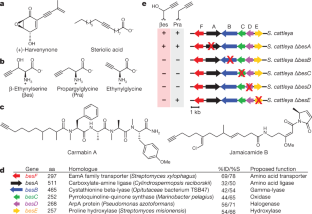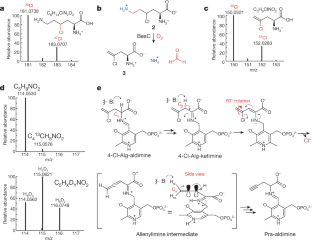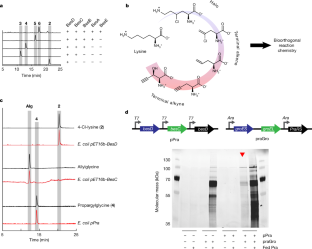 Data availability
Accession codes for genes and proteins in this study are provided in Supplementary Tables. Source data files for figures are provided. Datasets generated during and/or analysed during the current study are available from the corresponding author upon reasonable request.
References
Prescher, J. A. & Bertozzi, C. R. Chemistry in living systems. Nat. Chem. Biol. 1, 13–21 (2005).

Li, J. & Chen, P. R. Development and application of bond cleavage reactions in bioorthogonal chemistry. Nat. Chem. Biol. 12, 129–137 (2016).

Chin, J. W. et al. An expanded eukaryotic genetic code. Science 301, 964–967 (2003).

Wright, T. H. et al. Posttranslational mutagenesis: a chemical strategy for exploring protein side-chain diversity. Science 354, aag1465 (2016).

O'Hagan, D., Schaffrath, C., Cobb, S. L., Hamilton, J. T. G. & Murphy, C. D. Biochemistry: biosynthesis of an organofluorine molecule. Nature 416, 279 (2002).

Vaillancourt, F. H., Yeh, E., Vosburg, D. A., O'Connor, S. E. & Walsh, C. T. Cryptic chlorination by a non-haem iron enzyme during cyclopropyl amino acid biosynthesis. Nature 436, 1191–1194 (2005).

Agarwal, V. et al. Enzymatic halogenation and dehalogenation reactions: Pervasive and mechanistically diverse. Chem. Rev. 117, 5619–5674 (2017).

Agarwal, V. et al. Biosynthesis of polybrominated aromatic organic compounds by marine bacteria. Nat. Chem. Biol. 10, 640–647 (2014).

Cicchillo, R. M. et al. An unusual carbon–carbon bond cleavage reaction during phosphinothricin biosynthesis. Nature 459, 871–874 (2009).

Liu, W., Christenson, S. D., Standage, S. & Shen, B. Biosynthesis of the enediyne antitumor antibiotic C-1027. Science 297, 1170–1173 (2002).

Ahlert, J. et al. The calicheamicin gene cluster and its iterative type I enediyne PKS. Science 297, 1173–1176 (2002).

Jensen, N. B. et al. Convergent evolution in biosynthesis of cyanogenic defence compounds in plants and insects. Nat. Commun. 2, 273 (2011).

Sugai, Y., Katsuyama, Y. & Ohnishi, Y. A nitrous acid biosynthetic pathway for diazo group formation in bacteria. Nat. Chem. Biol. 12, 73–75 (2016).

Rui, Z. et al. Microbial biosynthesis of medium-chain 1-alkenes by a nonheme iron oxidase. Proc. Natl Acad. Sci. USA 111, 18237–18242 (2014).

Zhu, X., Liu, J. & Zhang, W. De novo biosynthesis of terminal alkyne-labeled natural products. Nat. Chem. Biol. 11, 115–120 (2015).

Haritos, V. S. et al. The convergent evolution of defensive polyacetylenic fatty acid biosynthesis genes in soldier beetles. Nat. Commun. 3, 1150 (2012).

Scrimgeour, C. M. Natural acetylenic and olefinic compounds, excluding marine natural products. Aliphatic Relat. Nat. Prod. Chem. 2, 1–19 (1979).

Kolb, H. C., Finn, M. G. & Sharpless, K. B. Click chemistry: diverse chemical function from a few good reactions. Angew. Chem. Int. Ed. 40, 2004–2021 (2001).

Minto, R. E. & Blacklock, B. J. Biosynthesis and function of polyacetylenes and allied natural products. Prog. Lipid Res. 47, 233–306 (2008).

Potgieter, H. C., Vermeulen, N. M. J., Potgieter, D. J. J. & Strauss, H. F. A toxic amino acid, 2(S)3(R)-2-amino-3-hydroxypent-4-ynoic acid from the fungus Sclerotium rolfsii. Phytochemistry 16, 1757–1759 (1977).

Sanada, M., Miyano, T. & Iwadare, S. β-Ethynylserine, an antimetabolite of L-threonine, from Streptomyces cattleya. J. Antibiot. (Tokyo) 39, 304–305 (1986).

Scannell, J. P., Pruess, D. L., Demny, T. C., Weiss, F. & Williams, T. Antimetabolites produced by microorganisms. II. L-2-amino-4-pentynoic acid. J. Antibiot. (Tokyo) 24, 239–244 (1971).

Truong, F., Yoo, T. H., Lampo, T. J. & Tirrell, D. A. Two-strain, cell-selective protein labeling in mixed bacterial cultures. J. Am. Chem. Soc. 134, 8551–8556 (2012).

Lang, K. & Chin, J. W. Cellular incorporation of unnatural amino acids and bioorthogonal labeling of proteins. Chem. Rev. 114, 4764–4806 (2014).

Zhu, X., Su, M., Manickam, K. & Zhang, W. Bacterial genome mining of enzymatic tools for alkyne biosynthesis. ACS Chem. Biol. 10, 2785–2793 (2015).

Shin-Ichi, H. Amino acids from mushrooms. Prog. Chem. Org. Nat. Prod. 59,117–140 (1992).

Tautenhahn, R., Patti, G. J., Rinehart, D. & Siuzdak, G. XCMS Online: a web-based platform to process untargeted metabolomic data. Anal. Chem. 84, 5035–5039 (2012).

Wong, S. D. et al. Elucidation of the Fe(IV)=O intermediate in the catalytic cycle of the halogenase SyrB2. Nature 499, 320–323 (2013).

Brzović, P., Holbrook, E. L., Greene, R. C. & Dunn, M. F. Reaction mechanism of Escherichia coli cystathionine γ-synthase: direct evidence for a pyridoxamine derivative of vinylglyoxylate as a key intermediate in pyridoxal phosphate dependent γ-elimination and γ-replacement reactions. Biochemistry 29, 442–451 (1990).

Sun, Q. et al. Structural basis for the inhibition mechanism of human cystathionine γ-lyase, an enzyme responsible for the production of H2S. J. Biol. Chem. 284, 3076–3085 (2009).

Marcotte, P. & Walsh, C. Vinylglycine and proparglyglycine: complementary suicide substrates for L-amino acid oxidase and D-amino acid oxidase. Biochemistry 15, 3070–3076 (1976).

Abeles, R. H. & Walsh, C. T. Acetylenic enzyme inactivators. Inactivation of γ-cystathionase, in vitro and in vivo, by propargylglycine. J. Am. Chem. Soc. 95, 6124–6125 (1973).

Cline, M. S. et al. Integration of biological networks and gene expression data using Cytoscape. Nat. Protocols 2, 2366–2382 (2007).

Merkx, R. et al. Scalable synthesis of γ-thiolysine starting from lysine and a side by side comparison with δ-thiolysine in non-enzymatic ubiquitination. Chem. Sci. (Camb.) 4, 4494 (2013).

Schwarzenbacher, R. et al. Structure of the Chlamydia protein CADD reveals a redox enzyme that modulates host cell apoptosis. J. Biol. Chem. 279, 29320–29324 (2004).

Guy, J. E. et al. Remote control of regioselectivity in acyl-acyl carrier protein-desaturases. Proc. Natl Acad. Sci. USA 108, 16594–16599 (2011).

Kelley, L. A., Mezulis, S., Yates, C. M., Wass, M. N. & Sternberg, M. J. E. The Phyre2 web portal for protein modeling, prediction and analysis. Nat. Protocols 10, 845–858 (2015).

McCune, C. D. et al. Synthesis and deployment of an elusive fluorovinyl cation equivalent: Access to quaternary α-(1′-fluoro)vinyl amino acids as potential PLP enzyme inactivators. J. Am. Chem. Soc. 139, 14077–14089 (2017).

Craig, R. & Beavis, R. C. TANDEM: matching proteins with tandem mass spectra. Bioinformatics 20, 1466–1467 (2004).
Acknowledgements
We thank W. Zhang, D. Nomura and D. Berkowitz for discussions and advice. J.A.M. acknowledges the support of a UC Berkeley Chancellor's Fellowship, Howard Hughes Medical Institute Gilliam Fellowship, and National Institutes of Health NRSA Training Grant (1 T32 GMO66698). M.E.N. acknowledges the support of a National Science Foundation Graduate Research Fellowship. This work was funded by generous support from the National Science Foundation (CHE-1710588). The College of Chemistry NMR Facility at U.C. Berkeley is supported in part by the National Institutes of Health (1S10RR023679-01 and S10 RR16634-01).
Reviewer information
Nature thanks Gonçalo Bernardes, Rebecca Goss and the other anonymous reviewer(s) for their contribution to the peer review of this work.
Ethics declarations
Competing interests
The authors declare no competing interests.
Additional information
Publisher's note: Springer Nature remains neutral with regard to jurisdictional claims in published maps and institutional affiliations.
Extended data figures and tables
Supplementary information
The file contains supplementary methods for construction of plasmids and strains, expression and purification of proteins, purification and analysis of compounds, in vitro assays, as well as a list of commercial material sources. Supplementary tables are included for strains, plasmids, oligonucleotides, and synthetic gene sequences used for this study. Accession IDs for Bes proteins are also tabulated
The product of the BesD halogenase was derivatized to prevent intramolecular cyclization. This data file contains the raw data for the 1D-NMR (1H and 13C-NMR, Figure S1) and 2D-NMR (CT- HSQC and HCCH-COSY, Extended Data Figure 4) for the resulting [13C6, 15N2]-4-Cl-lysine methyl ester
About this article
Cite this article
Marchand, J.A., Neugebauer, M.E., Ing, M.C. et al. Discovery of a pathway for terminal-alkyne amino acid biosynthesis. Nature 567, 420–424 (2019). https://doi.org/10.1038/s41586-019-1020-y
Received:

Accepted:

Published:

Issue Date:

DOI: https://doi.org/10.1038/s41586-019-1020-y
Comments
By submitting a comment you agree to abide by our Terms and Community Guidelines. If you find something abusive or that does not comply with our terms or guidelines please flag it as inappropriate.