Abstract
DNA and histone modifications have notable effects on gene expression1. Being the most prevalent internal modification in mRNA, the N6-methyladenosine (m6A) mRNA modification is as an important post-transcriptional mechanism of gene regulation2,3,4 and has crucial roles in various normal and pathological processes5,6,7,8,9,10,11,12. However, it is unclear how m6A is specifically and dynamically deposited in the transcriptome. Here we report that histone H3 trimethylation at Lys36 (H3K36me3), a marker for transcription elongation, guides m6A deposition globally. We show that m6A modifications are enriched in the vicinity of H3K36me3 peaks, and are reduced globally when cellular H3K36me3 is depleted. Mechanistically, H3K36me3 is recognized and bound directly by METTL14, a crucial component of the m6A methyltransferase complex (MTC), which in turn facilitates the binding of the m6A MTC to adjacent RNA polymerase II, thereby delivering the m6A MTC to actively transcribed nascent RNAs to deposit m6A co-transcriptionally. In mouse embryonic stem cells, phenocopying METTL14 knockdown, H3K36me3 depletion also markedly reduces m6A abundance transcriptome-wide and in pluripotency transcripts, resulting in increased cell stemness. Collectively, our studies reveal the important roles of H3K36me3 and METTL14 in determining specific and dynamic deposition of m6A in mRNA, and uncover another layer of gene expression regulation that involves crosstalk between histone modification and RNA methylation.
Access options
Subscribe to Journal
Get full journal access for 1 year
$199.00
only $3.90 per issue
All prices are NET prices.
VAT will be added later in the checkout.
Rent or Buy article
Get time limited or full article access on ReadCube.
from$8.99
All prices are NET prices.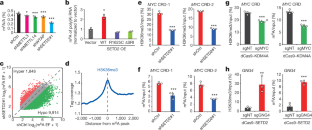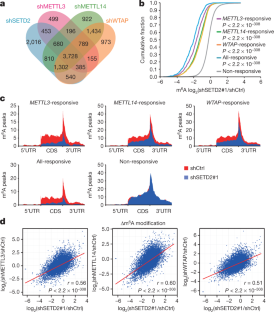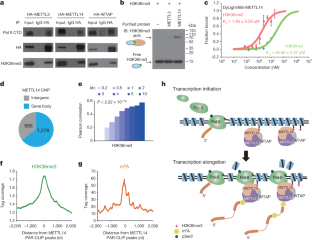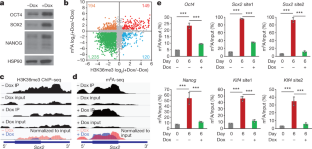 Code availability
Code used for data analysis including cutadapt v.1.13 (adapter remove), Bowtie v.1.1.2 (ChIP–seq, CLIP sequencing and miCLIP sequencing alignment), TopHat version v.2.1.1 (m6A-seq and ribosome-profiling alignment), featureCounts v.1.6.0 (reads count), HTSeq v.0.6.1p1 (reads count), RSEM v.1.2.31 (gene expression quantification), DEGseq v.1.28.0 (differential gene expression analysis), MACS v.1.4.2 (peak calling of H3K36me3 ChIP–seq), SICER v.1.1 (peak calling of METTL14 ChIP–seq), exomePeak v.2.8.0 (peak calling of m6A-seq), HOMER v.3.12 (motif analysis) and RiboDiff v.0.2.1 (differential translation efficiency analysis) are publicly available from the indicated references.
Data availability
All sequencing data that support the findings of this study have been deposited in the NCBI Gene Expression Omnibus (GEO) under accession number GSE110323. Previous published ChIP–seq data and m6A-seq data of HepG2 cells were re-analysed and are available under GEO accession codes GSE51334 and GSE37003. Previously published ENCODE data that were re-analysed here are available under accession codes ENCFF533JQH, ENCSR000ATD (H3K9me3) and ENCFF042EDV, ENCSR000DUE (H3K27me3) for heterochromatin and window correlation analysis. The expression data of SETD2 and MTC genes were derived from the TCGA Research Network (http://cancergenome.nih.gov/), GTEx program (https://www.gtexportal.org/), and CCLE project (https://portals.broadinstitute.org/ccle). The dataset derived from this resource that supports the findings of this study is available in the ChIPbase (http://rna.sysu.edu.cn/chipbase/)29,30 and CCLE (https://portals.broadinstitute.org/ccle) websites.
References
1.

Egger, G., Liang, G., Aparicio, A. & Jones, P. A. Epigenetics in human disease and prospects for epigenetic therapy. Nature 429, 457–463 (2004).

2.

Wang, X. et al. N 6-methyladenosine-dependent regulation of messenger RNA stability. Nature 505, 117–120 (2014).

3.

Wang, X. et al. N 6-methyladenosine modulates messenger RNA translation efficiency. Cell 161, 1388–1399 (2015).

4.

Huang, H. et al. Recognition of RNA N 6-methyladenosine by IGF2BP proteins enhances mRNA stability and translation. Nat. Cell Biol. 20, 285–295 (2018).

5.

Batista, P. J. et al. m6A RNA modification controls cell fate transition in mammalian embryonic stem cells. Cell Stem Cell 15, 707–719 (2014).

6.

Wang, Y. et al. N 6-methyladenosine modification destabilizes developmental regulators in embryonic stem cells. Nat. Cell Biol. 16, 191–198 (2014).

7.

Geula, S. et al. m6A mRNA methylation facilitates resolution of naïve pluripotency toward differentiation. Science 347, 1002–1006 (2015).

8.

Xiang, Y. et al. RNA m6A methylation regulates the ultraviolet-induced DNA damage response. Nature 543, 573–576 (2017).

9.

Li, Z. et al. FTO plays an oncogenic role in acute myeloid leukemia as a N 6-methyladenosine RNA demethylase. Cancer Cell 31, 127–141 (2017).

10.

Weng, H. et al. METTL14 inhibits hematopoietic stem/progenitor differentiation and promotes leukemogenesis via mRNA m6A modification. Cell Stem Cell 22, 191–205 (2018).

11.

Su, R. et al. R-2HG exhibits anti-tumor activity by targeting FTO/m6A/MYC/CEBPA signaling. Cell 172, 90–105 (2018).

12.

Deng, X., Su, R., Feng, X., Wei, M. & Chen, J. Role of N 6-methyladenosine modification in cancer. Curr. Opin. Genet. Dev. 48, 1–7 (2018).

13.

Meyer, K. D. et al. Comprehensive analysis of mRNA methylation reveals enrichment in 3′ UTRs and near stop codons. Cell 149, 1635–1646 (2012).

14.

Dominissini, D. et al. Topology of the human and mouse m6A RNA methylomes revealed by m6A-seq. Nature 485, 201–206 (2012).

15.

Linder, B. et al. Single-nucleotide-resolution mapping of m6A and m6Am throughout the transcriptome. Nat. Methods 12, 767–772 (2015).

16.

Liu, J. et al. A METTL3–METTL14 complex mediates mammalian nuclear RNA N 6-adenosine methylation. Nat. Chem. Biol. 10, 93–95 (2014).

17.

Barski, A. et al. High-resolution profiling of histone methylations in the human genome. Cell 129, 823–837 (2007).

18.

Pokholok, D. K. et al. Genome-wide map of nucleosome acetylation and methylation in yeast. Cell 122, 517–527 (2005).

19.

Sun, X. J. et al. Identification and characterization of a novel human histone H3 lysine 36-specific methyltransferase. J. Biol. Chem. 280, 35261–35271 (2005).

20.

Whetstine, J. R. et al. Reversal of histone lysine trimethylation by the JMJD2 family of histone demethylases. Cell 125, 467–481 (2006).

21.

Carrozza, M. J. et al. Histone H3 methylation by Set2 directs deacetylation of coding regions by Rpd3S to suppress spurious intragenic transcription. Cell 123, 581–592 (2005).

22.

Joshi, A. A. & Struhl, K. Eaf3 chromodomain interaction with methylated H3-K36 links histone deacetylation to Pol II elongation. Mol. Cell 20, 971–978 (2005).

23.

Luco, R. F. et al. Regulation of alternative splicing by histone modifications. Science 327, 996–1000 (2010).

24.

Dominguez, A. A., Lim, W. A. & Qi, L. S. Beyond editing: repurposing CRISPR–Cas9 for precision genome regulation and interrogation. Nat. Rev. Mol. Cell Biol. 17, 5–15 (2016).

25.

Kizer, K. O. et al. A novel domain in Set2 mediates RNA polymerase II interaction and couples histone H3 K36 methylation with transcript elongation. Mol. Cell. Biol. 25, 3305–3316 (2005).

26.

Olmos, Y., Hodgson, L., Mantell, J., Verkade, P. & Carlton, J. G. ESCRT-III controls nuclear envelope reformation. Nature 522, 236–239 (2015).

27.

Wienken, C. J., Baaske, P., Rothbauer, U., Braun, D. & Duhr, S. Protein-binding assays in biological liquids using microscale thermophoresis. Nat. Commun. 1, 100 (2010).

28.

Hacker, K. E. et al. Structure/function analysis of recurrent mutations in setd2 protein reveals a critical and conserved role for a SET domain residue in maintaining protein stability and histone H3 Lys-36 trimethylation. J. Biol. Chem. 291, 21283–21295 (2016).

29.

Yang, J. H. et al. ChIPBase: a database for decoding the transcriptional regulation of long non-coding RNA and microRNA genes from ChIP-Seq data. Nucleic Acids Res. 41, D177–D187 (2013).

30.

Zhou, K. R. et al. ChIPBase v2.0: decoding transcriptional regulatory networks of non-coding RNAs and protein-coding genes from ChIP-seq data. Nucleic Acids Res. 45, D43–D50 (2013).

31.

Subramanian, A. et al. Gene set enrichment analysis: a knowledge-based approach for interpreting genome-wide expression profiles. Proc. Natl Acad. Sci. USA 102, 15545–15550 (2005).
Acknowledgements
This work was supported in part by the National Institutes of Health (NIH) grants R01 CA214965 (J.C.), R01 CA211614 (J.C.), R01 CA178454 (J.C.), R01 CA182528 (J.C.), R01 CA236399 (J.C.), RM1 HG008935 (C.H.), R21 CA187276 (G.H.), R01 CA163493 (J.G.), R35 CA197628 (M.M.), U10 CA180827 (M.M.), R01 CA137060 (M.M.), R01 CA157644 (M.M.), R01 CA172558 (M.M.) and R01 CA213138 (M.M.), and grants 2017YFA0504400 (J.Y.), 91440110 (J.Y.) and 31671349 (L.Q.) from National Nature Science Foundation of China, and Cancer Center Support Grant (P30CA33572) from City of Hope National Medical Center. J.C. is a Leukemia & Lymphoma Society (LLS) Scholar. C.H. is an investigator of the Howard Hughes Medical Institute (HHMI). M.M. is an HHMI Faculty Scholar. B.S.Z. is an HHMI International Student Research Fellow. F.A. was supported by a Deutsche Forschungsgemeinschaft (DFG) fellowship (AU 525/1-1).
Reviewer information
Nature thanks Abid Khan, Brian Strahl and the other anonymous reviewer(s) for their contribution to the peer review of this work.
Ethics declarations
Competing interests
C.H. is a scientific founder and a scientific advisor board member of Accent Therapeutics, Inc.; J.C. is a scientific founder and the chief scientific officer of Genovel Biotech Corp. Both hold equities with their corresponding company.
Additional information
Publisher's note: Springer Nature remains neutral with regard to jurisdictional claims in published maps and institutional affiliations.
Extended data figures and tables
Supplementary information
About this article
Cite this article
Huang, H., Weng, H., Zhou, K. et al. Histone H3 trimethylation at lysine 36 guides m6A RNA modification co-transcriptionally. Nature 567, 414–419 (2019). https://doi.org/10.1038/s41586-019-1016-7
Received:

Accepted:

Published:

Issue Date:
Comments
By submitting a comment you agree to abide by our Terms and Community Guidelines. If you find something abusive or that does not comply with our terms or guidelines please flag it as inappropriate.