Abstract
Cyclic GMP-AMP (cGAMP) synthase (cGAS) detects infections or tissue damage by binding to microbial or self DNA in the cytoplasm1. Upon binding DNA, cGAS produces cGAMP that binds to and activates the adaptor protein STING, which then activates the kinases IKK and TBK1 to induce interferons and other cytokines2,3,4,5,6. Here we report that STING also activates autophagy through a mechanism that is independent of TBK1 activation and interferon induction. Upon binding cGAMP, STING translocates to the endoplasmic reticulum–Golgi intermediate compartment (ERGIC) and the Golgi in a process that is dependent on the COP-II complex and ARF GTPases. STING-containing ERGIC serves as a membrane source for LC3 lipidation, which is a key step in autophagosome biogenesis. cGAMP induced LC3 lipidation through a pathway that is dependent on WIPI2 and ATG5 but independent of the ULK and VPS34–beclin kinase complexes. Furthermore, we show that cGAMP-induced autophagy is important for the clearance of DNA and viruses in the cytosol. Interestingly, STING from the sea anemone Nematostella vectensis induces autophagy but not interferons in response to stimulation by cGAMP, which suggests that induction of autophagy is a primordial function of the cGAS–STING pathway.
Relevant articles
Open Access articles citing this article.
Giulia Miglietta

,

Jessica Marinello

…

Giovanni Capranico

Molecular Cancer Open Access 17 September 2022

Wei-Wei Luo

,

Zhen Tong

…

Yan-Yi Wang

Nature Communications Open Access 16 August 2022

Chang Kong

,

Xuqing Ni

…

Junlu Wang

Cell Death Discovery Open Access 09 April 2022
Access options
Subscribe to Nature+
Get immediate online access to the entire Nature family of 50+ journals
Subscribe to Journal
Get full journal access for 1 year
$199.00
only $3.90 per issue
All prices are NET prices.
VAT will be added later in the checkout.
Tax calculation will be finalised during checkout.
Buy article
Get time limited or full article access on ReadCube.
$32.00
All prices are NET prices.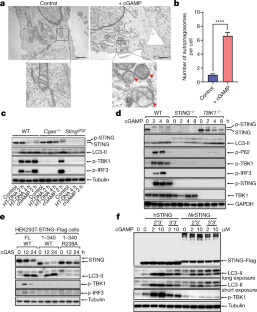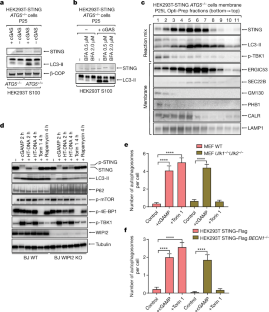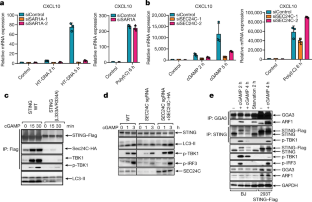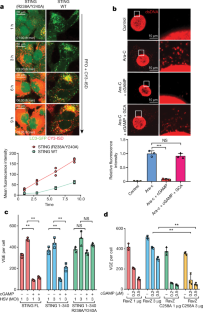 Data availability
The authors declare that all relevant data supporting the findings of this study are available within the paper and its supplementary information files. Additional information including raw data are available from the corresponding author upon reasonable request.
References
Sun, L., Wu, J., Du, F., Chen, X. & Chen, Z. J. Cyclic GMP-AMP synthase is a cytosolic DNA sensor that activates the type I interferon pathway. Science 339, 786–791 (2013).

Wu, J. et al. Cyclic GMP-AMP is an endogenous second messenger in innate immune signaling by cytosolic DNA. Science 339, 826–830 (2013).

Ishikawa, H. & Barber, G. N. STING is an endoplasmic reticulum adaptor that facilitates innate immune signalling. Nature 455, 674–678 (2008).

Wu, J. & Chen, Z. J. Innate immune sensing and signaling of cytosolic nucleic acids. Annu. Rev. Immunol. 32, 461–488 (2014).

Zhong, B. et al. The adaptor protein MITA links virus-sensing receptors to IRF3 transcription factor activation. Immunity 29, 538–550 (2008).

Crowl, J. T., Gray, E. E., Pestal, K., Volkman, H. E. & Stetson, D. B. Intracellular nucleic acid detection in autoimmunity. Annu. Rev. Immunol. 35, 313–336 (2017).

Kranzusch, P. J. et al. Ancient origin of cGAS–STING reveals mechanism of universal 2′,3′ cGAMP signaling. Mol. Cell 59, 891–903 (2015).

Ge, L., Melville, D., Zhang, M. & Schekman, R. The ER–Golgi intermediate compartment is a key membrane source for the LC3 lipidation step of autophagosome biogenesis. eLife 2, e00947 (2013).

Dooley, H. C. et al. WIPI2 links LC3 conjugation with PI3P, autophagosome formation, and pathogen clearance by recruiting Atg12-5-16L1. Mol. Cell 55, 238–252 (2014).

Brandizzi, F. & Barlowe, C. Organization of the ER–Golgi interface for membrane traffic control. Nat. Rev. Mol. Cell Biol. 14, 382–392 (2013).

Ge, L., Baskaran, S., Schekman, R. & Hurley, J. H. The protein–vesicle network of autophagy. Curr. Opin. Cell Biol. 29, 18–24 (2014).

D'Souza-Schorey, C. & Chavrier, P. ARF proteins: roles in membrane traffic and beyond. Nat. Rev. Mol. Cell Biol. 7, 347–358 (2006).

Choy, A. et al. The Legionella effector RavZ inhibits host autophagy through irreversible Atg8 deconjugation. Science 338, 1072–1076 (2012).

Tanaka, Y. & Chen, Z. J. STING specifies IRF3 phosphorylation by TBK1 in the cytosolic DNA signaling pathway. Sci. Signal. 5, ra20 (2012).

Liu, S. et al. Phosphorylation of innate immune adaptor proteins MAVS, STING, and TRIF induces IRF3 activation. Science 347, aaa2630 (2015).

Zhang, X. et al. Cyclic GMP–AMP containing mixed phosphodiester linkages is an endogenous high-affinity ligand for STING. Mol. Cell 51, 226–235 (2013).

Seth, R. B., Sun, L., Ea, C. K. & Chen, Z. J. Identification and characterization of MAVS, a mitochondrial antiviral signaling protein that activates NF-κB and IRF3. Cell 122, 669–682 (2005).

Gao, D. et al. Cyclic GMP-AMP synthase is an innate immune sensor of HIV and other retroviruses. Science 341, 903–906 (2013).

Shalem, O. et al. Genome-scale CRISPR-Cas9 knockout screening in human cells. Science 343, 84–87 (2014).

Li, X. D. et al. Pivotal roles of cGAS-cGAMP signaling in antiviral defense and immune adjuvant effects. Science 341, 1390–1394 (2013).

Sauer, J. D. et al. The N-ethyl-N-nitrosourea-induced Goldenticket mouse mutant reveals an essential function of Sting in the in vivo interferon response to Listeria monocytogenes and cyclic dinucleotides. Infect. Immun. 79, 688–694 (2011).

Yang, H., Wang, H., Ren, J., Chen, Q. & Chen, Z. J. cGAS is essential for cellular senescence. Proc. Natl Acad. Sci. USA 114, E4612–E4620 (2017).

Gao, D. et al. Activation of cyclic GMP-AMP synthase by self-DNA causes autoimmune diseases. Proc. Natl Acad. Sci. USA 112, E5699–E5705 (2015).
Acknowledgements
We thank C. Roy (Yale University) for providing the RavZ expression plasmids, B. Levine (UT Southwestern) for providing tissues from beclin 1-knockout mice, and A. Darehshouri at UT Southwestern Electron Microscopy Core Facility for training in electron microscopy sample preparation and image processing. We are grateful for suggestions and technical supports from Chen Laboratory members, especially L. Sun, Y. Wu and S. Hu. This work was supported by grants from the Cancer Prevention and Research Institute of Texas (RP120718 and RP150498) and the Welch Foundation (I-1389). M.L. was supported by the National Institute of Allergy and Infectious Diseases of the National Institutes of Health (T32AI005284). The content is solely the responsibility of the authors and does not necessarily represent the official views of the National Institutes of Health. T. L. and X.T. are Cancer Research Institute Irvington Postdoctoral Fellows. Z.J.C. is an Investigator of Howard Hughes Medical Institute.
Reviewer information
Nature thanks Kate Fitzgerald and the other anonymous reviewer(s) for their contribution to the peer review of this work.
Ethics declarations
Competing interests
The authors declare no competing interests.
Additional information
Publisher's note: Springer Nature remains neutral with regard to jurisdictional claims in published maps and institutional affiliations.
Extended data figures and tables
Supplementary information
About this article
Cite this article
Gui, X., Yang, H., Li, T. et al. Autophagy induction via STING trafficking is a primordial function of the cGAS pathway. Nature 567, 262–266 (2019). https://doi.org/10.1038/s41586-019-1006-9
Received:

Accepted:

Published:

Issue Date:

DOI: https://doi.org/10.1038/s41586-019-1006-9
Comments
By submitting a comment you agree to abide by our Terms and Community Guidelines. If you find something abusive or that does not comply with our terms or guidelines please flag it as inappropriate.