Abstract
Cells often use multiple pathways to repair the same DNA lesion, and the choice of pathway has substantial implications for the fidelity of genome maintenance. DNA interstrand crosslinks covalently link the two strands of DNA, and thereby block replication and transcription; the cytotoxicity of these crosslinks is exploited for chemotherapy. In Xenopus egg extracts, the collision of replication forks with interstrand crosslinks initiates two distinct repair pathways. NEIL3 glycosylase can cleave the crosslink1; however, if this fails, Fanconi anaemia proteins incise the phosphodiester backbone that surrounds the interstrand crosslink, generating a double-strand-break intermediate that is repaired by homologous recombination2. It is not known how the simpler NEIL3 pathway is prioritized over the Fanconi anaemia pathway, which can cause genomic rearrangements. Here we show that the E3 ubiquitin ligase TRAIP is required for both pathways. When two replisomes converge at an interstrand crosslink, TRAIP ubiquitylates the replicative DNA helicase CMG (the complex of CDC45, MCM2–7 and GINS). Short ubiquitin chains recruit NEIL3 through direct binding, whereas longer chains are required for the unloading of CMG by the p97 ATPase, which enables the Fanconi anaemia pathway. Thus, TRAIP controls the choice between the two known pathways of replication-coupled interstrand-crosslink repair. These results, together with our other recent findings3,4 establish TRAIP as a master regulator of CMG unloading and the response of the replisome to obstacles.
Your institute does not have access to this article
Relevant articles
Open Access articles citing this article.
Kenichiro Matsuzaki

,

Kenji Kumatoriya

…

Miki Shinohara

Scientific Reports Open Access 18 June 2022

Cell Death & Disease Open Access 04 August 2021

Wenjun Liu

,

Anna Palovcak

…

Yanbin Zhang

Cell & Bioscience Open Access 16 March 2020
Access options
Subscribe to Nature+
Get immediate online access to the entire Nature family of 50+ journals
Subscribe to Journal
Get full journal access for 1 year
$199.00
only $3.90 per issue
All prices are NET prices.
VAT will be added later in the checkout.
Tax calculation will be finalised during checkout.
Buy article
Get time limited or full article access on ReadCube.
$32.00
All prices are NET prices.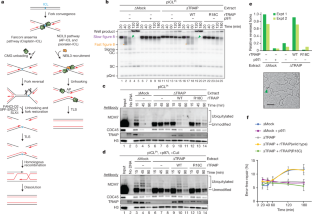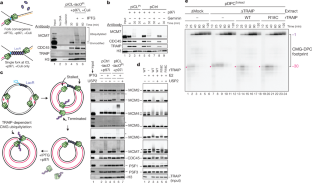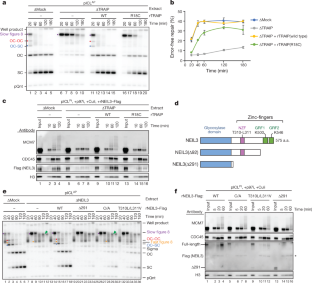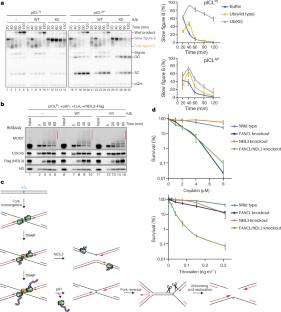 Data availability
All relevant data are available from the authors and/or are included with this Letter. Source images are available in Supplementary Fig. 1.
References
Semlow, D. R., Zhang, J., Budzowska, M., Drohat, A. C. & Walter, J. C. Replication-dependent unhooking of DNA interstrand cross-links by the NEIL3 glycosylase. Cell 167, 498–511.e14 (2016).

Räschle, M. et al. Mechanism of replication-coupled DNA interstrand crosslink repair. Cell 134, 969–980 (2008).

Larsen, N. B. et al. Mechanism of replication-coupled DNA-protein crosslink proteolysis by SPRTN and the proteasome. Mol. Cell 73, 574–588 (2019).

Deng, L. et al. Mitotic CDK promotes replisome disassembly, fork breakage, and complex DNA rearrangements. Mol. Cell (in the press).

Price, N. E., Catalano, M. J., Liu, S., Wang, Y. & Gates, K. S. Chemical and structural characterization of interstrand cross-links formed between abasic sites and adenine residues in duplex DNA. Nucleic Acids Res. 43, 3434–3441 (2015).

Kottemann, M. C. & Smogorzewska, A. Fanconi anaemia and the repair of Watson and Crick DNA crosslinks. Nature 493, 356–363 (2013).

Zhang, J. et al. DNA interstrand cross-link repair requires replication-fork convergence. Nat. Struct. Mol. Biol. 22, 242–247 (2015).

Fullbright, G., Rycenga, H. B., Gruber, J. D. & Long, D. T. p97 promotes a conserved mechanism of helicase unloading during DNA cross-link repair. Mol. Cell. Biol. 36, 2983–2994 (2016).

Amunugama, R. et al. Replication fork reversal during DNA interstrand crosslink repair requires CMG unloading. Cell Rep.s 23, 3419–3428 (2018).

Knipscheer, P. et al. The Fanconi anemia pathway promotes replication-dependent DNA interstrand cross-link repair. Science 326, 1698–1701 (2009).

Massaad, M. J. et al. Deficiency of base excision repair enzyme NEIL3 drives increased predisposition to autoimmunity. J. Clin. Invest. 126, 4219–4236 (2016).

Parmar, K., D'Andrea, A. & Niedernhofer, L. J. Mouse models of Fanconi anemia. Mutat. Res. 668, 133–140 (2009).

Sejersted, Y. et al. Endonuclease VIII-like 3 (Neil3) DNA glycosylase promotes neurogenesis induced by hypoxia-ischemia. Proc. Natl Acad. Sci. USA 108, 18802–18807 (2011).

Torisu, K., Tsuchimoto, D., Ohnishi, Y. & Nakabeppu, Y. Hematopoietic tissue-specific expression of mouse Neil3 for endonuclease VIII-like protein. J. Biochem. 138, 763–772 (2005).

Chapard, C., Hohl, D. & Huber, M. The role of the TRAF-interacting protein in proliferation and differentiation. Exp. Dermatol. 21, 321–326 (2012).

Harley, M. E. et al. TRAIP promotes DNA damage response during genome replication and is mutated in primordial dwarfism. Nat. Genet. 48, 36–43 (2016).

Räschle, M. et al. Proteomics reveals dynamic assembly of repair complexes during bypass of DNA cross-links. Science 348, 1253671 (2015).

Hoffmann, S. et al. TRAIP is a PCNA-binding ubiquitin ligase that protects genome stability after replication stress. J. Cell Biol. 212, 63–75 (2016).

Huang, J. et al. The DNA translocase FANCM/MHF promotes replication traverse of DNA interstrand crosslinks. Mol. Cell 52, 434–446 (2013).

Mutreja, K. et al. ATR-mediated global fork slowing and reversal assist fork traverse and prevent chromosomal breakage at DNA interstrand cross-links. Cell Rep. 24, 2629–2642 (2018).

Long, D. T., Joukov, V., Budzowska, M. & Walter, J. C. BRCA1 promotes unloading of the CMG helicase from a stalled DNA replication fork. Mol. Cell 56, 174–185 (2014).

Priego Moreno, S., Bailey, R., Campion, N., Herron, S. & Gambus, A. Polyubiquitylation drives replisome disassembly at the termination of DNA replication. Science 346, 477–481 (2014).

Dewar, J. M., Low, E., Mann, M., Räschle, M. & Walter, J. C. CRL2Lrr1 promotes unloading of the vertebrate replisome from chromatin during replication termination. Genes Dev. 31, 275–290 (2017).

Liu, M. et al. Expression and purification of active mouse and human NEIL3 proteins. Protein Expr. Purif. 84, 130–139 (2012).

Wang, B. et al. Structure and ubiquitin interactions of the conserved zinc finger domain of Npl4. J. Biol. Chem. 278, 20225–20234 (2003).

Wallace, B. D. et al. APE2 Zf-GRF facilitates 3′-5′ resection of DNA damage following oxidative stress. Proc. Natl Acad. Sci. USA 114, 304–309 (2017).

Dutrillaux, B., Aurias, A., Dutrillaux, A. M., Buriot, D. & Prieur, M. The cell cycle of lymphocytes in Fanconi anemia. Hum. Genet. 62, 327–332 (1982).

Sparks, J. L. et al. The CMG helicase bypasses DNA-protein cross-links to facilitate their repair. Cell 176, 167–181.e21 (2019).

Lebofsky, R., Takahashi, T. & Walter, J. C. DNA replication in nucleus-free Xenopus egg extracts. Methods Mol. Biol. 521, 229–252 (2009).

Dewar, J. M., Budzowska, M. & Walter, J. C. The mechanism of DNA replication termination in vertebrates. Nature 525, 345–350 (2015).

Joukov, V., Chen, J., Fox, E. A., Green, J. B. & Livingston, D. M. Functional communication between endogenous BRCA1 and its partner, BARD1, during Xenopus laevis development. Proc. Natl Acad. Sci. USA 98, 12078–12083 (2001).

Walter, J. & Newport, J. Initiation of eukaryotic DNA replication: origin unwinding and sequential chromatin association of Cdc45, RPA, and DNA polymerase α. Mol. Cell 5, 617–627 (2000).

Byun, T. S., Pacek, M., Yee, M. C., Walter, J. C. & Cimprich, K. A. Functional uncoupling of MCM helicase and DNA polymerase activities activates the ATR-dependent checkpoint. Genes Dev. 19, 1040–1052 (2005).

Wohlschlegel, J. A., Dhar, S. K., Prokhorova, T. A., Dutta, A. & Walter, J. C. Xenopus Mcm10 binds to origins of DNA replication after Mcm2-7 and stimulates origin binding of Cdc45. Mol. Cell 9, 233–240 (2002).

Pacek, M., Tutter, A. V., Kubota, Y., Takisawa, H. & Walter, J. C. Localization of MCM2-7, Cdc45, and GINS to the site of DNA unwinding during eukaryotic DNA replication. Mol. Cell 21, 581–587 (2006).

Kochaniak, A. B. et al. Proliferating cell nuclear antigen uses two distinct modes to move along DNA. J. Biol. Chem. 284, 17700–17710 (2009).

Rosado, I. V., Langevin, F., Crossan, G. P., Takata, M. & Patel, K. J. Formaldehyde catabolism is essential in cells deficient for the Fanconi anemia DNA-repair pathway. Nat. Struct. Mol. Biol. 18, 1432–1434 (2011).

Budzowska, M., Graham, T. G., Sobeck, A., Waga, S. & Walter, J. C. Regulation of the Rev1-pol ζ complex during bypass of a DNA interstrand cross-link. EMBO J. 34, 1971–1985 (2015).

Michel, M. A. et al. Assembly and specific recognition of K29- and K33-linked polyubiquitin. Mol. Cell 58, 95–109 (2015).

Knipscheer, P., Räschle, M., Schärer, O. D. & Walter, J. C. Replication-coupled DNA interstrand cross-link repair in Xenopus egg extracts. Methods Mol. Biol. 920, 221–243 (2012).

Graham, T. G., Walter, J. C. & Loparo, J. J. Two-stage synapsis of DNA ends during non-homologous end joining. Mol. Cell 61, 850–858 (2016).

Hemsley, A., Arnheim, N., Toney, M. D., Cortopassi, G. & Galas, D. J. A simple method for site-directed mutagenesis using the polymerase chain reaction. Nucleic Acids Res. 17, 6545–6551 (1989).

Trowitzsch, S., Bieniossek, C., Nie, Y., Garzoni, F. & Berger, I. New baculovirus expression tools for recombinant protein complex production. J. Struct. Biol. 172, 45–54 (2010).

Ilves, I., Petojevic, T., Pesavento, J. J. & Botchan, M. R. Activation of the MCM2-7 helicase by association with Cdc45 and GINS proteins. Mol. Cell 37, 247–258 (2010).

Liu, M. et al. The mouse ortholog of NEIL3 is a functional DNA glycosylase in vitro and in vivo. Proc. Natl Acad. Sci. USA 107, 4925–4930 (2010).

Franken, N. A., Rodermond, H. M., Stap, J., Haveman, J. & van Bree, C. Clonogenic assay of cells in vitro. Nat. Protoc. 1, 2315–2319 (2006).

Vos, J. M. & Hanawalt, P. C. Processing of psoralen adducts in an active human gene: repair and replication of DNA containing monoadducts and interstrand cross-links. Cell 50, 789–799 (1987).

Derheimer, F. A., Hicks, J. K., Paulsen, M. T., Canman, C. E. & Ljungman, M. Psoralen-induced DNA interstrand cross-links block transcription and induce p53 in an ataxia-telangiectasia and Rad3-related-dependent manner. Mol. Pharmacol. 75, 599–607 (2009).

Walter, J., Sun, L. & Newport, J. Regulated chromosomal DNA replication in the absence of a nucleus. Mol. Cell 1, 519–529 (1998).

Klein Douwel, D. et al. XPF-ERCC1 acts in unhooking DNA interstrand crosslinks in cooperation with FANCD2 and FANCP/SLX4. Mol. Cell 54, 460–471 (2014).

Long, D. T., Räschle, M., Joukov, V. & Walter, J. C. Mechanism of RAD51-dependent DNA interstrand cross-link repair. Science 333, 84–87 (2011).

Fu, Y. V. et al. Selective bypass of a lagging strand roadblock by the eukaryotic replicative DNA helicase. Cell 146, 931–941 (2011).

Sonneville, R. et al. CUL-2LRR-1 and UBXN-3 drive replisome disassembly during DNA replication termination and mitosis. Nat. Cell Biol. 19, 468–479 (2017).
Acknowledgements
We thank D. Pellman and members of the Walter laboratory for comments on the manuscript, and K. Arnett for help with biolayer interferometry experiments. J.C.W. is supported by NIH grant HL098316 and a gift from the family of Jonathan G. Wiseman. R.A.W. is supported by American Cancer Society postdoctoral fellowship 131415-PF-17-168-01-DMC, D.R.S. by NIH award K99GM129422, D.R.S. and G.C. by Jane Coffin Childs postdoctoral fellowships, J.L.S. by a Damon Runyon postdoctoral fellowship, M.W. by the Cancer Research UK Clinician Scientist Fellowship, and E.L. by NIH award F31GM122277. J.C.W. is a Howard Hughes Medical Institute Investigator and an American Cancer Society Research Professor.
Reviewer information
Nature thanks Daniel Durocher, Michael Seidman and the other anonymous reviewer(s) for their contribution to the peer review of this work.
Ethics declarations
Competing interests
The authors declare no competing interests.
Additional information
Publisher's note: Springer Nature remains neutral with regard to jurisdictional claims in published maps and institutional affiliations.
Extended data figures and tables
Supplementary information
This file contains the sequences of oligonucleotides mentioned in Methods
This file contains uncropped source images with size marker indications
About this article
Cite this article
Wu, R.A., Semlow, D.R., Kamimae-Lanning, A.N. et al. TRAIP is a master regulator of DNA interstrand crosslink repair. Nature 567, 267–272 (2019). https://doi.org/10.1038/s41586-019-1002-0
Received:

Accepted:

Published:

Issue Date:

DOI: https://doi.org/10.1038/s41586-019-1002-0
Comments
By submitting a comment you agree to abide by our Terms and Community Guidelines. If you find something abusive or that does not comply with our terms or guidelines please flag it as inappropriate.