Abstract
Cancer cells exhibit altered and usually increased metabolic processes to meet their high biogenetic demands1,2. Under these conditions, ammonia is concomitantly produced by the increased metabolic processing. However, it is unclear how tumour cells dispose of excess ammonia and what outcomes might be caused by the accumulation of ammonia. Here we report that the tumour suppressor p53, the most frequently mutated gene in human tumours, regulates ammonia metabolism by repressing the urea cycle. Through transcriptional downregulation of CPS1, OTC and ARG1, p53 suppresses ureagenesis and elimination of ammonia in vitro and in vivo, leading to the inhibition of tumour growth. Conversely, downregulation of these genes reciprocally activates p53 by MDM2-mediated mechanism(s). Furthermore, the accumulation of ammonia causes a significant decline in mRNA translation of the polyamine biosynthetic rate-limiting enzyme ODC, thereby inhibiting the biosynthesis of polyamine and cell proliferation. Together, these findings link p53 to ureagenesis and ammonia metabolism, and further reveal a role for ammonia in controlling polyamine biosynthesis and cell proliferation.
Relevant articles
Open Access articles citing this article.
Leandro R. Soria

,

Georgios Makris

…

Nicola Brunetti-Pierri

Nature Communications Open Access 05 September 2022

Xiangqi Meng

,

Jingxuan Peng

…

Mong-Hong Lee

Oncogene Open Access 29 July 2022

Guangtao Li

,

Yuchao He

…

Hua Guo

Cell Death & Disease Open Access 24 May 2022
Access options
Subscribe to Nature+
Get immediate online access to the entire Nature family of 50+ journals
Subscribe to Journal
Get full journal access for 1 year
$199.00
only $3.90 per issue
All prices are NET prices.
VAT will be added later in the checkout.
Tax calculation will be finalised during checkout.
Buy article
Get time limited or full article access on ReadCube.
$32.00
All prices are NET prices.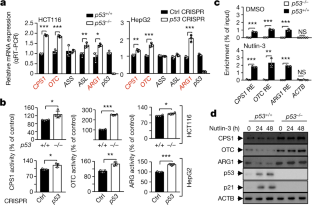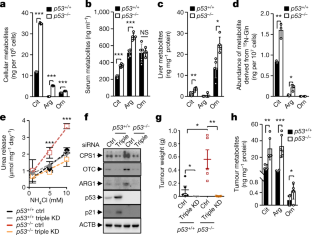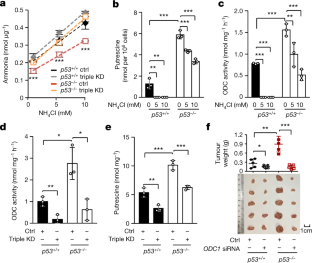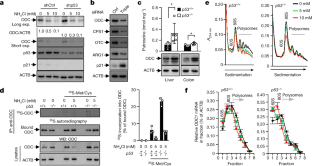 References
DeBerardinis, R. J., Lum, J. J., Hatzivassiliou, G. & Thompson, C. B. The biology of cancer: metabolic reprogramming fuels cell growth and proliferation. Cell Metab. 7, 11–20 (2008).

Vander Heiden, M. G., Cantley, L. C. & Thompson, C. B. Understanding the Warburg effect: the metabolic requirements of cell proliferation. Science 324, 1029–1033 (2009).

Lanpher, B., Brunetti-Pierri, N. & Lee, B. Inborn errors of metabolism: the flux from Mendelian to complex diseases. Nat. Rev. Genet. 7, 449–459 (2006).

Newsholme, E. A. & Leech, A. R. Functional Biochemistry in Health and Disease (Wiley-Blackwell, New Jersey, 2009).

Kim, J. et al. CPS1 maintains pyrimidine pools and DNA synthesis in KRAS/LKB1-mutant lung cancer cells. Nature 546, 168–172 (2017).

Rabinovich, S. et al. Diversion of aspartate in ASS1-deficient tumours fosters de novo pyrimidine synthesis. Nature 527, 379–383 (2015).

Michalovitz, D., Halevy, O. & Oren, M. Conditional inhibition of transformation and of cell proliferation by a temperature-sensitive mutant of p53. Cell 62, 671–680 (1990).

Sankpal, N. V., Willman, M. W., Fleming, T. P., Mayfield, J. D. & Gillanders, W. E. Transcriptional repression of epithelial cell adhesion molecule contributes to p53 control of breast cancer invasion. Cancer Res. 69, 753–757 (2009).

Jiang, P., Du, W., Mancuso, A., Wellen, K. E. & Yang, X. Reciprocal regulation of p53 and malic enzymes modulates metabolism and senescence. Nature 493, 689–693 (2013).

Contractor, T. & Harris, C. R. p53 negatively regulates transcription of the pyruvate dehydrogenase kinase Pdk2. Cancer Res. 72, 560–567 (2012).

Hollstein, M., Sidransky, D., Vogelstein, B. & Harris, C. C. p53 mutations in human cancers. Science 253, 49–53 (1991).

Nigro, J. M. et al. Mutations in the p53 gene occur in diverse human tumour types. Nature 342, 705–708 (1989).

Vogelstein, B., Lane, D. & Levine, A. J. Surfing the p53 network. Nature 408, 307–310 (2000).

Bourgeois, S. et al. NHE4 is critical for the renal handling of ammonia in rodents. J. Clin. Invest. 120, 1895–1904 (2010).

Rangroo Thrane, V. et al. Ammonia triggers neuronal disinhibition and seizures by impairing astrocyte potassium buffering. Nat. Med. 19, 1643–1648 (2013).

Cheong, H., Lindsten, T., Wu, J., Lu, C. & Thompson, C. B. Ammonia-induced autophagy is independent of ULK1/ULK2 kinases. Proc. Natl Acad. Sci. USA 108, 11121–11126 (2011).

Panickar, K. S., Jayakumar, A. R., Rao, K. V. & Norenberg, M. D. Ammonia-induced activation of p53 in cultured astrocytes: role in cell swelling and glutamate uptake. Neurochem. Int. 55, 98–105 (2009).

Kosenko, E. et al. Acute ammonia neurotoxicity in vivo involves increase in cytoplasmic protein P53 without alterations in other markers of apoptosis. J. Neurosci. Res. 85, 2491–2499 (2007).

Kubbutat, M. H., Jones, S. N. & Vousden, K. H. Regulation of p53 stability by Mdm2. Nature 387, 299–303 (1997).

Haupt, Y., Maya, R., Kazaz, A. & Oren, M. Mdm2 promotes the rapid degradation of p53. Nature 387, 296–299 (1997).

Gerner, E. W. & Meyskens, F. L. Jr. Polyamines and cancer: old molecules, new understanding. Nat. Rev. Cancer 4, 781–792 (2004).

Meyskens, F. L. Jr et al. Dose de-escalation chemoprevention trial of α-difluoromethylornithine in patients with colon polyps. J. Natl Cancer Inst. 86, 1122–1130 (1994).

Glass, J. R. & Gerner, E. W. Polyamine-mediated turnover of ornithine decarboxylase in Chinese-hamster ovary cells. Biochem. J. 236, 351–357 (1986).

Kahana, C., Asher, G. & Shaul, Y. Mechanisms of protein degradation: an odyssey with ODC. Cell Cycle 4, 1461–1464 (2005).

Cheong, H., Lu, C., Lindsten, T. & Thompson, C. B. Therapeutic targets in cancer cell metabolism and autophagy. Nat. Biotechnol. 30, 671–678 (2012).

Spinelli, J. B. et al. Metabolic recycling of ammonia via glutamate dehydrogenase supports breast cancer biomass. Science 358, 941–946 (2017).
Acknowledgements
We thank H. Wu, Y. Liu, W. He, Y. Wang, J. Na, S. Fu and W. Wu for materials. We thank G. Alderton for discussion. We thank J. Zhang, J. Cheng, L. Li, X. Xiao, F. Sun, N. Li, H. Li and all of the Jiang laboratory members for technical assistance and/or discussion. We thank Y. Ding, W. Wang, Y. Tian and Z. Hu for help with the LC–MS/MS experiments. This research was supported by the 1000 Talents Program for Young Scholars, the Tsinghua University Initiative Scientific Research Program, Tsinghua-Peking Center for Life Sciences, and National Natural Science Foundation of China (31571470; 81722035) to P.J.
Ethics declarations
Competing interests
The authors declare no competing interests.
Additional information
Publisher's note: Springer Nature remains neutral with regard to jurisdictional claims in published maps and institutional affiliations.
Extended data figures and tables
Supplementary information
This file contains Supplementary Methods, Supplementary References, Supplementary Figure 1 and Supplementary Tables 1-2.
About this article
Cite this article
Li, L., Mao, Y., Zhao, L. et al. p53 regulation of ammonia metabolism through urea cycle controls polyamine biosynthesis. Nature 567, 253–256 (2019). https://doi.org/10.1038/s41586-019-0996-7
Received:

Accepted:

Published:

Issue Date:

DOI: https://doi.org/10.1038/s41586-019-0996-7
Comments
By submitting a comment you agree to abide by our Terms and Community Guidelines. If you find something abusive or that does not comply with our terms or guidelines please flag it as inappropriate.