Abstract
Cancer-specific inhibitors that reflect the unique metabolic needs of cancer cells are rare. Here we describe Gboxin, a small molecule that specifically inhibits the growth of primary mouse and human glioblastoma cells but not that of mouse embryonic fibroblasts or neonatal astrocytes. Gboxin rapidly and irreversibly compromises oxygen consumption in glioblastoma cells. Gboxin relies on its positive charge to associate with mitochondrial oxidative phosphorylation complexes in a manner that is dependent on the proton gradient of the inner mitochondrial membrane, and it inhibits the activity of F0F1 ATP synthase. Gboxin-resistant cells require a functional mitochondrial permeability transition pore that regulates pH and thus impedes the accumulation of Gboxin in the mitochondrial matrix. Administration of a metabolically stable Gboxin analogue inhibits glioblastoma allografts and patient-derived xenografts. Gboxin toxicity extends to established human cancer cell lines of diverse organ origin, and shows that the increased proton gradient and pH in cancer cell mitochondria is a mode of action that can be targeted in the development of antitumour reagents.
Relevant articles
Open Access articles citing this article.
Journal of Translational Medicine Open Access 30 September 2022

Ping Jin

,

Jingwen Jiang

…

Li Fu

Journal of Hematology & Oncology Open Access 18 July 2022

Chia-Hung Chien

,

Wen-Bin Yang

…

Kwang-Yu Chang

Journal of Experimental & Clinical Cancer Research Open Access 13 July 2022
Access options
Subscribe to Nature+
Get immediate online access to the entire Nature family of 50+ journals
Subscribe to Journal
Get full journal access for 1 year
$199.00
only $3.90 per issue
All prices are NET prices.
VAT will be added later in the checkout.
Tax calculation will be finalised during checkout.
Buy article
Get time limited or full article access on ReadCube.
$32.00
All prices are NET prices.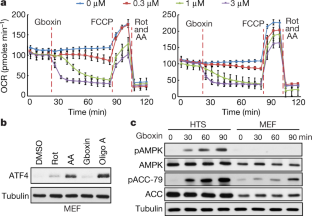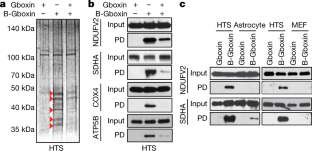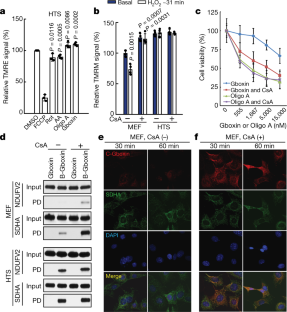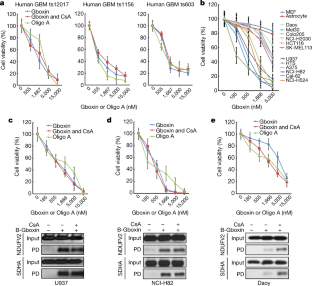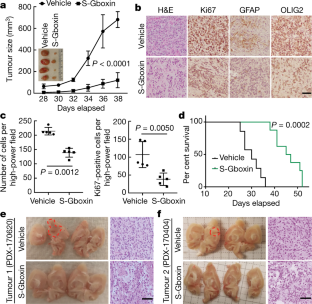 Data availability
All important data generated or analysed during this study are included in this Article. Additional supplementary data are available from the corresponding author upon request.
References
Stupp, R. et al. Radiotherapy plus concomitant and adjuvant temozolomide for glioblastoma. N. Engl. J. Med. 352, 987–996 (2005).

Wen, P. Y. & Kesari, S. Malignant gliomas in adults. N. Engl. J. Med. 359, 492–507 (2008).

Chen, J. et al. A restricted cell population propagates glioblastoma growth after chemotherapy. Nature 488, 522–526 (2012).

Viale, A. & Draetta, G. F. Metabolic features of cancer treatment resistance. Recent Results Cancer Res. 207, 135–156 (2016).

Viale, A. et al. Oncogene ablation-resistant pancreatic cancer cells depend on mitochondrial function. Nature 514, 628–632 (2014).

Parada, L. F., Dirks, P. B. & Wechsler-Reya, R. J. Brain tumor stem cells remain in play. J. Clin. Oncol. 35, 2428–2431 (2017).

Caro, P. et al. Metabolic signatures uncover distinct targets in molecular subsets of diffuse large B cell lymphoma. Cancer Cell 22, 547–560 (2012).

Cole, A. et al. Inhibition of the mitochondrial protease ClpP as a therapeutic strategy for human acute myeloid leukemia. Cancer Cell 27, 864–876 (2015).

Bosc, C., Selak, M. A. & Sarry, J. E. Resistance is futile: targeting mitochondrial energetics and metabolism to overcome drug resistance in cancer treatment. Cell Metab. 26, 705–707 (2017).

Zorov, D. B., Juhaszova, M. & Sollott, S. J. Mitochondrial reactive oxygen species (ROS) and ROS-induced ROS release. Physiol. Rev. 94, 909–950 (2014).

Biasutto, L., Azzolini, M., Szabò, I. & Zoratti, M. The mitochondrial permeability transition pore in AD 2016: an update. Biochim. Biophys. Acta 1863, 2515–2530 (2016).

Libby, G. et al. New users of metformin are at low risk of incident cancer: a cohort study among people with type 2 diabetes. Diabetes Care 32, 1620–1625 (2009).

Naguib, A. et al. Mitochondrial complex I inhibitors expose a vulnerability for selective killing of Pten-null cells. Cell Reports 23, 58–67 (2018).

Molina, J. R. et al. An inhibitor of oxidative phosphorylation exploits cancer vulnerability. Nat. Med. 24, 1036–1046 (2018

Wheaton, W. W. et al. Metformin inhibits mitochondrial complex I of cancer cells to reduce tumorigenesis. eLife 3, e02242 (2014).

Liu, X., Romero, I. L., Litchfield, L. M., Lengyel, E. & Locasale, J. W. Metformin targets central carbon metabolism and reveals mitochondrial requirements in human cancers. Cell Metab. 24, 728–739 (2016).

Lord, S. R. et al. Integrated pharmacodynamic analysis identifies two metabolic adaption pathways to metformin in breast cancer. Cell Metab. 28, 679–688.e4 (2018).

Heerdt, B. G., Houston, M. A. & Augenlicht, L. H. The intrinsic mitochondrial membrane potential of colonic carcinoma cells is linked to the probability of tumor progression. Cancer Res. 65, 9861–9867 (2005).

Heerdt, B. G., Houston, M. A. & Augenlicht, L. H. Growth properties of colonic tumor cells are a function of the intrinsic mitochondrial membrane potential. Cancer Res. 66, 1591–1596 (2006).

Modica-Napolitano, J. S. & Aprille, J. R. Delocalized lipophilic cations selectively target the mitochondria of carcinoma cells. Adv. Drug Deliv. Rev. 49, 63–70 (2001).

Bernal, S. D., Lampidis, T. J., Summerhayes, I. C. & Chen, L. B. Rhodamine-123 selectively reduces clonal growth of carcinoma cells in vitro. Science 218, 1117–1119 (1982).

Jekimovs, C. et al. Chemotherapeutic compounds targeting the DNA double-strand break repair pathways: the good, the bad, and the promising. Front. Oncol. 4, 86 (2014).

Senese, S. et al. Chemical dissection of the cell cycle: probes for cell biology and anti-cancer drug development. Cell Death Dis. 5, e1462 (2014).

Kwon, C. H. et al. Pten haploinsufficiency accelerates formation of high-grade astrocytomas. Cancer Res. 68, 3286–3294 (2008).

Zhu, Y. et al. Early inactivation of p53 tumor suppressor gene cooperating with NF1 loss induces malignant astrocytoma. Cancer Cell 8, 119–130 (2005).

Ye, J. et al. The GCN2–ATF4 pathway is critical for tumour cell survival and proliferation in response to nutrient deprivation. EMBO J. 29, 2082–2096 (2010).

Milani, M. et al. The role of ATF4 stabilization and autophagy in resistance of breast cancer cells treated with Bortezomib. Cancer Res. 69, 4415–4423 (2009).

Quirós, P. M. et al. Multi-omics analysis identifies ATF4 as a key regulator of the mitochondrial stress response in mammals. J. Cell Biol. 216, 2027–2045 (2017).

Yu, F. X., Chai, T. F., He, H., Hagen, T. & Luo, Y. Thioredoxin-interacting protein (Txnip) gene expression: sensing oxidative phosphorylation status and glycolytic rate. J. Biol. Chem. 285, 25822–25830 (2010).

Parikh, H. et al. TXNIP regulates peripheral glucose metabolism in humans. PLoS Med. 4, e158 (2007).

Perry, S. W., Norman, J. P., Barbieri, J., Brown, E. B. & Gelbard, H. A. Mitochondrial membrane potential probes and the proton gradient: a practical usage guide. Biotechniques 50, 98–115 (2011).

Dasgupta, B. & Chhipa, R. R. Evolving lessons on the complex role of AMPK in normal physiology and cancer. Trends Pharmacol. Sci. 37, 192–206 (2016).

De Brabander, J. K. et al. Substituted benzimidazolium, pyrido-imidazolium, or pyrazino-imidazolium compounds as chemotherapeutic agents. International application no. PCT/US2016/065751, pub. no. WO/2017/100525 (2017).

Bonora, M. & Pinton, P. The mitochondrial permeability transition pore and cancer: molecular mechanisms involved in cell death. Front. Oncol. 4, 302 (2014).

Zhou, W., Marinelli, F., Nief, C. & Faraldo-Gómez, J. D. Atomistic simulations indicate the c-subunit ring of the F1Fo ATP synthase is not the mitochondrial permeability transition pore. eLife 6, e23781 (2017).

Baines, C. P. & Gutiérrez-Aguilar, M. The still uncertain identity of the channel-forming unit(s) of the mitochondrial permeability transition pore. Cell Calcium 73, 121–130 (2018).

Basso, E. et al. Properties of the permeability transition pore in mitochondria devoid of Cyclophilin D. J. Biol. Chem. 280, 18558–18561 (2005).

Dubinsky, L., Krom, B. P. & Meijler, M. M. Diazirine based photoaffinity labeling. Bioorg. Med. Chem. 20, 554–570 (2012).

Bonora, M. et al. Molecular mechanisms of cell death: central implication of ATP synthase in mitochondrial permeability transition. Oncogene 34, 1608 (2015).

Brenner, C. & Grimm, S. The permeability transition pore complex in cancer cell death. Oncogene 25, 4744–4756 (2006).

Galluzzi, L. et al. Molecular mechanisms of cisplatin resistance. Oncogene 31, 1869–1883 (2012).

Mo, W. et al. CXCR4/CXCL12 mediate autocrine cell-cycle progression in NF1-associated malignant peripheral nerve sheath tumors. Cell 152, 1077–1090 (2013).

Weinberg, S. E. & Chandel, N. S. Targeting mitochondria metabolism for cancer therapy. Nat. Chem. Biol. 11, 9–15 (2015).

Vander Heiden, M. G. & DeBerardinis, R. J. Understanding the intersections between metabolism and cancer biology. Cell 168, 657–669 (2017).

Li, F. et al. Myc stimulates nuclearly encoded mitochondrial genes and mitochondrial biogenesis. Mol. Cell. Biol. 25, 6225–6234 (2005).

Weinberg, F. et al. Mitochondrial metabolism and ROS generation are essential for Kras-mediated tumorigenicity. Proc. Natl Acad. Sci. USA 107, 8788–8793 (2010).

Evans, J. M., Donnelly, L. A., Emslie-Smith, A. M., Alessi, D. R. & Morris, A. D. Metformin and reduced risk of cancer in diabetic patients. Br. Med. J. 330, 1304–1305 (2005).

Dilman, V. M. & Anisimov, V. N. Effect of treatment with phenformin, diphenylhydantoin or L-dopa on life span and tumour incidence in C3H/Sn mice. Gerontology 26, 241–246 (1980).

Lissanu Deribe, Y. et al. Mutations in the SWI/SNF complex induce a targetable dependence on oxidative phosphorylation in lung cancer. Nat. Med. 24, 1047–1057 (2018).

Forrest, M. D. Why cancer cells have a more hyperpolarised mitochondrial membrane potential and emergent prospects for therapy. Preprint at https://www.biorxiv.org/content/early/2015/08/21/025197 (2015).
Acknowledgements
We thank Y.-J. Li, T. Shipman and S. Bapat for technical assistance; D. Sabatini (Whitehead Institute) for supplying U937, NCI-H82, Cal-62 and NCI-H524 cell lines, N. Rosen (MSKCC) for supplying Mel30, Colo205, NCI-H2030, HCT116, SK-MEL113 and A375 cell lines, A. Messing (University of Wisconsin-Madison) for supplying primary astrocytes, and C. Brennan (MSKCC) for supplying ts603 IDH1 mutant human GBM cells. S.K.L. was a recipient of the Basic Research Fellowship from American Brain Tumor Association (in memory of Theodore Sapper). L.F.P. received funding from NCI (R35: CA210100 and R01: CA131313) and support from 'Mr. William H. and Mrs. Alice Goodwin and the Commonwealth Foundation for Cancer Research' and the Center for Experimental Therapeutics at the Memorial Sloan Kettering Cancer Center. L.F.P. and J.K.D.B. received funding from CPRIT (RP100782, RP120262 and RP150242). J.K.D.B. acknowledges support from the Robert A. Welch Foundation (I-1422).
Reviewer information
Nature thanks Scott Gilbertson and the other anonymous reviewer(s) for their contribution to the peer review of this work.
Ethics declarations
Competing interests
L.F.P. served as consultant for Bio-Thera Pharmaceuticals (2013–2018). L.F.P., J.K.D.B., S.K.L., Q.L., H.-Y.W. and Y.S. are coauthors on the patent application 'Substituted benzimidazolium, pyrido-imidazolium, or pyrazino-imidazolium compounds as chemotherapeutic agents' (international application no. PCT/US2016/065751, pub. no. WO/2017/100525 (2017)).
Additional information
Publisher's note: Springer Nature remains neutral with regard to jurisdictional claims in published maps and institutional affiliations.
Extended data figures and tables
Supplementary information
About this article
Cite this article
Shi, Y., Lim, S.K., Liang, Q. et al. Gboxin is an oxidative phosphorylation inhibitor that targets glioblastoma. Nature 567, 341–346 (2019). https://doi.org/10.1038/s41586-019-0993-x
Received:

Accepted:

Published:

Issue Date:

DOI: https://doi.org/10.1038/s41586-019-0993-x
Comments
By submitting a comment you agree to abide by our Terms and Community Guidelines. If you find something abusive or that does not comply with our terms or guidelines please flag it as inappropriate.