Abstract
Longitudinal bone growth in children is sustained by growth plates, narrow discs of cartilage that provide a continuous supply of chondrocytes for endochondral ossification1. However, it remains unknown how this supply is maintained throughout childhood growth. Chondroprogenitors in the resting zone are thought to be gradually consumed as they supply cells for longitudinal growth1,2, but this model has never been proved. Here, using clonal genetic tracing with multicolour reporters and functional perturbations, we demonstrate that longitudinal growth during the fetal and neonatal periods involves depletion of chondroprogenitors, whereas later in life, coinciding with the formation of the secondary ossification centre, chondroprogenitors acquire the capacity for self-renewal, resulting in the formation of large, stable monoclonal columns of chondrocytes. Simultaneously, chondroprogenitors begin to express stem cell markers and undergo symmetric cell division. Regulation of the pool of self-renewing progenitors involves the hedgehog and mammalian target of rapamycin complex 1 (mTORC1) signalling pathways. Our findings indicate that a stem cell niche develops postnatally in the epiphyseal growth plate, which provides a continuous supply of chondrocytes over a prolonged period.
Access options
Access Nature and 54 other Nature Portfolio journals
Get Nature+, our best-value online-access subscription
$29.99 / 30 days
cancel any time
Subscribe to this journal
Receive 51 print issues and online access
$199.00 per year
only $3.90 per issue
Rent or buy this article
Prices vary by article type
from$1.95
to$39.95
Prices may be subject to local taxes which are calculated during checkout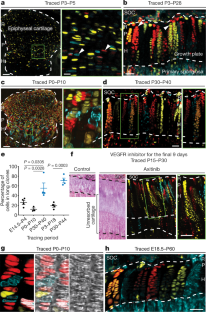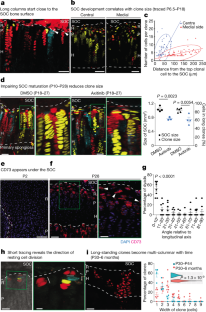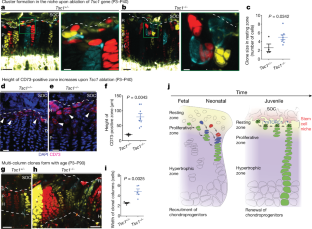 Similar content being viewed by others
Data availability
The LCM-seq dataset generated during the study has been deposited at the Gene Expression Omnibus with accession number GSE113982. Numerical source data for the figures are provided in the Supplementary Information and all original confocal scans are available upon request to the authors.
References
Hall, B. K. Bones and Cartilage: Developmental and Evolutionary Skeletal Biology 2nd edn (Academic Press, Cambridge, MA, 2015).

Moss-Salentijn, L., Moss, M. L., Shinozuka, M. & Skalak, R. Morphological analysis and computer-aided, three dimensional reconstruction of chondrocytic columns in rabbit growth plates. J. Anat. 151, 157–167 (1987).

Nakamura, E., Nguyen, M. T. & Mackem, S. Kinetics of tamoxifen-regulated Cre activity in mice using a cartilage-specific CreERT to assay temporal activity windows along the proximodistal limb skeleton. Dev. Dyn. 235, 2603–2612 (2006).

Snippert, H. J. et al. Intestinal crypt homeostasis results from neutral competition between symmetrically dividing Lgr5 stem cells. Cell 143, 134–144 (2010).

Gerber, H.-P. et al. VEGF couples hypertrophic cartilage remodeling, ossification and angiogenesis during endochondral bone formation. Nat. Med. 5, 623–628 (1999).

Joost, S. et al. Single-cell transcriptomics reveals that differentiation and spatial signatures shape epidermal and hair follicle heterogeneity. Cell Syst. 3, 221–237 (2016).

Rompolas, P. et al. Spatiotemporal coordination of stem cell commitment during epidermal homeostasis. Science 352, 1471–1474 (2016).

Suda, T., Takubo, K. & Semenza, G. L. Metabolic regulation of hematopoietic stem cells in the hypoxic niche. Cell Stem Cell 9, 298–310 (2011).

Clevers, H. The intestinal crypt, a prototype stem cell compartment. Cell 154, 274–284 (2013).

Schofield, R. The relationship between the spleen colony-forming cell and the haemopoietic stem cell. Blood Cells 4, 7–25 (1978).

Morrison, S. J. & Spradling, A. C. Stem cells and niches: mechanisms that promote stem cell maintenance throughout life. Cell 132, 598–611 (2008).

Nichterwitz, S. et al. Laser capture microscopy coupled with Smart-seq2 for precise spatial transcriptomic profiling. Nat. Commun. 7, 12139 (2016).

Gilbert, S. F. Developmental Biology 11th edn (Sinauer Associates, Sunderland, MA, 2017).

Hsu, Y. C., Li, L. & Fuchs, E. Emerging interactions between skin stem cells and their niches. Nat. Med. 20, 847–856 (2014).

Li, Y. & Dudley, A. T. Noncanonical frizzled signaling regulates cell polarity of growth plate chondrocytes. Development 136, 1083–1092 (2009).

de Andrea, C. E. et al. Primary cilia organization reflects polarity in the growth plate and implies loss of polarity and mosaicism in osteochondroma. Lab. Invest. 90, 1091–1101 (2010).

Rowinsky, E. K. & Donehower, R. C. Paclitaxel (Taxol). N. Engl. J. Med. 332, 1004–1014 (1995).

Lancaster, M. A. et al. Cerebral organoids model human brain development and microcephaly. Nature 501, 373–379 (2013).

Rompolas, P. et al. Live imaging of stem cell and progeny behaviour in physiological hair-follicle regeneration. Nature 487, 496–499 (2012).

Emons, J., Chagin, A. S., Sävendahl, L., Karperien, M. & Wit, J. M. Mechanisms of growth plate maturation and epiphyseal fusion. Horm. Res. Paediatr. 75, 383–391 (2011).

Kimura, H., Ng, J. M. Y. & Curran, T. Transient inhibition of the Hedgehog pathway in young mice causes permanent defects in bone structure. Cancer Cell 13, 249–260 (2008).

Everson, J. L., Fink, D. M., Chung, H. M., Sun, M. R. & Lipinski, R. J. Identification of sonic hedgehog-regulated genes and biological processes in the cranial neural crest mesenchyme by comparative transcriptomics. BMC Genomics 19, 497 (2018).

Maeda, Y. et al. Indian Hedgehog produced by postnatal chondrocytes is essential for maintaining a growth plate and trabecular bone. Proc. Natl Acad. Sci. USA 104, 6382–6387 (2007).

Newton, P. T., Xie, M., Medvedeva, E. V., Sävendahl, L. & Chagin, A. S. Activation of mTORC1 in chondrocytes does not affect proliferation or differentiation, but causes the resting zone of the growth plate to become disordered. Bone Rep. 8, 64–71 (2018).

Ahn, S. & Joyner, A. L. Dynamic changes in the response of cells to positive hedgehog signaling during mouse limb patterning. Cell 118, 505–516 (2004).

Livet, J. et al. Transgenic strategies for combinatorial expression of fluorescent proteins in the nervous system. Nature 450, 56–62 (2007).

Kwiatkowski, D. J. et al. A mouse model of TSC1 reveals sex-dependent lethality from liver hemangiomas, and up-regulation of p70S6 kinase activity in Tsc1 null cells. Hum. Mol. Genet. 11, 525–534 (2002).

Sengupta, S., Peterson, T. R., Laplante, M., Oh, S. & Sabatini, D. M. mTORC1 controls fasting-induced ketogenesis and its modulation by ageing. Nature 468, 1100–1104 (2010).

Madisen, L. et al. A robust and high-throughput Cre reporting and characterization system for the whole mouse brain. Nat. Neurosci. 13, 133–140 (2010).

Hall, A. P., Westwood, F. R. & Wadsworth, P. F. Review of the effects of anti-angiogenic compounds on the epiphyseal growth plate. Toxicol. Pathol. 34, 131–147 (2006).

Kaucka, M. et al. Analysis of neural crest-derived clones reveals novel aspects of facial development. Sci. Adv. 2, e1600060 (2016).

Salic, A. & Mitchison, T. J. A chemical method for fast and sensitive detection of DNA synthesis in vivo. Proc. Natl Acad. Sci. USA 105, 2415–2420 (2008).

Podgorny, O., Peunova, N., Park, J. H. & Enikolopov, G. Triple S-phase labeling of dividing stem cells. Stem Cell Reports 10, 615–626 (2018).

Reibring, C.-G. et al. Expression patterns and subcellular localization of carbonic anhydrases are developmentally regulated during tooth formation. PLoS ONE 9, e96007 (2014).

Chagin, A. S. et al. G-protein stimulatory subunit alpha and Gq/11α G-proteins are both required to maintain quiescent stem-like chondrocytes. Nat. Commun. 5, 3673 (2014).

Xiao, P. et al. Sipa1 deficiency-induced bone marrow niche alterations lead to the initiation of myeloproliferative neoplasm. Blood Adv. 2, 534–548 (2018).

Nichterwitz, S., Benitez, J. A., Hoogstraaten, R., Deng, Q. & Hedlund, E. LCM-seq: a method for spatial transcriptomic profiling using laser capture microdissection coupled with polyA-based RNA sequencing. Methods Mol. Biol. 1649, 95–110 (2018).

Picelli, S. et al. Smart-seq2 for sensitive full-length transcriptome profiling in single cells. Nat. Methods 10, 1096–1098 (2013).

Picelli, S. et al. Full-length RNA-seq from single cells using Smart-seq2. Nat. Protoc. 9, 171–181 (2014).

Fan, J. et al. Characterizing transcriptional heterogeneity through pathway and gene set overdispersion analysis. Nat. Methods 13, 241–244 (2016).

Kharchenko, P. V., Silberstein, L. & Scadden, D. T. Bayesian approach to single-cell differential expression analysis. Nat. Methods 11, 740–742 (2014).

Love, M. I., Huber, W. & Anders, S. Moderated estimation of fold change and dispersion for RNA-seq data with DESeq2. Genome Biol. 15, 550 (2014).

Hintze, J. L. & Nelson, R. D. Violin plots : a box plot–density trace synergism. Am. Stat. 52, 181–184 (1998).
Acknowledgements
We thank H. M. Kronenberg (MGH) for critical reading of this manuscript, O. Dobre (Blue Insight) for programming the web simulator, O. Kharchenko for graphical work (Fig. 3j), and M. E. Kastriti and O. Podgorny for methodological advice. This work was supported financially by the Swedish Research Council (A.S.C., K.F., L. Sävendahl, E.H., M.K., I.A., V.D., J.P., A.G.-L.), Karolinska Institute (A.S.C., L.L., M.K., I.A.), StratRegen KI and Stiftelsen Konung Gustaf V:s 80-årsfond (A.S.C.), Swedish Cancer Society (M.K.), the Swiss National Science Foundation (C.S.), EMBO (M.X.), Stiftelsen Frimurare Barnhuset and Sallskapet Barnavard (P.T.N.) and the Grant Agency of the Czech Republic (#14-37368G, M.H.). We also acknowledge support from the National Genomics Infrastructure in Stockholm funded by Science for Life Laboratory, the Knut and Alice Wallenberg Foundation, the Swedish Research Council, and SNIC/Uppsala Multidisciplinary Center for Advanced Computational Science for assistance with massively parallel sequencing and access to the UPPMAX computational infrastructure.
Reviewer information
Nature thanks Ophir Klein, Michael Longaker and the other anonymous reviewer(s) for their contribution to the peer review of this work.
Ethics declarations
Competing interests
The authors declare no competing interests.
Additional information
Publisher's note: Springer Nature remains neutral with regard to jurisdictional claims in published maps and institutional affiliations.
Extended data figures and tables
Supplementary information
About this article
Cite this article
Newton, P.T., Li, L., Zhou, B. et al. A radical switch in clonality reveals a stem cell niche in the epiphyseal growth plate. Nature 567, 234–238 (2019). https://doi.org/10.1038/s41586-019-0989-6
Received:

Accepted:

Published:

Issue Date:

DOI: https://doi.org/10.1038/s41586-019-0989-6
Comments
By submitting a comment you agree to abide by our Terms and Community Guidelines. If you find something abusive or that does not comply with our terms or guidelines please flag it as inappropriate.