Abstract
The grey matter is a central target of pathological processes in neurodegenerative disorders such as Parkinson's and Alzheimer's diseases. The grey matter is often also affected in multiple sclerosis, an autoimmune disease of the central nervous system. The mechanisms that underlie grey matter inflammation and degeneration in multiple sclerosis are not well understood. Here we show that, in Lewis rats, T cells directed against the neuronal protein β-synuclein specifically invade the grey matter and that this is accompanied by the presentation of multifaceted clinical disease. The expression pattern of β-synuclein induces the local activation of these T cells and, therefore, determined inflammatory priming of the tissue and targeted recruitment of immune cells. The resulting inflammation led to significant changes in the grey matter, which ranged from gliosis and neuronal destruction to brain atrophy. In humans, β-synuclein-specific T cells were enriched in patients with chronic-progressive multiple sclerosis. These findings reveal a previously unrecognized role of β-synuclein in provoking T-cell-mediated pathology of the central nervous system.
Access options
Subscribe to Journal
Get full journal access for 1 year
$199.00
only $3.90 per issue
All prices are NET prices.
VAT will be added later in the checkout.
Tax calculation will be finalised during checkout.
Rent or Buy article
Get time limited or full article access on ReadCube.
from$8.99
All prices are NET prices.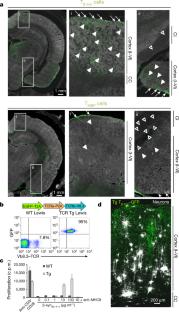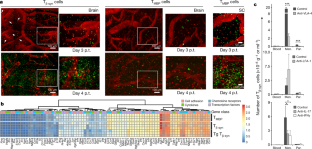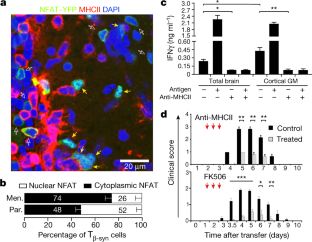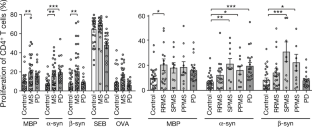 Data availability
The datasets generated during and/or analysed during the current study are available from the corresponding authors on reasonable request.
References
1.

Peterson, J. W., Bö, L., Mörk, S., Chang, A. & Trapp, B. D. Transected neurites, apoptotic neurons, and reduced inflammation in cortical multiple sclerosis lesions. Ann. Neurol. 50, 389–400 (2001).

2.

Lucchinetti, C. F. et al. Inflammatory cortical demyelination in early multiple sclerosis. N. Engl. J. Med. 365, 2188–2197 (2011).

3.

Trapp, B. D. et al. Cortical neuronal densities and cerebral white matter demyelination in multiple sclerosis: a retrospective study. Lancet Neurol. 17, 870–884 (2018).

4.

Calabrese, M. et al. Exploring the origins of grey matter damage in multiple sclerosis. Nat. Rev. Neurosci. 16, 147–158 (2015).

5.

Wekerle, H., Kojima, K., Lannes-Vieira, J., Lassmann, H. & Linington, C. Animal models. Ann. Neurol. 36, S47–S53 (1994).

6.

George, J. M. The synucleins. Genome Biol. 3, reviews3002.1 (2002).

7.

Mor, F., Quintana, F., Mimran, A. & Cohen, I. R. Autoimmune encephalomyelitis and uveitis induced by T cell immunity to self β-synuclein. J. Immunol. 170, 628–634 (2003).

8.

Flügel, A. et al. Migratory activity and functional changes of green fluorescent effector cells before and during experimental autoimmune encephalomyelitis. Immunity 14, 547–560 (2001).

9.

Ben-Nun, A., Wekerle, H. & Cohen, I. R. The rapid isolation of clonable antigen-specific T lymphocyte lines capable of mediating autoimmune encephalomyelitis. Eur. J. Immunol. 11, 195–199 (1981).

10.

Odoardi, F. et al. T cells become licensed in the lung to enter the central nervous system. Nature 488, 675–679 (2012).

11.

Bartholomäus, I. et al. Effector T cell interactions with meningeal vascular structures in nascent autoimmune CNS lesions. Nature 462, 94–98 (2009).

12.

Reboldi, A. et al. C-C chemokine receptor 6-regulated entry of TH-17 cells into the CNS through the choroid plexus is required for the initiation of EAE. Nat. Immunol. 10, 514–523 (2009).

13.

Rothhammer, V. et al. Th17 lymphocytes traffic to the central nervous system independently of α4 integrin expression during EAE. J. Exp. Med. 208, 2465–2476 (2011).

14.

Stromnes, I. M., Cerretti, L. M., Liggitt, D., Harris, R. A. & Goverman, J. M. Differential regulation of central nervous system autoimmunity by TH1 and TH17 cells. Nat. Med. 14, 337–342 (2008).

15.

Kroenke, M. A., Carlson, T. J., Andjelkovic, A. V. & Segal, B. M. IL-12- and IL-23-modulated T cells induce distinct types of EAE based on histology, CNS chemokine profile, and response to cytokine inhibition. J. Exp. Med. 205, 1535–1541 (2008).

16.

Li, J.-Y., Henning Jensen, P. & Dahlström, A. Differential localization of α-, β- and γ-synucleins in the rat CNS. Neuroscience 113, 463–478 (2002).

17.

Lodygin, D. et al. A combination of fluorescent NFAT and H2B sensors uncovers dynamics of T cell activation in real time during CNS autoimmunity. Nat. Med. 19, 784–790 (2013).

18.

Macian, F. NFAT proteins: key regulators of T-cell development and function. Nat. Rev. Immunol. 5, 472–484 (2005).

19.

Flügel, A. et al. Neuronal FasL induces cell death of encephalitogenic T lymphocytes. Brain Pathol. 10, 353–364 (2000).

20.

Ng, Y.-K. & Ling, E.-A. Emperipolesis of lymphoid cells in vagal efferent neurons following an intraneural injection of ricin into the vagus nerve in rats. Neurosci. Lett. 270, 153–156 (1999).

21.

Pette, M. et al. Myelin autoreactivity in multiple sclerosis: recognition of myelin basic protein in the context of HLA-DR2 products by T lymphocytes of multiple-sclerosis patients and healthy donors. Proc. Natl Acad. Sci. USA 87, 7968–7972 (1990).

22.

Ota, K. et al. T-cell recognition of an immunodominant myelin basic protein epitope in multiple sclerosis. Nature 346, 183–187 (1990).

23.

Bahbouhi, B. et al. T cell recognition of self-antigen presenting cells by protein transfer assay reveals a high frequency of anti-myelin T cells in multiple sclerosis. Brain 133, 1622–1636 (2010).

24.

Elong Ngono, A. et al. Frequency of circulating autoreactive T cells committed to myelin determinants in relapsing-remitting multiple sclerosis patients. Clin. Immunol. 144, 117–126 (2012).

25.

Latorre, D. et al. T cells in patients with narcolepsy target self-antigens of hypocretin neurons. Nature 562, 63–68 (2018).

26.

Cao, Y. et al. Functional inflammatory profiles distinguish myelin-reactive T cells from patients with multiple sclerosis. Sci. Transl. Med. 7, 287ra74 (2015).

27.

Jelcic, I. et al. Memory B cells activate brain-homing, autoreactive CD4+ T cells in multiple sclerosis. Cell 175, 85–100 (2018).

28.

Sulzer, D. et al. T cells from patients with Parkinson's disease recognize α-synuclein peptides. Nature 546, 656–661 (2017).

29.

Lassmann, H. Multiple sclerosis pathology. Cold Spring Harb. Perspect. Med. 8, a028936 (2018).

30.

Arima, Y. et al. Regional neural activation defines a gateway for autoreactive T cells to cross the blood–brain barrier. Cell 148, 447–457 (2012).

31.

Krishnamoorthy, G. et al. Myelin-specific T cells also recognize neuronal autoantigen in a transgenic mouse model of multiple sclerosis. Nat. Med. 15, 626–632 (2009).

32.

Derfuss, T. et al. Contactin-2/TAG-1-directed autoimmunity is identified in multiple sclerosis patients and mediates gray matter pathology in animals. Proc. Natl Acad. Sci. USA 106, 8302–8307 (2009).

33.

Shibayama-Imazu, T. et al. Cell and tissue distribution and developmental change of neuron specific 14 kDa protein (phosphoneuroprotein 14). Brain Res. 622, 17–25 (1993).

34.

Taschenberger, G. et al. β-Synuclein aggregates and induces neurodegeneration in dopaminergic neurons. Ann. Neurol. 74, 109–118 (2013).

35.

Liddelow, S. A. et al. Neurotoxic reactive astrocytes are induced by activated microglia. Nature 541, 481–487 (2017).

36.

Petersen, M. A., Ryu, J. K. & Akassoglou, K. Fibrinogen in neurological diseases: mechanisms, imaging and therapeutics. Nat. Rev. Neurosci. 19, 283–301 (2018).

37.

Di Liberto, G. et al. Neurons under T cell attack coordinate phagocyte-mediated synaptic stripping. Cell 175, 458–471 (2018).

38.

Tuohy, V. K., Yu, M., Weinstock-Guttman, B. & Kinkel, R. P. Diversity and plasticity of self recognition during the development of multiple sclerosis. J. Clin. Invest. 99, 1682–1690 (1997).

39.

Lois, C., Hong, E. J., Pease, S., Brown, E. J. & Baltimore, D. Germline transmission and tissue-specific expression of transgenes delivered by lentiviral vectors. Science 295, 868–872 (2002).

40.

Määttä, J. A., Coffey, E. T., Hermonen, J. A., Salmi, A. A. & Hinkkanen, A. E. Detection of myelin basic protein isoforms by organic concentration. Biochem. Biophys. Res. Commun. 238, 498–502 (1997).

41.

Flügel, A., Willem, M., Berkowicz, T. & Wekerle, H. Gene transfer into CD4+ T lymphocytes: green fluorescent protein-engineered, encephalitogenic T cells illuminate brain autoimmune responses. Nat. Med. 5, 843–847 (1999).

42.

Chmielewski, M. et al. T cells that target carcinoembryonic antigen eradicate orthotopic pancreatic carcinomas without inducing autoimmune colitis in mice. Gastroenterology 143, 1095–107 (2012).

43.

Doorn, K. J. et al. Brain region-specific gene expression profiles in freshly isolated rat microglia. Front. Cell. Neurosci. 9, 84 (2015).

44.

Torres-Nagel, N. E., Gold, D. P. & Hünig, T. Identification of rat Tcrb-V8.2, 8.5, and 10 gene products by monoclonal antibodies. Immunogenetics 37, 305–308 (1993).

45.

Smith, L. R., Kono, D. H. & Theofilopoulos, A. N. Complexity and sequence identification of 24 rat V beta genes. J. Immunol. 147, 375–379 (1991).

46.

Schläger, C., Litke, T., Flügel, A. & Odoardi, F. In vivo visualization of (auto)immune processes in the central nervous system of rodents. Methods Mol. Biol. 1304, 117–129 (2014).

47.

Schläger, C. et al. Effector T-cell trafficking between the leptomeninges and the cerebrospinal fluid. Nature 530, 349–353 (2016).

48.

Shevtsova, Z., Malik, J. M., Michel, U., Bähr, M. & Kügler, S. Promoters and serotypes: targeting of adeno-associated virus vectors for gene transfer in the rat central nervous system in vitro and in vivo. Exp. Physiol. 90, 53–59 (2005).

49.

Watanabe, T. et al. In vivo 3D MRI staining of the mouse hippocampal system using intracerebral injection of MnCl2. Neuroimage 22, 860–867 (2004).

50.

Rauskolb, S. et al. Global deprivation of brain-derived neurotrophic factor in the CNS reveals an area-specific requirement for dendritic growth. J. Neurosci. 30, 1739–1749 (2010).

51.

Erny, D. et al. Host microbiota constantly control maturation and function of microglia in the CNS. Nat. Neurosci. 18, 965–977 (2015).
Acknowledgements
We thank A. Stas, S. Mole, A. Mönnich, S. Hamann, M. Weig and H. Nguyen for technical assistance, C. Ludwig for text editing, G. Salinas-Riester for her support in performing the transcriptome analyses, K. Raithatha for her help in analysing the transcriptome data, H. Abken, S. Brioschi, L. Flügel, T. Issekutz, P. and W. von der Meide, M. Simons, T. Michaelis and M. Korte for providing reagents and/or technical, scientific or clinical advice and M. Gößwein for help with the artwork. This work was supported by the German Research Foundation (RK-Grant FL 377/3-1, FL 377/2-2; SFB 1328/1 A01, OD 87/1-1), the Federal Ministry for Education and Research (Competence Network Multiple Sclerosis, KKNMS), ERANET consortium MELTRA-BBB and the Ministry of Science and Culture of Lower Saxony (Niedersachsen-Research Network on Neuroinfectiology, N-RENNT).
Ethics declarations
Competing interests
The authors declare no competing interests.
Additional information
Publisher's note: Springer Nature remains neutral with regard to jurisdictional claims in published maps and institutional affiliations.
Extended data figures and tables
Supplementary information
About this article
Cite this article
Lodygin, D., Hermann, M., Schweingruber, N. et al. β-Synuclein-reactive T cells induce autoimmune CNS grey matter degeneration. Nature 566, 503–508 (2019). https://doi.org/10.1038/s41586-019-0964-2
Received:

Accepted:

Published:

Issue Date:
Comments
By submitting a comment you agree to abide by our Terms and Community Guidelines. If you find something abusive or that does not comply with our terms or guidelines please flag it as inappropriate.