Abstract
The expansion of brain size is accompanied by a relative enlargement of the subventricular zone during development. Epithelial-like neural stem cells divide in the ventricular zone at the ventricles of the embryonic brain, self-renew and generate basal progenitors1 that delaminate and settle in the subventricular zone in enlarged brain regions2. The length of time that cells stay in the subventricular zone is essential for controlling further amplification and fate determination. Here we show that the interphase centrosome protein AKNA has a key role in this process. AKNA localizes at the subdistal appendages of the mother centriole in specific subtypes of neural stem cells, and in almost all basal progenitors. This protein is necessary and sufficient to organize centrosomal microtubules, and promote their nucleation and growth. These features of AKNA are important for mediating the delamination process in the formation of the subventricular zone. Moreover, AKNA regulates the exit from the subventricular zone, which reveals the pivotal role of centrosomal microtubule organization in enabling cells to both enter and remain in the subventricular zone. The epithelial-to-mesenchymal transition is also regulated by AKNA in other epithelial cells, demonstrating its general importance for the control of cell delamination.
Access options
Subscribe to Journal
Get full journal access for 1 year
$199.00
only $3.90 per issue
All prices are NET prices.
VAT will be added later in the checkout.
Rent or Buy article
Get time limited or full article access on ReadCube.
from$8.99
All prices are NET prices.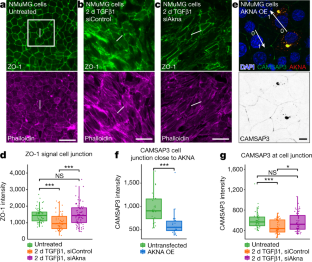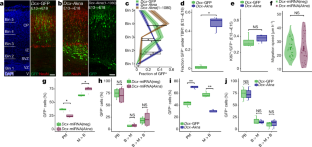 Data availability
The data generated and analysed in this study are included in the article and its Supplementary Information. Full gel blots can be found in the Extended Data Figures or Supplementary Fig. 1. Any other data in this study are available from the corresponding author upon reasonable request.
References
1.

Taverna, E., Götz, M. & Huttner, W. B. The cell biology of neurogenesis: toward an understanding of the development and evolution of the neocortex. Annu. Rev. Cell Dev. Biol. 30, 465–502 (2014).

2.

Fernández, V., Llinares-Benadero, C. & Borrell, V. Cerebral cortex expansion and folding: what have we learned? EMBO J. 35, 1021–1044 (2016).

3.

Pinto, L. et al. Prospective isolation of functionally distinct radial glial subtypes—lineage and transcriptome analysis. Mol. Cell. Neurosci. 38, 15–42 (2008).

4.

Pinto, L. et al. AP2γ regulates basal progenitor fate in a region- and layer-specific manner in the developing cortex. Nat. Neurosci. 12, 1229–1237 (2009).

5.

Stahl, R. et al. Trnp1 regulates expansion and folding of the mammalian cerebral cortex by control of radial glial fate. Cell 153, 535–549 (2013).

6.

Siddiqa, A. et al. Regulation of CD40 and CD40 ligand by the AT-hook transcription factor AKNA. Nature 410, 383–387 (2001).

7.

Insolera, R., Bazzi, H., Shao, W., Anderson, K. V. & Shi, S. H. Cortical neurogenesis in the absence of centrioles. Nat. Neurosci. 17, 1528–1535 (2014).

8.

Nigg, E. A. & Stearns, T. The centrosome cycle: centriole biogenesis, duplication and inherent asymmetries. Nat. Cell Biol. 13, 1154–1160 (2011).

9.

Aprea, J. et al. Transcriptome sequencing during mouse brain development identifies long non-coding RNAs functionally involved in neurogenic commitment. EMBO J. 32, 3145–3160 (2013).

10.

Uzbekov, R. & Alieva, I. Who are you, subdistal appendages of centriole? Open Biol. 8, 180062 (2018).

11.

Thawani, A., Kadzik, R. S. & Petry, S. XMAP215 is a microtubule nucleation factor that functions synergistically with the γ-tubulin ring complex. Nat. Cell Biol. 20, 575–585 (2018).

12.

Askham, J. M., Vaughan, K. T., Goodson, H. V. & Morrison, E. E. Evidence that an interaction between EB1 and p150Glued is required for the formation and maintenance of a radial microtubule array anchored at the centrosome. Mol. Biol. Cell 13, 3627–3645 (2002).

13.

Ibi, M. et al. Trichoplein controls microtubule anchoring at the centrosome by binding to Odf2 and ninein. J. Cell Sci. 124, 857–864 (2011).

14.

Tanaka, N., Meng, W., Nagae, S. & Takeichi, M. Nezha/CAMSAP3 and CAMSAP2 cooperate in epithelial-specific organization of noncentrosomal microtubules. Proc. Natl Acad. Sci. USA 109, 20029–20034 (2012).

15.

Kasioulis, I., Das, R. M. & Storey, K. G. Inter-dependent apical microtubule and actin dynamics orchestrate centrosome retention and neuronal delamination. eLife 6, e26215 (2017).

16.

Tsai, J. W., Lian, W. N., Kemal, S., Kriegstein, A. R. & Vallee, R. B. Kinesin 3 and cytoplasmic dynein mediate interkinetic nuclear migration in neural stem cells. Nat. Neurosci. 13, 1463–1471 (2010).

17.

Itoh, Y. et al. Scratch regulates neuronal migration onset via an epithelial–mesenchymal transition-like mechanism. Nat. Neurosci. 16, 416–425 (2013).

18.

Zander, M. A., Burns, S. E., Yang, G., Kaplan, D. R. & Miller, F. D. Snail coordinately regulates downstream pathways to control multiple aspects of mammalian neural precursor development. J. Neurosci. 34, 5164–5175 (2014).

19.

Singh, S. et al. Zeb1 controls neuron differentiation and germinal zone exit by a mesenchymal–epithelial-like transition. eLife 5, e12717 (2016).

20.

Sahu, S. K. et al. JNK-dependent gene regulatory circuitry governs mesenchymal fate. EMBO J. 34, 2162–2181 (2015).

21.

Tiwari, N. et al. Sox4 is a master regulator of epithelial-mesenchymal transition by controlling Ezh2 expression and epigenetic reprogramming. Cancer Cell 23, 768–783 (2013).

22.

Meng, W., Mushika, Y., Ichii, T. & Takeichi, M. Anchorage of microtubule minus ends to adherens junctions regulates epithelial cell–cell contacts. Cell 135, 948–959 (2008).

23.

Cooper, J. A. Molecules and mechanisms that regulate multipolar migration in the intermediate zone. Front. Cell. Neurosci. 8, 386 (2014).

24.

Petry, S. & Vale, R. D. Microtubule nucleation at the centrosome and beyond. Nat. Cell Biol. 17, 1089–1093 (2015).

25.

Stiess, M. et al. Axon extension occurs independently of centrosomal microtubule nucleation. Science 327, 704–707 (2010).

26.

Sakakibara, A. et al. Dynamics of centrosome translocation and microtubule organization in neocortical neurons during distinct modes of polarization. Cereb. Cortex 24, 1301–1310 (2014).

27.

Aillaud, C. et al. Vasohibins/SVBP are tubulin carboxypeptidases (TCPs) that regulate neuron differentiation. Science 358, 1448–1453 (2017).

28.

Song, Y. & Brady, S. T. Post-translational modifications of tubulin: pathways to functional diversity of microtubules. Trends Cell Biol. 25, 125–136 (2015).

29.

Pongrakhananon, V., Wattanathamsan, O., Takeichi, M., Chetprayoon, P. & Chanvorachote, P. Loss of CAMSAP3 promotes EMT via the modification of microtubule–Akt machinery. J. Cell Sci. 131, jcs216168 (2018).

30.

Chen, C., Lee, G. A., Pourmorady, A., Sock, E. & Donoghue, M. J. Orchestration of neuronal differentiation and progenitor pool expansion in the developing cortex by SoxC genes. J. Neurosci. 35, 10629–10642 (2015).

31.

Sims-Mourtada, J. C. et al. The human AKNA gene expresses multiple transcripts and protein isoforms as a result of alternative promoter usage, splicing, and polyadenylation. DNA Cell Biol. 24, 325–338 (2005).

32.

Martínez-Martínez, M. A. et al. A restricted period for formation of outer subventricular zone defined by Cdh1 and Trnp1 levels. Nat. Commun. 7, 11812 (2016).

33.

de Juan Romero, C., Bruder, C., Tomasello, U., Sanz-Anquela, J. M. & Borrell, V. Discrete domains of gene expression in germinal layers distinguish the development of gyrencephaly. EMBO J. 34, 1859–1874 (2015)
Acknowledgements
We thank M. Takeichi (RIKEN CDB) for the Camsap3 antibody; C. Dehay and V. Cortay (SBRI) for immunostaining of macaque cortex; E. Llorens and T. Mata-Balaguer (IN) for ferret western blots; M. Drukker and E. Rusha (HMGU) for the iPSC line; I. Poser (MPI-CBG), C. Lie (University of Erlangen), U. Müller (Scripps Research Institute), A. Akhmanova (Utrecht University, EB3-GFP constructs) and G. Masserdotti for plasmids; A. Steiner for technical assistance; and S. Cappello (MPI-P) and A. O'Neill (HMGU) for comments on the manuscript. Funding was provided by the DFG (GO 640/12-1, SFB 870 A06 to M.G.; JU 2957/1-1, SFB 1032 A11 to R.J.; INST86/1581-1FUGG, IRTG 2290 to S.R.; SFB 1089 to F.B.), MINECO (SAF2015-69168-R to V.B.), Fundación Francisco Cobos (fellowship to C.D.J.R.), the ERC (Chroneurorepair to M.G.; Cortexfolding – 306933 to V.B.; MolMap – 680241 to R.J.), ERANET (AXON REPAIR and RATER SCI to F.B.; STEM-MCD and NEUROTALK to L.N.), the F.R.S.-FNRS (EOS O019118F-RG36 to L.N.), and NIH (R01DA024681 and R01NS085004 to S.-H.S.).
Reviewer information
Nature thanks Yukiko Gotoh, Xavier Morin and the other anonymous reviewer(s) for their contribution to the peer review of this work.
Ethics declarations
Competing interests
The authors declare no competing interests.
Additional information
Publisher's note: Springer Nature remains neutral with regard to jurisdictional claims in published maps and institutional affiliations.
Extended data figures and tables
Supplementary information
About this article
Cite this article
Camargo Ortega, G., Falk, S., Johansson, P.A. et al. The centrosome protein AKNA regulates neurogenesis via microtubule organization. Nature 567, 113–117 (2019). https://doi.org/10.1038/s41586-019-0962-4
Received:

Accepted:

Published:

Issue Date:
Comments
By submitting a comment you agree to abide by our Terms and Community Guidelines. If you find something abusive or that does not comply with our terms or guidelines please flag it as inappropriate.