Abstract
One of the most universal trends in science and technology today is the growth of large teams in all areas, as solitary researchers and small teams diminish in prevalence1,2,3. Increases in team size have been attributed to the specialization of scientific activities3, improvements in communication technology4,5, or the complexity of modern problems that require interdisciplinary solutions6,7,8. This shift in team size raises the question of whether and how the character of the science and technology produced by large teams differs from that of small teams. Here we analyse more than 65 million papers, patents and software products that span the period 1954–2014, and demonstrate that across this period smaller teams have tended to disrupt science and technology with new ideas and opportunities, whereas larger teams have tended to develop existing ones. Work from larger teams builds on more-recent and popular developments, and attention to their work comes immediately. By contrast, contributions by smaller teams search more deeply into the past, are viewed as disruptive to science and technology and succeed further into the future—if at all. Observed differences between small and large teams are magnified for higher-impact work, with small teams known for disruptive work and large teams for developing work. Differences in topic and research design account for a small part of the relationship between team size and disruption; most of the effect occurs at the level of the individual, as people move between smaller and larger teams. These results demonstrate that both small and large teams are essential to a flourishing ecology of science and technology, and suggest that, to achieve this, science policies should aim to support a diversity of team sizes.
Access options
Access Nature and 54 other Nature Portfolio journals
Get Nature+, our best-value online-access subscription
$29.99 / 30 days
cancel any time
Subscribe to this journal
Receive 51 print issues and online access
$199.00 per year
only $3.90 per issue
Rent or buy this article
Prices vary by article type
from$1.95
to$39.95
Prices may be subject to local taxes which are calculated during checkout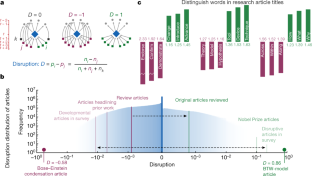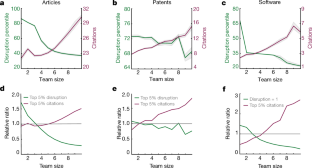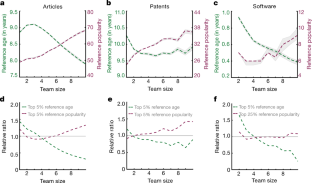 Similar content being viewed by others
References
Guimerà, R., Uzzi, B., Spiro, J. & Amaral, L. A. N. Team assembly mechanisms determine collaboration network structure and team performance. Science 308, 697–702 (2005).

Wuchty, S., Jones, B. F. & Uzzi, B. The increasing dominance of teams in production of knowledge. Science 316, 1036–1039 (2007).

Hunter, L. & Leahey, E. Collaborative research in sociology: trends and contributing factors. Am. Sociol. 39, 290–306 (2008).

Jones, B. F., Wuchty, S. & Uzzi, B. Multi-university research teams: shifting impact, geography, and stratification in science. Science 322, 1259–1262 (2008).

Xie, Y. "Undemocracy": inequalities in science. Science 344, 809–810 (2014).

Milojević, S. Principles of scientific research team formation and evolution. Proc. Natl Acad. Sci. USA 111, 3984–3989 (2014).

Falk-Krzesinski, H. J. et al. Mapping a research agenda for the science of team science. Res. Eval. 20, 145–158 (2011).

Committee on the Science of Team Science. Enhancing the Effectiveness of Team Science (National Academies Press, Washington DC, 2015).

Leahey, E. From sole investigator to team scientist: trends in the practice and study of research collaboration. Annu. Rev. Sociol. 42, 81–100 (2016).

Paulus, P. B., Kohn, N. W., Arditti, L. E. & Korde, R. M. Understanding the group size effect in electronic brainstorming. Small Group Res. 44, 332–352 (2013).

Lakhani, K. R. et al. Prize-based contests can provide solutions to computational biology problems. Nat. Biotechnol. 31, 108–111 (2013).

Barber, S. J., Harris, C. B. & Rajaram, S. Why two heads apart are better than two heads together: multiple mechanisms underlie the collaborative inhibition effect in memory. J. Exp. Psychol. Learn. Mem. Cogn. 41, 559–566 (2015).

Minson, J. A. & Mueller, J. S. The cost of collaboration: why joint decision making exacerbates rejection of outside information. Psychol. Sci. 23, 219–224 (2012).

Greenstein, S. & Zhu, F. Open content, Linus' law, and neutral point of view. Inf. Syst. Res. 27, 618–635 (2016).

Christensen, C. M. The Innovator's Dilemma: The Revolutionary Book That Will Change the Way You Do Business (Harper Business, New York, 2011).

Klug, M. & Bagrow, J. P. Understanding the group dynamics and success of teams. R. Soc. Open Sci. 3, 160007 (2016).

Bak, P., Tang, C. & Wiesenfeld, K. Self-organized criticality: an explanation of the 1/f noise. Phys. Rev. Lett. 59, 381–384 (1987).

Davis, K. B. et al. Bose–Einstein condensation in a gas of sodium atoms. Phys. Rev. Lett. 75, 3969–3973 (1995).

Bose, S. N. Plancks Gesetz und Lichtquantenhypothese. Z. Physik 26, 178–181 (1924).

Einstein, A. Quantentheorie des einatomigen idealen Gases. Sitzungsberichte der Preussischen Akademie der Wissenschaften 1, 3 (1925).

March, J. G. Exploration and exploitation in organizational learning. Organ. Sci. 2, 71–87 (1991).

Funk, R. J. & Owen-Smith, J. A dynamic network measure of technological change. Manage. Sci. 63, 791–817 (2017).

Moody, J. The structure of a social science collaboration network: disciplinary cohesion from 1963 to 1999. Am. Sociol. Rev. 69, 213–238 (2004).

Ke, Q., Ferrara, E., Radicchi, F. & Flammini, A. Defining and identifying Sleeping Beauties in science. Proc. Natl Acad. Sci. USA 112, 7426–7431 (2015).

Wang, D., Song, C. & Barabási, A.-L. Quantifying long-term scientific impact. Science 342, 127–132 (2013).

Evans, J. A. Electronic publication and the narrowing of science and scholarship. Science 321, 395–399 (2008).

Gerow, A., Hu, Y., Boyd-Graber, J., Blei, D. M. & Evans, J. A. Measuring discursive influence across scholarship. Proc. Natl Acad. Sci. USA 115, 3308–3313 (2018).

Uzzi, B., Mukherjee, S., Stringer, M. & Jones, B. Atypical combinations and scientific impact. Science 342, 468–472 (2013).

Kuhn, T. S. The function of measurement in modern physical science. Isis 52, 161–193 (1961).

Collins, D. Organizational Change: Sociological Perspectives (Routledge, New York, 1998).

Jones, B. F. The burden of knowledge and the 'death of the Renaissance man': is innovation getting harder? Rev. Econ. Stud. 76, 283–317 (2009).

Alcácer, J., Gittleman, M. & Sampat, B. Applicant and examiner citations in U.S. patents: an overview and analysis. Res. Policy 38, 415–427 (2009).

Schulz, C., Mazloumian, A., Petersen, A. M., Penner, O. & Helbing, D. Exploiting citation networks for large-scale author name disambiguation. EPJ Data Sci. 3, 11 (2014).

Mutz, R., Bornmann, L. & Daniel, H.-D. Cross-disciplinary research: What configurations of fields of science are found in grant proposals today? Res. Eval. 24, 30–36 (2015).

Le, Q. & Mikolov, T. Distributed representations of sentences and documents. In Proc. 31st International Conference on Machine Learning (eds Xing, E. P. & Jebara, T.) 1188–1196 (PLMR, Beijing, 2014).

Correia, S. A feasible estimator for linear models with multi-way fixed effects. Preprint at http://scorreia.com/research/hdfe.pdf (2016).

Full text of Alfred Nobel's will, available at https://www.nobelprize.org/alfred-nobel/full-text-of-alfred-nobels-will/ (accessed 25 September 2018).
Acknowledgements
We are grateful for support from AFOSR grants FA9550-15-1-0162 and FA9550-17-1-0089, the John Templeton Foundation's grant to the Metaknowledge Network, DARPA's Big Mechanism program grant 14145043, National Science Foundation grant SBE 1158803, 1829344 and 1829366. We thank the University of Chicago Organizations and Markets seminar, the Swarma Club (Beijing), and Clarivate Analytics for supplying the Web of Science data.
Reviewer information
Nature thanks L. Bornmann, S. Wuchty and the other anonymous reviewer(s) for their contribution to the peer review of this work.
Ethics declarations
Competing interests
The authors declare no competing interests.
Additional information
Publisher's note: Springer Nature remains neutral with regard to jurisdictional claims in published maps and institutional affiliations.
Extended data figures and tables
Supplementary information
This file contains Supplementary Information Sections 1-5, including Supplementary Tables 1-5 and additional references.
About this article
Cite this article
Wu, L., Wang, D. & Evans, J.A. Large teams develop and small teams disrupt science and technology. Nature 566, 378–382 (2019). https://doi.org/10.1038/s41586-019-0941-9
Received:

Accepted:

Published:

Issue Date:

DOI: https://doi.org/10.1038/s41586-019-0941-9
Comments
By submitting a comment you agree to abide by our Terms and Community Guidelines. If you find something abusive or that does not comply with our terms or guidelines please flag it as inappropriate.