Abstract
Over the past two centuries, mammalian chewing and related anatomical features have been among the most discussed of all vertebrate evolutionary innovations1,2,3. Chief among these features are two characters: the dentary-only mandible, and the tribosphenic molar with its triangulated upper cusps and lower talonid basin3,4,5. The flexible mandibular joint and the unfused symphysis of ancestral mammals—in combination with transformations of the adductor musculature and palate—are thought to have permitted greater mobility of each lower jaw, or hemimandible6,7. Following the appearance of precise dental occlusion near the origin of the mammalian crown8,9, therians evolved a tribosphenic molar with a craggy topography that is presumed to have been used to catch, cut and crush food. Here we describe the ancestral tribosphenic therian chewing stroke, as conserved in the short-tailed opossum Monodelphis domestica: it is a simple symmetrical sequence of lower tooth-row eversion and inversion during jaw opening and closing, respectively, enacted by hemimandibular long-axis rotation. This sequence is coupled with an eversion–inversion rotational grinding stroke. We infer that the ancestral therian chewing stroke relied heavily on long-axis rotation, including symmetrical eversion and inversion (inherited from the first mammaliaforms) as well as a mortar-and-pestle rotational grinding stroke that was inherited from stem therians along with the tribosphenic molar. The yaw-dominated masticatory cycle of primates, ungulates and other bunodont therians is derived; it is necessitated by a secondarily fused jaw symphysis, and permitted by the reduction of high, interlocking cusps10,11,12. The development of an efficient masticatory system—culminating in the tribosphenic apparatus—allowed early mammals to begin the process of digestion by shearing and crushing food into small boli instead of swallowing larger pieces in the reptilian manner, which necessitates a long, slow and wholly chemical breakdown. The vast diversity of mammalian teeth has emerged from the basic tribosphenic groundplan13.
Relevant articles
Open Access articles citing this article.
Kai R. K. Jäger

,

Richard L. Cifelli

&

Thomas Martin

Scientific Reports Open Access 24 December 2020

Linda Frey

,

Michael I. Coates

…

Christian Klug

Communications Biology Open Access 17 November 2020
Access options
Subscribe to Nature+
Get immediate online access to Nature and 55 other Nature journal
Subscribe to Journal
Get full journal access for 1 year
$199.00
only $3.90 per issue
All prices are NET prices.
VAT will be added later in the checkout.
Tax calculation will be finalised during checkout.
Buy article
Get time limited or full article access on ReadCube.
$32.00
All prices are NET prices.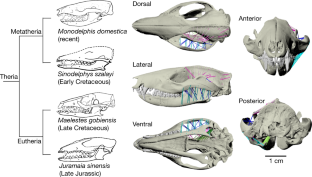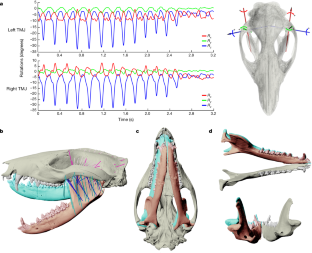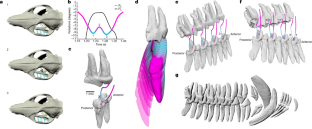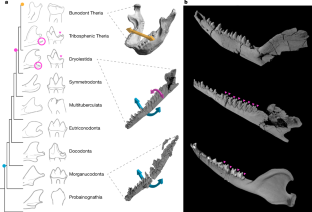 Data availability
The raw X-ray and computed-tomography data from the opossums have been deposited in the XMAPortal (http://xmaportal.org/webportal/, with study identifier HARVARD1). Source Data for Figs. 2, 3 and Extended Data Figs. 6–9 are provided with the paper. All other data that support the findings of this study are available from the corresponding author on request.
References
Hunter, J. The Natural History of the Human Teeth: Explaining Their Structure, Use, Formation, Growth, and Diseases (J. Johnson, London, 1778).

Owen, R. On the Anatomy of Vertebrates, Vol. II. Birds and Mammals (Longmans, Green and Co., London, 1866).

Crompton, A. W. The origin of the tribosphenic molar. In Early Mammals: 2. Symposium Arranged by the Linnean Soc. (ed. Kermack, D. M.) 65–87 (Linnean Society of London, London, 1971).

Crompton, A. W. & Hylander, W. L. in The Ecology and Biology of Mammal-like Reptiles (ed. Hotton, N.) 263–282 (Smithsonian Institution Press, Washington DC, 1986).

Crompton, A. W. & Hiiemäe, K. Functional occlusion in tribosphenic molars. Nature 222, 678–679 (1969).

Crompton, A. W. & Parker, P. Evolution of the mammalian masticatory apparatus. Am. Sci. 66, 192–201 (1978).

Oron, U. & Crompton, A. W. A cineradiographic and electromyographic study of mastication in Tenrec ecaudatus. J. Morphol. 185, 155–182 (1985).

Jenkins, F. A. Jr, Crompton, A. W. & Downs, W. R. Mesozoic mammals from Arizona: new evidence on mammalian evolution. Science 222, 1233–1235 (1983).

Crompton, A. W. & Jenkins, F. A. Jr. Molar occlusion in Late Triassic mammals. Biol. Rev. Camb. Philos. Soc. 43, 427–458 (1968).

Lieberman, D. E. & Crompton, A. W. Why fuse the mandibular symphysis? A comparative analysis. Am. J. Phys. Anthropol. 112, 517–540 (2000).

Beecher, R. M. Function and fusion at the mandibular symphysis. Am. J. Phys. Anthropol. 47, 325–335 (1977).

Hylander, W. L., Johnson, K. R. & Crompton, A. W. Loading patterns and jaw movements during mastication in Macaca fascicularis: a bone-strain, electromyographic, and cineradiographic analysis. Am. J. Phys. Anthropol. 72, 287–314 (1987).

Wible, J. R., Rougier, G. W., Novacek, M. J. & Asher, R. J. The eutherian mammal Maelestes gobiensis from the Late Cretaceous of Mongolia and the phylogeny of Cretaceous Eutheria. Bull. Am. Mus. Nat. Hist. 122, 1–124 (2009).

Beiriger, A. & Sears, K. E. Cellular basis of differential limb growth in postnatal gray short-tailed opossums (Monodelphis domestica). J. Exp. Zool. B 322, 221–229 (2014).

Crompton, A. W. & Hiiemae, K. M. Molar occlusion and mandibular movements during occlusion in the American opossum, Didelphis marsupalis. Zool. J. Linn. Soc. 49, 21–47 (1970).

Menegaz, R. A., Baier, D. B., Metzger, K. A., Herring, S. W. & Brainerd, E. L. XROMM analysis of tooth occlusion and temporomandibular joint kinematics during feeding in juvenile miniature pigs. J. Exp. Biol. 218, 2573–2584 (2015).

Vandebroek, G. Origin of the cusps and crests of the tribosphenic molar. J. Dent. Res. 46, 796–804 (1967).

Hiiemae, K. & Crompton, A. W. in Functional Vertebrate Morphology (eds Bramble, D. M. et. al) 262–290 (Harvard Univ. Press, Cambridge, 1985).

Mills, J. R. E. A comparison of lateral jaw movements in some mammals from wear facets on the teeth. Arch. Oral Biol. 12, 645–661 (1967).

Brainerd, E. L. et al. X-ray reconstruction of moving morphology (XROMM): precision, accuracy and applications in comparative biomechanics research. J. Exp. Zool. A 313, 262–279 (2010).

Orsbon, C. P., Gidmark, N. J. & Ross, C. F. Dynamic musculoskeletal functional morphology: integrating diceCT and XROMM. Anat. Rec. (Hoboken) 301, 378–406 (2018).

Sánchez-Villagra, M. R. & Smith, K. K. Diversity and evolution of the marsupial mandibular angular process. J. Mamm. Evol. 4, 119–144 (1997).

Wible, J. R. On the cranial osteology of the short-tailed opossum Monodelphis brevicaudata (Didelphidae, Marsupialia). Ann. Carnegie Mus. 72, 137–202 (2003).

Luo, Z. X., Ji, Q., Wible, J. R. & Yuan, C. X. An Early Cretaceous tribosphenic mammal and metatherian evolution. Science 302, 1934–1940 (2003).

O'Leary, M. A. et al. The placental mammal ancestor and the post-K–Pg radiation of placentals. Science 339, 662–667 (2013).

Luo, Z. X., Yuan, C. X., Meng, Q. J. & Ji, Q. A Jurassic eutherian mammal and divergence of marsupials and placentals. Nature 476, 442–445 (2011).

Gatesy, J. & Springer, M. S. Phylogenomic red flags: homology errors and zombie lineages in the evolutionary diversification of placental mammals. Proc. Natl Acad. Sci. USA 114, E9431–E9432 (2017).

Grossnickle, D. M. The evolutionary origin of jaw yaw in mammals. Sci. Rep. 7, 45094 (2017).

Rowe, T. B. Osteological Diagnosis of Mammalia, L.1758, and its Relationship to Extinct Synapsida. PhD thesis, Univ. of California, Berkeley (1986).

Rowe, T. Definition, diagnosis, and origin of Mammalia. J. Vertebr. Paleontol. 8, 241–264 (1988).

Rowe, T. Coevolution of the mammalian middle ear and neocortex. Science 273, 651–654 (1996).

Murray, P. F. A unique jaw mechanism in the echidna, Tachyglossus aculeatus (Monotremata). Aust. J. Zool. 29, 1–5 (1981).

Luo, Z. X., Cifelli, R. L. & Kielan-Jaworowska, Z. Dual origin of tribosphenic mammals. Nature 409, 53–57 (2001).

Knörlein, B. J., Baier, D. B., Gatesy, S. M., Laurence-Chasen, J. D. & Brainerd, E. L. Validation of XMALab software for marker-based XROMM. J. Exp. Biol. 219, 3701–3711 (2016).
Acknowledgements
We thank A. Biewener, P. Ramirez and the remaining staff at the Concord Field Station, Harvard University, for their support; S. Gatesy for invaluable advice and assistance with Maya; G. Wagner, J. Maziarz and the rest of the Wagner Laboratory for arranging transfer of the study subjects; K. Zyskowski for assistance in preparing and accessioning specimens; and D. B. Baier for developing the XROMM Maya tools. B.-A.S.B. and J.A.M. were supported by Yale University and the Yale Peabody Museum of Natural History. A.R.M. and E.L.B. were supported by Brown University, by an NSF Graduate Research Fellowship awarded to A.R.M. and by NSF grants 1661129 and 1655756 to E.L.B. E.A.H. was supported by The University of Texas at Austin and by an NSF Graduate Research Fellowship. C.M. and A.W.C. were supported by the Harvard Museum of Comparative Zoology.
Reviewer information
Nature thanks Anthony Herrel and the other anonymous reviewer(s) for their contribution to the peer review of this work.
Ethics declarations
Competing interests
The authors declare no competing interests.
Additional information
Publisher's note: Springer Nature remains neutral with regard to jurisdictional claims in published maps and institutional affiliations.
Extended data figures and tables
Supplementary information
About this article
Cite this article
Bhullar, BA.S., Manafzadeh, A.R., Miyamae, J.A. et al. Rolling of the jaw is essential for mammalian chewing and tribosphenic molar function. Nature 566, 528–532 (2019). https://doi.org/10.1038/s41586-019-0940-x
Received:

Accepted:

Published:

Issue Date:

DOI: https://doi.org/10.1038/s41586-019-0940-x
Comments
By submitting a comment you agree to abide by our Terms and Community Guidelines. If you find something abusive or that does not comply with our terms or guidelines please flag it as inappropriate.