Abstract
Across the animal kingdom, gastrulation represents a key developmental event during which embryonic pluripotent cells diversify into lineage-specific precursors that will generate the adult organism. Here we report the transcriptional profiles of 116,312 single cells from mouse embryos collected at nine sequential time points ranging from 6.5 to 8.5 days post-fertilization. We construct a molecular map of cellular differentiation from pluripotency towards all major embryonic lineages, and explore the complex events involved in the convergence of visceral and primitive streak-derived endoderm. Furthermore, we use single-cell profiling to show that Tal1−/− chimeric embryos display defects in early mesoderm diversification, and we thus demonstrate how combining temporal and transcriptional information can illuminate gene function. Together, this comprehensive delineation of mammalian cell differentiation trajectories in vivo represents a baseline for understanding the effects of gene mutations during development, as well as a roadmap for the optimization of in vitro differentiation protocols for regenerative medicine.
Access options
Subscribe to Journal
Get full journal access for 1 year
$199.00
only $3.90 per issue
All prices are NET prices.
VAT will be added later in the checkout.
Rent or Buy article
Get time limited or full article access on ReadCube.
from$8.99
All prices are NET prices.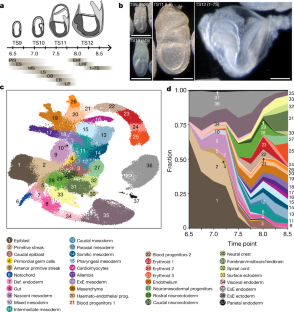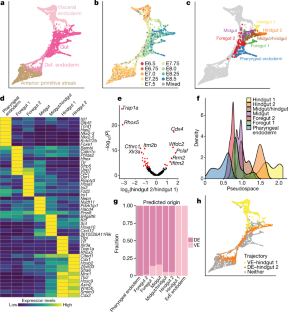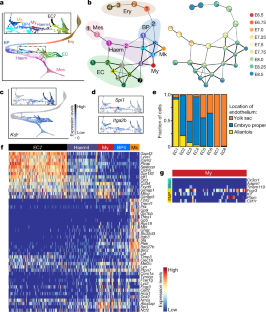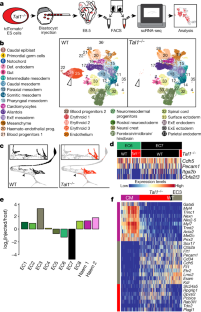 References
1.

Tam, P. P. L. & Behringer, R. R. Mouse gastrulation: the formation of a mammalian body plan. Mech. Dev. 68, 3–25 (1997).

2.

Loh, K. M. et al. Mapping the pairwise choices leading from pluripotency to human bone, heart, and other mesoderm cell types. Cell 166, 451–467 (2016).

3.

Viotti, M., Nowotschin, S. & Hadjantonakis, A.-K. SOX17 links gut endoderm morphogenesis and germ layer segregation. Nat. Cell Biol. 16, 1146–1156 (2014).

4.

Lescroart, F. et al. Defining the earliest step of cardiovascular lineage segregation by single-cell RNA-seq. Science 359, 1177–1181 (2018).

5.

Ibarra-Soria, X. et al. Defining murine organogenesis at single-cell resolution reveals a role for the leukotriene pathway in regulating blood progenitor formation. Nat. Cell Biol. 20, 127–134 (2018).

6.

Downs, K. M. & Davies, T. Staging of gastrulating mouse embryos by morphological landmarks in the dissecting microscope. Development 118, 1255–1266 (1993).

7.

Koch, F. et al. Antagonistic activities of Sox2 and Brachyury control the fate choice of neuro-mesodermal progenitors. Dev. Cell 42, 514–526.e7 (2017).

8.

Tzouanacou, E., Wegener, A., Wymeersch, F. J., Wilson, V. & Nicolas, J.-F. Redefining the progression of lineage segregations during mammalian embryogenesis by clonal analysis. Dev. Cell 17, 365–376 (2009).

9.

Kwon, G. S., Viotti, M. & Hadjantonakis, A.-K. The endoderm of the mouse embryo arises by dynamic widespread intercalation of embryonic and extraembryonic lineages. Dev. Cell 15, 509–520 (2008).

10.

Finley, K. R., Tennessen, J. & Shawlot, W. The mouse Secreted frizzled-related protein 5 gene is expressed in the anterior visceral endoderm and foregut endoderm during early post-implantation development. Gene Expr. Patterns 3, 681–684 (2003).

11.

Makover, A., Soprano, D. R., Wyatt, M. L. & Goodman, D. S. An in situ-hybridization study of the localization of retinol-binding protein and transthyretin messenger RNAs during fetal development in the rat. Differentiation 40, 17–25 (1989).

12.

Martinez Barbera, J. P. et al. The homeobox gene Hex is required in definitive endodermal tissues for normal forebrain, liver and thyroid formation. Development 127, 2433–2445 (2000).

13.

Bosse, A. et al. Identification of the vertebrate Iroquois homeobox gene family with overlapping expression during early development of the nervous system. Mech. Dev. 69, 169–181 (1997).

14.

Osipovich, A. B. et al. Insm1 promotes endocrine cell differentiation by modulating the expression of a network of genes that includes Neurog3 and Ripply3. Development 141, 2939–2949 (2014).

15.

Haghverdi, L., Büttner, M., Wolf, F. A., Buettner, F. & Theis, F. J. Diffusion pseudotime robustly reconstructs lineage branching. Nat. Methods 13, 845–848 (2016).

16.

Schiebinger, G. et al. Reconstruction of developmental landscapes by optimal-transport analysis of single-cell gene expression sheds light on cellular reprogramming. Preprint at https://www.bioRxiv.org/content/early/2017/09/27/191056 (2017).

17.

Viotti, M., Foley, A. C. & Hadjantonakis, A. K. Gutsy moves in mice: cellular and molecular dynamics of endoderm morphogenesis. Phil. Trans. R. Soc. Lond. B 369, 20130547 (2014).

18.

Deschamps, J. & Duboule, D. Embryonic timing, axial stem cells, chromatin dynamics, and the Hox clock. Genes Dev. 31, 1406–1416 (2017).

19.

Palis, J. Hematopoietic stem cell-independent hematopoiesis: emergence of erythroid, megakaryocyte, and myeloid potential in the mammalian embryo. FEBS Lett. 590, 3965–3974 (2016).

20.

McGrath, K. E. et al. Distinct sources of hematopoietic progenitors emerge before HSCs and provide functional blood cells in the mammalian embryo. Cell Reports 11, 1892–1904 (2015).

21.

Downs, K. M., Gifford, S., Blahnik, M. & Gardner, R. L. Vascularization in the murine allantois occurs by vasculogenesis without accompanying erythropoiesis. Development 125, 4507–4520 (1998).

22.

Patan, S. in Angiogenesis in Brain Tumors (eds Kirsch, M. & Black, P. M.) 3–32 (Springer, Boston, MA, 2004).

23.

Picelli, S. et al. Smart-seq2 for sensitive full-length transcriptome profiling in single cells. Nat. Methods 10, 1096–1098 (2013).

24.

Palis, J., Robertson, S., Kennedy, M., Wall, C. & Keller, G. Development of erythroid and myeloid progenitors in the yolk sac and embryo proper of the mouse. Development 126, 5073–5084 (1999).

25.

Tober, J. et al. The megakaryocyte lineage originates from hemangioblast precursors and is an integral component both of primitive and of definitive hematopoiesis. Blood 109, 1433–1441 (2007).

26.

Xu, M.-j. et al. Evidence for the presence of murine primitive megakaryocytopoiesis in the early yolk sac. Blood 97, 2016–2022 (2001).

27.

Hoeffel, G. et al. C-Myb+ erythro-myeloid progenitor-derived fetal monocytes give rise to adult tissue-resident macrophages. Immunity 42, 665–678 (2015).

28.

Gomez Perdiguero, E. et al. The origin of tissue-resident macrophages: when an erythro-myeloid progenitor is an erythro-myeloid progenitor. Immunity 43, 1023–1024 (2015).

29.

Bennett, M. L. et al. New tools for studying microglia in the mouse and human CNS. Proc. Natl Acad. Sci. USA 113, E1738–E1746 (2016).

30.

Ginhoux, F. et al. Fate mapping analysis reveals that adult microglia derive from primitive macrophages. Science 330, 841–845 (2010).

31.

Shivdasani, R. A., Mayer, E. L. & Orkin, S. H. Absence of blood formation in mice lacking the T-cell leukaemia oncoprotein tal-1/SCL. Nature 373, 432–434 (1995).

32.

Robb, L. et al. The scl gene product is required for the generation of all hematopoietic lineages in the adult mouse. EMBO J. 15, 4123–4129 (1996).

33.

Van Handel, B. et al. Scl represses cardiomyogenesis in prospective hemogenic endothelium and endocardium. Cell 150, 590–605 (2012).

34.

Huber, T. L., Kouskoff, V., Fehling, H. J., Palis, J. & Keller, G. Haemangioblast commitment is initiated in the primitive streak of the mouse embryo. Nature 432, 625–630 (2004).

35.

Briggs, J. A. et al. The dynamics of gene expression in vertebrate embryogenesis at single-cell resolution. Science 360, eaar5780 (2018).

36.

Farrell, J. A. et al. Single-cell reconstruction of developmental trajectories during zebrafish embryogenesis. Science 360, eaar3131 (2018).

37.

Wagner, D. E. et al. Single-cell mapping of gene expression landscapes and lineage in the zebrafish embryo. Science 360, 981–987 (2018).

38.

Pijuan-Sala, B., Guibentif, C. & Göttgens, B. Single-cell transcriptional profiling: a window into embryonic cell-type specification. Nat. Rev. Mol. Cell Biol. 19, 399–412 (2018).

39.

Srinivas, S. et al. Cre reporter strains produced by targeted insertion of EYFP and ECFP into the ROSA26 locus. BMC Dev. Biol. 1, 4 (2001).

40.

Nichols, J. & Jones, K. Derivation of mouse embryonic stem (ES) cell lines using small-molecule inhibitors of Erk and Gsk3 signaling (2i). Cold Spring Harb. Protoc. 2017, https://doi.org/10.1101/pdb.prot094086 (2017).

41.

Ying, Q.-L. et al. The ground state of embryonic stem cell self-renewal. Nature 453, 519–523 (2008).

42.

Wray, J. et al. Inhibition of glycogen synthase kinase-3 alleviates Tcf3 repression of the pluripotency network and increases embryonic stem cell resistance to differentiation. Nat. Cell Biol. 13, 838–845 (2011).

43.

Ran, F. A. et al. Genome engineering using the CRISPR-Cas9 system. Nat. Protocols 8, 2281–2308 (2013).

44.

Le Bin, G. C. et al. Oct4 is required for lineage priming in the developing inner cell mass of the mouse blastocyst. Development 141, 1001–1010 (2014).

45.

Lun, A. et al. Distinguishing cells from empty droplets in droplet-based single-cell RNA sequencing data. Preprint at https://www.bioRxiv.org/content/early/2018/04/04/234872 (2018).

46.

Lun, A. T. L., McCarthy, D. J. & Marioni, J. C. A step-by-step workflow for low-level analysis of single-cell RNA-seq data with Bioconductor. F1000Res. 5, 2122 (2016).

47.

Wu, T. D. & Nacu, S. Fast and SNP-tolerant detection of complex variants and splicing in short reads. Bioinformatics 26, 873–881 (2010).

48.

Anders, S., Pyl, P. T. & Huber, W. HTSeq—a Python framework to work with high-throughput sequencing data. Bioinformatics 31, 166–169 (2015).

49.

Wolf, F. A., Angerer, P. & Theis, F. J. SCANPY: large-scale single-cell gene expression data analysis. Genome Biol. 19, 15 (2018).

50.

Bastian, M., Heymann, S. & Jacomy, M. Gephi: an open source software for exploring and manipulating networks. In Third International AAAI Conference on Weblogs and Social Media (AAAI, 2009).

51.

Jacomy, M., Venturini, T., Heymann, S. & Bastian, M. ForceAtlas2, a continuous graph layout algorithm for handy network visualization designed for the Gephi software. PLoS One 9, e98679 (2014).

52.

Wolf, F. A. et al. Graph abstraction reconciles clustering with trajectory inference through a topology preserving map of single cells. Preprint at https://www.bioRxiv.org/content/early/2017/10/25/208819 (2017).

53.

Robinson, M. D., McCarthy, D. J. & Smyth, G. K. edgeR: a Bioconductor package for differential expression analysis of digital gene expression data. Bioinformatics 26, 139–140 (2010).

54.

Dong, J. et al. Single-cell RNA-seq analysis unveils a prevalent epithelial/mesenchymal hybrid state during mouse organogenesis. Genome Biol. 19, 31 (2018).

55.

Brennecke, P. et al. Accounting for technical noise in single-cell RNA-seq experiments. Nat. Methods 10, 1093–1095 (2013).

56.

Kinder, S. J. et al. The orderly allocation of mesodermal cells to the extraembryonic structures and the anteroposterior axis during gastrulation of the mouse embryo. Development 126, 4691–4701 (1999).
Acknowledgements
We thank W. Mansfield for blastocyst injections; A. T. L. Lun and F. Hamey for discussions concerning the analysis; T. L. Hamilton for technical support in embryo collection; S. Kinston and K. Jones for technical assistance; the Flow Cytometry Core Facility at CIMR for cell sorting; the CRUK-CI genomics core for the chimaera scRNA-seq 10x libraries and for letting us use the 10x Chromium after hours; the Wellcome Sanger Institute DNA Pipelines Operations for sequencing; and K. Hadjantonakis for sharing the Ttr::cre mouse line. Research in the authors' laboratories is supported by Wellcome, the MRC, CRUK, Bloodwise, and NIH-NIDDK; by core support grants from Wellcome to the Cambridge Institute for Medical Research and Wellcome-MRC Cambridge Stem Cell Institute; and by core funding from CRUK and the European Molecular Biology Laboratory. B.P.-S. and D.L.L.H. are funded by the Wellcome 4-Year PhD Programme in Stem Cell Biology and Medicine and the University of Cambridge; D.L.L.H. is also funded by the Cambridge Commonwealth European and International Trust. J.A.G. is funded by the Wellcome Mathematical Genomics and Medicine Programme at the University of Cambridge (109081/Z/15/A). C.G. is funded by the Swedish Research Council (2017-06278, administered by Sahlgrenska Cancer Center, University of Gothenburg). This work was funded as part of a Wellcome Strategic Award (105031/Z/14/Z) awarded to W.R., B.G., J.C.M., J.N., L. Vallier, S.S., B.D.S., S. Teichmann, and T. Voet; by a Wellcome grant (108438/Z/15) awarded to J.C.M. and S.S., and by a BBSRC grant (BBS/E/B/000C0421) awarded to W.R.
Reviewer information
Nature thanks Peter Sims, Patrick Tam and the other anonymous reviewer(s) for their contribution to the peer review of this work.
Ethics declarations
Competing interests
The authors declare no competing interests.
Additional information
Publisher's note: Springer Nature remains neutral with regard to jurisdictional claims in published maps and institutional affiliations.
Extended data figures and tables
Supplementary information
About this article
Cite this article
Pijuan-Sala, B., Griffiths, J.A., Guibentif, C. et al. A single-cell molecular map of mouse gastrulation and early organogenesis. Nature 566, 490–495 (2019). https://doi.org/10.1038/s41586-019-0933-9
Received:

Accepted:

Published:

Issue Date:
Comments
By submitting a comment you agree to abide by our Terms and Community Guidelines. If you find something abusive or that does not comply with our terms or guidelines please flag it as inappropriate.