Abstract
The RNA-guided CRISPR-associated (Cas) proteins Cas9 and Cas12a provide adaptive immunity against invading nucleic acids, and function as powerful tools for genome editing in a wide range of organisms. Here we reveal the underlying mechanisms of a third, fundamentally distinct RNA-guided genome-editing platform named CRISPR–CasX, which uses unique structures for programmable double-stranded DNA binding and cleavage. Biochemical and in vivo data demonstrate that CasX is active for Escherichia coli and human genome modification. Eight cryo-electron microscopy structures of CasX in different states of assembly with its guide RNA and double-stranded DNA substrates reveal an extensive RNA scaffold and a domain required for DNA unwinding. These data demonstrate how CasX activity arose through convergent evolution to establish an enzyme family that is functionally separate from both Cas9 and Cas12a.
Relevant articles
Open Access articles citing this article.
Zhen-Hua Li

,

Jun Wang

…

Xiao Yang

Military Medical Research Open Access 10 March 2023

Jack P. K. Bravo

,

Thomson Hallmark

…

David W. Taylor

Nature Open Access 04 January 2023
Access options
Access Nature and 54 other Nature Portfolio journals
Get Nature+, our best-value online-access subscription
$29.99 per month
cancel any time
Subscribe to this journal
Receive 51 print issues and online access
$199.00 per year
only $3.90 per issue
Rent or buy this article
Get just this article for as long as you need it
$39.95
Prices may be subject to local taxes which are calculated during checkout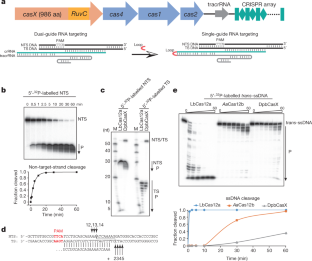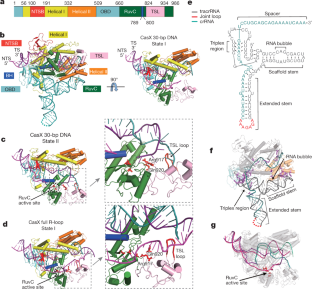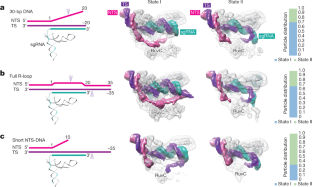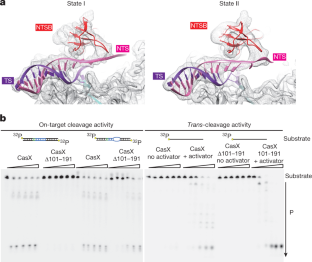 Data availability
All data that support the conclusions of this Article can be found in the figures and the Source Data. The cryo-EM structural models and electron density maps have been deposited in the Protein Data Bank under the codes 6NY1, 6NY2 and 6NY3 and the Electron Microscopy Data Bank under the codes EMD-8987, EMD-8988, EMD-8980, EMD-8994, EMD-8996, EMD-8991, EMD-8989 and EMD-8990. More information is summarized in Supplementary Table 1. All the plasmids and oligonucleotide sequences used in this study are summarized in Supplementary Table 2. Any other relevant data are available from the corresponding authors upon reasonable request.
References
Marraffini, L. A. CRISPR–Cas immunity in prokaryotes. Nature 526, 55–61 (2015).

Wright, A. V., Nuñez, J. K. & Doudna, J. A. Biology and applications of CRISPR systems: harnessing nature's toolbox for genome engineering. Cell 164, 29–44 (2016).

Barrangou, R. & Doudna, J. A. Applications of CRISPR technologies in research and beyond. Nat. Biotechnol. 34, 933–941 (2016).

Strutt, S. C., Torrez, R. M., Kaya, E., Negrete, O. A. & Doudna, J. A. RNA-dependent RNA targeting by CRISPR–Cas9. eLife 7, e32724 (2018).

Koonin, E. V., Makarova, K. S. & Zhang, F. Diversity, classification and evolution of CRISPR–Cas systems. Curr. Opin. Microbiol. 37, 67–78 (2017).

Cong, L. et al. Multiplex genome engineering using CRISPR/Cas systems. Science 339, 819–823 (2013).

Jinek, M. et al. RNA-programmed genome editing in human cells. eLife 2, e00471 (2013).

Burstein, D. et al. New CRISPR–Cas systems from uncultivated microbes. Nature 542, 237–241 (2017).

Yamano, T. et al. Crystal structure of Cpf1 in complex with guide RNA and target DNA. Cell 165, 949–962 (2016).

Yang, H., Gao, P., Rajashankar, K. R. & Patel, D. J. PAM-dependent target DNA recognition and cleavage by C2c1 CRISPR–Cas endonuclease. Cell 167, 1814–1828.e1812 (2016).

Zetsche, B. et al. Cpf1 is a single RNA-guided endonuclease of a class 2 CRISPR–Cas system. Cell 163, 759–771 (2015).

Chen, J. S. et al. CRISPR–Cas12a target binding unleashes indiscriminate single-stranded DNase activity. Science 360, 436–439 (2018).

Swarts, D. & Jinek, M. Mechanistic insights into the cis-and trans-acting deoxyribonuclease activities of Cas12a. Preprint at https://www.biorxiv.org/content/early/2018/06/22/353748 (2018).

Oakes, B. L., Nadler, D. C. & Savage, D. F. Protein engineering of Cas9 for enhanced function. Methods Enzymol. 546, 491–511 (2014).

Oakes, B. L. et al. Profiling of engineering hotspots identifies an allosteric CRISPR–Cas9 switch. Nat. Biotechnol. 34, 646–651 (2016).

O'Connell, M. R. et al. Programmable RNA recognition and cleavage by CRISPR/Cas9. Nature 516, 263–266 (2014).

Zhu, X. et al. An efficient genotyping method for genome-modified animals and human cells generated with CRISPR/Cas9 system. Sci. Rep. 4, 6420 (2014).

Mali, P. et al. RNA-guided human genome engineering via Cas9. Science 339, 823–826 (2013).

Yamano, T. et al. Structural basis for the canonical and non-canonical PAM recognition by CRISPR–Cpf1. Mol. Cell 67, 633–645.e633 (2017).

Holm, L. & Laakso, L. M. Dali server update. Nucleic Acids Res. 44, W351–W355 (2016).

Moolenaar, G. F., Höglund, L. & Goosen, N. Clue to damage recognition by UvrB: residues in the β-hairpin structure prevent binding to non-damaged DNA. EMBO J. 20, 6140–6149 (2001).

Shen, J., Gai, D., Patrick, A., Greenleaf, W. B. & Chen, X. S. The roles of the residues on the channel β-hairpin and loop structures of simian virus 40 hexameric helicase. Proc. Natl Acad. Sci. USA 102, 11248–11253 (2005).

Castella, S., Bingham, G. & Sanders, C. M. Common determinants in DNA melting and helicase-catalysed DNA unwinding by papillomavirus replication protein E1. Nucleic Acids Res. 34, 3008–3019 (2006).

Hahn, S. & Roberts, S. The zinc ribbon domains of the general transcription factors TFIIB and Brf: conserved functional surfaces but different roles in transcription initiation. Genes Dev. 14, 719–730 (2000).

Okuda, M. et al. A novel zinc finger structure in the large subunit of human general transcription factor TFIIE. J. Biol. Chem. 279, 51395–51403 (2004).

Pan, H. & Wigley, D. B. Structure of the zinc-binding domain of Bacillus stearothermophilus DNA primase. Structure 8, 231–239 (2000).

Qi, L. S. et al. Repurposing CRISPR as an RNA-guided platform for sequence-specific control of gene expression. Cell 152, 1173–1183 (2013).

Tiscornia, G., Singer, O. & Verma, I. M. Production and purification of lentiviral vectors. Nat. Protoc. 1, 241–245 (2006).

Mastronarde, D. N. SerialEM: a program for automated tilt series acquisition on Tecnai microscopes using prediction of specimen position. Microsc. Microanal. 9, 1182–1183 (2003).

Zheng, S. Q. et al. MotionCor2: anisotropic correction of beam-induced motion for improved cryo-electron microscopy. Nat. Methods 14, 331–332 (2017).

Zhang, K. Gctf: real-time CTF determination and correction. J. Struct. Biol. 193, 1–12 (2016).

Tang, G. et al. EMAN2: an extensible image processing suite for electron microscopy. J. Struct. Biol. 157, 38–46 (2007).

Kimanius, D., Forsberg, B. O., Scheres, S. H. & Lindahl, E. Accelerated cryo-EM structure determination with parallelisation using GPUs in RELION-2. eLife 5, e18722 (2016).

Punjani, A., Rubinstein, J. L., Fleet, D. J. & Brubaker, M. A. cryoSPARC: algorithms for rapid unsupervised cryo-EM structure determination. Nat. Methods 14, 290–296 (2017).

Yang, B. et al. Identification of cross-linked peptides from complex samples. Nat. Methods 9, 904–906 (2012).

Asara, J. M., Christofk, H. R., Freimark, L. M. & Cantley, L. C. A label-free quantification method by MS/MS TIC compared to SILAC and spectral counting in a proteomics screen. Proteomics 8, 994–999 (2008).

Adams, P. D. et al. PHENIX: a comprehensive Python-based system for macromolecular structure solution. Acta Crystallogr. D 66, 213–221 (2010).

Emsley, P., Lohkamp, B., Scott, W. G. & Cowtan, K. Features and development of Coot. Acta Crystallogr. D 66, 486–501 (2010).

Chen, V. B. et al. MolProbity: all-atom structure validation for macromolecular crystallography. Acta Crystallogr. D 66, 12–21 (2010).

Trabuco, L. G., Villa, E., Schreiner, E., Harrison, C. B. & Schulten, K. Molecular dynamics flexible fitting: a practical guide to combine cryo-electron microscopy and X-ray crystallography. Methods 49, 174–180 (2009).

Pettersen, E. F. et al. UCSF Chimera—a visualization system for exploratory research and analysis. J. Comput. Chem. 25, 1605–1612 (2004).

Shmakov, S. et al. Discovery and functional characterization of diverse class 2 CRISPR–Cas systems. Mol. Cell 60, 385–397 (2015).

Katoh, K. & Standley, D. M. MAFFT multiple sequence alignment software version 7: improvements in performance and usability. Mol. Biol. Evol. 30, 772–780 (2013).

Stamatakis, A. RAxML version 8: a tool for phylogenetic analysis and post-analysis of large phylogenies. Bioinformatics 30, 1312–1313 (2014).

Letunic, I. & Bork, P. Interactive tree of life (iTOL) v3: an online tool for the display and annotation of phylogenetic and other trees. Nucleic Acids Res. 44, W242–W245 (2016).

Fu, L., Niu, B., Zhu, Z., Wu, S. & Li, W. CD-HIT: accelerated for clustering the next-generation sequencing data. Bioinformatics 28, 3150–3152 (2012).
Acknowledgements
Electron microscopy data were collected at the Bay Area Cryo-EM (BACEM) facility located at UC Berkeley. We thank D. B. Toso and P. Grob for expert electron microscopy assistance; A. Chintangal and P. Tobias for computational support; and D. Savage, J. Cofsky and A. V. Wright for comments on the manuscript. Research in this publication was supported by the National Science Foundation under award number 1244557 (J.A.D.); by the National Institutes of Health under award number P50GM082250 (HARC Center, J.A.D.); and by the National Institute of General Medical Sciences of the National Institutes of Health under award number P01GM051487 (J.A.D. and E.N.). J.A.D. and E.N. are Howard Hughes Medical Institute Investigators.
Ethics declarations
Competing interests
J.A.D., B.L.O., L.B.H., J.-J.L. and N.O. have filed a related patent on CasX mutations and guide RNAs described herein with the US Patent and Trademark Office. J.A.D. is a co-founder of Caribou Biosciences, Editas Medicine, Intellia Therapeutics, Scribe Therapeutics and Mammoth Biosciences, and a Director of Johnson & Johnson. J.A.D. is a scientific advisor to Caribou Biosciences, Intellia Therapeutics, eFFECTOR Therapeutics, Scribe Therapeutics, Synthego, Metagenomi, Mammoth Biosciences and Inari. J.A.D. has research projects sponsored by Biogen and Pfizer. L.B.H. is a co-founder of Mammoth Biosciences. B.L.O. is a co-founder of Scribe Therapeutics.
Additional information
Publisher's note: Springer Nature remains neutral with regard to jurisdictional claims in published maps and institutional affiliations.
Extended data figures and tables
Supplementary information
About this article
Cite this article
Liu, JJ., Orlova, N., Oakes, B.L. et al. CasX enzymes comprise a distinct family of RNA-guided genome editors. Nature 566, 218–223 (2019). https://doi.org/10.1038/s41586-019-0908-x
Received:

Accepted:

Published:

Issue Date:

DOI: https://doi.org/10.1038/s41586-019-0908-x
Comments
By submitting a comment you agree to abide by our Terms and Community Guidelines. If you find something abusive or that does not comply with our terms or guidelines please flag it as inappropriate.