Abstract
A stable latent reservoir for HIV-1 in resting CD4+ T cells is the principal barrier to a cure1,2,3. Curative strategies that target the reservoir are being tested4,5 and require accurate, scalable reservoir assays. The reservoir was defined with quantitative viral outgrowth assays for cells that release infectious virus after one round of T cell activation1. However, these quantitative outgrowth assays and newer assays for cells that produce viral RNA after activation6 may underestimate the reservoir size because one round of activation does not induce all proviruses7. Many studies rely on simple assays based on polymerase chain reaction to detect proviral DNA regardless of transcriptional status, but the clinical relevance of these assays is unclear, as the vast majority of proviruses are defective7,8,9. Here we describe a more accurate method of measuring the HIV-1 reservoir that separately quantifies intact and defective proviruses. We show that the dynamics of cells that carry intact and defective proviruses are different in vitro and in vivo. These findings have implications for targeting the intact proviruses that are a barrier to curing HIV infection.
Relevant articles
Open Access articles citing this article.
Daniel B. Reeves

,

Christian Gaebler

…

Michel C. Nussenzweig

Nature Communications Open Access 13 July 2023

Yury V. Kuzmichev

,

Carol Lackman-Smith

…

Deanna A. Kulpa

Scientific Reports Open Access 06 July 2023

Rebecca T. Veenhuis

,

Celina M. Abreu

…

Janice E. Clements

Nature Microbiology Open Access 27 March 2023
Access options
Access Nature and 54 other Nature Portfolio journals
Get Nature+, our best-value online-access subscription
$29.99 / 30 days
cancel any time
Subscribe to this journal
Receive 51 print issues and online access
$199.00 per year
only $3.90 per issue
Rent or buy this article
Prices vary by article type
from$1.95
to$39.95
Prices may be subject to local taxes which are calculated during checkout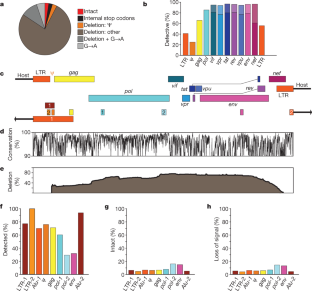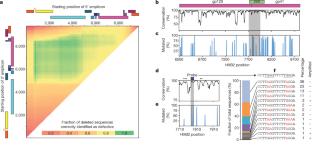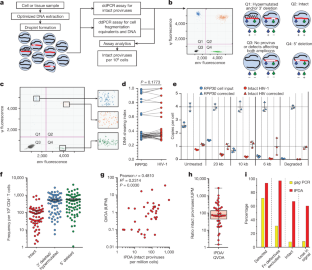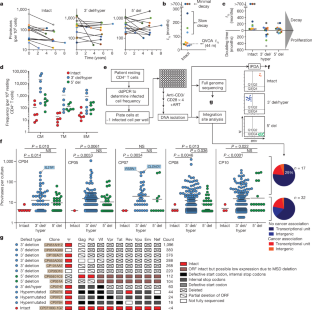 References
Finzi, D. et al. Identification of a reservoir for HIV-1 in patients on highly active antiretroviral therapy. Science 278, 1295–1300 (1997).

Chun, T. W. et al. Presence of an inducible HIV-1 latent reservoir during highly active antiretroviral therapy. Proc. Natl Acad. Sci. USA 94, 13193–13197 (1997).

Wong, J. K. et al. Recovery of replication-competent HIV despite prolonged suppression of plasma viremia. Science 278, 1291–1295 (1997).

Archin, N. M. et al. Administration of vorinostat disrupts HIV-1 latency in patients on antiretroviral therapy. Nature 487, 482–485 (2012).

Borducchi, E. N. et al. Ad26/MVA therapeutic vaccination with TLR7 stimulation in SIV-infected rhesus monkeys. Nature 540, 284–287 (2016).

Procopio, F. A. et al. A novel assay to measure the magnitude of the inducible viral reservoir in HIV-infected individuals. EBioMedicine 2, 874–883 (2015).

Ho, Y. C. et al. Replication-competent noninduced proviruses in the latent reservoir increase barrier to HIV-1 cure. Cell 155, 540–551 (2013).

Bruner, K. M. et al. Defective proviruses rapidly accumulate during acute HIV-1 infection. Nat. Med. 22, 1043–1049 (2016).

Imamichi, H. et al. Defective HIV-1 proviruses produce novel protein-coding RNA species in HIV-infected patients on combination antiretroviral therapy. Proc. Natl Acad. Sci. USA 113, 8783–8788 (2016).

Sheehy, A. M., Gaddis, N. C., Choi, J. D. & Malim, M. H. Isolation of a human gene that inhibits HIV-1 infection and is suppressed by the viral Vif protein. Nature 418, 646–650 (2002).

Jordan, A., Bisgrove, D. & Verdin, E. HIV reproducibly establishes a latent infection after acute infection of T cells in vitro. EMBO J. 22, 1868–1877 (2003).

Finzi, D. et al. Latent infection of CD4+ T cells provides a mechanism for lifelong persistence of HIV-1, even in patients on effective combination therapy. Nat. Med. 5, 512–517 (1999).

Crooks, A. M. et al. Precise quantitation of the latent HIV-1 reservoir: implications for eradication strategies. J. Infect. Dis. 212, 1361–1365 (2015).

Maldarelli, F. et al. Specific HIV integration sites are linked to clonal expansion and persistence of infected cells. Science 345, 179–183 (2014).

Wagner, T. A. et al. Proliferation of cells with HIV integrated into cancer genes contributes to persistent infection. Science 345, 570–573 (2014).

Bui, J. K. et al. Proviruses with identical sequences comprise a large fraction of the replication-competent HIV reservoir. PLoS Pathog. 13, e1006283 (2017).

Lorenzi, J. C. et al. Paired quantitative and qualitative assessment of the replication-competent HIV-1 reservoir and comparison with integrated proviral DNA. Proc. Natl Acad. Sci. USA 113, E7908–E7916 (2016).

Hosmane, N. N. et al. Proliferation of latently infected CD4+ T cells carrying replication-competent HIV-1: potential role in latent reservoir dynamics. J. Exp. Med. 214, 959–972 (2017).

Wang, Z. et al. Expanded cellular clones carrying replication-competent HIV-1 persist, wax, and wane. Proc. Natl Acad. Sci. USA 115, E2575–E2584 (2018).

Chomont, N. et al. HIV reservoir size and persistence are driven by T cell survival and homeostatic proliferation. Nat. Med. 15, 893–900 (2009).

Cohn, L. B. et al. HIV-1 integration landscape during latent and active infection. Cell 160, 420–432 (2015).

Ho, D. D. et al. Rapid turnover of plasma virions and CD4 lymphocytes in HIV-1 infection. Nature 373, 123–126 (1995).

Wei, X. et al. Viral dynamics in human immunodeficiency virus type 1 infection. Nature 373, 117–122 (1995).

Simonetti, F. R. et al. Clonally expanded CD4+ T cells can produce infectious HIV-1 in vivo. Proc. Natl Acad. Sci. USA 113, 1883–1888 (2016).

Pollack, R. A. et al. Defective HIV-1 proviruses are expressed and can be recognized by cytotoxic T lymphocytes, which shape the proviral landscape. Cell Host Microbe 21, 494–506 (2017).

Berry, C. C. et al. Estimating abundances of retroviral insertion sites from DNA fragment length data. Bioinformatics 28, 755–762 (2012).

Detels, R. et al. The multicenter AIDS Cohort Study, 1983 to … Public Health 126, 196–198 (2012).

Rose, P. P. & Korber, B. T. Detecting hypermutations in viral sequences with an emphasis on G→A hypermutation. Bioinformatics 16, 400–401 (2000).

Laird, G. M., Rosenbloom, D. I., Lai, J., Siliciano, R. F. & Siliciano, J. D. Measuring the frequency of latent HIV-1 in resting CD4+ T cells using a limiting dilution coculture assay. Methods Mol. Biol. 1354, 239–253 (2016).

Laird, G. M. et al. Rapid quantification of the latent reservoir for HIV-1 using a viral outgrowth assay. PLoS Pathog. 9, e1003398 (2013).

Rosenbloom, D. I. et al. Designing and interpreting limiting dilution assays: general principles and applications to the latent reservoir for human immunodeficiency virus-1. Open Forum Infect. Dis. 2, ofv123 (2015).

Sallusto, F., Lenig, D., Förster, R., Lipp, M. & Lanzavecchia, A. Two subsets of memory T lymphocytes with distinct homing potentials and effector functions. Nature 401, 708–712 (1999).

Durand, C. M. et al. HIV-1 DNA is detected in bone marrow populations containing CD4+ T cells but is not found in purified CD34+ hematopoietic progenitor cells in most patients on antiretroviral therapy. J. Infect. Dis. 205, 1014–1018 (2012).

Lewinski, M. K. et al. Genome-wide analysis of chromosomal features repressing human immunodeficiency virus transcription. J. Virol. 79, 6610–6619 (2005).

Sherman, E. et al. INSPIIRED: a pipeline for quantitative analysis of sites of new DNA integration in cellular genomes. Mol. Ther. Methods Clin. Dev. 4, 39–49 (2017).
Acknowledgements
We thank D. Finzi of NIAID for discussions leading to this work. This work was supported by the NIH Martin Delaney I4C (UM1 AI126603), Beat-HIV (UM1 AI126620) and DARE (UM1 AI12661) Collaboratories, by NIH grant 43222, by the Howard Hughes Medical Institute and the Bill and Melinda Gates Foundation (OPP1115715), and by NIH SBIR grants R43AI124996 and R44AI124996 and NSF grants 1621633 and 1738428 to Accelevir Diagnostics. Samples for some study participants were obtained from the Baltimore-Washington DC Center of the Multicenter AIDS Cohort Study (MACS) supported by NIH grants U01-AI-35042 and UL1-RR025005 (ICTR).
Ethics declarations
Competing interests
Aspects of IPDA are subject of a patent application PCT/US16/28822 filed by Johns Hopkins University. K.M.B. and R.F.S. are inventors on this application. Accelevir Diagnostics holds an exclusive license for this patent application. G.M.L. is an employee of and shareholder in Accelevir Diagnostics. R.F.S. holds no equity interest in Accelevir Diagnostics. R.F.S. is a consultant on cure-related HIV research for Merck and Abbvie.
Additional information
Publisher's note: Springer Nature remains neutral with regard to jurisdictional claims in published maps and institutional affiliations.
Extended data figures and tables
Supplementary information
This file contains Supplementary Tables S1-S6 and References.
About this article
Cite this article
Bruner, K.M., Wang, Z., Simonetti, F.R. et al. A quantitative approach for measuring the reservoir of latent HIV-1 proviruses. Nature 566, 120–125 (2019). https://doi.org/10.1038/s41586-019-0898-8
Received:

Accepted:

Published:

Issue Date:

DOI: https://doi.org/10.1038/s41586-019-0898-8
Comments
By submitting a comment you agree to abide by our Terms and Community Guidelines. If you find something abusive or that does not comply with our terms or guidelines please flag it as inappropriate.