Abstract
Tubular epithelia are a basic building block of organs and a common site of cancer occurrence1,2,3,4. During tumorigenesis, transformed cells overproliferate and epithelial architecture is disrupted. However, the biophysical parameters that underlie the adoption of abnormal tumour tissue shapes are unknown. Here we show in the pancreas of mice that the morphology of epithelial tumours is determined by the interplay of cytoskeletal changes in transformed cells and the existing tubular geometry. To analyse the morphological changes in tissue architecture during the initiation of cancer, we developed a three-dimensional whole-organ imaging technique that enables tissue analysis at single-cell resolution. Oncogenic transformation of pancreatic ducts led to two types of neoplastic growth: exophytic lesions that expanded outwards from the duct and endophytic lesions that grew inwards to the ductal lumen. Myosin activity was higher apically than basally in wild-type cells, but upon transformation this gradient was lost in both lesion types. Three-dimensional vertex model simulations and a continuum theory of epithelial mechanics, which incorporate the cytoskeletal changes observed in transformed cells, indicated that the diameter of the source epithelium instructs the morphology of growing tumours. Three-dimensional imaging revealed that—consistent with theory predictions—small pancreatic ducts produced exophytic growth, whereas large ducts deformed endophytically. Similar patterns of lesion growth were observed in tubular epithelia of the liver and lung; this finding identifies tension imbalance and tissue curvature as fundamental determinants of epithelial tumorigenesis.
Relevant articles
Open Access articles citing this article.
Ronnie Ren Jie Low

,

Ka Yee Fung

…

Tracy L. Putoczki

Cell Death & Differentiation Open Access 24 February 2023

Aurélien Villedieu

,

Lale Alpar

…

Yohanns Bellaïche

Nature Communications Open Access 03 February 2023

S. Randriamanantsoa

,

A. Papargyriou

…

A. R. Bausch

Nature Communications Open Access 05 September 2022
Access options
Access Nature and 54 other Nature Portfolio journals
Get Nature+, our best-value online-access subscription
$29.99 / 30 days
cancel any time
Subscribe to this journal
Receive 51 print issues and online access
$199.00 per year
only $3.90 per issue
Rent or buy this article
Prices vary by article type
from$1.95
to$39.95
Prices may be subject to local taxes which are calculated during checkout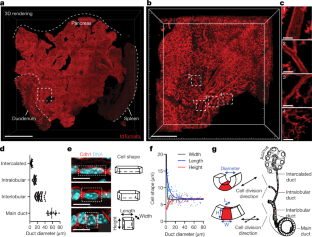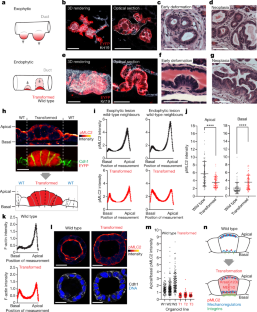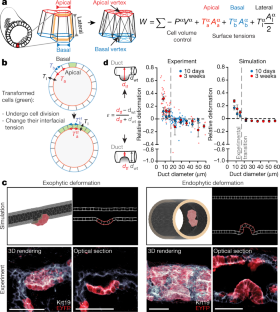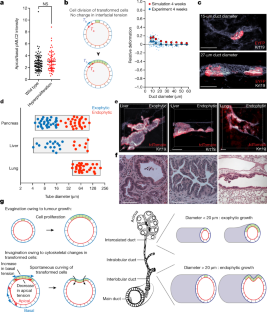 Data availability
All relevant data and protocols are included within the paper, Extended Data and Supplementary Information. Source Data for Figs. 1d, f, 2i–k, m, 3d, 4a, b, d and Extended Data Figs. 1d, f, 2b, 5e, 6b–g, i–l, 7d, f, i, j, m, n, 8a–d, f, h, 10e, f are provided with this paper. The original datasets and resulting analyses, as well as methodological details, are available from the corresponding authors upon reasonable request.
References
Bailey, J. M. et al. p53 mutations cooperate with oncogenic Kras to promote adenocarcinoma from pancreatic ductal cells. Oncogene 35, 4282–4288 (2016).

Ferreira, R. M. M. et al. Duct- and acinar-derived pancreatic ductal adenocarcinomas show distinct tumor progression and marker expression. Cell Reports 21, 966–978 (2017).

Ferone, G. et al. SOX2 is the determining oncogenic switch in promoting lung squamous cell carcinoma from different cells of origin. Cancer Cell 30, 519–532 (2016).

Guest, R. V. et al. Cell lineage tracing reveals a biliary origin of intrahepatic cholangiocarcinoma. Cancer Res. 74, 1005–1010 (2014).

Paszek, M. J. et al. Tensional homeostasis and the malignant phenotype. Cancer Cell 8, 241–254 (2005

Zhang, Q. et al. Fbxw7 deletion accelerates Kras G12D-driven pancreatic tumorigenesis via Yap accumulation. Neoplasia 18, 666–673 (2016).

Rhim, A. D. et al. EMT and dissemination precede pancreatic tumor formation. Cell 148, 349–361 (2012).

Hanahan, D. & Coussens, L. M. Accessories to the crime: functions of cells recruited to the tumor microenvironment. Cancer Cell 21, 309–322 (2012).

Öhlund, D. et al. Distinct populations of inflammatory fibroblasts and myofibroblasts in pancreatic cancer. J. Exp. Med. 214, 579–596 (2017).

Heer, N. C. & Martin, A. C. Tension, contraction and tissue morphogenesis. Development 144, 4249–4260 (2017).

Goeckeler, Z. M. & Wysolmerski, R. B. Myosin light chain kinase-regulated endothelial cell contraction: the relationship between isometric tension, actin polymerization, and myosin phosphorylation. J. Cell Biol. 130, 613–627 (1995).

Elliott, H. et al. Myosin II controls cellular branching morphogenesis and migration in three dimensions by minimizing cell-surface curvature. Nat. Cell Biol. 17, 137–147 (2015).

Lomakin, A. J. et al. Competition for actin between two distinct F-actin networks defines a bistable switch for cell polarization. Nat. Cell Biol. 17, 1435–1445 (2015).

Heid, I. et al. Early requirement of Rac1 in a mouse model of pancreatic cancer. Gastroenterology 141, 719–730.e7 (2011).

Baer, R. et al. Pancreatic cell plasticity and cancer initiation induced by oncogenic Kras is completely dependent on wild-type PI 3-kinase p110α. Genes Dev. 28, 2621–2635 (2014).

Pickup, M. W., Mouw, J. K. & Weaver, V. M. The extracellular matrix modulates the hallmarks of cancer. EMBO Rep. 15, 1243–1253 (2014).

Schäfer, C. et al. Differential KrasV12 protein levels control a switch regulating lung cancer cell morphology and motility. Converg. Sci. Phys. Oncol. 2, 035004 (2016).

Magudia, K., Lahoz, A. & Hall, A. K-Ras and B-Raf oncogenes inhibit colon epithelial polarity establishment through up-regulation of c-myc. J. Cell Biol. 198, 185–194 (2012).

Mendoza, M. C., Vilela, M., Juarez, J. E., Blenis, J. & Danuser, G. ERK reinforces actin polymerization to power persistent edge protrusion during motility. Sci. Signal. 8, ra47 (2015).

Nguyen, D. H. D. et al. Myosin light chain kinase functions downstream of Ras/ERK to promote migration of urokinase-type plasminogen activator-stimulated cells in an integrin-selective manner. J. Cell Biol. 146, 149–164 (1999).

Shen, Q., Rigor, R. R., Pivetti, C. D., Wu, M. H. & Yuan, S. Y. Myosin light chain kinase in microvascular endothelial barrier function. Cardiovasc. Res. 87, 272–280 (2010).

Bielmeier, C. et al. Interface contractility between differently fated cells drives cell elimination and cyst formation. Curr. Biol. 26, 563–574 (2016).

Alt, S., Ganguly, P. & Salbreux, G. Vertex models: from cell mechanics to tissue morphogenesis. Phil. Trans. R. Soc. Lond. B 372, 20150520 (2017).

Clark, A. G., Wartlick, O., Salbreux, G. & Paluch, E. K. Stresses at the cell surface during animal cell morphogenesis. Curr. Biol. 24, R484–R494 (2014).

Sancho, R., Gruber, R., Gu, G. & Behrens, A. Loss of Fbw7 reprograms adult pancreatic ductal cells into α, δ, and β cells. Cell Stem Cell 15, 139–153 (2014).

Reichert, M. & Rustgi, A. K. Pancreatic ductal cells in development, regeneration, and neoplasia. J. Clin. Invest. 121, 4572–4578 (2011).

Marchetti, M. C. et al. Hydrodynamics of soft active matter. Rev. Mod. Phys. 85, 1143–1189 (2013).

Prost, J., Jülicher, F. & Joanny, J. F. Active gel physics. Nat. Phys. 11, 111–117 (2015).

Salbreux, G. & Jülicher, F. Mechanics of active surfaces. Phys. Rev. E 96, 032404 (2017).

Means, A. L., Xu, Y., Zhao, A., Ray, K. C. & Gu, G. CK19CreERT knockin mouse line allows for conditional DNA recombination in epithelial cells in multiple endodermal organs. Genesis 46, 318–323 (2008).

Desai, B. M. et al. Preexisting pancreatic acinar cells contribute to acinar cell, but not islet β cell, regeneration. J. Clin. Invest. 117, 971–977 (2007).

Solar, M. et al. Pancreatic exocrine duct cells give rise to insulin-producing β cells during embryogenesis but not after birth. Dev. Cell 17, 849–860 (2009).

Hingorani, S. R. et al. Preinvasive and invasive ductal pancreatic cancer and its early detection in the mouse. Cancer Cell 4, 437–450 (2003).

Pan, F. C. et al. Spatiotemporal patterns of multipotentiality in Ptf1a-expressing cells during pancreas organogenesis and injury-induced facultative restoration. Development 140, 751–764 (2013).

Jackson, E. L. et al. Analysis of lung tumor initiation and progression using conditional expression of oncogenic K-ras. Genes Dev. 15, 3243–3248 (2001).

Hoeck, J. D. et al. Fbw7 controls neural stem cell differentiation and progenitor apoptosis via Notch and c-Jun. Nat. Neurosci. 13, 1365–1372 (2010).

Hara, M. et al. Transgenic mice with green fluorescent protein-labeled pancreatic β-cells. Am. J. Physiol. Endocrinol. Metab. 284, E177–E183 (2003).

Marino, S., Vooijs, M., van Der Gulden, H., Jonkers, J. & Berns, A. Induction of medulloblastomas in p53-null mutant mice by somatic inactivation of Rb in the external granular layer cells of the cerebellum. Genes Dev. 14, 994–1004 (2000).

Snippert, H. J. et al. Intestinal crypt homeostasis results from neutral competition between symmetrically dividing Lgr5 stem cells. Cell 143, 134–144 (2010).

Madisen, L. et al. A robust and high-throughput Cre reporting and characterization system for the whole mouse brain. Nat. Neurosci. 13, 133–140 (2010).

Srinivas, S. et al. Cre reporter strains produced by targeted insertion of EYFP and ECFP into the ROSA26 locus. BMC Dev. Biol. 1, 4 (2001).

Huch, M. et al. Unlimited in vitro expansion of adult bi-potent pancreas progenitors through the Lgr5/R-spondin axis. EMBO J. 32, 2708–2721 (2013).

Boj, S. F. et al. Organoid models of human and mouse ductal pancreatic cancer. Cell 160, 324–338 (2015).
Acknowledgements
We thank C. Cremona, V. Gebala, M. Popovic, N. Tapon and B. Thompson for comments on the manuscript, and the Francis Crick Institute Biological Research, Experimental Histopathology and Light Microscopy facilities for technical support. This work was supported by the Francis Crick Institute, which receives its core funding from Cancer Research UK (FC001039, FC001317), the UK Medical Research Council (FC001039, FC001317) and the Wellcome Trust (FC001039, FC001317). This work was also supported by an ERC grant to A.B. (281661).
Reviewer information
Nature thanks G. Danuser, N. Minc and the other anonymous reviewer(s) for their contribution to the peer review of this work.
Ethics declarations
Competing interests
H.A.M. and A.B. are inventors on a UK patent application (1818567.8) relating to a solution for the preparation of samples for 3D imaging.
Additional information
Publisher's note: Springer Nature remains neutral with regard to jurisdictional claims in published maps and institutional affiliations.
Extended data figures and tables
Supplementary information
About this article
Cite this article
Messal, H.A., Alt, S., Ferreira, R.M.M. et al. Tissue curvature and apicobasal mechanical tension imbalance instruct cancer morphogenesis. Nature 566, 126–130 (2019). https://doi.org/10.1038/s41586-019-0891-2
Received:

Accepted:

Published:

Issue Date:

DOI: https://doi.org/10.1038/s41586-019-0891-2
Comments
By submitting a comment you agree to abide by our Terms and Community Guidelines. If you find something abusive or that does not comply with our terms or guidelines please flag it as inappropriate.