Abstract
Whether post-transcriptional regulation of gene expression controls differentiation of stem cells for tissue renewal remains unknown. Quiescent stem cells exhibit a low level of protein synthesis1, which is key to maintaining the pool of fully functional stem cells, not only in the brain but also in the bone marrow and hair follicles2,3,4,5,6. Neurons also maintain a subset of messenger RNAs in a translationally silent state, which react 'on demand' to intracellular and extracellular signals. This uncoupling of general availability of mRNA from translation into protein facilitates immediate responses to environmental changes and avoids excess production of proteins, which is the most energy-consuming process within the cell. However, when post-transcriptional regulation is acquired and how protein synthesis changes along the different steps of maturation are not known. Here we show that protein synthesis undergoes highly dynamic changes when stem cells differentiate to neurons in vivo. Examination of individual transcripts using RiboTag mouse models reveals that whereas stem cells translate abundant transcripts with little discrimination, translation becomes increasingly regulated with the onset of differentiation. The generation of neurogenic progeny involves translational repression of a subset of mRNAs, including mRNAs that encode the stem cell identity factors SOX2 and PAX6, and components of the translation machinery, which are enriched in a pyrimidine-rich motif. The decrease of mTORC1 activity as stem cells exit the cell cycle selectively blocks translation of these transcripts. Our results reveal a control mechanism by which the cell cycle is coupled to post-transcriptional repression of key stem cell identity factors, thereby promoting exit from stemness.
Access options
Subscribe to Journal
Get full journal access for 1 year
$199.00
only $3.90 per issue
All prices are NET prices.
VAT will be added later in the checkout.
Rent or Buy article
Get time limited or full article access on ReadCube.
from$8.99
All prices are NET prices.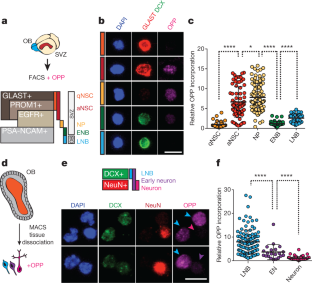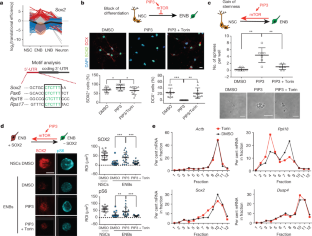 Data availability
Raw total mRNA, ribo-IP+ and ribo-IP− sequence data have been deposited in the Gene Expression Omnibus under accession number GSE94991. Source Data for bar graphs and box plots in Figures and Extended Data Figures are provided in the online version of the paper.
References
1.

Llorens-Bobadilla, E. et al. Single-cell transcriptomics reveals a population of dormant neural stem cells that become activated upon brain injury. Cell Stem Cell 17, 329–340 (2015).

2.

Fuentealba, L. C. et al. embryonic origin of postnatal neural stem cells. Cell 161, 1644–1655 (2015).

3.

Furutachi, S. et al. Slowly dividing neural progenitors are an embryonic origin of adult neural stem cells. Nat. Neurosci. 18, 657–665 (2015).

4.

Blanco, S. et al. Stem cell function and stress response are controlled by protein synthesis. Nature 534, 335–340 (2016).

5.

Signer, R. A. J., Magee, J. A., Salic, A. & Morrison, S. J. Haematopoietic stem cells require a highly regulated protein synthesis rate. Nature 509, 49–54 (2014).

6.

Bonaguidi, M. A. et al. In vivo clonal analysis reveals self-renewing and multipotent adult neural stem cell characteristics. Cell 145, 1142–1155 (2011).

7.

Codega, P. et al. Prospective identification and purification of quiescent adult neural stem cells from their in vivo niche. Neuron 82, 545–559 (2014).

8.

Mich, J. K. et al. Prospective identification of functionally distinct stem cells and neurosphere-initiating cells in adult mouse forebrain. eLife 3, 894 (2014).

9.

Bayraktar, O. A., Fuentealba, L. C., Alvarez-Buylla, A. & Rowitch, D. H. Astrocyte development and heterogeneity. Cold Spring Harb. Perspect. Biol. 7, a020362 (2015).

10.

Liu, J., Xu, Y., Stoleru, D. & Salic, A. Imaging protein synthesis in cells and tissues with an alkyne analog of puromycin. Proc. Natl Acad. Sci. USA 109, 413–418 (2012).

11.

Sanz, E. et al. Cell-type-specific isolation of ribosome-associated mRNA from complex tissues. Proc. Natl Acad. Sci. USA 106, 13939–13944 (2009).

12.

Sanz, E. et al. RiboTag analysis of actively translated mRNAs in Sertoli and Leydig cells in vivo. PLoS ONE 8, e66179 (2013).

13.

Shigeoka, T. et al. Dynamic axonal translation in developing and mature visual circuits. Cell 166, 181–192 (2016).

14.

Cabezas-Wallscheid, N. et al. Identification of regulatory networks in HSCs and their immediate progeny via integrated proteome, transcriptome, and DNA methylome. Stem Cells 4, 502–522 (2014).

15.

Camp, J. G. et al. Human cerebral organoids recapitulate gene expression programs of fetal neocortex development. Proc. Natl Acad. Sci. USA 112, 15672–15677 (2015).

16.

Thoreen, C. C. et al. A unifying model for mTORC1-mediated regulation of mRNA translation. Nature 485, 109–113 (2012).

17.

Hsieh, A. C. et al. The translational landscape of mTOR signalling steers cancer initiation and metastasis. Nature 485, 55–61 (2012).

18.

Paliouras, G. N. et al. Mammalian target of rapamycin signaling is a key regulator of the transit-amplifying progenitor pool in the adult and aging forebrain. J. Neurosci. 32, 15012–15026 (2012).

19.

Demetriades, C., Doumpas, N. & Teleman, A. A. Regulation of TORC1 in response to amino acid starvation via lysosomal recruitment of TSC2. Cell 156, 786–799 (2014).

20.

Thoreen, C. C. et al. An ATP-competitive mammalian target of rapamycin inhibitor reveals rapamycin-resistant functions of mTORC1. J. Biol. Chem. 284, 8023–8032 (2009).

21.

Stumpf, C. R., Moreno, M. V., Olshen, A. B., Taylor, B. S. & Ruggero, D. The translational landscape of the mammalian cell cycle. Mol. Cell 52, 574–582 (2013).

22.

Leeman, D. S. et al. Lysosome activation clears aggregates and enhances quiescent neural stem cell activation during aging. Science 359, 1277–1283 (2018).

23.

Tahmasebi, S. et al. Multifaceted regulation of somatic cell reprogramming by mRNA translational control. Cell Stem Cell 14, 606–616 (2014).

24.

Meyer, K. D. & Jaffrey, S. R. Rethinking m6A readers, writers, and erasers. Annu. Rev. Cell Dev. Biol. 33, 319–342 (2017).

25.

Costa, V. et al. mTORC1 inhibition corrects neurodevelopmental and synaptic alterations in a human stem cell model of tuberous sclerosis. Cell Reports 15, 86–95 (2016).

26.

Blair, J. D., Hockemeyer, D., Doudna, J. A., Bateup, H. S. & Floor, S. N. Widespread translational remodeling during human neuronal differentiation. Cell Reports 21, 2005–2016 (2017).

27.

Rodgers, J. T. et al. mTORC1 controls the adaptive transition of quiescent stem cells from G0 to GAlert. Nature 510, 393–396 (2014).

28.

Sahin, E. & DePinho, R. A. Axis of ageing: telomeres, p53 and mitochondria. Nat. Rev. Mol. Cell Biol. 13, 397–404 (2012).

29.

Liu, H. K. et al. The nuclear receptor tailless is required for neurogenesis in the adult subventricular zone. Genes Dev. 22, 2473–2478 (2008).

30.

Werner, L. et al. Involvement of doublecortin-expressing cells in the arcuate nucleus in body weight regulation. Endocrinology 153, 2655–2664 (2012).

31.

Shi, Z. et al. Heterogeneous ribosomes preferentially translate distinct subpools of mRNAs genome-wide. Mol. Cell 67, 71–83 (2017).

32.

Anger, A. M. et al. Structures of the human and Drosophila 80S ribosome. Nature 497, 80–85 (2013).

33.

Retz, K. C. & Steele, W. J. Ribosome turnover in rat brain and liver. Life Sci. 27, 2601–2604 (1980).

34.

Brannvall, K., Korhonen, L. & Lindholm, D. Estrogen-receptor-dependent regulation of neural stem cell proliferation and differentiation. Mol. Cell. Neurosci. 21, 512–520 (2002).

35.

Rotheneichner, P. et al. Tamoxifen activation of Cre-recombinase has no persisting effects on adult neurogenesis or learning and anxiety. Front. Neurosci. 11, 27 (2017).

36.

Mirzadeh, Z., Doetsch, F., Sawamoto, K., Wichterle, H. & Alvarez-Buylla, A. The subventricular zone en-face: wholemount staining and ependymal flow. J. Vis. Exp. 39, e1938 (2010).

37.

Picelli, S. et al. Full-length RNA-seq from single cells using Smart-seq2. Nat. Protoc. 9, 171–181 (2014).

38.

Dinkel, C., Moody, M., Traynor-Kaplan, A. & Schultz, C. Membrane-permeant 3-OH-phosphorylated phosphoinositide derivatives. Angew. Chem. Int. Edn Engl. 40, 3004–3008 (2001).

39.

Lou, W. P., Baser, A., Klussmann, S. & Martin-Villalba, A. In vivo interrogation of central nervous system translatome by polyribosome fractionation. J. Vis. Exp. 30, e51255 (2014).

40.

Dobin, A. et al. STAR: ultrafast universal RNA-seq aligner. Bioinformatics 29, 15–21 (2013).

41.

Li, B. & Dewey, C. N. RSEM: accurate transcript quantification from RNA-seq data with or without a reference genome. BMC Bioinformatics 12, 323 (2011).

42.

Love, M. I., Huber, W. & Anders, S. Moderated estimation of fold change and dispersion for RNA-seq data with DESeq2. Genome Biol. 15, 550 (2014).

43.

Ritchie, M. E. et al. limma powers differential expression analyses for RNA-sequencing and microarray studies. Nucleic Acids Res. 43, e47 (2015).
Acknowledgements
We thank S. Wolf from the DKFZ Genomics and Proteomics Core Facility; V. Eckstein from the Heidelberg University Hospital FACS Core Facility; M. Langlotz from the ZMBH FACS Core Facility; D. Wiest for the RPL22 antibody; K. Zwadlo, S. Limpert and K. Volk for technical assistance; D. Krunic and the Light Microscopy Core Facility for support with image analysis; B. Bukau and G. Kramer for advice during the early stage of the project, the TAC members A. Teleman, G. Stöcklin, M. Hentze and the members of the Martin-Villalba laboratory for critical comments and A. Teleman for critical reading of the manuscript. Y.D. was supported by China Scholarship Council (CSC). This work was supported by the University of Heidelberg and DKFZ (bridge-project ZMBH–DKFZ alliance), the DFG (SFB873; TRR186), the BMBF and the DKFZ. We are very grateful to our deceased friend, B. Fischer.
Reviewer information
Nature thanks S. McKnight, S.-B. Qian and the other anonymous reviewer(s) for their contribution to the peer review of this work.
Ethics declarations
Competing interests
The authors declare no competing interests.
Additional information
Publisher's note: Springer Nature remains neutral with regard to jurisdictional claims in published maps and institutional affiliations.
Extended data figures and tables
Supplementary information
About this article
Cite this article
Baser, A., Skabkin, M., Kleber, S. et al. Onset of differentiation is post-transcriptionally controlled in adult neural stem cells. Nature 566, 100–104 (2019). https://doi.org/10.1038/s41586-019-0888-x
Received:

Accepted:

Published:

Issue Date:
Comments
By submitting a comment you agree to abide by our Terms and Community Guidelines. If you find something abusive or that does not comply with our terms or guidelines please flag it as inappropriate.