Abstract
There is a growing appreciation for the importance of the gut microbiota as a therapeutic target in various diseases. However, there are only a handful of known commensal strains that can potentially be used to manipulate host physiological functions. Here we isolate a consortium of 11 bacterial strains from healthy human donor faeces that is capable of robustly inducing interferon-γ-producing CD8 T cells in the intestine. These 11 strains act together to mediate the induction without causing inflammation in a manner that is dependent on CD103+ dendritic cells and major histocompatibility (MHC) class Ia molecules. Colonization of mice with the 11-strain mixture enhances both host resistance against Listeria monocytogenes infection and the therapeutic efficacy of immune checkpoint inhibitors in syngeneic tumour models. The 11 strains primarily represent rare, low-abundance components of the human microbiome, and thus have great potential as broadly effective biotherapeutics.
Relevant articles
Open Access articles citing this article.
Paola Bianchimano

,

Graham J. Britton

…

Stephanie K. Tankou

Microbiome Open Access 17 October 2022

Rossana Romero

,

Agnieszka Zarzycka

…

Ulrich Steinhoff

Microbiome Open Access 28 September 2022

Hourieh Sadrekarimi

,

Zhanna R. Gardanova

…

Mohammad Saeed Kahrizi

Journal of Translational Medicine Open Access 06 July 2022
Access options
Subscribe to Nature+
Get immediate online access to Nature and 55 other Nature journal
Subscribe to Journal
Get full journal access for 1 year
$199.00
only $3.90 per issue
All prices are NET prices.
VAT will be added later in the checkout.
Tax calculation will be finalised during checkout.
Buy article
Get time limited or full article access on ReadCube.
$32.00
All prices are NET prices.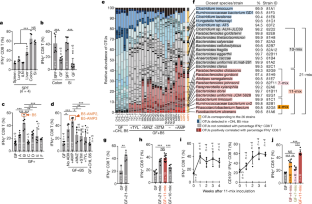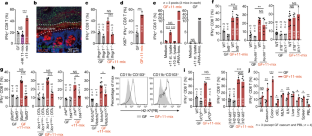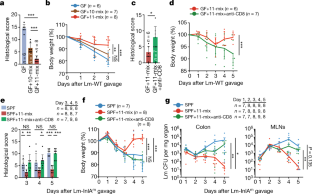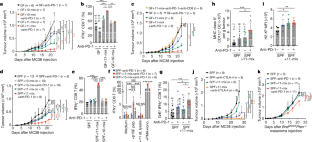 Data availability
Genomic sequences of the 21 strains are deposited in the European Nucleotide Archive with accession number PRJEB29940. Microbiome data are deposited in the DNA Data Bank of Japan with accession number DRA007611. Accession numbers for metagenomics datasets: NCBI BioProjects PRJNA275349 (HMP1-2)38, PRJNA48479 (HMP1-2), PRJNA398089 (HMP2)39, PRJNA319574 (500FG)40, PRJDB3601 (healthy Japanese adults)34 and PRJNA399742 (Gajewski)31. EBI study accession EGAS00001001704 (LLDeep)41, PRJEB22894 (Wargo)30, PRJEB22863 (Zitvogel)29. EBI ENA ERP002061 (MetaHIT), ERP003612 (MetaHIT) and ERP004605 (MetaHIT)42,43.
References
Mimee, M., Citorik, R. J. & Lu, T. K. Microbiome therapeutics — advances and challenges. Adv. Drug Deliv. Rev. 105, 44–54 (2016).

Kim, S., Covington, A. & Pamer, E. G. The intestinal microbiota: antibiotics, colonization resistance, and enteric pathogens. Immunol. Rev. 279, 90–105 (2017).

El Hage, R., Hernandez-Sanabria, E. & Van de Wiele, T. Emerging trends in "smart probiotics": functional consideration for the development of novel health and industrial applications. Front. Microbiol. 8, 1889 (2017).

Blander, J. M., Longman, R. S., Iliev, I. D., Sonnenberg, G. F. & Artis, D. Regulation of inflammation by microbiota interactions with the host. Nat. Immunol. 18, 851–860 (2017).

Atarashi, K. et al. Treg induction by a rationally selected mixture of Clostridia strains from the human microbiota. Nature 500, 232–236 (2013).

Faith, J. J., Ahern, P. P., Ridaura, V. K., Cheng, J. & Gordon, J. I. Identifying gut microbe–host phenotype relationships using combinatorial communities in gnotobiotic mice. Sci. Transl. Med. 6, 220ra11 (2014).

Sefik, E. et al. Individual intestinal symbionts induce a distinct population of RORγ+ regulatory T cells. Science 349, 993–997 (2015).

Atarashi, K. et al. Th17 cell induction by adhesion of microbes to intestinal epithelial cells. Cell 163, 367–380 (2015).

Tan, T. G. et al. Identifying species of symbiont bacteria from the human gut that, alone, can induce intestinal Th17 cells in mice. Proc. Natl Acad. Sci. USA 113, E8141–E8150 (2016).

Ichinohe, T. et al. Microbiota regulates immune defense against respiratory tract influenza A virus infection. Proc. Natl Acad. Sci. USA 108, 5354–5359 (2011).

Thackray, L. B. et al. Oral antibiotic treatment of mice exacerbates the disease severity of multiple flavivirus infections. Cell Rep. 22, 3440–3453 (2018).

Spranger, S., Sivan, A., Corrales, L. & Gajewski, T. F. Tumor and host factors controlling antitumor immunity and efficacy of cancer immunotherapy. Adv. Immunol. 130, 75–93 (2016).

Bhatt, A. P., Redinbo, M. R. & Bultman, S. J. The role of the microbiome in cancer development and therapy. CA Cancer J. Clin. 67, 326–344 (2017).

Zitvogel, L., Ma, Y., Raoult, D., Kroemer, G. & Gajewski, T. F. The microbiome in cancer immunotherapy: diagnostic tools and therapeutic strategies. Science 359, 1366–1370 (2018).

Park, C. O. & Kupper, T. S. The emerging role of resident memory T cells in protective immunity and inflammatory disease. Nat. Med. 21, 688–697 (2015).

Atarashi, K. et al. Ectopic colonization of oral bacteria in the intestine drives TH1 cell induction and inflammation. Science 358, 359–365 (2017).

Hildner, K. et al. Batf3 deficiency reveals a critical role for CD8α+ dendritic cells in cytotoxic T cell immunity. Science 322, 1097–1100 (2008).

Ohta, T. et al. Crucial roles of XCR1-expressing dendritic cells and the XCR1–XCL1 chemokine axis in intestinal immune homeostasis. Sci. Rep. 6, 23505 (2016).

Joeris, T., Müller-Luda, K., Agace, W. W. & Mowat, A. M. Diversity and functions of intestinal mononuclear phagocytes. Mucosal Immunol. 10, 845–864 (2017).

Satpathy, A. T. et al. Notch2-dependent classical dendritic cells orchestrate intestinal immunity to attaching-and-effacing bacterial pathogens. Nat. Immunol. 14, 937–948 (2013).

Sheridan, B. S. et al. Oral infection drives a distinct population of intestinal resident memory CD8+ T cells with enhanced protective function. Immunity 40, 747–757 (2014).

Foulds, K. E. et al. Cutting edge: CD4 and CD8 T cells are intrinsically different in their proliferative responses. J. Immunol. 168, 1528–1532 (2002).

Gao, J. et al. Loss of IFN-γ pathway genes in tumor cells as a mechanism of resistance to anti-CTLA-4 therapy. Cell 167, 397–404 (2016).

Wei, S. C. et al. Distinct cellular mechanisms underlie anti-CTLA-4 and anti-PD-1 checkpoint blockade. Cell 170, 1120–1133 (2017).

Yang, J. C. & Perry-Lalley, D. The envelope protein of an endogenous murine retrovirus is a tumor-associated T-cell antigen for multiple murine tumors. J. Immunother. 23, 177–183 (2000).

Cooper, Z. A. et al. Response to BRAF inhibition in melanoma is enhanced when combined with immune checkpoint blockade. Cancer Immunol. Res. 2, 643–654 (2014).

Dankort, D. et al. Braf V600E cooperates with Pten loss to induce metastatic melanoma. Nat. Genet. 41, 544–552 (2009).

Dubin, K. et al. Intestinal microbiome analyses identify melanoma patients at risk for checkpoint-blockade-induced colitis. Nat. Commun. 7, 10391 (2016).

Routy, B. et al. Gut microbiome influences efficacy of PD-1-based immunotherapy against epithelial tumors. Science 359, 91–97 (2018).

Gopalakrishnan, V. et al. Gut microbiome modulates response to anti-PD-1 immunotherapy in melanoma patients. Science 359, 97–103 (2018).

Matson, V. et al. The commensal microbiome is associated with anti-PD-1 efficacy in metastatic melanoma patients. Science 359, 104–108 (2018).

Frankel, A. E. et al. Metagenomic shotgun sequencing and unbiased metabolomic profiling identify specific human gut microbiota and metabolites associated with immune checkpoint therapy efficacy in melanoma patients. Neoplasia 19, 848–855 (2017).

Johansson, M. E. et al. The inner of the two Muc2 mucin-dependent mucus layers in colon is devoid of bacteria. Proc. Natl Acad. Sci. USA 105, 15064–15069 (2008).

Nishijima, S. et al. The gut microbiome of healthy Japanese and its microbial and functional uniqueness. DNA Res 23, 125–133 (2016).

Miyajima, M. et al. Metabolic shift induced by systemic activation of T cells in PD-1-deficient mice perturbs brain monoamines and emotional behavior. Nat. Immunol. 18, 1342–1352 (2017).

Hu, S. et al. Targeted metabolomic analysis of head and neck cancer cells using high performance ion chromatography coupled with a Q exactive HF mass spectrometer. Anal. Chem. 87, 6371–6379 (2015).

Oka, M. et al. Arl8b is required for lysosomal degradation of maternal proteins in the visceral yolk sac endoderm of mouse embryos. J. Cell Sci. 130, 3568–3577 (2017).

Lloyd-Price, J. et al. Strains, functions and dynamics in the expanded Human Microbiome Project. Nature 550, 61–66 (2017).

The Integrative HMP (iHMP) Research Network Consortium. The Integrative Human Microbiome Project: dynamic analysis of microbiome-host omics profiles during periods of human health and disease. Cell Host Microbe 16, 276–289 (2014).

Schirmer, M. et al. Linking the human gut microbiome to inflammatory cytokine production capacity. Cell 167, 1897 (2016).

Zhernakova, A. et al. Population-based metagenomics analysis reveals markers for gut microbiome composition and diversity. Science 352, 565–569 (2016).

Qin, J. et al. A human gut microbial gene catalogue established by metagenomic sequencing. Nature 464, 59–65 (2010).

Li, J. et al. An integrated catalog of reference genes in the human gut microbiome. Nat. Biotechnol. 32, 834–841 (2014).
Acknowledgements
K.H. was funded through AMED LEAP under grant number JP18gm0010003, the Takeda Science Foundation, and the Mitsubishi Foundation. T.T. was funded through AMED PRIME under grant number JP18gm6010013 and the Nakajima Foundation. R.J.X. was funded through NIH DK43351, AT009708, and the Center for Microbiome Informatics and Therapeutics, MIT. The LC–MS platform used in this study was provided by the JST ERATO Gas Biology Project, which was led by M.S. until March 2015. We thank N. Palm, J. Faith and J. S. Weber for discussion, J. Baginska and O. Ohara for their technical support, P. Burrows for comments, and RIKEN BRC and the International Mouse Phenotyping Consortium for generating and providing the H2-M3 knockout mice.
Reviewer information
Nature thanks S. Mazmanian and the anonymous reviewer(s) for their contribution to the peer review of this work.
Ethics declarations
Competing interests
B.O., B.R. and J.M.N. are employees of Vedanta Biosciences Inc. A.S. is an employee of JSR Corporation. K.H. is co-founder and scientific advisor to Vedanta Biosciences since 11 August 2011.
Additional information
Publisher's note: Springer Nature remains neutral with regard to jurisdictional claims in published maps and institutional affiliations.
Extended data figures and tables
Supplementary information
This file contains the Supplementary Discussion.
This file contains Supplementary Tables 1-3.
About this article
Cite this article
Tanoue, T., Morita, S., Plichta, D.R. et al. A defined commensal consortium elicits CD8 T cells and anti-cancer immunity. Nature 565, 600–605 (2019). https://doi.org/10.1038/s41586-019-0878-z
Received:

Accepted:

Published:

Issue Date:

DOI: https://doi.org/10.1038/s41586-019-0878-z
Comments
By submitting a comment you agree to abide by our Terms and Community Guidelines. If you find something abusive or that does not comply with our terms or guidelines please flag it as inappropriate.